Raised Lutheran:
The Life of Friedrich Nietzsche
Mark Gullick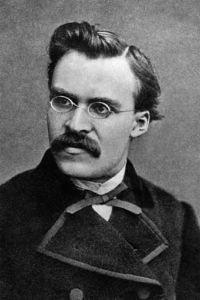 2,156 words
"Have you accepted Jesus, Agent Starling? Do you have faith?"
"I was raised Lutheran."
"That's not what I asked." — Thomas Harris, Hannibal
I am a sick man. I am an angry man. — Fyodor Dostoyevsky, Notes from Underground
"I am one thing," wrote Friedrich Nietzsche, "my writings another." Although a few decades after his death this aphorism would chime with the Derridean, post-structuralist dictum that there is "nothing outside the text," a hermeneutic approach to philosophy excludes the philosopher's life to its detriment. That said, a life of Kant would not be a page-turner if you didn't mention the philosophy, the most interesting point concerning his 80 years on Earth being that he once almost went to Paris, but in the end never left Königsberg. Kant's routine was so mundane the locals would set their clocks by his arrival on a bridge over the Pegolya River during his daily walk.
Nietzsche's life was very different, rootless, and peripatetic, hobbled by appalling health and clouded by frustrated love affairs. His writings and his life may appear wildly different — perhaps the atavistic Dionysus and serene Apollo of The Birth of Tragedy — but the two are similarly complementary rather than mutually exclusive.
So, rather than write on Nietzsche's work I will give some snapshots from his life. There are many biographies, but I have my favorites. Julian Young's Friedrich Nietzsche: A Philosophical Biography is the best if you are already familiar with Nietzsche. If not, I would recommend Sue Prideaux's biography, I Am Dynamite! This is not only an approachable introduction to the life, but when I e-mailed the author to praise the book (something I very rarely do), she wrote back and thanked me at length. You have no idea how rare that type of courtesy is.
Nietzsche was born and raised Lutheran. This gave him the ability to consider and to think through matters both spiritual and temporal, as Martin Luther had done before him, and Nietzsche had considered the priesthood, as did Heidegger after him. Nietzsche's father was a pastor, and although the young Friedrich, just five years old when his father died from a disease known then as "softening of the brain," was distraught (and always believed he would die from the same disorder), Pastor Nietzsche might have taken issue with his son if he had lived to read The Antichrist.
Nietzsche's was a feminized childhood, and his nascent values would have been set by women. We recall the opening line of Beyond Good and Evil: "Supposing truth to be a woman . . ." Raised by his mother and aunt, and in the close and constant company of his adoring sister Elisabeth, Nietzsche was the product of a female upbringing. Students at the school Nietzsche would attend noticed this femininity and casually shunned the boy, except musically. Opinions differ, as they should, but mine is that Nietzsche was an awful poet but a talented musician. I appreciate that I am reading his poetry in translation and that — and I have been told this by Germans — Nietzsche's style in his own language is very beautiful. Nevertheless, the clunky, hokey imagery of Nietzsche's high-flown verse is like watching Zarathustra: The Musical!
When it came to actual music, however, things were somewhat different. Wagner found Nietzsche's playing weak, but so was "The Master's." While Nietzsche was at Schulpforta, possibly the most prestigious school in Germany, he was a top-flight student, although not necessarily popular with the other boys. Until, that is, he seated himself at the piano. Some of Nietzsche's compositions can be found here.
Nietzsche: Unendlich
It is difficult for us to imagine the rarity of musical performance before recorded sound. Nietzsche once walked 30 miles to attend the performance of a Beethoven symphony. Wagner's music was vital to Nietzsche's youth, which he claimed would have been intolerable without it. His later, star-struck relationship with the Wagners would end acrimoniously, but Wagner's music retained its place n Nietzsche's pantheon. Wagner certainly inspired writers. Nietzsche began The Birth of Tragedy filled with the thrill of meeting the composer, and later made him the subject of two extended essays: Wagner at Bayreuth and Nietzsche contra Wagner. The following century, a visit to a performance of Siegfried in 1923 inspired Hitler to begin Mein Kampf. But although Wagner may have been a master-musician, much of his professional life was farce. When the Master ordered a mechanical, fire-breathing dragon from England, two of the sections were delivered to Bayreuth — famously the home of Wagnerism — while the other was sent to Beirut.
Nietzsche: Nachklang einer Sylvesternacht for Piano duet
It is hardly expert Freudian sleuthing to see the Wagners as Nietzsche's surrogate parents. In particular, Wagner himself became the father-figure Nietzsche was never allowed to have, although this was an unfortunate selection by Nietzsche's subconscious. Wagner's music may be formidable and beautifully sculpted, but the man himself comes across in all the biographical accounts of Nietzsche as a bumptious, flamboyant narcissist, a strutting drag-queen of a man with a rather dull and stupid wife. Nietzsche had far more fascinating acquaintances.
Nietzsche forged mostly epistolary alliances with various disparate European writers. Hippolyte Taine, the brilliant Renaissance scholar Jakob Burkhardt, Georg Brandes, and the singular figure of the playwright August Strindberg were among his correspondents. In her biography, Sue Prideaux gives possibly the most evocative and amusing description of a writer on the edge of sanity I have ever read:
Strindberg himself was not at the greatest moment of mental stability in his life. He had no money, his first marriage to the wife he worshipped was crashing to disaster and they were living in a wing of a dilapidated castle overrun with peacocks and feral dogs and ruled over by a self-styled countess and her companion, a blackmailer, alchemist, magician and thief.
Well, we all have those days.
Nietzsche was an exceptional classical scholar. One of his most famous remarks came from Pindar, and the young student used it to introduce a prize-winning essay on Diogenes Laertius: "Become what you are, having learned what that is." Mathematics dragged Nietzsche's grade average down, but his fascination with language drew him to the study of philology. Despite his extraordinary youth when appointed the Chair of Philology at Basel University, his career stuttered and stalled before being interrupted by war. The reception of of The Birth of Tragedy upon its publication was less than stellar. No one reviewed it, and when Nietzsche's next course of lectures on philology began, two students were in attendance.
When the Franco-Prussian War began in 1870, Nietzsche was in bed with a sprained ankle, but a month later he saw service as an ambulance attendant. He saw death, too. He described, in a letter to his mother, a battlefield where Prussia had won a Pyrrhic victory, and the plain was "reeking with corpses."
Nietzsche never had money, just money problems. His books sold only a few hundred copies during his lifetime, and in any case he paid for their publication to begin with, and was almost certainly down on the deal by the time he went insane. He cut a sad, homeless figure, although he took pride in his statelessness, traipsing from pension to pension in Switzerland, Germany, and finally, Italy. He was accompanied by what he called his "club foot," that being over a hundred kilos of books which accompanied him everywhere. (This is what makes us appreciate the Kindle all the more.) What did not accompany him was a companion. Love — or, rather, marriage — eluded him just as much as a sense of homeland.
Nietzsche's women. After fleeing the feminized nest of his youth — although he described it as "leaving my father's house" — the women in Nietzsche's life were an odd crew seen together, but each one answered a need of Nietzsche's, often financial more than amatory, or he thought they would.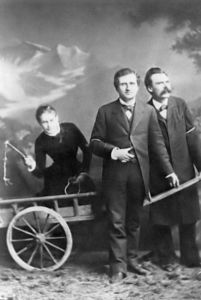 He hastened to Geneva in 1876 in search of the Countess Diodati, who had apparently translated The Birth of Tragedy into French (Nietzsche's favorite culture and language) only to find that she had been confined to a lunatic asylum. He was rather hoping to have found her at home in the Villa Diodati, where one of Nietzsche's heroes, Byron, had once lived. Immediately afterwards he made the acquaintance of Matilde Trampedach, a student of Hugo von Senger, a Wagnerian piano teacher. Miss Trampedach told Nietzsche forthrightly that she did not understand why men sought to solve external problems when their real quest was internal. Nietzsche was fascinated and proposed. Matilde refused. He also asked for the hand of Louise Ott, a blonde with a singing voice as beautiful as her face, and was again rebuffed. Finally and most famously (and again unsuccessfully), he asked Lou Salomé for her hand in marriage. Had Nietzsche had more experience with women, he might have spotted Salomé's type (and the sinister portent of her name) and kept himself out of the strange and apparently sexless ménage à trois Lou proposed with Nietzsche's friend Paul Rée. The philosopher's infamous (to feminists) exhortation not to forget the whip if you are going to a woman would take a German-speaker to instruct us as to whether Nietzsche was advising taking a whip yourself or being aware of the whip held by the woman. In the famous photograph of Nietzsche, Rée, and Salomé, the woman who also bewitched Rilke and Freud is holding a horse-crop. She was no mere floozy, however. Freud himself wrote a panegyric obituary about her when she died. The eccentric anarchist Malwida von Meysenburg and aristocratic femme fatale Meta von Salis-Marschlins only added to the burlesque of Nietzsche's female acquaintances.
Nietzsche's health was appalling. Apart from the chronic myopia almost certainly responsible for his adoption of the aphoristic style from Human, All-Too-Human onwards, and which left him almost blind by the end of his sane life, Nietzsche's ruined digestive system led him to a chain of absurd diets, one experiment involving meat, egg yolk, rice, rhubarb, and cognac.
Dietary prudence did not stave off Nietzsche's insanity, but he went out with an extraordinary series of swan-songs. Like a dying cell-battery giving one last burst of full power, Nietzsche wrote four books in the last month of his sane life. Nietzsche's descent into madness was almost certainly a result of tertiary syphilis, despite the infamous visit to a brothel (immortalized in Thomas Mann's Doctor Faustus) being the only evidence that Nietzsche had a sex life. His final act before the transvaluation of his values with regards to reality was to hug a horse who was being beaten in a Turin street. "Stop," he is reputed to have cried, "I recognize a friend!" A Lutheran pastor's son, particularly one who dismissed Plato, is unlikely to have been alluding to metempsychosis. Rather, he saw the whiplashes he felt himself to have received at the hands of a world which was not ready to hear what he had to say.
Somewhere in my mother's attic in England are Nietzsche's medical records from the Jena Clinic. Not the originals, of course, or I would be living in Monte Carlo and not a Central American shack, but a curious book which was another incredible find from a secondhand bookshop, as was Nietzsche's discovery of Schopenhauer's The World as Will and Idea in a similar store in Leipzig when a student. Nietzsche would not have known this when he uncomprehendingly entered the Jena clinic en route to his final years at his mother's house, but he had been there before. At the age of 15, on a school trip, he had seen the grim-looking building and noted it with foreboding in his diary.
Nietzsche spent the last years of his life utterly insane. Multipolar and suffering from what seems a combination of psychosis and Tourette's Syndrome, all the clinical detail and the posthumous diagnosis of syphilis cannot tear us from the idea that Nietzsche inhabited mental territory which was also injurious to the well-being of an already sensitive plant.
Nietzsche's family had differing fates. His mother nursed the insane philosopher at her home until his death in 1900. His sister married a man called Bernhard Förster and they went to Paraguay to found a community called Nueva Germania. Years later, Elisabeth would return to start the Nietzsche industry, famously gifting her brother's walking stick to the Führer.
I am still of the opinion that an introduction to Nietzsche for any reader should absolutely not be Thus Spake Zarathustra. Bombast was Nietzsche's fault line. I admire his early, more academic work at a philosophical level, and have written about it here at Counter-Currents — but as an introduction I recommend his semi-delirious autobiography, Ecce Homo.
Nietzsche's life was a refined, threadbare tragedy, a threepenny opera which nevertheless outshone those of his estranged father-figure Wagner. Almost entirely unread and unrecognized during his sane life, the walrus-mustached German who always claimed he was a Pole of noble lineage might have been amused at the Nietzsche industry that arose after his death. Then again, he did say he would be born posthumously.
* * *
Like all journals of dissident ideas, Counter-Currents depends on the support of readers like you. Help us compete with the censors of the Left and the violent accelerationists of the Right with a donation today. (The easiest way to help is with an e-check donation. All you need is your checkbook.)
For other ways to donate, click here.