On the Murder of Sam Collington:
The Liberal Snake Eats One of Its Own
Spencer J. Quinn
2,497 words
The murder of Sam Collington has the normie in me raging against my dissident self like Norman Bates in a dress.
On November 30 in Philadelphia, a 17-year-old black criminal named Latif Williams shot and killed Collington, who was a white and devoutly Marxist 21-year-old college student. This little news item has put my alter-egos in a tizzy in part because it's the perfect example of ideology eating itself. A dogmaboros, if you will.
First, you have Collington, who was more than just another soft-headed, liberal undergraduate. He was also an activist in training, a passionate Bernie Bro, and a person who worked with city commissioners and state senators to advance a far-Left agenda. This is how Chris Black of Investment Watch describes him:
An anti-White BLM-supporting communist activist who campaigned for criminal justice reform and against "White supremacy" was killed by a Black man in a mugging in Philadelphia. This took place on Holodomor remembrance day, which he had mocked just hours earlier.
I cannot verify the part about mocking the Holodomor, but the rest of Black's assessment appears to hold up after a deep dive into Collington's still-active social media accounts. Collington seems to have been a true believer in Leftist ideology who wandered off the plantation only when attending Free Palestine rallies or retweeting people who claim that Zionism equals White Supremacy.
Collington also retweeted Philadelphia District Attorney Larry Krasner back in August. In it, Krasner asked a court to hold the Philadelphia Police Department in contempt for withholding officer misconduct information. Since it was Krasner's indulgent attitude on black crime which led directly to Collington's murder, I'm sure the irony here is lost on no one. (More on Krasner later.)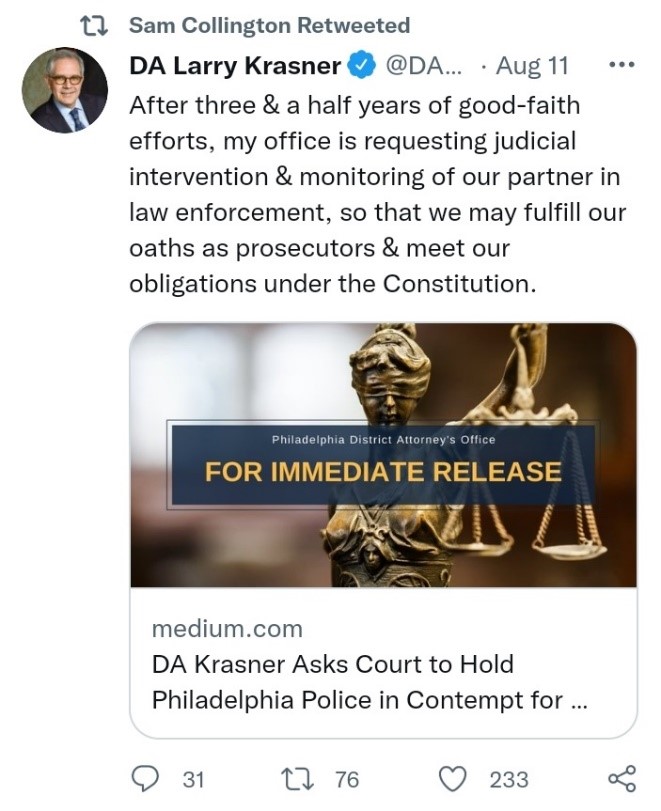 Judging from the outpouring of sorrow on social media over his death, Collington certainly was more than just a popular guy. Dare I say it, but he seemed genuinely appreciated among his peers. The comments reflecting on his passing are too numerous and heartfelt to seem like generic me-too's jumping on the grief wagon. One person actually crafted a portrait of Collington in order to commemorate him.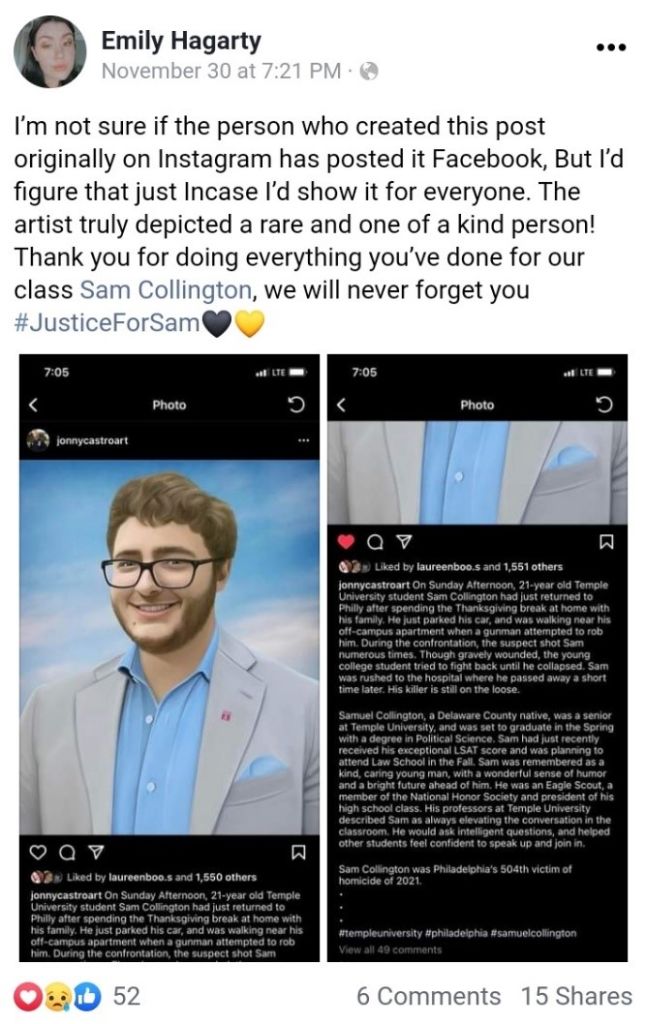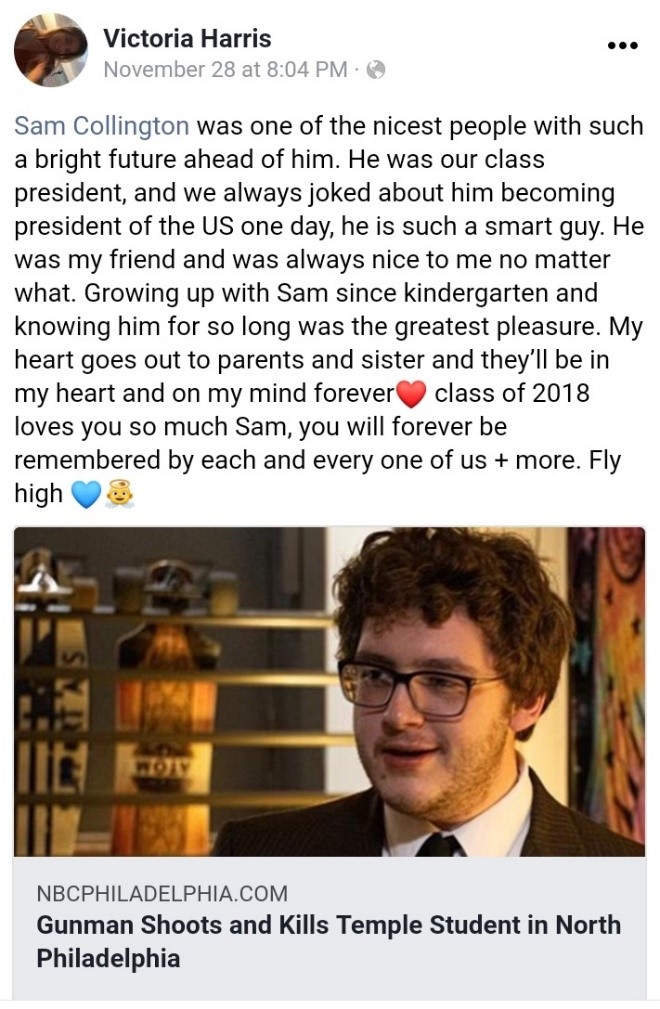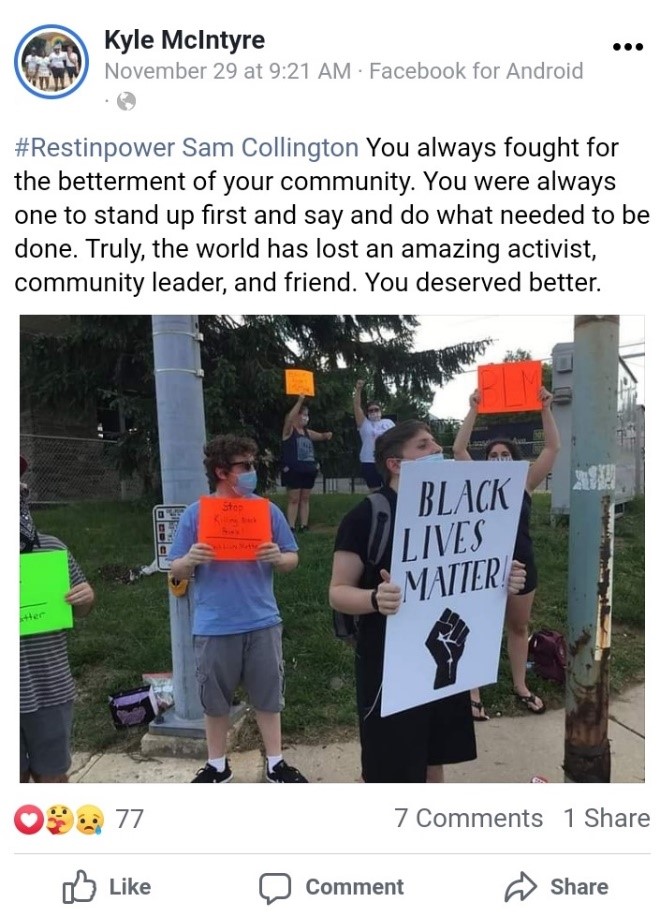 Of course, nowhere among these sympathy tweets and condolences are people connecting the perp's race to the high rates of black crime. It's as if Collington had been hit by a bus or succumbed to cancer. The tragedy of his passing is all his friends can talk about, and the very idea that his murder could have been prevented if not for the pro-black, anti-police policies that Collington himself supported is utterly verboten. It's not like the Eloi sat around and complained about the Morlocks, after all.
Second, we have young Latif Williams of the 75 IQ who lives down to all the negative stereotypes that blacks have earned for themselves in the West. Here is Ralph Cipriano's reporting in Big Trial:
Williams's first arrest dates back to November 2017, the month he turned 13, for robbing a college student on the Temple campus of a cell phone, in addition to assaulting her.
Although he was arrested for that robbery, there is no record of the resolution of that case, which may be due to the age of Williams.
On July 20, 2019, Williams was locked up for selling drugs. On Aug. 21, 2020, the D.A.'s office under Larry Krasner withdrew the charges against him.
On May 31, 2020, during the George Floyd riots, Williams was arrested for burglary, rioting and looting. According to the police, Williams kicked a police car window out and spit on the cops.
On Sept. 18, 2020, the D.A.'s office under Larry Krasner withdrew all those charges against Williams.
On Nov. 6, 2020, Williams was arrested for selling drugs. On Sept. 10, 2021, the D.A.'s office under Larry Krasner withdrew those charges.
Need we say more about Latif Williams? He's about as interesting as a condyloma on the underside of humanity. In a just society, he'd be swinging from the gallows right about now.
Finally, we have Larry Krasner. If anyone can find a better reason for why we have anti-Semitism, I'd like to hear it. As Philadelphia's District Attorney, this Jew has made it his top priority to defend the interests of black people, squabble with the police, and oversee an increase in crime and murder in the City of Brotherly Love. He was elected in 2017, partially as a result of the $1.7 million his ethnic kinsman George Soros dumped into his campaign coffers. He has sued the Philly Police Department 75 times, as if cops are a more pressing problem than criminals. Furthermore, he's not terribly interested in enforcing the law.
According to the Daily Mail:
Under Krasner, the future years of incarceration have been cut by half, and the length of parole in probation supervision have been slashed by nearly two-thirds compared to the previous DA.
Krasner, who previously defended Black Lives Matter and Occupy Philadelphia protesters as a lawyer, has clashed with the city's top cops over his reluctance to prosecute non-violent gun and drug possession crimes, despite a surge in gun violence and rising homicide rates in the City of Brotherly Love.
As of November 21, 2021, there have been 491 homicide victims, a 14 per cent increase from last year's number of 436, and 283 in 2019.
Looking at Williams' rap sheet, if Krasner had prosecuted him for non-violent drug possession, Collington would most likely be alive today. But does Krasner even care? The whole idea behind prosecuting non-violent crimes (especially sinister ones such as illegal gun and drug possession) is to send the message that violent crimes will be prosecuted even more harshly. But by going soft on non-violent crime, he's enabling these non-violent offenders to have contempt for the law. As a result, they keep at it until they eventually do become violent. And only then, in classic Keystone Cops fashion, will Krasner's DA office be relied upon to act.
Krasner's big idea is to fight crime at its supposed source, by first addressing the real issues: underfunded schools and high poverty rates. Again, according to the Daily Mail:
'Yes, enforcement is a small part of the story,' [Krasner] told the Inquirer earlier this year. 'The big part of the story is not that. The big part of the story is this city's chronic failure to invest in prevention that the community is crying out for. That is where we have to go.'
Krasner's office has argued that there is little evidence that suspects accused of being in possession of guns are responsible for the uptick in gun violence, considering that the recent surge in gun-related arrests has not resulted in a significant decrease in shootings.
This is mere sophistry, of course, since gun-related arrests won't result in a decrease in shootings if the DA lacks the will to prosecute. And who gets to decide what "significant decrease" means in this context? Wouldn't any decrease in shootings be a welcome change? Meanwhile, murders are skyrocketing in Philly, and Krasner has shown no desire to change tacks. Therefore, we must assume that, in Krasner's calculating mind, a record number of dead bodies is an acceptable price to pay for Progress — as long as the dead bodies don't belong to Jews, presumably. As of December 1, that number has reached 510.
To make this story even more sordid, Municipal Court judge Joffie Pittman lowered Williams' bail for his May 31 arrest to "$200,000 unsecured," according to Cipriano. This means that Williams didn't need to pay any money to stay out of jail, although he was ordered to remain under house arrest. Then, on September 30, Judge Martin Coleman granted Krasner's motion to withdraw all charges against Williams. Both Pittman and Coleman are black.
This story is instructive for multiple reasons, and when looked at in a certain way, it can reveal pathologies on the Left, center, and Right.
For one, the Left's head-in-the-sand response reveals its moral bankruptcy and leads one to the dogmaboros idea. This response is best exemplified in a tweet by Collington's friend Douglas Leake, in which, in effect, he doubles down on Leftism: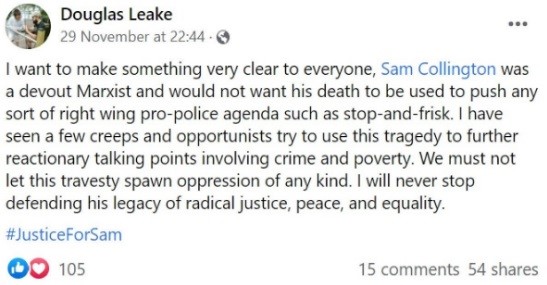 So, again, Progress supersedes life and limb, even if that life and limb belongs to someone close to you. The Left continues pushing its agenda out of sheer inertia or out of an a priori hatred for those who push the opposite agenda. Either way, the facts on the ground have nothing to do with it, even if people on the Left suffer as a result. This is how the Leftist snake eats itself.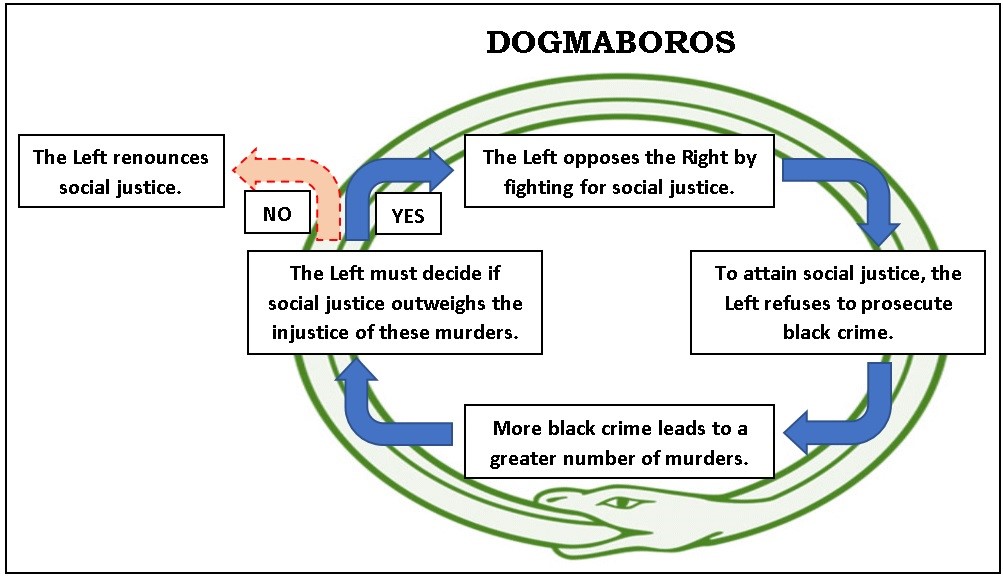 Of course, dogmaboros does not apply merely to Sam Collington's murder. One need look no further than the Great Terror in the 1930s Soviet Union or the Chinese famines of the late 1950s and early 1960s to find examples of Leftist dogmaboros which far exceed anything found on the Right.
For a more centrist perspective, one could look to the conservative Powerline blog. In his December 1 article, Paul Mirengoff recounts how Krasner's soft touch on crime has led to more crime in Philadelphia, and then declares the whole situation "sickening."
Embedded in Mirengoff's analysis, however, is the assumption that Collington himself would have agreed with him had he been presented with the facts. He wouldn't have. Further, Mirengoff fails to consider Collington's absolute devotion to a pernicious and anti-white ideology which most likely destroyed over a hundred million lives less than a century ago. Who knows? Maybe Krasner and Williams did humanity a favor by taking out a future mass-murdering commie? This is highly unlikely, of course, but it is possible, and remains ground where conservatives like Mirengoff fear to tread.
Mirengoff:
There's a twist to the Williams case. His murder victim was, according to a friend, a "devout Marxist" who "would not want his death to be used to push any sort of right-wing pro-police agenda such as stop and frisk."
How about prosecuting repeat criminal offenders? Is that a "right-wing pro-police" agenda item?
I don't know the victim, but I suspect that, Marxist or not, he might want thugs like Williams to be prosecuted before they commit murder. It's bad enough to be mugged by reality without being murdered by it.
Yes — prosecuting repeat criminal offenders is part of a Right-wing, pro-police agenda — especially when those repeat offenders are black. Furthermore, Collington wouldn't have wanted "thugs like Williams to be prosecuted before they commit murder." How could anyone assume that a person as committed to the Left as Collington was would ever want that? It is an axiom on the Left that all races are equal and that blacks are an oppressed race. Consequently, their criminal activities are viewed as a reflection of this oppression and not the result of some genetic defect, as many on the Right (myself included) contend. The best way to reduce black crime would therefore be to not oppress them at all. This logic is counterfactual and self-defeating, but it is consistent if one assumes racial equality as an article of faith, which all Leftists must do.
Unless you have an intellect on the level of Christopher Hitchens, odds are that once you're trapped in the dogmaboros of the Left, you'll never escape. The only way out is to be shown the lie behind racial egalitarianism. And this is something that most conservatives are too afraid to do.
Finally, we have the Right's reaction. As one would expect, schadenfreude is the word of the day when it comes to Sam Collington. Many were relishing the irony and finding the whole situation hilarious. And on this account, boy, did Gab deliver: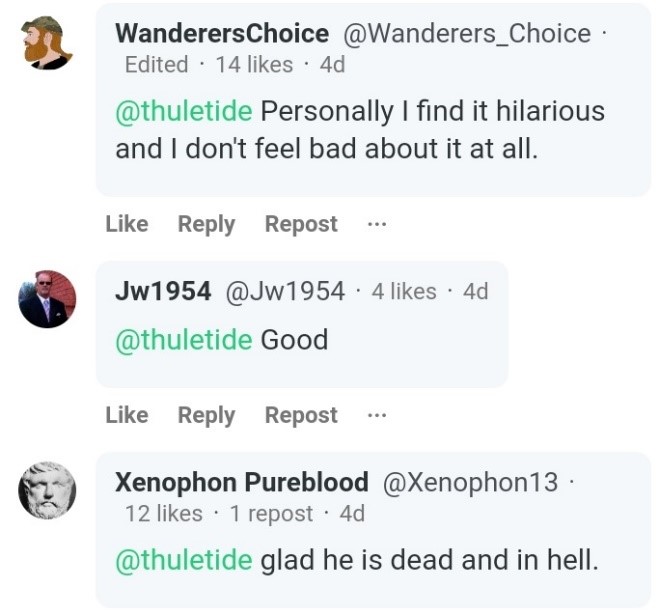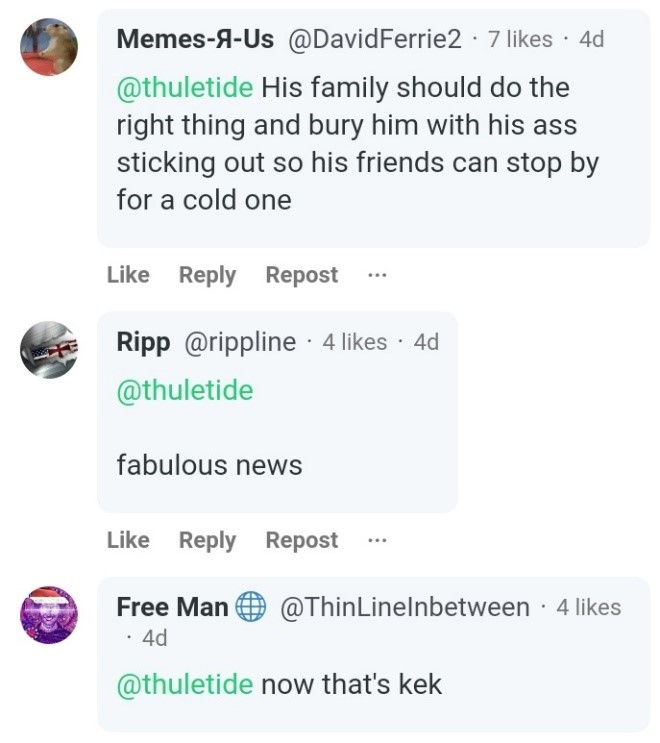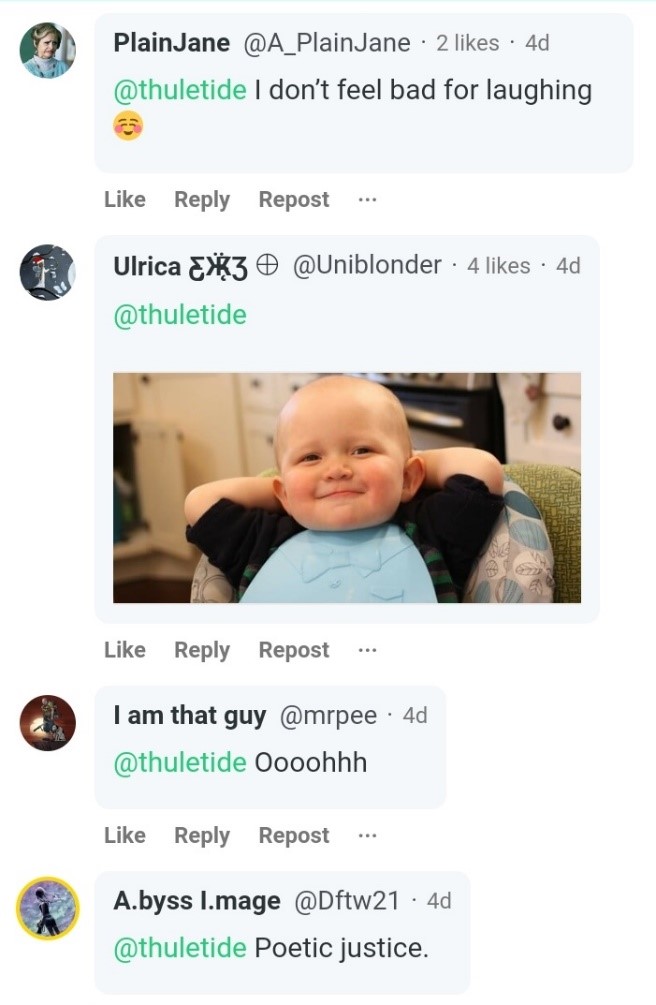 Of course, my sympathies are with the Right, and so I believe that the irony and poetic justice behind Collington's murder cuts closest to the truth. Why should anyone mourn a person eaten by the very beast he helped feed? And knowing how vicious our politics have become, why shouldn't we dehumanize this little shit Collington and laugh at his untimely demise? Is anyone on the Left presently not doing this over the peaceful January 6 protestors who are still languishing in DC gulags after eleven months? Is anyone on the Left ever shy about doing this over any misfortune which befalls the Right?
Civil war is coming, and perhaps it is best to keep our hatred of the enemy honed nice and sharp at all times. Our very survival may one day depend upon it.
But still, the normie in me just won't stop raging. Upon reflection, I seem to simultaneously be sympathetic to all three perspectives: Left, center, and Right.
After digging through Collington's social media, he strikes me as deluded, but well-meaning. He didn't seem like an antifa type, and his posts were completely devoid of bile and calls for violence. He just seemed like a genuinely nice guy who happened to be entranced by bad ideas (how many of us does that describe at age 21?).
Further, I have to give this kid my surprising respect. I am fairly certain that if I had been gunned down at age 21, you would have been able to count on one hand the number of people my age outside my family who would have been truly aggrieved by my departure. The fact that Collington could inspire such an outpouring of compassion among his peers means he must have been doing something right when he was alive. And he deserves credit for that.
And as for the schadenfreude and laughter coming from the Right, people should keep in mind the old Russian saying: "Beware the traps you set, should you fall in them yourself." What we see in the Collington affair is the age-old malevolent collusion between Jews and blacks against the interests of whites. This is nothing to laugh at. Yes, they clipped one of their own this time, but next time, it could be any one of us. And then they would be doing the laughing.
I'd also like to think that the Right should be trying at all times to win over folks who haven't yet been dogmaborosed. Yes, we have the truth on our side, but that's not enough. In fact, sometimes it makes us complacent. We should always try to present our ideas as moral, factual, and commonsensical. Schadenfreude doesn't do this. Public expressions of schadenfreude, while tempting and good for morale, will win no converts. Imagine Leftists expressing it over a law-abiding gun owner who accidentally kills himself with his gun. Would this cause anyone on the Right to support gun control? If anything, it would cause us to hate the Left even more. This same calculus applies to the Collington murder. If we stay on point more and laugh less, maybe we'll be more persuasive in the end.
Finally, I find myself agreeing with Mirengoff as well. The whole affair is sickening. I'm so sickened by it, in fact, I can neither cry with the Left nor laugh with the Right. I just wish I had had the chance to meet Sam Collington before he got trapped in the Left's insidious dogmaboros. Then I would have shaken his hand, engaged him in debate, and done everything I could to change his mind.
*  *  *
Counter-Currents has extended special privileges to those who donate $120 or more per year.
First, donor comments will appear immediately instead of waiting in a moderation queue. (People who abuse this privilege will lose it.)
Second, donors will have immediate access to all Counter-Currents posts. Non-donors will find that one post a day, five posts a week will be behind a "paywall" and will be available to the general public after 30 days.
To get full access to all content behind the paywall, sign up here:
Paywall Gift Subscriptions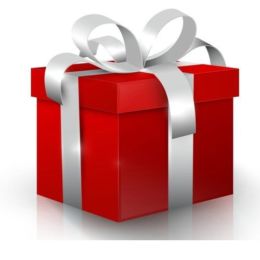 If you are already behind the paywall and want to share the benefits, Counter-Currents also offers paywall gift subscriptions. We need just five things from you:
your payment
the recipient's name
the recipient's email address
your name
your email address
To register, just fill out this form and we will walk you through the payment and registration process. There are a number of different payment options.
Enjoyed this article?
Be the first to leave a tip in the jar!