The Bard Across Three Reichs:
Germany, Shakespeare, & Andreas Höfele's No Hamlets,

Part I
Kathryn S.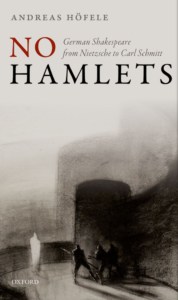 4,825 words
Part 1 of 2 (Part 2 here)
Andreas Höfele
No Hamlets: German Shakespeare from Nietzsche to Carl Schmitt
Oxford, UK: Oxford University Press, 2016
The hardest book reviews to write are those that deal with material that I have enjoyed, but cannot recommend. This is the case for Andreas Höfele's No Hamlets: German Shakespeare from Nietzsche to Carl Schmitt. Höfele teaches English literature at Munich University, and he has written other books and articles on Elizabethan and Victorian stagecraft, as well as six novels. He was the President of the German Shakespeare Society from 2002-2011. His command of the material is beyond doubt. Whether he sympathizes with our worldview(s), I do not know; his book provides some insight, but no answers. This alone, however, should not be the determining factor when judging scholarly work, and I have tried to keep this in mind throughout the review.
Höfele uses the lives and philosophies of influential thinkers to prove how "Shakespeare-haunted" Germany was from ca. 1800-1950. And because it is nigh impossible for an academic to write a book about modern Germany whose overt or ulterior argument does not seek an answer to the question "What went wrong?", Höfele has concluded — originally, to his credit — that a 450-year-old English playwright was partly to blame for the twentieth-century "German Catastrophe" — or at least the Right-wing fascination with him was. The author's goal is "to probe Shakespeare's co-optation into the siren songs of ideas and ideologies that proved disastrously attractive in German history . . ."[1] It seems obvious to me that Shakespeare set fire to their imaginations for the same reason his creations have inspired countless other admirers: His powerful combination of timelessness and timeliness. But what caused Germans to be particularly drawn to his characters?
For more than a century, the theater has been the last Western bastion of enchantment, and none are the plays that cast spells like the Shakespearean canon. The stage is illusion, and its sets are obvious constructs that strive for an appearance of reality, rather than reality itself. Its players must be showier, their faces more "made-up," their voices louder than actors onscreen. Theater is a live event in our increasingly digital, distracted world. And for all its fanciful qualities — a painted backdrop here, a plastic sword there — it is somehow better at ensnaring audience attention, all but inviting it to participate in the action. When the Romantic movement (ca. 1750-1850) began to enchant the West with its dark and stormy nights; its encouragement of the sublime experience of mountaineering; its beautiful doom; its ruined castles by twilight; its fashionable brooding — Romantics "rediscovered" Shakespeare. Andreas Höfele's book begins at this moment in German history: the golden age of its art and literature. But Germans didn't simply read these plays in moderate appreciation or enjoyment. No, nothing so insipid. They were instead convinced that the Bard belonged to them. In literal seriousness, they claimed: "Shakespeare is German."
They found especially in his Hamlet a kindred spirit, one whose life of the mind conflicted with his ability to act in the world. Höfele attributes this sudden, but lasting German obsession with Shakespeare and Hamlet to Johann von Goethe's The Sorrows of Young Werther (1774) and the protagonist's deliberate resemblance to Shakespeare's moody Dane. The famous German author recounted his reaction "to the first page of [Shakespeare] that [he] read." Its lines "made [Goethe] his own for life, and when [he] was finished with the first play [he] stood like someone born blind whom a magical hand had suddenly given sight . . ."[2] Hamlet- and Shakespeare-fever in Germany caught such swift fire, because there had already been a passionate Werther-fever.
In 1844 another German author, Ferdinand Freiligrath, wrote a poem entitled, "Deutschland Ist Hamlet":
YES, Germany is Hamlet! . . .
He ponders, dreams, but . . .
No counsel comes . . .
Still for the prompt, courageous deed
The prompt, courageous soul is wanting.
It comes from loitering overmuch,
Lounging, and reading . . .
His learning gives him little aid,
His boldest act is only thinking . . .
Jeers right and left, — his hints are dark, —
Talks of a "king of shreds and patches,"
But for a deed? God save the mark!
. . . At last he gets the courage lacked,
. . . But ah! 't is in the final Act,
And only serves to lay him low . . .
Thank God! [Germany has] not yet come to this,
. . . Early and late we hope, and pray:
O hero, come, — no more delaying . . .
O, seize the moment, strike to-day,
There still is time . . .
Resolve, and put fresh courage on!
. . . Why thus forever dilly-dally?
The context of Freiligrath's poem was the mid-nineteenth-century German predicament of disunity — a nation without a state. Its people remained divided into duchies, principalities, and statelets within a Europe that all around it was becoming increasingly centralized. To the west, France was a formidable ancient foe, a strong nation-state that had coalesced during the Revolutionary and Napoleonic years. In the other direction, Russia seemed no less threatening; its expansionist and caesarian sense of mission was gobbling up everything east of Prussia. The old Holy Roman Empire that had once bound Germans to a single "Reich" had dissolved by Napoleonic decree. But that had been 30 years before. Why were the descendants of the earthy and ancient Northern warrior-heroes of Tacitus now the modern "Kings of infinite space," but no soil — members of a "delayed nation?" What was keeping them from unifying into the glorious national power of which they were capable? Freiligrath thought he knew the answer. Denied a "public sphere," or "society" because of their political fragmentation, Germans too often lost themselves to an out-of-touch imagination. While "the empire of the seas belonged to the English, that of the land to the French," to the Germans belonged the "air." They are a "nation of Hamlets, the Germans," wrote Madame De Staël. Insular geniuses "[sat] down to work in solitude, or surrounded only by a little circle over which they reign[ed]."[3] Political philosophy little affected actual politics, or the world of public affairs.
It took a man of action in the form of Chancellor Otto von Bismarck to unify these scattered remnants of a medieval confederation into the modern German state. His most important means of achieving this was through war — at Königgrätz (1866), where the Prussians defeated the Austrians, and victory over France in the Franco-Prussian War (1870-71) five years later. Prussia, Bavaria, Saxony, the two Mecklenburgs, Brunswick, Saxe-Coburg, and myriad others were now united through blood and iron. Everyone should have been thrilled. In the Preface to his 1877 German translation of Shakespeare, American author Horace Howard Furness congratulated "the 'German Shakespeare Society' of Weimar, representative of a people whose recent history has proved once for all that 'Germany is not Hamlet . . ."[4]
Or, was it? According to Höfele, there were plenty of people who disagreed with Furness' optimism, chief among them Germany's Right-wing intellectuals. Some were disappointed that the country had unified into a "small-Germany" that left many Germans — such as those in Austria — out. Others resented Prussia's dominating influence under Bismarck and the new Kaiser. Even though Bismarck's Germany was not nearly as liberal as countries like France and Britain were, "democratic" reforms under the new Reich had gone too far, they groused. These were the Discontented, those who came to see themselves as a different kind of Hamlet — not the weak-willed version of him, but that of the noble outsider attending a joyous court that held no joys for him. Dissidents imagined that they belonged instead to a second, or "secret Germany" that was more essentially German than the current regime that wore but the trappings. Indeed, after unification Germany was more of a Hamlet than ever.
Höfele structures his book chronologically and around several Right-wing philosophical and literary dramatis personae: Friedrich Nietzsche, poet Stefan George (pronounced Gay-org-uh), Carl Schmitt, and Joseph Goebbels. Each of these men Höfele compares to Hamlet, while discussing how a favorite play or two of Shakespeare's figured in his overall oeuvre. While Höfele has convinced me that these thinkers were haunted by whether their nation — or they, themselves — were "No Hamlets," he commits some scholarly sins that are unfortunately common in modern academia, particularly in the chapters that focus on Schmitt and Goebbels.
Like Hamlet, Höfele's subjects viewed themselves as elite, but marginalized, figures safeguarding the true realm; "betrayed one[s],"[5] who fought against the current of their times; the seeming-madmen occasionally contemplating the will-to-life, or the will-to-suicide, and which was the honorable choice; continual problems with putting their ideas into action — all very "Hamletian." As Germans never ceased to remind themselves, the Bard had based his most famous tragedy on an ancient Germanic legend first recorded by the thirteenth-century chronicler Saxo Grammaticus. A long-dead English playwright helped revolutionary men-of-the-Right define what German identity meant, one that opposed the "rotten state" that bulged over with base pretenders. Using sharp eyes and even sharper words, prophets of German nationalism gathered their "small circles" of followers, convinced that "The time [was] out of joint," and knowing that it was both their privilege and doom that they were "born to set it right[!]"[6]
NB: For those in need of a Hamlet refresher, here is a synopsis: The old King of Denmark, allegedly killed by a snakebite, was succeeded by his brother, Claudius. In haste, Claudius not only took possession of the crown, but married the widowed Queen. Hamlet, the old King's son away studying in Wittenberg, returned to find his father dead, his inheritance stolen, and his mother soiled by "incestuous sheets." He avoided court revelries and railed in private against these disgraces, yet remained coldly courteous to his uncle and mother in public: "but break, my heart, for I must hold my tongue."[7]
One night, a ghost in the armored form of his dead father appeared, and accused Hamlet's uncle of regicide — of pouring the "juice of cursèd hebona . . . in the porches of [his] ears," thus poisoning him. He implored his son to avenge his death "at once."[8] Hamlet promised to do so, but as soon as the morning "cock crow[ed]," he began a long process of prevarication and doubt; like intellectuals tend to do, he analyzed himself and his plans to death, stalling any deed.[9] His tortured indecision caused some understandable, but wildly unattractive behaviors to manifest: self-indulgent brooding; ungallant exchanges with his former love, Ophelia; barbed sarcasm aimed at everyone; bouts of seeming-madness, part art and part personality. The only one immune to these outbursts was his good friend and sidekick, Horatio.
Instead of killing his uncle, Hamlet stabbed Ophelia's father to death, causing Ophelia to go mad and drown herself. Incensed, her brother Laertes vowed to challenge Hamlet to a duel. Claudius convinced Laertes to coat his dagger in poison, thus ensuring that his nephew would die of even a trifling wound during the fight. Hamlet, meanwhile, still berating himself for his inertia, wandered into the company of Fortinbras — the neighboring Prince of Norway, who was traveling on his own mission of filial retribution. But for a small, poor parcel of land near the Polish border, the young Fortinbras (French for "Strong"-in-"Arm") had roused his armies to war. Like lightning, an arc of shame struck our slow protagonist out of torpor and into action:
Rightly to be great
Is not to stir without great argument,
But greatly to find quarrel in a straw
When honor's at the stake.
How stand I, then,
That have a father killed, a mother stained . . .
And let all sleep, while . . . I see
The imminent death of twenty thousand men
That for a fantasy and trick of fame
Go to their graves like beds . . ?
O, from this time forth
My thoughts be bloody or be nothing worth![10]
Hamlet accepted Laertes' challenge and plotted to fight the duel, then to kill his uncle while the "villain" watched their swordplay. Nothing, however, went according to anyone's plan. The Queen drank from a poisoned cup intended for Hamlet; then, Claudius, Laertes, and Hamlet were each stabbed or scratched with the toxic blade. "Goodnight, sweet prince." By the time Fortinbras had returned from his Polish expedition and come thundering into the Kingdom, it seemed that the entire royal court had killed themselves. Almost by default, Norway became the ruler of Denmark. Fortinbras, touched by his counterpart's tragic story, ordered "the bodies [taken] up" and a military funeral performed in Hamlet's honor.[11]
This is but an overview that cannot do justice to the play. I encourage all readers to immerse themselves in the original source.[12] It is one of the greatest works in English literature, with some of the most famous lines in literary history.
Nietzsche's Hamletian-Caesarian "Overman"
Friedrich Nietzsche (1844-1900) is arguably the most influential philosopher to have lived in the last 150 years. The complexities and contradictions in his body of work have lured Leftists and Rightists into claiming him as one of "theirs." Höfele, however (and I agree), locates him on the Right. Like other thinkers in No Hamlets, Nietzsche was anti-egalitarian, anti-liberal, anti-modern, and pro-Tradition — that's Tradition capitalized, for what he called "bourgeois" traditions were anathema to him. Instead, he looked to a quasi-mythical past where the source of Western man's greatness could be found; he, Nietzsche, was the prophet who could give these primeval forms coherence and thus divine what elitist excellence meant, particularly German excellence. When Germany prosecuted its war against France in 1870, he was filled with a profound sense of nationalist duty. News of the conflict reached him while he was vacationing in the Swiss Alps with his siblings. After he and his brother had paced up and down their châlet terrace for half an hour, they approached their sister: "Lisbeth, what would you do if you were a man?" With some sorrow, but no hesitation, she answered them, "Why, I should go to war, of course."[13]
Nietzsche volunteered at once, but was chagrined to learn that he would not fight on the front lines, but would serve as a medical orderly. When the injured began to stream into his Alsace hospital, even this proved too much for the sensitive young man. He recalled traveling inside one "ghastly" cattle truck that was filled with six wounded soldiers — gangrenous and broken-limbed, all — and Nietzsche "was the only person there" to tend them. "The fact that I was able to endure [such] pestilential vapours" while sleeping and even eating "seems to me quite miraculous," he admitted later. Almost immediately after delivering his six charges to a Karlsruhe hospital, he fell desperately ill. He surfaced into irregular periods of consciousness, and succumbed to frequent hallucinations. Though he recovered with (or in spite of) an aggressive regimen of opium and silver nitrate enemas, his nerves were permanently shredded. The entire experience had enveloped him in a "dismal fog . . . my intention to return to the war thus became impossible. I must be content to watch from a distance and suffer vicariously," he wrote to a friend.[14]
After a swift German victory in 1871, Nietzsche became further disillusioned. The kind of unification that Bismarck's wars had effected fell far short of the great nation that the philosopher had once envisioned. The Prussians, he was convinced, were culture-less philistines, and now they exercised too much authority over the new "German Empire" they had created. He distanced himself from the regime, turned inward to pore over his books and writings, and began to nurse his own dreams of a "second Germany." Some of those books were translations of Shakespeare. Indeed, Höfele pointed out, Nietzsche's disenchantment with the German state mirrored that of Hamlet's anxious, intellectual protagonist. His early text, The Birth of Tragedy (1871), explored what he termed the "Apollonian" and "Dionysian" dichotomy in Western art, and Hamlet resembled Dionysian Man:
Both have looked truly into the essence of things, they have gained knowledge, and nausea inhibits action; for their action could not change anything in the eternal nature of things; they feel it to be ridiculous or humiliating that they should be asked to set right a world that is out of joint. Knowledge kills action; action requires the veils of illusion . . . [A]n insight into the horrible truth outweighs any motive for action . . . he now sees everywhere only the horror or absurdity of existence; now he understands what is symbolic in Ophelia's fate . . . he is nauseated.[15]
Höfele makes much ado about this single reference to Hamlet in The Birth of Tragedy, and suggests that Nietzsche's horrific war-time experiences had the effect of convincing him that since he'd seen "the horrible truth," his previous confident existence as a man-of-deeds (or "strong-in-arm") was over. This reading of Hamlet was different; instead of "a beautiful and noble heart . . . [who] in the feebleness of melancholy [strayed] distress into error," Nietzsche's Hamlet was "anything but feeble." Indeed, Dionysian Hamlet had unflinchingly faced the "abyss of human existence" in a way few could. His indecisiveness was not indecisive at all. He simply had "contempt for action . . . [had a] pessimism of strength."[16]
There are multiple "Nietzschean" conflicts within Hamlet, the play, and Hamlet the character (few of which Höfele explores). One is the Christian-versus-pagan elements of European morality. Another is the Dionysian will-to-Life and its mirrored will-to-Suicide. Ophelia's death scene, only described, never performed, began near
a willow [that] grows askant the brook
[And] shows his <hoar> leaves in the glassy stream.
Therewith fantastic garlands did she make
Of crowflowers, nettles, daisies, and long purples,
That . . . our cold maids [call] "dead men's fingers" . . .
There on the pendant boughs her coronet weeds
Clamb'ring to hang, an envious sliver broke,
When down her weedy trophies and herself
Fell in the weeping brook. Her clothes spread wide,
And mermaid-like awhile they bore her up,
Which time she chanted snatches of old lauds,
As one incapable of her own distress
Or like a creature native and endued
Unto that element. But long it could not be
Till that her garments, heavy with their drink,
Pulled the poor wretch from her melodious lay
To muddy death.[17]
Until her madness, Ophelia had been the picture of Christian womanhood and virtue: submissive towards her father and older brother; careful around Hamlet, yet clearly stung by his dismissiveness. But after her father's murder, her sanity left her entirely, and she proceeded to lilt mixed-up songs about medals adorning the hats of those pilgrims returning from religious shrines and old Saxon legends predating the English Church. Her death recalled ancient pagan festivals of spring and maidenhood, "fantastic garlands," "weedy trophies," and "old lauds" carrying her downstream, and then ultimately down "to muddy death." As Hamlet came upon the gravediggers carving out a hole where she would rest, he heard the men argue, "Is she to be buried in Christian burial, when she willfully seeks her own salvation [i.e. suicide]?"[18] The nature of Ophelia's death was left open to the reader's/audience's interpretation.[19]
This prompted Hamlet to reflect on death and suicide, his own and in general. He picked up the skull that presumably belonged to Yorick, the late court jester, the dirt and decomposition of the graveyard juxtaposed to Ophelia's sanitized and picturesque death-by-water; a clean end, by comparison, even if tainted by rumors of self-drowning. "My gorge rises at it," Hamlet cried at seeing Yorkick's "chapless skull," the only thing now belonging to "a fellow of infinite jest."[20] "Now he underst[ood] what was symbolic in Ophelia's fate . . . he [was] nauseated." Hamlet returned to an earlier and unanswered query: "to be or not to be?" Surely one of the primary questions of all great philosophers — the meaning of life, death, and when to take them —
Whether 'tis nobler . . . to suffer
The slings and arrows of outrageous fortune,
Or to . . . end them . . . end
The heartache and the thousand natural shocks
That flesh is heir to . . .
But that the dread of something after death,
The undiscovered country from whose bourn
No traveler returns, puzzles the will
And makes us rather bear those ills we have
Than fly to others that we know not of?[21]
Here, Hamlet almost equated the will-to-life with the will-to-death; if only "conscience [did] not [make] cowards of us all," we would take the actions we should in life with no hobbling fears of death. Christianity condemns self-murder, but was it Christian "conscience" that made Hamlet vacillate? He could neither take the knife and kill himself, nor could he fulfill his father's command to plunge it into the breast of his treacherous uncle. He seemed to lack conviction altogether, in Christian piety and in "antique Roman" resolution.[22] Nietzsche would later decide that Hamlet was not a hero compared to the likes of Julius Caesar's Caesar and Brutus. He, who hesitates to kill "a mere Claudius," could not compare to one whose virtue resolved him to kill a magnificent Caesar.[23]
But in the end, Hamlet did find piety and resolution, defying his temperament that preferred thinking to acting, a student's life to a princely one. He killed Claudius, then died a good death. He denied his friend Horatio "an antique Roman" ending, however, chiding him for seeking to poison himself so that he could die with his master. "By heaven . . . if thou didst ever hold me in thy heart," Horatio, "absent thee from felicity awhile and in this harsh world draw thy breath in pain to tell my story." It was a Christian-like message Hamlet left him with: Do not take the old Roman way, but bear the sorrows of the world, and in your "pain" martyr yourself to life, so that you may spread the word, and "tell my story." Horatio agreed: "Good night, sweet prince, and flights of angels sing thee to thy rest."[24] See how hopelessly entangled life and death, self-sacrifice and self-murder are. Look in vain for a "pure" European paganism without Christianity, or a "pure" European Christianity without paganism. Shakespeare seemed to know this better than Nietzsche.
Nietzsche's praise of Hamlet's "pessimism of strength" seemed to contradict the philosopher's valorized "Great Man" — a figure always willing to act on the grandest of historical stages. To Nietzsche, "the most glorious human being" was Julius Caesar. If Shakespeare had done nothing else, he would still deserve reverence, for "he conceived of the type of Caesar."[25] This was a conqueror whose real and Shakespearean personas could not have been more different from those of Hamlet, or himself, "nauseated" as Nietzsche and the Danish Prince were by bloodshed. Höfele does not explore the full meaning of this Nietzschean paradox, choosing to focus on the philosopher's rapture at the wonders of the Classical era as embodied by Caesar; and disgust at the tawdry, soul-sapping modern age that necessarily turned men of superior quality into "strong pessimists."
Nietzsche's paired fascination with Hamlet and Caesar spoke to the dueling dreams of nineteenth-century Europe's soaring ambitions, as well as Nietzsche's own soaring intellect. There was the young Dane — a man-without-a-state, in the sense that he had spiritually divorced himself from Claudius' regime; and further, that Claudius' ascension had literally disinherited him, making Hamlet an outsider, a forever-prince with no father or crown. Then, there was Caesar: a man whose name was synonymous with inherited crowns (though he did not inherit Rome, nor did he live to wear a crown) and with state power. Hamlet, the hesitant, wished to save the little Kingdom of Denmark, and Caesar, the tireless, was not content until he'd established an Imperium Romanum.
Both, however, were sovereigns of their own souls. Neither man was a slave. It was Julius Caesar's Cassius who personified the kind of slave-ressentiment that Nietzsche despised in liberalism and democracy. Cassius "seems always wavering over what he hates more: tyranny or the tyrant. Surely he hates both, but the oppressive feeling of being up against a higher, more magnificent personality . . . incites his choleric temper to implacable resentment."[26] Ah, the famous "higher" man. Did Nietzsche "conceive of the type of" Hitler, as the author implies? Was he, coupled with Shakespeare, the proto-inventor of interwar fascism? Höfele wouldn't be the first to make the claim. It is an irresistible thing, to — like Horatio, heir to a cast of dead bodies — make up a tale of woe and blame when the victors have arrived on the scene:
But since, so jump upon this bloody question,
You from the Polack wars, and you from England,
Are here arrived, give order that these bodies
High on a stage be placed to the view . . . [and] let me [tell] . . .
How these things came about.
So shall you hear Of carnal, bloody, and unnatural acts,
Of accidental judgments, casual slaughters,
Of deaths put on by cunning and forced cause,
And, in this upshot, purposes mistook
Fall'n on th' inventors' heads.[27]
Indeed, at his worst, Nietzsche was manic. Tragically, and toward the end of his life, he was consumed by madness: "Here is a noble mind o'erthrown!"[28] He denounced the coddling of sensitivities, while suffering all the mental sensitivity of a Hamlet. Sometimes, he came close to dismissing nearly two millennia of Western history. He provided a rationale for radical individualism, for the premise "might makes right." His ideas would even seem to justify some of antiquity's crueler practices, such as the near-annihilation of European groups via imperial conquest. His idol Julius Caesar thought nothing of this when prosecuting his European wars. It is a lesson that all intellectuals with age and maturity must learn: Avoid clinging without reservation to any theorist as holy man, or to his theories as holy writ.
We must also understand that Nietzsche used the uncompromising language of extremes, because he was reacting to what he and others viewed as the extreme degeneration of the late Victorian era. At his best, his philosophical message was this: He wanted Western Man to be his best. Throw out what is anti-life! Life, he argued, is about harnessing strength and marshaling will — of overcoming external forces and mastering oneself without self-pity. Behold the fruits of unalloyed altruism: so that the strong are expended, not even in strengthening the weak, but in ministering to and glorifying their weakness. Any worldview that causes its members to cringe, or blush at their strengths — at beauty, valor, intelligence — that creed opposes the very evolution of mankind. Any people that takes up opposition to the known laws of nature raises foolishness to thrones belonging to wisdom. So are the excellent thus sacrificed to the impotent. When man worships at this altar, he flouts the Divine. Societies that do so get fat people at Target, and worse. If this seems "extreme," then it only proves how we need to reacquaint ourselves with the healthy practice known as "advocating our interests"; of calling truth by its name. If this is "fascist," then so be it. Our civilization could use more of the will-to-life than the current will-to-suicide that it has lately and enthusiastically embraced.
As he aged, Nietzsche's rage against the German Empire and mental retreat into a second, or secret Germany only deepened; an "inner emigration" from the regime and everything "German" drove his later works. Ecce Homo (finished in 1888 and published in 1908) was alternately funny and horrifying, given the book's self-aggrandizement and targeting of nearly everything sacred: Nietzsche was Germany's "first upright intellect in [its] history of intellects, that intellect in which truth ultimately got the better of the fraud of four thousand years." "Fichte, Schelling, Schopenhauer, Hegel, and Schleiermacher, just as well as to Kant or Leibniz," they were all mere "swindlers." He wrote to a female friend in 1889 that if he were running things, he would line up the Pope, Wilhelm II, and Bismarck and have them all shot. He ended this violent fantasy letter with the provocative signature: "The Crucified One." But if Nietzsche felt betrayed by the "rotten state" of Germany and its helmeted Kaiser — a sorry parody of his Imperium Romanum — then he found consolation in books, particularly those of Shakespeare:
Friendly, I take you in my hand —
You gave me comfort, gave me wine and bread,
My Shakespeare, when pain cast me down . . .
you remained true to me, deep vision!"[29]
Reading Shakespeare was like taking Communion: a spiritual sustenance that saved his soul, if not his sanity.
* * *
Like all journals of dissident ideas, Counter-Currents depends on the support of readers like you. Help us compete with the censors of the Left and the violent accelerationists of the Right with a donation today. (The easiest way to help is with an e-check donation. All you need is your checkbook.)
For other ways to donate, click here.
Notes
[1] Andreas Höfele, No Hamlets: German Shakespeare from Nietzsche to Carl Schmitt (Oxford, UK: Oxford University Press, 2016), viii.
[2] Ibid, 4.
[3] Ibid, 7.
[4] Ibid, 1.
[5] Ibid, 24; Carl Schmitt's reference to himself.
[6] William Shakespeare, Hamlet (New York: The Folger Shakespeare Library, 2012), I.v., 69.
[7] Ibid, I.ii., 31.
[8] Ibid, I.v., 59.
[9] Ibid, I.i., 17.
[10] Ibid, IV.iv, 203-04.
[11] Ibid, V.ii., 283-87.
[12] The Folger and Arden Shakespeare editions are the best.
[13] Höfele, 26.
[14] Ibid, 27.
[15] Ibid, 32.
[16] Ibid, 32.
[17] Hamlet, IV.vii, 233-35.
[18] Ibid, V.i., 239.
[19] I have sometimes thought that this beautiful death (that is not quite suicide) was entirely made up by the Queen, whose unfortunate duty it was to tell Ophelia's brother of her fate:
Laertes: Alas, then she is drowned.
Queen: Drowned, drowned.
I suspect she actually hung herself from a tree, alluded to with the line, "her coronet weeds / Clamb'ring to hang, an envious sliver broke . . ." This more pleasant death allowed her a Christian burial.
[20] Hamlet, V.i., 249.
[21] Ibid, III.i., 127.
[22] Ibid, V.ii., 283.
[23] Höfele, 42.
[24] Hamlet, V.ii., 283.
[25] Höfele, 23.
[26] Ibid, 37.
[27] Hamlet, V.ii., 285.
[28] Ibid, III.i., 133.
[29] Höfele, 52, 35.