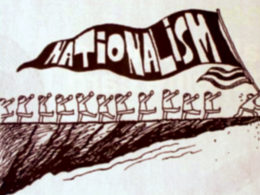 760 words
English original here
V tomto krátkém článku představím své myšlenky ohledně postmoderního, postliberálního a řekl bych i post-nacionálního věku.
Nejprve bych asi měl vysvětlit, co vlastně myslím "postnacionalismem".
Obhájci postmoderny, postliberalismu a globalizace rádi mluví o konci klasické politiky, států, společností i národů.
Kvůli levicové indoktrinaci masovými médii a vzdělávacím systémem dnes obyvatelé západních zemí přemýšlejí o záležitostech týkajících se lidské rovnosti, internacionalismu a globalismu jinak než dříve. Levicoví ideologové obvykle zdůrazňují nutnost pochopit, že žijeme v postnacionalistickém věku a že multikulturalismus a sociální stát naprosto změnily to, co jsme dlouhá staletí nazývali "národem". Nutno uznat, že v jistém slova smyslu mají kus pravdy.
Vlastenci milované idealistické představy ohledně národů totiž selhaly. V západní Evropě je to patrné při pohledu na masovou imigraci a probíhající "migrační krizi", která už bohužel stihla do značné míry změnit strukturu společnosti. Ve střední Evropě se situace od západní liší, protože nás paradoxně vysoký západní životní standard prozatím ochránil před masovou imigrací a naše společnost tak zůstala v jistém smyslu konzervativnější. Nicméně liberalismus a kapitalismus jsou tu pevně zakořeněny a spotřebitelská společnost je velkým problémem i zde.
Ale není to o tom, že by "vznešené síly" nacionalismu selhaly proti "temným hordám" liberalismu a globalismu. Kořeny tohoto problému jsou totiž mnohem hlubší: Idea nacionalismu byla odsouzena ke zkáze od samotného počátku, protože demokratický nacionalismus, národní státy a trvalé nepřátelství vlastní "malým nacionalismům" byly v prvé řadě ničivou silou proti staré, tradiční evropské společnosti a politickému řádu. Právě tyto myšlenky zničily rozmanitost Evropy, která byla tehdy skutečná a organická, a vytvořily trvalou nenávist mezi evropskými etnickými skupinami. Liberalismus to samozřejmě dělá také, ale v 19. století byly liberalismus a nacionalismus spojenci a vzájemně si nijak zvlášť neodporovaly.
Kontrarevolucionáři jako Joseph de Maistre a Klemens von Metternich to dobře věděli, a tak je zvláštní, že někteří liberální intelektuálové dnes objevují tutéž pravdu, již monarchisté znali už před stovkami let: Tedy že malá společenství a organizace – někdy i mezinárodní – jsou důležitějšími politickými aktéry než národní státy. Samozřejmě, tito liberálové by pravděpodobně nesouhlasili s mým tvrzením, že církev ve středověku a období raného novověku, kam patří i složené státy jako Svatá říše římská, Habsburská monarchie či Ruské impérium jsou dobrými příklady konceptu, o kterém mluvím.
Neříkám, že ústřední hodnoty současného nacionalismu nemají svou cenu. Záměr zachovat integritu společnosti, zachránit kulturu a identitu národa jsou i pro mě důležitými základními hodnotami. Nemyslím si však, že nacionalismus – který se obvykle projevuje dost šovinisticky – je k tomu ten pravý, mj. i proto, že nacionalismus chce sjednotit obyvatelstvo podle etnicity, jazyka a náboženství, ale Evropa v tomto ohledu jednotná nikdy nebyla a ani dnes není. Vezměte si například Katalánsko, Bretaň, okcitánsky hovořící obyvatele jižní Francie, Jižní Tyrolsko v Itálii, historické obyvatelstvo Slezska či maďarské obyvatelstvo žijící v částech Slovenska, Rumunska a Ukrajiny.
Etnonacionalistické smýšlení podle mě utiskuje a pomalu ničí evropské regionální etnické kultury, náboženské tradice a řemeslnou výrobu, které jsou srdcem a podstatou evropské organické rozmanitosti. Prostřednictvím této jednoty v rozmanitosti existovaly předmoderní národy, především (ale nikoliv výlučně) jako monarchie. Tyto "složené státy" byly propojeny širšími kulturními, historickými a náboženskými vazbami a společnými zájmy. (Tím samozřejmě nechci popírat nekonečné ničivé války, které se vyskytly mezi evropskými národy, ale má teze i tak platí.)
Zdá se, že dnešní nacionalisté to naneštěstí nechápou a nechtějí či neumí opustit paradigma národního státu 19. a 20. století. To ale nemůže vytvořit a udržet jednotnější Evropu – což je přesně to, co potřebujeme tváří tvář migrační krizi, změně klimatu a potenciálně největším geopolitickým změnám, které svět od konce studené války zažil.
Budeme-li pokračovat ve svých starých nacionalistických kolejích, staneme se navzájem nepřáteli, což si v čase "imigrační krize," ofenzívy LGBT proti tradiční rodině a liberálního nátlaku na "novou definici" základních věcí nemůžeme dovolit. Samozřejmě, že konzervativní vítězství v roce 2016, tj. zvolení Donalda Trumpa, Brexit a růst hnutí alternativní pravice v USA, nám ukázala, že se politické mínění se na Západě posunuje našim směrem. Ale to ani zdaleka nestačí. Po zvolení Alexandra Van der Bellena, Emmanuela Macrona a volební porážce Geerta Wilderse je zřejmé, že problémy neskončily. Podle mého soudu nemůžeme skutečně změnit směřování Evropy, zůstaneme-li na úrovni nacionalistického myšlení. Postliberální globalisté si myslí, že jejich nepřátelé jsou na Západě "zpátečničtí nacionalisté". Vědí, co tito lidé budou v hrubých obrysech říkat a dělat. Pokračovat tedy v zavedeném nacionalistickém kurzu znamená jednat v souladu s jejich očekáváními. Potřebujeme se tedy zastavit a zamyslet.
Dříve byly k dosažení popsaných cílů, tedy zachování přirozené rozmanitosti evropských národů účelné konzervativní politické strategie, dnes se vhodněji jeví ty identitářské. Musíme tedy nacionalismus překročit a ocenit to, co nám nabízí neliberální postnacionalismus.
This translation originally appeared at Delian Diver.
* * *
Like all journals of dissident ideas, Counter-Currents depends on the support of readers like you. Help us compete with the censors of the Left and the violent accelerationists of the Right with a donation today. (The easiest way to help is with an e-check donation. All you need is your checkbook.)
For other ways to donate, click here.
Enjoyed this article?
Be the first to leave a tip in the jar!