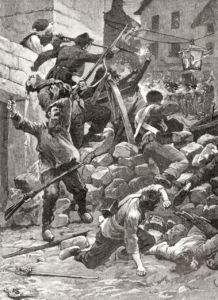 1.071 palabras
English original here
Jason Kessler hizo recientemente una crítica al movimiento Nacionalista Blanco en su canal de Telegram: «Si el Nacionalismo Blanco está totalmente desprovisto de mujeres Blancas solteras y no puede proporcionar funciones básicas de una red social para los hombres solteros, es insostenible.»[1] De hecho, el Nacionalismo Blanco es «inútil» porque «no está proporcionando funciones sociales básicas para sus adherentes»,[2] particularmente proporcionando parejas a los hombres.
No es mi intención hablar de Jason Kessler ni del fenómeno más amplio de los «incels» (célibes involuntarios). Baste decir que Jason Kessler es un dedicado defensor de la raza Blanca y cuenta con toda mi simpatía.
En cambio, quiero tratar la cuestión de los beneficios que la gente puede esperar del movimiento Nacionalista Blanco. ¿Es razonable esperar que el movimiento te proporcione una realización personal, romántica o de otro tipo?
El Nacionalismo Blanco es un movimiento político. Como todos los movimientos políticos, prometemos beneficios significativos. De hecho, prometemos cambios enormes que transformarían el mundo. Prometemos revertir el declive demográfico, cultural y político de la raza Blanca, mediante la creación o restauración de terruños soberanos para todos los pueblos Blancos.
Revertir nuestro declive demográfico implica hacer retroceder la llamada revolución sexual, que, al igual que la revolución bolchevique, prometió libertad y abundancia, pero acabó dando lugar a una distopía en la que cada vez más jóvenes llevan vidas solitarias y sin sexo. Así que, en efecto, el Nacionalismo Blanco promete acabar con el problema incel.
Pero todo eso vendrá después de que ganemos.
Mientras tanto, enfrentamos una enorme oposición. A nuestra gente le han lavado el cerebro en el auto-odio y la autodestrucción. Y cuando la gente despierte, el establishment no reparará en gastos y se urdirá cualquier infamia para aplastar a la disidencia y aferrarse al poder. Luego están los efectos retardantes de ideologías anticuadas, personalidades aberrantes, anti-intelectualismo y comportamientos autodestructivos en nuestras propias filas.
A pesar de todos estos obstáculos, nuestro movimiento crece. Aunque, comparado con los rivales ―y comparado con lo que nuestro movimiento necesita ser si queremos vencerles―, el Nacionalismo Blanco sigue siendo una vanguardia pequeña, mal organizada y mal equipada. Pero de los pequeños comienzos pueden surgir grandes cosas.
Pero si quieres unirte a esta vanguardia hoy, no deberías preguntarte qué puede hacer el movimiento por ti, sino qué puedes hacer tú por el movimiento. Éste es el espíritu que construirá un movimiento que, algún día, será capaz de aportar beneficios, no sólo a sus miembros, sino a nuestra raza en su conjunto.
No estoy diciendo que no haya recompensas emocionales en esta lucha, que todo sea abnegación y que nunca vayas a encontrar la felicidad en el camino. Pero tu felicidad no puede ser la principal preocupación de nuestro movimiento ―de hecho, ni siquiera debería ser tu principal preocupación― por dos razones principales.
En primer lugar, la felicidad pertenece a la categoría de «resultados», es decir, cosas producidas por la acción. Todo movimiento político trata de resultados. En nuestro caso, queremos salvar a nuestra raza. Comparada con ese bien colectivo, la felicidad individual no es tan importante. Este movimiento no trata de satisfacer nuestras necesidades personales. Esto es política, no terapia. En esta etapa de la lucha, necesitamos personas que estén más centradas en dar al movimiento que en recibir de él. Ésa es sencillamente la única manera de construir un movimiento que algún día pueda aportar beneficios ―incluida una mayor felicidad individual― a nuestra raza en su conjunto.
En segundo lugar, hay cosas que podemos controlar y otras que no. Discernir la diferencia es el principio de la sabiduría. La felicidad depende de circunstancias que no podemos controlar, y cuando eres un disidente, tienes enemigos trabajando constantemente para negarte esas circunstancias.
Sin embargo, podemos controlar qué principios defendemos y qué objetivos nos esforzamos por alcanzar. Si elegimos principios y objetivos excelsos, y nos esforzamos al máximo por alcanzarlos, se nos contagiará algo de su excelencia. Nos hacemos merecedores de alabanza y merecedores de felicidad. E incluso si las circunstancias no nos hacen realmente felices, podemos encontrar consuelo en el hecho de que al menos somos merecedores de serlo.
Dado que tenemos más control sobre nuestros méritos para ser felices que sobre la felicidad en sí misma, nuestra principal preocupación debería dirigirse más hacia nuestros méritos que hacia nuestra felicidad. Por lo demás, la felicidad tiende a aparecer de todos modos cuando nos ocupamos de fines más valiosos. La felicidad es como el sueño: llega de forma natural si dejas que suceda, pero se te escapa si te centras en ella o te aferras a ella.
Además, puedes elegir centrarte en tu valía en lugar de en tu felicidad. Puedes hacerlo ahora mismo. Si eliges convertirte en una persona así, te convertirás en un mejor activista, porque no tendrás la tentación de abandonar debido a problemas personales y contratiempos. Así, será más probable que contribuyas a obtener buenos resultados colectivos a largo plazo.
Hay muchas oportunidades para el activismo, lo que nos lleva de nuevo al punto de Kessler sobre las «funciones sociales básicas». No sólo necesitamos activistas políticos. De hecho, dado que el activismo político está cada vez más reprimido, los nacionalistas tienen todas las razones para centrarse en otras formas de organización comunitaria.
Los Nacionalistas Blancos de cada comunidad pueden crear sus propios grupos de autoayuda y ayuda mutua. Necesitamos clubes de senderismo y acampada, grupos de fitness y artes marciales, clubes de lectura, grupos al estilo Toastmasters para desarrollar habilidades comunicativas, redes de homeschooling, grupos de hombres y de mujeres, y eventos para familias. Necesitamos especialmente organizaciones que ayuden a los nacionalistas con problemas de alcoholismo y drogadicción.
Estos grupos pueden servir como modelos a pequeña escala del tipo de sociedad que queremos crear para todos los Blancos. Si no podemos crear grupos decentes a pequeña escala, ¿por qué iba a confiarnos nadie sociedades enteras?
Por supuesto, encontrarás oposición y obstáculos. Pero otros grupos los han superado, así que tú también puedes hacerlo, sobre todo con su ayuda. Sin embargo, si creas un grupo de este tipo, tienes que ser realista: invertirás en él más de lo que sacarás de él, sobre todo al principio.
Es una tontería apuntarse al inicio de una lucha revolucionaria y esperar un paquete completo de beneficios. Habrá muchos años de vacas de escasez antes de que ganemos. Es más probable que nuestro movimiento beneficie a nuestra raza si dejamos de preocuparnos por beneficiarnos nosotros mismos.
* * *
Like all journals of dissident ideas, Counter-Currents depends on the support of readers like you. Help us compete with the censors of the Left and the violent accelerationists of the Right with a donation today. (The easiest way to help is with an e-check donation. All you need is your checkbook.)
For other ways to donate, click here.
Notas
[1] https://t.me/TheMadDimension/5209
[2] https://t.me/TheMadDimension/5214
Enjoyed this article?
Be the first to leave a tip in the jar!