1,609 words
I'm a proud tree-hugger, but even I have my limits. It's about time to send some friendly-fire flak at Greta Thunberg, arguably the most public face of the global whining movement. Even the Goddess Herself thinks the Swedish Doom Goblin is a twit.
Greta Thunberg Incorporated: The Exposé
Keean Bexte, a reporter formerly with Rebel News, did some investigative work on the origins of the world's top climate change waif. He had much to say, but I'll break it down to the bare essentials.
Although she's said that her childhood was ruined, the fact is that she grew up in a neighborhood practically out of a storybook, and with a well-off family. It's the sort of upbringing that Ta-Nehisi Coates thinks that all white kids get, of course at the expense of black kids from the ghetto. (For the record, I certainly wasn't born with a silver spoon in my mouth, but I'm not crying in my beer about it.)
If Greta wallowed in doom and gloom while living in an objectively pleasant and nurturing background for years, then that's on her. Some people just don't want to be happy, and it takes some Socratic self-examination to get out of that rut. Most chronically sulky mallrats will simply wear black clothing, get bad haircuts, write emo poetry, and — most importantly — grow up at some point.
Thunberg began her famous school strike by holding up a placard at the Swedish Reichstag. (Sorry, I find myself unable to spell it their way.) What a little rebel! Bexte indicates that her alternative school isn't strict about attendance and doesn't mind letting students take time off for personal reasons. So they might not have minded too much when she didn't show up on Fridays in order to protest.
As the official story goes, the first day that she played hooky at the Reichstag, a seasoned activist happened to meet her there. As a result, since then she overcame her shyness and blossomed with the climate protest shtick. (More accurately, she doesn't know when to keep her big yap shut.) Was the meeting coincidental, or was the other guy looking for a youthful mouthpiece for the movement and then staged the encounter? Keean Bexte tried to get answers straight from the source, but Greta's security guards stood in his way, one even shoving him. He asked them questions as well, but they clammed up.
I say that Greta Thunberg smells like AstroTurf. Although the mallrat demographic tends not to be gifted with exceptional wisdom, she quickly became an international authority on climate change and carbon emissions. This brought her into the lofty halls of globalist power such as the United Nations and the W6rld Ec6nomic F6rum, speaking as an expert when the ink was barely dry on her high school diploma. What makes her some kind of a prophet? She has an opinion, but everyone else does too; so what?
The latest from the Swedish Doom Goblin
Greta Thunberg sings Swedish Death Metal
Lately, she has graced us with her insight once again. This is documented in the article "Greta Thunberg: It's time to transform the West's oppressive and racist capitalist system" from the Daily Telegraph. While promoting a new book, she had the following to say:
She said: "We are never going back to normal again because 'normal' was already a crisis. What we refer to as normal is an extreme system built on the exploitation of people and the planet.
"It is a system defined by colonialism, imperialism, oppression and genocide by the so-called global North to accumulate wealth that still shapes our current world order."
Ms Thunberg added: "If economic growth is our only priority, then what we are experiencing now should be exactly what we should be expecting." . . .
Expressing views that seemed more radical than in the past, she added that the climate crisis "has its roots in racist, oppressive extractivism that is exploiting both people and the planet to maximise short-term profits for a few".
Greta, who loaded up the green cantaloupe between your ears with all that postcolonial jive? This wasn't about race until you brought it up. When your efforts were about extreme environmentalism, it was tolerable, but things have changed now that you're fashionably trash-talking your own people. This is the point when folks like me will stand up and tell you to put a sock in it.
As the article states, there indeed have been reactions, though generally of the anti-anti-capitalist nature. To this, Thunberg wrote online:
The climate deniers and delayers are so desperate and feel so threatened that they simply make up their own "quotes" from pure lies and fantasies. This is what I have said about systems and ideologies:
Leaving capitalist consumerism and market economics as the dominant stewards of the only known civilization in the universe will most likely seem, in retrospect, to have been a terrible idea. But let us keep in mind that when it comes to sustainability, all previous systems have failed too. Just like all current political ideologies — socialism, liberalism, communism, conservatism, centrism, you name it. They have all failed. But, in fairness, some have certainly failed more than others.
Sure, let's just throw the baby out with the bathwater while we're at it. Right, kid . . .
Some real talk at last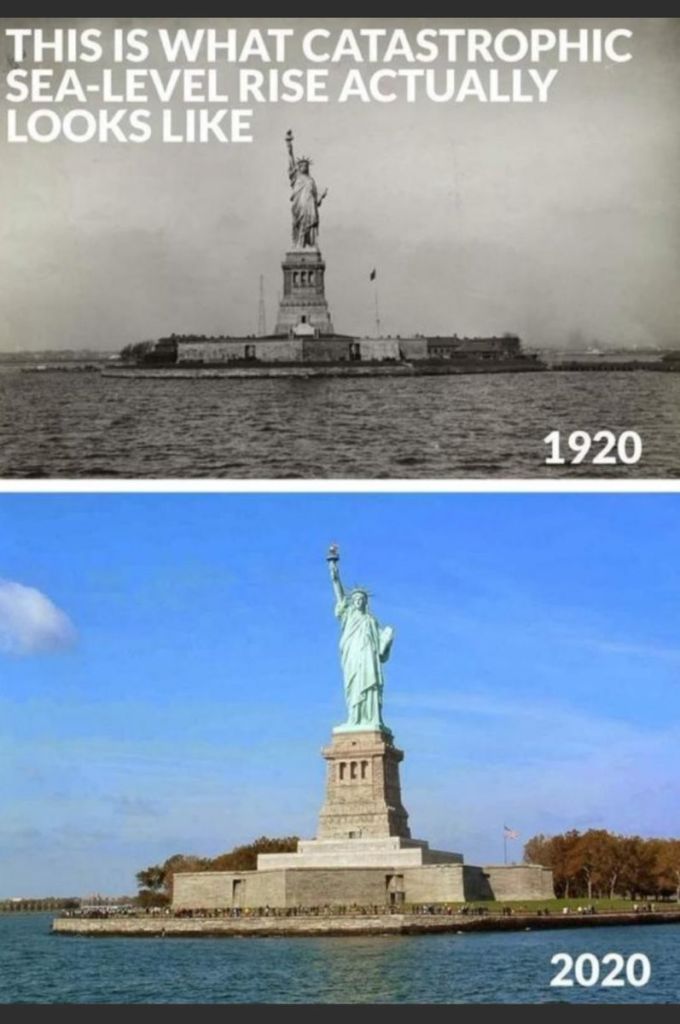 Is consumerism pointless? Absolutely! In fact, it's a minor blight on society. Should scarce resources be conserved? Of course! That makes sense. Should we do what we can to get the petroleum needle out of our collective arm? Definitely! I'm tired of paying for the decadent lifestyles of the Arab oil barons. It's after this point, however, that I'll diverge from some of the more extreme environmentalists, including, of course, Greta Thunberg.
Is capitalism for the birds? There are some major problems with how it's implemented now, but the good news is that's not the only way to run it. I'll add that throwing market economics out the window without even any idea of what will work acceptably well in its place is dumber than dirt. Is global warming a problem? It's a potential problem, and there's a case for being cautious about it. Is man-made fossil fuel use contributing to it? That's possible, though so far it doesn't look much worse than natural variations in temperature over time. Is all that a good reason to deindustrialize white countries?
Whoa, wait a minute — where would I possibly get the idea that the global warming hoopla is about deindustrializing white countries? For one thing, the Kyoto Protocols, as originally conceived, pointedly do not have binding targets for Latin American or Caribbean countries (other than a few European dependencies), nor for any African countries, nor for any Asian countries aside from Japan and Kazakhstan. The rest of the lineup, of course, is pretty white. The exempted countries — Mexico, Brazil, Nigeria, India, China, and so forth — were allowed to keep burning fossil fuels like they're going out of style. Curious, that. A side benefit for our globalist buddies would be to put more power in the hands of unaccountable bureaucrats. I'm even enough of a cynic to entertain the possibility that climate change has been hyped up in the attempt to scare us into compliance.
Now, with Thunberg's recent volley of anti-white rhetoric, the mask slipped off a little more. When she spoke of "the so-called global North," which she accused of "colonialism, imperialism, oppression and genocide" (yaaaawn), this of course means white countries. She even had to throw in a "so-called," which at least unconsciously reflects the "whiteness" fad, a gaslighting tactic which accuses us of being the epitome of evil while at the same time denying that we exist. Greta's hoo-hah about "racist, oppressive extractivism" is, of course, more anti-white dog-whistling. We're well aware, of course, of who gets routinely called "racist" and "oppressive," and who has been deemed eternally innocent of the same.
Since Thunberg is such an expert on the environment, then why isn't she aware of the "extractivism" occurring in several Third World countries, in which the profits from these ventures go straight into the pockets of local oligarchs? These places tend to have terrible environmental practices as well. As for colonialism and imperialism, what does she think the Chinese are doing in Africa?
What she and others who fashionably trash-talk whites don't realize is that their comfortable lives would be unimaginable without the technology developed by white people. Anyone who enjoys having clean tap water can thank a white person. Those disinclined to do so can use the computers that we invented to complain about us online. If not for William Shockley, then Greta Thunberg wouldn't have a transistor-amplified microphone to record her saying, "How dare you?" Yes, these things do consume power. The good news is that I've seen progress in pollution reduction over my lifetime. When we do get a breakthrough to produce inexpensive clean energy, it'll probably be a white guy who makes the discovery. If not, then it'll be an Asian guy who creates something new by making an incremental advance upon existing white technologies.
You Will Eat The Bugs
When the Swedish Doom Goblin puts down capitalism, just what did she think her W6rld Ec6nomic F6rum buddies who have promoted her are all about? The money men behind this globalist club are the absolute pits as far as capitalists are concerned. It's as if they think Brave New World is an instruction manual. What's more is that she's being used by them to push the messages that they, and others like them, want us to believe. She might imagine that she's a brave rebel speaking truth to power, but the reality of the situation is the opposite.
* * *
Like all journals of dissident ideas, Counter-Currents depends on the support of readers like you. Help us compete with the censors of the Left and the violent accelerationists of the Right with a donation today. (The easiest way to help is with an e-check donation. All you need is your checkbook.)
For other ways to donate, click here.