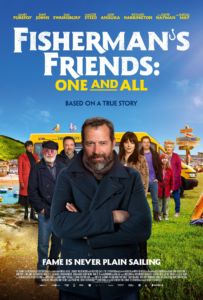 1,103 words
We live in an odd era when films like Fisherman's Friends still get made. In spite of all the woke nonsense, someone still made a film about (mostly) white people in Britain. A trip to the film's Wikipedia page revealed an amusing "controversy": one of the few black actors, who had a minor role in this English film, complained about being named on its promotional poster, but not pictured. That's racism, folks!
Race is subtly present in this film. My girlfriend astutely pointed out that practically every black person with a speaking role in it was portrayed somewhat negatively, or at least neutrally, prompting us to joke that it is all one big dog whistle.
Fisherman's Friends is the story of a group of Cornish fisherman being signed by a London music executive and achieving mainstream success. Noel Clarke, who plays one of the black characters, is Troy. Troy is our black American music executive. He goads our protagonist into signing a group of Cornish fisherman who sing sea shanties, because he thinks it's a funny prank. Troy lies about liking the music and its broad appeal, even likening them to the "slave songs" of his ancestors (which is actually ridiculed by his junior staff). Once our hero, Danny, falls for the music, however, Troy becomes another antagonist. He disdains these white fishermen and actively attempts to thwart any record deal with them. He's a bad-tempered, foreign (American) black.
Our second black face worth mentioning is the good-natured black London urban pub-goer. He's an interesting choice, because of course he has an "English" accent, yet merrily professes to the Cornish fishermen he is drinking beer with that he has no idea what sea shanties are. Of course he is ignorant! His ancestors turned up here in the 1940s, aboard the Windrush. He knows nothing of the British people's relationship to the sea, nothing of the rivalry between Cornwall and Devon, and nothing of the history of the land. He's another foreigner, in this case a well-meaning one used as a plot device to get the multi-racial pub singing, "What Shall We Do with the Drunken Sailor."
The third black face? Another music executive — funny that, almost like they are avoiding a certain other trope. This scene again could almost have been written by one of our own creatives. The Cornish fishermen breeze into the recording studio that is populated by young, multi-racial millennial types with odd facial piercings, and break into song. Most of the white faces enjoy it, but there are plenty of confused looks from the blacks and browns. Our female black music executive is deaf to pleas to give them a chance — another black with the "whip hand" over the native white man. This scene even goes so far as to culminate in a bubbly white ginger woman offering the band a spot on TV!
Of course there are a few other token appearances of our dark friends in this film, including in odd roles such as a paramedic who has one line. But beyond the aforementioned characters, this is a very white film that depicts the importance of place, history, heritage, family, and tradition. The film is surprisingly bold about it; the cynic in me thinks that perhaps they only got away with it because they could frame all of it as Cornish, Cornwall of course being the home of the Cornish people, tough white people who have been sailors for a long time. With family links to Devon, of course they are my natural rivals, but the closeness of culture is in part what makes the rivalry. It was a bit of a genuine nostalgia trip for me to see the whitewashed buildings, the small boats, and the pub interiors all lovingly portrayed.
This is a film that makes you proud of that extended community and heritage, and allows you to remember your own experiences. Any British film worth its salt will take that extra time to mention the right kind of regional beer, for example — and they do that a number of times. That alone had me wishing for a pint of Tribute. The film also threw in some other surprises, such as in a subplot about the financial difficulties of the village pub's owners. This story arc is resolved perfectly with the "man-woman-child" element at the end of the film, but the astute viewer will note that the person attempting to buy out and destroy the pub has a rather Norman last name and is of that aristocratic class in the United Kingdom that is so fond of selling out the actual people.
Watching this film stirred great sadness in me for my homeland. It is a feel-good film that focuses on a living tradition that is under threat and that is shown to have widespread appeal as a result of the music's success. It focuses on a part of Britain that has largely escaped massive demographic change, though Cornwall remains incredibly poor. All that changes, and changes quickly; I've seen it myself in Devon. One moment there are only a few brown faces and snatches of Polish being spoken; the next, there are plenty of browns and many Polish shops springing up.
The film avoids any discussion of this, of course, but we do get lots of lines about how important heritage is, from the love interest talking about how many generations are buried in the Church Yard to sailors speaking of press-gang and town rivalries harking back to the 1600s. There are other small nods to the changes and sorrow of modernity as well. We have a single mother with a deadbeat ex who never shows himself, a record executive who begins the film by lambasting monogamy and living that hollow London lifestyle, and of course more than a few references to the scourge of second homeowners in these picturesque but dormant seaside towns. These are all realities this film can't focus on, yet does not ignore completely.
This film is not perfect; it is a bit romantic comedy-esque, which can almost appear too cliché, but it is still rather enjoyable. There are some confusing moments that don't quite make sense during their trip to London, also, and a few overly artificial heartstring moments — but all that can be forgiven. It is an uplifting story and has some unintentional, yet amusingly accurate things to say about race in Britain. It also reminds you of the seafaring heritage of large parts of the country. It could have been written by someone sympathetic to our worldview; that alone makes it a rarity and worth a watch.
* * *
Like all journals of dissident ideas, Counter-Currents depends on the support of readers like you. Help us compete with the censors of the Left and the violent accelerationists of the Right with a donation today. (The easiest way to help is with an e-check donation. All you need is your checkbook.)
For other ways to donate, click here.
Enjoyed this article?
Be the first to leave a tip in the jar!