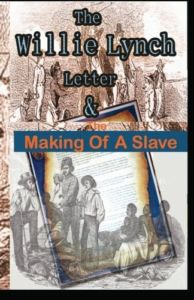 1,568 words
I may not have change for a dollar, but I sure know how to break a buck!
Let's face it, people, it just wouldn't be "Black Hisseray Monf" without a sober look at Black America's favorite gay interracial BDSM story.
The Willie Lynch Letter has been promoted for years as a legitimate historical source about the brutality of the eighteenth-century slave trade. This narrative is so popular that it's been referenced in the lyrics of at least eight chart-topping rappers, preached about by Louis Farrakhan at the Million Man March, and mentioned as gospel truth in several made-for-blacks movies. In fact, its use in The Great Debaters (2007) was at the insistence of the films' star, Denzel Washington, and was not included in the original script. Tariq Nasheed also made it the subject of his most recent anti-white documentary, Buck Breaking (see Nicholas R. Jeelvy's review on Counter-Currents here).
The letter details the methods and motives of "breaking a nigger-buck," also known as buck breaking. Though it suggests the methods are the same for horses, it goes right into a graphic method of raping a male slave in front of his mate and their children and tying the most rambunctious of the men to two horses and then setting him on fire. This, so goes the claim, should cause the horses to run in opposite directions and tear the slave's body apart. Then details are given as to separating the lighter-skinned from the darker, then dividing them again by the coarseness of hair and a few other traits, dictating differing workloads and tasks to these newly-derived castes. The narrative goes on to describe simple psychological operations to be used against black females to make them independent of the males and induce a kind of Stockholm syndrome in them so that they will side with the slave master on any future issues.
On its surface, this supposed speech is an obvious forgery. First and foremost, it claims to be a record of a speech given by Willie Lynch "on the banks of the James river" in 1712. Though records of speeches from that era do make note of the location at which the speech was made, they are specific. The James River is 348 miles long, and the specific place along the river where this speech was made is never mentioned.
Furthermore, there are a variety of other glaring historical anachronisms. Words such as "foolproof" and "refueling" are used despite the fact they did not come into use until the twentieth century. Then there is the overabundance of the use of the word "nigger." Though it may have been bandied about by the occasional educated white person at the time, the use of it is so frequent in the text that it's easy to ascertain its intention to act as a provocation to any blacks who might read it. There is one known typewritten copy of the letter that dates it to December 25, 1712 — even though no references to Christmas are made.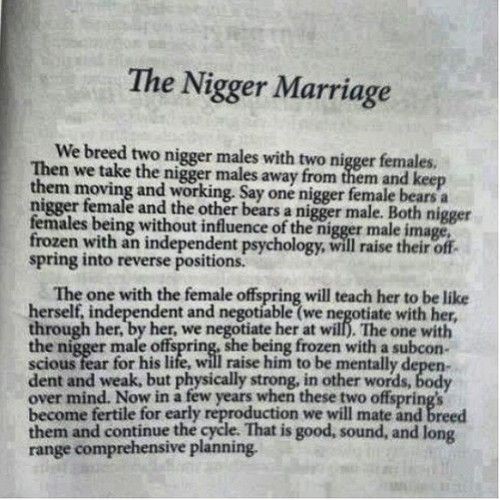 Many copies contain a Forward by Frederick Douglass, though how it is written isn't anything like Douglass' own slave narrative. Though he does describe a "nigger-breaker" in his own famous work, it's just a rough white man who beats people. Douglass himself said that he resisted that man, wrestling with him in a barn for over an hour. He wasn't tied to two horses and set on fire. Though Douglass speculates that he may have been the product of miscegenation, he certainly didn't include any stories about slaves being raped. In fact, the most violent episodes in his narrative involve someone being summarily shot and another being stomped to death. Rough, but it pales in comparison to the horrors of the Willie Lynch Letter.
Then there's that name: Willie Lynch. Willie was a name usually given to blacks in the South. The surname Lynch was common, but the letter claims it as the origin of the word "lynching." It should be noted that lynching does not actually mean hanging someone from a tree, it simply means the organized administration of justice without a trial. Many accounts of lynchings involve the lash or the victim being tarred and feathered. None of them are dated to 1712. The Encyclopedia Brittanica states that the word came into use later and was derived from the name of Charles Lynch, a Virginia Justice of the Peace who made a reputation for himself by ordering the summary punishment or execution of Loyalists during the Revolutionary War. These details and more are provided by James Elbert Cutler, Ph.D. in his book Lynch-Law: An Investigation into the History of Lynching in the United States. In that book, Professor Cutler states that the word "lynching" didn't enter the English lexicon until 1848.
Then what is the origin and purpose of The Willie Lynch Letter?
The truth is that the letter was in fact authored by a booze-soaked Afrocentric psychologist named Kwabena Faheem Ashanti in Durham, North Carolina. In an impromptu interview at Black and Nobel Books in North Philadelphia, he explained:
One night I was in my kitchen, sittin' there drinkin' some vodka and orange juice — I was about 32 years old and I was home by myself. I decided to write something about the role of white people in slavery. I had read a book called The Black Jacobins. In that . . . that book talks about how brutal slavery was. I had read some books about slavery, but they were not brutal like that. [It's] in Haiti . . .
I wrote this document [that] outlined the brutality of slavery . . . It filled two pages, front and back . . . The more I thought about it, I thought, "what am I gonna call this thing?" The more I thought about it, I thought the one thing they did a lot during slavery was lynch people. So, there's a town called Lynchburg, Virginia, about 60 miles from Durham — and I thought about that. [Now, it must be named] Lynchburg 'cause they must have lynched a lot of black people there. We have, sorta like a . . . name that we used to have for black people. If it's a male, it was Willie . . . I said Willie . . . Willie Lynch . . . Willie Lynch . . . That's how the name Willie Lynch came to be. I put that on the letter, xeroxed on the old machine. Around twelve o'clock midnight, I put em' in my car — I ran 500 copies. I just rode all over town dropping them off . . . Where people [would] pick em' up — they wouldn't necessarily see who did it, cause' it was at twelve o'clock at night.
So that's what I did! . . .  I didn't tell anyone in my group cause' . . . I didn't know [if] it was gonna work . . . I sat back and I said, "In maybe about three days, stuff'll start jumpin' off." Three days came. Nothing. Three weeks came — nothing! So I forgot [about it] and figured move on with the next story.
I did take one to a bookstore. He had one copy of it. I had no copies; it didn't really mean anything to me.
But, in any event, 15 years had passed and I'm at the Million Man March. Lo and behold, Mr. Farrakhan — who I've admired deeply — read that speech and I almost fainted, because I wanted to know, how did he know about that letter? Some people have speculated that what happened was people traveling through there — some people picked it up — and began to carry it around. Gradually, some things was [sic] added to it. But the basic letter was mine.
Later in the interview, he talks about his anger as a young black man in the 1970s. It seems he wanted to motivate people to violent action. You can see the original interview with Dr. Ashanti here.
Dr. Ashanti passed away in July of 2021. His life was celebrated on the podcast Time for Awakening with Dr. Bruce Bridges. In that short sketch of the man's life, Dr. Bridges posits that Ashanti's other motivating factor to do this was the novel The Man Who Cried I Am by John A. Williams. Though fiction, the novel purports to be an account of the life and death of fellow black novelist Richard Wright. In the text, Williams invents the King Alfred Plan as a fictitious CIA plot to wipe out black people worldwide. In later editions, Williams compared the King Alfred Plan to J. Edgar Hoover's COINTELPRO: a program meant to combine the resources of various investigative services for the purpose of monitoring young radicals and black militants.
When that novel was first published, Williams photocopied the portion detailing the plan for black genocide and left copies on seats in subways around Manhattan. It went viral throughout the black community, even being featured in the song "King Alfred Plan" by Gil Scott-Heron on his 1972 album, Free Will. In the song, the plan is accepted as truth. It finally came to the attention of the bisexual cult leader Jim Jones, who often discussed it at length in his addresses to the People's Temple. Jones also accepted it as genuine — or at least saw it as a successful scare tactic to use on his sheepish followers. The intentions are always the same: widespread panic.
Dr. Kwabena Faheem Ashanti spent the rest of his life as a darling of the Afrocentric movement, disseminating a hybrid form of parapsychology drawn from the intersectionality of psychotherapy, Black Studies, and voodoo.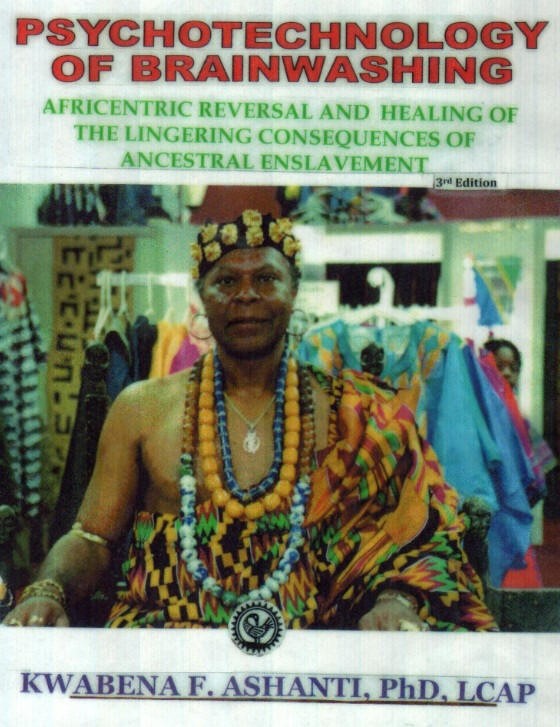 *  *  *
Counter-Currents has extended special privileges to those who donate $120 or more per year.
First, donor comments will appear immediately instead of waiting in a moderation queue. (People who abuse this privilege will lose it.)
Second, donors will have immediate access to all Counter-Currents posts. Non-donors will find that one post a day, five posts a week will be behind a "paywall" and will be available to the general public after 30 days.
To get full access to all content behind the paywall, sign up here:
Paywall Gift Subscriptions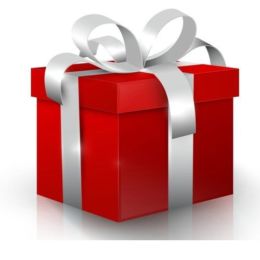 If you are already behind the paywall and want to share the benefits, Counter-Currents also offers paywall gift subscriptions. We need just five things from you:
your payment
the recipient's name
the recipient's email address
your name
your email address
To register, just fill out this form and we will walk you through the payment and registration process. There are a number of different payment options.
Enjoyed this article?
Be the first to leave a tip in the jar!