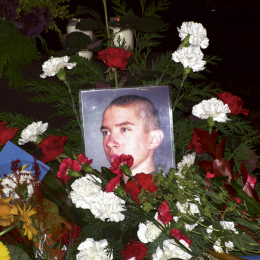 863 words
"Smash racism!" was the slogan under which immigrant gang members stabbed with a knife, beat with planks, and finally cut open the throat of teenager Daniel Wretström on a dark December night 20 years ago.
Daniel Wretström, 17, enjoyed wildlife and music. He spent his spare time going fishing and playing the drums in a patriotic rock band. His mother described him as a "seeking soul," and he regularly sought out churches. He was very close to his ailing cousin Angelina, who told the 2006 Salem memorial march in his memory: "The safety I felt when he sat there with me . . . I wish that someone could have been with him that night," while bursting into tears.
On November 9th, 2000, in the Stockholm suburb of Salem, Daniel was on his way home from a party, alone. Passing by a bus stop, a multicultural gang approached him. The gang members were aware that he was a nationalist, and they immediately began harassing him: "Here we have a Nazi!" Daniel pretended not to hear them and kept walking, but the gang was undeterred.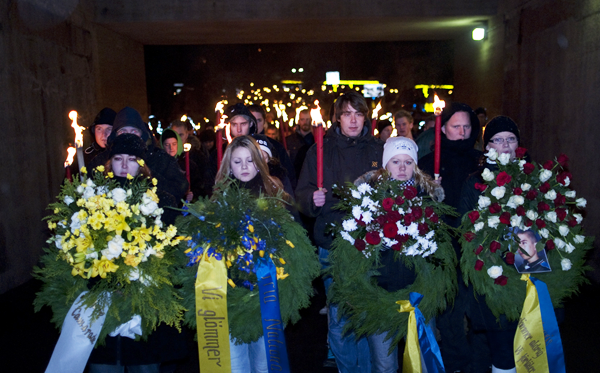 The entire gang of around fifteen people attacked Daniel. Being totally overpowered, he had no chance to fight back. He was kicked and beaten continuously; one of the perpetrators struck him repeatedly with a plank. Daniel tried to stop a passing car by jumping onto the hood in an attempt to get help, but the driver backed up before driving away. Daniel was left to meet his fate alone.
Khaled Odeh, one of Daniel's attackers, shouted that he had a knife while Daniel was being beaten. Daniel's throat was then cut, and the gang left the crime scene, leaving Daniel to bleed to death.
The perpetrators were later handed symbolic sentences of community service and psychiatric care.
Just a week before Daniel's murder, Prime Minister Göran Persson and Mona Sahlin headlined the slogan "We will crush them!" in the media. It was in response to a completely untrue story about a six-year-old boy allegedly killed by a Swedish youth sharing Daniel's political views. Pushing this false narrative of violence, they helped create the atmosphere of hate that led to Daniel's murder.
The march that awakened a generation
Daniel's history could have ended here; another number in the statistics. He could have become just one of many who fell victim to the heinous immigration policy of the Swedish government. But it did not turn out that way.
Just a week after his murder, more than 1,000 people marched through Salem to commemorate Daniel and to remember all the other victims of multiethnic violence. The violence that hits native Swedes and Scandinavians, the violence that never finds its way into the official "hate crime" statistics — although research shows that robbers and rapists target white European victims specifically.
From 2000 to 2010, an impressive torchlit march took place in Salem, beginning at Rönninge subway station and ending at the place of Daniel's murder. In its best years, more than 3,500 persons took part — a large number for a Nordic country.
These demonstrations mobilized the entire spectrum of nationalist and patriotic parties, groups, and organizations in Sweden. Even the national conservative Sweden Democrats (although more radical than today) took part in the commemoration in its first year — but they later stayed away due to the mass media demonization portraying the demonstration as a "Nazi march." The Norwegian magazine Målmannen was among the few publications that tried to independently cover the Salem phenomenon.
As relevant as before
Since then, the situation in Sweden has not changed for the better. On the contrary, news reports about burning cars and no-go-areas like Rosengård have become news worldwide. But the Salem marches still made a difference. When thousands of people lit their torches, it sent an impressive message that could not be ignored. No matter what mass media said, there was still resistance. There were still people out there who refused to be stepped on. The Salem phenomenon turned into the largest immigration-critical demonstration in the Nordic countries, and it is thanks to the Salem demonstration and its yearly campaigns that words like "anti-Swedishness" (svenskfientlighet) found their way into public discourse.
Daniel Wretström is not forgotten and never will be. Whenever the name "Salem" comes to our mind, we think no longer about the coward motorist who shook Daniel off his car and ran away. We think about the thousands of others who came, stood up, and said: Enough is enough.
"Let us swear, to never forget, to always remember, to keep fighting — for the vision of a bright future, a just future, a future in freedom — for which Daniel Wretström gave his life." [1]
Translated from the editorial article at Målmannen.
If you want to support Counter-Currents, please send us a donation by going to our Entropy page and selecting "send paid chat." Entropy allows you to donate any amount from $3 and up. All comments will be read and discussed in the next episode of Counter-Currents Radio, which airs every weekend on DLive.

Don't forget to sign up for the twice-monthly email Counter-Currents Newsletter for exclusive content, offers, and news.
Notes
[1] From the song "Til minne om Daniel Wretström," Svensk Ungdom, 2002.