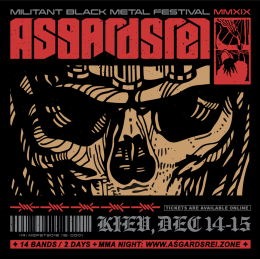 3,851 words
Czech version here
In order to fully understand the importance of this year's Asgardsrei festival, one must understand the impact that the Blazebirth Hall scene, and in particular, its most prolific artist, Kaldrad, had on both NSBM (National Socialist Black Metal) and the overall sound of Eastern European black metal.
I never met Kaldrad, and I never attended any of the few live concerts he performed at. Nevertheless, his music has been a large part of my life. The soundtracks to my life these last two decades could easily be summed up by such NSBM album compilations as the Night and the Fog series (I-III) and the Hammerkrieg compilation (all having been banned on Ebay and Discogs for the last several few years). The latter album was probably my favorite, it being a compilation of many Blazebirth Hall bands.
"Blazebirth Hall" (BBH) was a moniker summarizing the various bands, projects, and artistic output of a small group of black metal musicians from Russia, particularly Ulv Gegner Irminsson and Kaldrad. Along with some session musicians (usually covering drums), these two musicians adopted the atmospheric sound of early Burzum and took things a few steps further in regard to song composition, recording production, and lyrical subject matter (incorporating nationalist themes into the genre's typical themes of nature, winter, paganism, etc…). The songs became longer, the production rawer, the guitar riffs more droning, and the lyrics and iconography became more "politically incorrect."
Ulv Gegner was best known for his two main projects Raven Dark and Vargleide. Unfortunately, these projects only released a few demos as Ulv passed away in 2005. While these were quality releases, they were not as well known as Kaldrad's projects: Forest, Branikald, and Nitberg (sometimes featuring Ulv Gegner as well).
Kaldrad had a larger output of releases and was known for both his operatic vocals, unique songwriting, and for mixing RAC (Rock Against Communism) sounds into his later albums and projects (particularly Forest's In the Flame of Glory, Branikald's Triumph of the Will, and all of his Vandal albums, Kaldrad's RAC/Thrash project). While not labeled as part of the Blazebirth Hall cannon, Kaldrad also participated in Temnozor, a pagan metal band that would draw inspiration from Kaldrad's own BBH projects.
Sadly, Kaldrad passed away in a tragic car accident earlier this year. Immediately, many bands, artists, and fans posted their admiration online for Kaldrad and his BBH projects. The band M8l8th, who has organized and performed each Asgardsrei festival, immediately created a charity fund for Kaldrad's family and proclaimed early on that this year's Asgardsrei would be dedicated not only to the spirit of Kaldrad, but would also play some songs in tribute to Kaldrad through their side project band, A-kvlt.
Due to these announcements, and along with some delays in both festival updates and the start of online ticket sales, there were many rumors about this year's lineup of bands. Early on, it was hinted that some big-name bands in the black metal genre had been booked as headliners. However, it would be reported later on that these bands backed out due to political and social pressure (i.e., their record companies). Nevertheless, the final line-up was eventually released in mid-October, and as a longtime fan of the genre, I was both surprised and pleased. The final lineup is as follows:
Saturday:
BBH/ Kaldrad tribute
A-kvlt
Evil
Kroda
Seigneur Voland
Sielunvihollinen
Svarga
Selbtmord
Sunday:
Wodulf
Stutthof
Goatmoon
Baise Ma Hache
M8l8th
Frangar
Last year's festival had two full days of music on the weekend with the Pact of Steel conference and an exclusive Peste Noire acoustic set that Friday. This year, there were only two full days of music on the weekend and an MMA tournament Friday evening. I did not attend the MMA event, but people that attended it told me that they enjoyed it.
There was also a conference held Friday evening, where Hendrik Möbus was supposed to give a talk as he did the year before. However, news quickly spread that he was held at the German border by security forces and was not allowed to enter Ukraine. Similarly, it was also reported at this time that the Russian band Black Death were also denied travel before departing a Russian airport to Kiev. Likewise, one of the guitarists from the Greek band Stutthof was also reported to have been denied travel to the festival. The details were few and far between, but these sudden and surprising incidents made many people realize that any one of us could be confronted and questioned at an airport or border, only to have our freedom of travel taken away.
Day One: Saturday
As with last year, this year's festival also took place at The Bingo Klub in Kiev. I still feel that this club is the perfect place for this type of concert with the right size, location, and atmosphere.
Once I checked in and walked into the venue, I immediately recognized friends and other people I met at last year's Asgardsrei festival. In many ways, these concerts are a lot like the various Nationalist events and conferences held each year throughout Europe. You can watch a speech or concert online, but it doesn't give you the same feeling of experiencing it in person surrounded by a community of people just like you. More importantly, you get to socialize and connect with people from around the world. At this year's festival alone I met and talked with people from Canada, the USA, England, Ireland, Norway, Finland, France, Belgium, Germany, Poland, Lithuania, Italy, Greece, and of course, Ukraine. I still keep in touch with people I met at last year's festival and even get to practice my foreign language skills by communicating with some of them in their native tongues.
After catching up with everyone and browsing the band shirts and other merchandise for sale, the concert floor opened up, and I made my way to the front for the first band.
Selbstmord was the first band to play Saturday. Selbtmord is a Polish band that has been making demo tapes and splits since the late '90s. While they do have some traits in common with the typical Polish black metal sound, they incorporate a lot of chugging riffs sometimes reminiscent of death metal bands. Many people I talked to were curious how their performance would turn out, as footage of Necro, Selbtmord's vocalist and guitarist, emerged online where he performed guest vocals for a Dark Fury concert earlier this year. That performance was "unique" to say the least. Nevertheless, Necro and the rest of Selbstmord played an amazing set, showcasing their musical skills and intensity as a three-piece band. They played both old and new songs, and drew in a larger and more responsive crowd as they blasted through their set.
Svarga, from Ukraine, was the next band. To talk about Svarga, one needs to first talk about Stellar Winter Records. Stellar Winter was a Russian label that was one of the first labels to properly distribute all the BBH demos and side projects onto CD around the world in the mid-2000s (other than the arguable bootlegs of ISO-666). At the same time, Stellar Winter also released albums from such up-and-coming artists as M8l8th, Kroda, and Svarga. So while some bands became increasingly well-known and popular, others remained obscure.
I greatly enjoyed the two albums released by Svarga by Stellar Winter Records and also recently enjoyed their recent release, Spirit of the Land. Svarga has a sound similar to other Ukrainian black metal bands, and this was the first time seeing them live. They mostly played songs from their new album, mixing melody with more live aggression, which I greatly enjoyed. They also played a cover of Temnozor's "Vranakrik," as a tribute to Kaldrad, which the crowd definitely enjoyed. They put on a great show with great sound and stage presence, and I look forward to seeing them in concert again.
Sielunvihollinen has only been around for a few years, but already has an impressive catalog of sought-after albums and demos. They are a Finnish band who sing most of their lyrics in Finnish, and have an extremely unique and melodic approach to riffs and songwriting. Each song has guitar riffs and melodies that will be stuck in your head for some time. This was my second time seeing them in concert, and both times, they put on and energetic and entertaining performance. They even had the crowd singing the chorus to one of their most popular songs in Finnish: "Tämä Kansa, Tämä Maa" (this People, this land).
In my opinion, no band exemplifies the French NSBM sound better than Seigneur Voland. Their songwriting, guitar riffs, and vocals make each and every song impactful and memorable. While playing a few rare concerts in the mid-2000s, they surprised many fans by playing at Finland's Steelfest this year. While I greatly enjoyed that performance, many fans criticized the choice to put them on the outdoor stage during daylight hours. At Asgardrei this year, they played a similar set and gave another strong performance. I often heard the crowd singing along to the guitar riffs, and even non-French speakers were able to shout along to the spoken-word sections of some of their classic songs, particularly "Sur Les Ruines et Le Cendres de Sion."
Kroda barely needs an introduction, as they have become one of the most popular and well known Ukrainian black metal bands, within the last decade. Their long song compositions, mixing Ukrainian folk elements with various styles of black metal, have earned them a large fan base around the world. They played a very long but captivating set with many of their longer songs from their last three albums. The graphic and video backdrops fit perfectly for each of their songs, often showing footage of blizzards, snowcapped mountains, and endless winter forests. They even played some encores after showing a video of one of their previous on-stage rituals. In fitting tribute to Kaldrad, Kroda closed by playing their famous cover version of Branikald's "A Stormride." I know people that came to the festival for the social aspect who don't even like black metal, and even they said that they were impressed by Kroda's performance and enjoyed their music.
To me, the Brazilian band Evil is a black metal institution. They have been recording demos since the mid-'90s and have done many splits, and even some collaborations, with many legendary bands of the black metal underground. I first came across Evil with their split with Moonblood, simply titled "F**k Peace, We're at War," and I was immediately drawn to their unique and uncanny sound.
Evil also played at Steelfest this year, but it was eventually revealed that their performance at Asgardsrei would be their last concert ever. To say that they went out with a bang would be a gross understatement. They played all their classic hits and received long applause and cheers after each song. As a three-piece, they had a great live sound and gave a great performance. It was quite an honor to witness their last stand on stage, and I'm hoping they release live material of this performance in the near future.
Up next was the combination of A-kvlt and the Kaldrad/Blazebirth Hall tribute. A-kvlt, being a side project of some M8l8th members, have not made many public appearances and there was much anticipation among the crowd about seeing them perform. Right away, you could tell that all the members of A-Kvlt are extremely talented musicians, particularly the drummer, who would eventually perform an intricate drum solo near the end of their set. A-kvlt can be described as a more technical, frantic, and intense version of M8l8th. They played a mesmerizing set, playing the crowd favorite "My Odal," and also a very lengthy new song, which the crowd also enjoyed. At the end of their set, the stage crew quickly setup extra microphones for guest vocalists to join A-kvlt in performing their Kaldrad tribute.
The first three tribute songs were from Forest, one of Kaldrad's main projects. Among the guest musicians to perform vocals was vocalist/guitarist Warlord from Evil. The crowd was very enthusiastic as these three songs were some of the most popular and well-known songs by any of the BBH bands, often being covered by various bands. The next two songs were from Vandal, Kaldrad's project that incorporated various styles outside of black metal. For these two songs, Sokyra Peruna vocalist Arseniy Bilodub would perform the majority of the vocals. These two songs were both slower paced, and many people in the crowd clapped their hands and sung along to the choruses. The final song was "Death and Glory," written under Kaldrad's Nitberg project. This was a fitting choice to end the set, as it is an epic song that truly encapsulates how great an artist Kaldrad was and also the impact he had on this genre. Looking around at the end of the song, it was amazing to see everyone clapping and singing along to the main chorus.
The set list for the tribute was as follows.
Forest: "Einherjers Reich"
Forest: "темню над землёй"
Forest: "The Fatelancer"
Vandal: "In the Fires of War for Power"
Vandal: "Valhalla"
Nitberg: "Death and Glory"
The first night ended sometime after 1 a.m. While last year proved difficult for many people to get taxis after the concerts each night, this year people were more prepared by ordering taxis in advance or through ride-sharing apps. I went to the bar at my hotel and found many people from the concert socializing and chatting about their favorite performances that night, along with the bands they were most looking forward to the next day.
Day Two: Sunday
The second day started much later in the afternoon than originally scheduled, most likely due to the fact that the opening band, Black Death, was stopped from traveling to the concert. Therefore, the first band to play on Sunday was the Italian band Frangar. Frangar played last year and was definitely one of the highlights for me, as their live show is as energetic and fun as their music. Frangar plays black metal mixed with RAC and Italian lyrics. Last year, they brought and used and air siren on stage with the vocalist used an old-fashioned microphone for some of the songs, adding even more aesthetic atmosphere to their war video footage on the large screen behind the stage. Last year, they closed their set by bringing various Italian supporters on stage to sing "Avanti Ragazzi di Buda."
As the curtain rose, Frangar stood with two groups of Italian compatriots as they sung an old Italian military song juxtaposed to sounds of Artillery and bombs in the background. They then started their set and quickly got the crowd active. They played many of their popular songs, including "Fare Quadrato," along with some new songs which the crowd enjoyed. The air siren was kept on stage the whole time and was used a few times between various songs. At the end of the set, the same two groups of Italian fans came on stage to sing a rendition of "Come Il Vento," a song by Intolleranza, an Italian RAC band. During this song, the entire floor was filled with people singing along, cheering and saluting.
One thing you notice immediately at Asgardsrei is just how popular M8l8th is, and for good reason. While M8l8th's setlist last year focused on their recently released album Reconquista, this year they had stated online that they would be playing their debut album By the Black Wing in its entirety. This was an album released in 2004 by Stellar Winter Records, and is known for its seamless blending of raw-yet melodic black metal with high-pitched vocals that are delivered in an almost hysterical manner. The album is also technically complex, so I was curious how it would sound live.
As always, M8l8th gave an incredible performance, playing their debut album with flawless skill and precision. The crowd always goes crazy for M8l8th, and not surprisingly, they also draw the largest mosh pits. When they played the song "Scum," also from their debut album, the mosh pit almost doubled in size and expanded into the crowd near the stage. After finishing their debut album, they finished by playing some of their most popular songs, including "Tears of Autumn" and "My Native Land." Both songs have slow parts and clear vocals that the crowd clapped and sang together. It wouldn't be Asgardsrei without M8l8th, and I look forward to seeing them again.
Baise Ma Hache is a French black metal band, that while being around for several years, have recently gained a large online following within the last two years. I had heard their name but never heard their music until I saw them perform at last year's Asgardsrei festival. I was quite impressed by their musicianship and style, sounding like a mix between Peste Noire and Absurd but with their own identity.
It seems like this year's performance was more intense and focused. They played a similar setlist but the songs sounded more aggressive this time. As with last year, they also sang the German military song "Wir Sind Des Geyers Schwarzer Haufen," but with French lyrics that many in the crowd were still able to sing along to. This also acted as the intro to the song "F.E.R.T." which was clearly a crowd favorite. All in all, another great show.
Within the NSBM genre, Goatmoon is arguably the most popular. Blackgoat Desecrator, the main person behind Goatmoon, maintains a sound that is accessible and catchy while also writing quality and memorable songs. More importantly, it is clear that he stays true to himself and his artistic vision without compromises or apologies. Goatmoon played an amazing setlist at last year's festival, and this year was no exception.
While last year's setlist focused on songs from their latest album "Stella Polaris," this year Goatmoon played a variety of older and more recent songs, along with songs not always played live. Naturally, it wouldn't be a Goatmoon concert without such classics as "Black Metal Winter," "Alone," "Storming Through White Light," and "Voitto Tai Valhalla." Everyone in the crowd knows these songs and it is truly amazing to look around and see everyone shouting the chorus to "Kunnia, Armageddon." All the live musicians of Goatmoon are extremely talented and play with a lot of energy, and Blackgoat always gets the crowd excited. If Goatmoon played at every future Asgardsrei, I would enjoy seeing them each and every time.
Stutthof is a Greek black metal band that has never played live before, making this year's Asgardsrei their first show ever. They have a more atmospheric sound that compliments their occult lyrics and imagery. Having heard that their guitarist was prevented from traveling to the festival, I heard that the vocalist had to practice playing the rhythm guitar parts while performing vocals in less than a day. Suffice to say, many people were curious how their performance would turn out.
As the curtains were raised, the lights went dark as a gust of fog engulfed the concert floor from the stage, showing through the mist a three-piece band surrounded by candles and banners of esoteric iconography. Even without a bass guitarist, the sound was full, yet eerie in a good way. They played songs from both of their full-length albums, Towards Thy Astral Path and And Cosmos From Ashes to Dust. Having heard these albums when they were first released, I was really impressed on how well they sounded live. Watching them perform was like witnessing and occult ritual, and I hope they play live again in the future.
The last and final band of the evening was Wodulf, a side project from the members of the Greek NSBM band Der Stürmer. Der Stürmer has played various concerts before, but Wodulf has only played a few times in the recent past. I've been listening to them since their 2003 demo Wargus Esto, and also greatly enjoyed their follow up album From the Corpsegates. So naturally, I was excited to finally see them live. By the time Wodulf began their set, it was past midnight and many people had already left the venue. However, this allowed a dedicated set of fans to get closer to the stage.
Wodulf consisted of just three individuals: Jarl von Hagall on vocals, Hjarulv Henker on guitar, and a session drummer. The crowd up front was excited from the very beginning of Wodulf's set. Towards the second song, however, technical problems arose as high-pitched noise and feedback kept coming from Hjarulv's guitar speakers. Despite continuing on through their set and checking the settings of the speakers between each song, the hissing noise didn't go away. They ended up having to change both the guitar head and speaker in the middle of the set.
Nevertheless, Jarl von Hagall did a great job interacting with the crowd during this time, encouraging the crowd to shout and put their fists in the air. While some people left the concert floor during this time, a large part of the audience stayed near the front to show their support. The equipment was eventually changed, and Wodulf continued their set. They played songs from both their demo and full-length album and gave a great performance, given the circumstances. Out of all the bands, I actually enjoyed Wodulf the most and had the most fun during their set. There was a real "underground" atmosphere to their performance and a lot of people in the front near me would also express the same feeling.
Conclusion
Asgardsrei is an event that just has to be experienced. It's the combination of the music I grew up listening to along with a gathering of like-minded individuals around the world who share my worldview and interests. If you told me 10 years ago that I would get to see all my favorite bands in one festival somewhere in Eastern Europe, I wouldn't have believed you. As much as I enjoyed last year's festival, I actually enjoyed this year's Asgardsrei more, for reasons that are difficult to explain. Perhaps a main reason is that there were many friends that I was looking forward to seeing again. Or maybe this year's lineup offered a lot of rare and obscure bands that I never thought I would see in concert.
The best explanation, however, would be the importance of this year's festival being dedicated to Kaldrad and the Blazebirth Hall scene. So many bands that played this year clearly drew inspiration from Kaldrad and his various projects. So it was amazing to see all these bands, and fans from around the world, come together to honor and remember Kaldrad through his music and life's work.
I'd like to thank all the organizers, staff, and bands for putting on such an amazing festival. I'd also like to thank all the people and friends who I've met these last two years. I look forward to seeing all of you at Asgardsrei next year, where I'm sure Kaldrad will also be, in spirit, and in the flame of glory.
Enjoyed this article?
Be the first to leave a tip in the jar!