3,830 words
Part 2 of 2 (Part 1 here)
Marx 101
Here we get John Galt's speech — albeit of a very different type — in miniature. Ernest meets with a group of small businessmen who are intent on getting the government to crack down on the trusts. His general message is that the middle class is balanced precariously between two far more powerful interests and doesn't stand a chance on its own. All told, the exchange is uncannily similar to that of a dissident Rightist trying to talk some sense into the usual sort of conservative muggles and not getting anywhere. Once more, from personal experience I can say that the results usually aren't good.
Although monopoly capitalism is making the existence of small businesses impossible, Ernest calls them out for crushing competition themselves. He explains that a historical progression is underway: Cottage industries were supplanted by factory production; small businesses were then pushed aside by larger businesses, which were then displaced by monopolies; and these in turn put their grubby fingers into the workings of the government. (He terms monopoly power "combination," much as J. D. Rockefeller did.) He regards socialism as the next inevitable step, inviting the small businessmen representing the middle class to join the winning side.
This historical progression is more or less one of the things that Marx was getting at. Surely this section will be a disappointment to distributists. I could quibble about it myself, for one thing citing diseconomies of scale. I could also cite the poor economic track record of Marxist-Leninist countries, which generally show results are below par when compared to tolerable Third World countries. Moreover, Adam Smith's "invisible hand" market economy did work reasonably well for a time; the problem is that there are game-breakers such as monopolies and price-fixing schemes.
After that, Ernest discusses surplus value theory. In one small example, when $100 worth of leather is purchased by a shoe factory as raw materials, it produces $200 worth of shoes. (Remember, this was written when we had real money made of gold and silver, unlike today, when a single pair of shoes might cost $200.) Of the $200 in sales, $50 of the profit above cost goes to management, while the other $50 goes to the workers. The workers can thus only buy back $50 in shoes when it's time to go shopping. As for management, they have to take their $50 and put it into foreign trade and investment. That's how the economy goes in miniature. But eventually, everywhere in the world will be fully industrialized and the capitalists will run out of places abroad to put their money. Thus, this arrangement will eventually collapse like a pyramid scheme. Then what will the capitalists do with all their extra gravy, dump it into the ocean?
The section discussing surplus value, which appears halfway into the book, is the first of two occasions when Karl Marx is mentioned by name, although obviously other concepts present in the book can be traced back to his theories. Other dystopian literature likewise takes this "problem" into consideration. In 1984, for example, the three superstates burn up all their excess productivity in war, while in Brave New World, surplus value is dealt with through wasteful consumption and low-quality products that must be frequently replaced.
There's at least a kernel of truth in this, as seen in the relentless push to keep the economy growing and the stock market going ever higher and higher. (This is one of the dishonest excuses they use to justify mass migration: "importing new consumers" and all that, although obviously this has more to do with serving the population replacement agenda.) What America's Marxists didn't anticipate is that trade unionism would give workers livable wages for a hot minute — until the globalists trashed our manufacturing sector. During this time, the working class obtained some purchasing power beyond the bare necessities. This worked out quite well back then, as it allowed them have a decent share of the profits they were producing — which is obviously the most sensible solution to the surplus value "problem." Nevertheless, although consumerism helps to pump up the economy, too much of that is a danger that can inspire irrational behavior — such as keeping up with the Joneses, debt quagmires, and hoarding.
If disposing of surplus value ever does become a real-world problem as Marx envisioned, then for beginners, the titans of industry could offload the gravy they're drowning in and have no further use for by building housing for those left homeless as a result of globalist trade policies. (More likely, those types would prefer to starve the peasants.) They also could pay their workers better, tempting them less to support militant Leftists who want to overthrow the bourgeoisie. (I'm not holding my breath for that, either.) Greg Johnson also had some teleological ideas about how a post-scarcity world might be arranged. Wouldn't it be nice to have a comfortable lifestyle as well as a 20-hour work week?
All told, surplus value theory is too simplistic, at least as stated. (In fact, it would be pretty silly if that's all there is to it — but I'd have to check it against Das Kapital to be sure, and I'm trying to cut back on my energy drink intake.) There may well be plenty of gravy to be had, particularly in certain industries, but sales minus materials minus labor doesn't all go into profit margin. Factories have to be set up, which usually means paying off a hefty loan at interest, and industries have monthly expenses beyond materials and labor. This includes utilities, maintenance, an accounting department, advertising, and so on. Profit margins therefore aren't always exorbitant.
With too high a profit margin, a competitor could capture the market share by undercutting the price. This is how Adam Smith's "invisible hand" keeps the overhead reasonably lean, as long as no game-breakers are in effect. Moreover, capitalism involves risk; the gravy isn't guaranteed, because if a venture loses money or fails entirely, then the owners or stockholders then have to take a haircut or eat the cost entirely. In any event, perhaps there's more to surplus value theory than that, though the author surely had to keep to the basics, since he wasn't writing a textbook about pinko economics.
An interesting part of this chapter is when Ernest discusses The System's head honchos. In particular, a footnote calls out railroad magnates, along with some others:
Even as late as 1907, it was considered that eleven groups dominated the country, but this number was reduced by the amalgamation of the five railroad groups into a supreme combination of all the railroads. These five groups so amalgamated, along with their financial and political allies, were (1) James J. Hill with his control of the Northwest; (2) the Pennsylvania railway group, Schiff financial manager, with big banking firms of Philadelphia and New York; (3) Harriman, with Frick for counsel and Odell as political lieutenant, controlling the central continental, Southwestern and Southern Pacific Coast lines of transportation; (4) the Gould family railway interests; and (5) Moore, Reid, and Leeds, known as the "Rock Island crowd." These strong oligarchs arose out of the conflict of competition and travelled the inevitable road toward combination.
Looking back on all this, railroad companies eventually stopped being the cutting edge of high finance. Although the banksters certainly kept causing their share of trouble, including the above-named Jacob Schiff. There's also much discussion, particularly in a longer footnote, about J. D. Rockefeller, the 800-pound gorilla of the Robber Barons. Indeed, Old Moneybags was something else, and some of his scions have been pretty tricky, too — especially David "Mr. New World Order" Rockefeller.
The suppression begins
Avis' father is voluntold to resign from Berkeley. Fortunately, his new manuscript is ready to print: Economics and Education. Since he's a respected academic, any attempt to suppress the book would cause a major stink — right? This subplot requires some suspension of disbelief. Imagine that a liberal professor actually writes something sensible. Moreover, The System will stop at nothing to keep Leftist ideology from seeing the light of day. It's like an alternate universe, isn't it?
Soon after the book goes into print, it gets pulled by the publisher. They claim that the printing plates were damaged. And no other publisher will touch it. Deplatformed, were you? He tried to go to the media, but all they do is call him a nut in the newspapers. He tells the story to a socialist periodical, but then the Post Office rejects it as seditious. Shipping companies similarly refuse to touch it. He then tries to get the book printed by an independent socialist publisher, but then a flag-waving goon squad torches the press. I can imagine the zombified mob chanting, "No platform for class-hate speech! No platform for class-hate speech!"
Whew, what a nightmare! Golly, I'm glad that this never could come to pass. Not in America! Now that Leftists have had their ascendancy, it's splendid that they always hold true to their classical liberal roots, defending freedom of speech with the ferocity of grizzly bears. No, make that giant mecha grizzly bears, from space! Moreover, isn't it wonderful that all the competition that capitalism offers will guard against ideological conformity and prevent viewpoints from being suppressed if someone doesn't like them? Finally, ain't it awesome that nobody burns down publishers just because they don't like what's in their books?
The former professor then loses his massive investments in the Sierra Mills. The company "can't find" the records. Looking for the stock certificates, he discovers that his safe deposit box has been looted. The courts, of course, didn't want to hear it. Then a bank forecloses on his "mortgage," even though he owns the house and never has never taken a loan on it. He finally has to move into a slum in the South of Market district. (SoMa has since been yuppified and is now one of San Francisco's gay neighborhoods.) The cherry on top of this reversal of fortune is getting arrested for attempted assault because he called the owner of the Sierra Mills a "damned scoundrel":
But what a furor was raised in the local papers! There was grave talk about the bacillus of violence that infected all men who embraced socialism; and father, with his long and peaceful life, was instanced as a shining example of how the bacillus of violence worked.
Claims that people with certain political inclinations are always violent? Jeepers, why does that seem so familiar?
What if they had a war and nobody came?
Chapter 13, entitled "The General Strike," really hit a nerve for me. For one thing, I want to get a Ouija board just so I can tell Woodrow Wilson's spirit what I think of him. But much like "The Unparalleled Invasion," Jack London's predictions were uncannily accurate, if one changes some of the details.
Ernest gets elected to Congress in 1912. Unfortunately, lack of support from the farmers limits the socialists' effectiveness. Randolph Hearst's media empire then falls. Then an agricultural monopoly starts gobbling up the family farms:
The hard times of 1912 had already caused a frightful slump in the farm markets. Prices were now deliberately pressed down to bankruptcy, while the railroads, with extortionate rates, broke the back of the farmer-camel. Thus the farmers were compelled to borrow more and more, while they were prevented from paying back old loans. Then ensued the great foreclosing of mortgages and enforced collection of notes. The farmers simply surrendered the land to the farm trust. There was nothing else for them to do. And having surrendered the land, the farmers next went to work for the farm trust, becoming managers, superintendents, foremen, and common laborers. They worked for wages. They became villeins, in short — serfs bound to the soil by a living wage.
In real life, the Great Depression came later, along with the enormous cloud of suck called the Dust Bowl. The farmers were likewise destitute. Franklin Roosevelt's solution, bless his heart, was to prop up prices by buying up livestock to be killed and buried. (The huge amounts of meat that was wasted In this process would have horrified the starving masses if had become public knowledge.) But the practice of agribusiness scooping up family farms is more of a contemporary phenomenon. I'm a Blut und Boden type, so the thought of these wallet-heads profiteering off of economic misery and turning land held by families for generations into gigantic corporate collective farms really chaps my hide.
Back in the story, by 1912 the capitalist running dogs are itching for war with Germany, mainly over trade. To digress a bit, this is reminiscent of something Winston Churchill said about the war later:
Germany's unforgivable crime before the Second World War was her attempt to extricate her economic power from the world's trading system and to create her own exchange mechanism which would deny world finance its opportunity to profit.
The Iron Heel has some side agendas as well:
The Oligarchy wanted the war with Germany. And it wanted the war for a dozen reasons. In the juggling of events such a war would cause, in the reshuffling of the international cards and the making of new treaties and alliances, the Oligarchy had much to gain. And, furthermore, the war would consume many national surpluses, reduce the armies of unemployed that menaced all countries, and give the Oligarchy a breathing space in which to perfect its plans and carry them out. Such a war would virtually put the Oligarchy in possession of the world-market. Also, such a war would create a large standing army that need never be disbanded, while in the minds of the people would be substituted the issue, "America versus Germany," in place of "Socialism versus Oligarchy."
Yup, nothing like a war to gin up the economy, right? Getting a bunch of young men killed reduces competition for jobs, too, boy howdy! War fever is likewise a great way to distract everyone from what's really going on in their country. The flag-waving rubes have no idea who's running the show, or what their rulers think of them. I'm in quite a fine mood reading all this . . .
The general strike was the one great victory we American socialists won. On the 4th of December the American minister was withdrawn from the German capital. That night a German fleet made a dash on Honolulu, sinking three American cruisers and a revenue cutter, and bombarding the city. Next day both Germany and the United States declared war, and within an hour the socialists called the general strike in both countries.
Did Jack London have a crystal ball, or what? The details are a bit different, however. For one matter, this occurs exactly 29 years and three days earlier than the real thing — but otherwise, it's remarkably similar to the Pearl Harbor raid. In any event, it's socialism to the rescue. For a week, everyone flakes off work. (If solidarity such as this could be arranged for real, then miracles could happen.) Obviously, mobilization can't get under way. Nobody even knows what's happening, because the telegraph operators are playing hooky as well. No millions of soldiers are getting turned into hamburger meat in the trenches by shelling and machine-gun fire, and no clouds of poison gas are wafting over the hellscape of northeast France — cool, huh?
Jack London's idea was that when plutocratic world leaders would spoil for war, the socialists would put a lid on it. Although his powers of prediction weren't on target this time, the concept was certainly worth a try in the real world. Eugene V. Debs, the Socialist Party of America's candidate for President, did win 3.4% of the votes in the 1920 election. That's a decent turnout for a third party, especially since he was campaigning from a prison cell. He had been charged with "sedition" for opposing the First World War. Woodrow Wilson called him a traitor, which was quite a case of projection for the globalist toady who had the blood of over 100,000 Americans on his hands, bless his heart.
This idea might have been derived from the Marxist prophecy that during the next great European crisis, the workers of the world would stand together in solidarity and refuse to fight each other. It actually would've been great if the pinkos had been right for once. The proletariat in the warring countries could've burnt their draft cards and told their politicians to go play leapfrog with a unicorn, but that's not how it happened. The First World War thus became the first stop on our collective train ride to hell. In another fine mess, the reaction to the prophecy's failure led to the creation of cultural Marxism in 1919 — but that's another story.
Then things gets real
Although monumental bloodshed is averted in the novel – something that in real life was the first domino to fall in a century-long chain of catastrophes — it doesn't mean that everyone lives happily ever after. The oligarchy buys off key sectors in the labor movement, leading to a bitter schism in which the workers in the favored industries are treated like scabs by the rest of the unions. Meanwhile, Germany ousts the Kaiser and set up a socialist government. Then it creates precisely the sort of trade system that the real-life Winston Churchill considered unforgivable. This resulting disturbance in international commerce leads to several upheavals around the world. Japan rises to become a regional superpower, and the British Empire starts to fall apart.
As all of this is happening, the Iron Heel consolidates its power over North America. (Was this the SHAFTA Treaty, perhaps?) The agrarian Grangers, who finally ally with the socialists, predict that their Congressional coalition will gain support, allowing them to clean house at last. Ernest, though, isn't so optimistic about the possibilities for a political solution. The fifteenth chapter ends with him making bad-optics remarks about rifles and ammo.
Then we get a fast-paced tale of civil war, domestic spying, and double agents. There's even a manufactured "insurrection" at the United States Capitol that is used as a pretext to round up the opposition and send them to the dungeon. How about that? (At least in this instance, it isn't aggravated tourists with an intent to gawk, and there is no QAnon shaman wearing horns.) The situation ultimately deteriorates into merciless warfare, much like The Turner Diaries. I'm painting with broad brushstrokes at this point, for the benefit of those who wish to read the story for themselves.
How it actually happened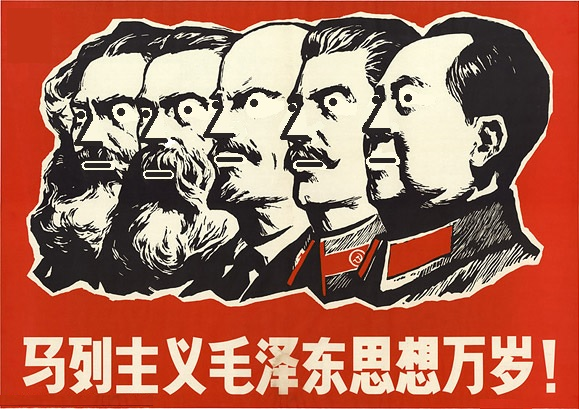 All told, The Iron Heel is quite a ride, and is actually quite relatable in some respects. It's hard not to get caught up in the author's enthusiasm. The book stands at the forefront of the pinko arts, right up there with the classic film Battleship Potemkin. I'll admit that the scenario is deliciously enticing, given how wretchedly our so-called "elites" have been behaving. If a task force of septuagenarian Viet Cong armed with rusty AK-47s and tactical granny-walkers were to storm the next W6rld Ec6nomic F6rum conference and go Bolshevik on them, I'd be right there in Davos selling the popcorn. But that's not about to happen.
It wasn't long after The Iron Heel was published that the revolutionaries got the revolution they wanted — not in the United States, but in Russia. Then, because of the fortunes of war as well as boneheaded American foreign policy, the world map became remarkably red by the 1950s. The encroachment continued, and things were looking rather dicey for everyone else by the 1970s.
There were some major problems, though. Although Leftists can be highly effective as revolutionaries, they're lousy politicians, and things tend to go to hell from Year Zero onward. Their workers' paradises turned out to be mismanaged and tyrannical. The unchecked use of government force to crush opposition constituted an Iron Heel of its own. These "people's states" featured extensive security apparatuses to spy on the public and punish dissent harshly. Together, they generated an unparalleled body count — around 100 million, according to some reckonings — not that you'll see much about that on TV. But no biggie, the darlings who sent masses of their fellow citizens to the gulag over political disagreements were only trying to build a better world, right?
Aside from a remarkably lousy track record in human rights, another major problem is that Communism just doesn't work. It turns out that Marx was selling magic pixie dust by the bushel. (It's hardly unusual, since he was a lazy crank whose major skill was fooling people into believing he had all the answers.) For the citizens of those People's States, calling this out this tended to be hazardous to one's health. And when Communism failed to deliver the goods, it was out of the question to admit that the ideology was faulty. Instead, blame usually assigned to alleged saboteurs and Trotskyist — and when that wore out, generally to incompetence and petty corruption.
The pattern is quite similar to our own Leftist social engineering projects that inevitably never work. (A major example, of course, is desegregation. Every single dysfunction that its opponents predicted has come to pass.) The Left never admits that their premises are wrong; instead, they'll blame their colossal failures on everyone who didn't have enough faith in the plan. And the next act, of course, is to double down on it.
Who benefits?
The final major problem is that in practice, Marxist class warfare didn't work quite as advertised. This goes back to when banksters such as Jacob Schiff, Olof Aschberg, and Paul Warburg financed the Russian Revolution. Ideology was certainly no barrier; that much was about furthering their ethnic priorities.
The WASP side of the Deep State was hardly blameless itself, and was quite curiously chummy with their Soviet buddies. These were Ivy League types who were generally from families with too much money and up to mischief such as using their positions in the government to help Communists foment revolution abroad. This resulted in much of the above-mentioned boneheaded foreign policy. This sabotage carried on until Joseph McCarthy took them out to the woodshed. Unfortunately, the job was left incomplete; it became a death match when he got too close to the Deep State.
The downtrodden proletarians who supported Communism, believing they were lashing out against their exploiters, thus instead got taken for a ride. What happened to all the Marxist invective about the extremely wealthy? It seems that its major gripe regarding class warfare wasn't really about plutocrats who mistreated factory workers and paid starvation wages. The way it actually works is as a pincer action against the middle class — and you know what that means.
All told, Communism failed to deliver the goods. Moreover, the radicalized proletarians of a century ago got taken for a ride. Their boundless enthusiasm, their hopes and dreams, their countless sacrifices — it was all for nothing. They were put in the service of someone else's agenda.
* * *
Like all journals of dissident ideas, Counter-Currents depends on the support of readers like you. Help us compete with the censors of the Left and the violent accelerationists of the Right with a donation today. (The easiest way to help is with an e-check donation. All you need is your checkbook.)
For other ways to donate, click here.