A Swing & a Miss: Andrew Torba & Andrew Isker's Christian Nationalism
David Lewis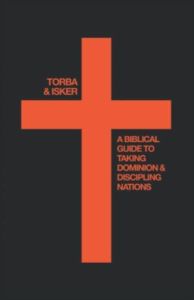 2,563 words
Andrew Torba & Andrew Isker
Christian Nationalism: A Biblical Guide for Taking Dominion and Discipling Nations
Gab AI Inc., 2022
Andrew Torba is well-known in dissident circles as the pugnacious founder of the free speech-oriented social media platform Gab. Andrew Isker is a Christian pastor from Waseca, Minnesota. They recently released a short book, Christian Nationalism, to explain and promote their preferred program for cultural and political renewal. If you admire what Torba is doing through Gab, and also his recent forthrightness in criticizing Jewish influence on the United States, you might want to know how he understands politics more generally. If you are a Christian with nationalist sympathies, you might welcome a sustained effort to spell out a Christian version of nationalism (or a nationalist version of Christianity). I fall into both of these categories, so I came to this book with high hopes. Unfortunately, those hopes were disappointed.
Let's start with the book as a book. It is a print-on-demand paperback with a blank spine. It is very short — about 130 pages of 14-point, double-spaced print. The interior layout and design are sloppy and visually unappealing. Our authors thank an editor in their Acknowledgements, but the book does not read like an edited monograph. It reads, frankly, like a rough draft by sincere but unskilled writers struggling to meet a word count. Every page is marred by errors of punctuation, mechanics, and syntax. The prose is repetitive but undisciplined and unclear. The book is hard to read, and hard to review fairly, because it is often hard to tell exactly what the authors mean. (Note: Torba and Isker have since reissued Christian Nationalism with a new black and orange cover, and with what appears to be an improved page layout.)
What exactly do Torba and Isker advocate? Let's start with the meaning of "Christian Nationalism." Our authors tell us that a Christian is "a disciple of Jesus Christ who seeks to take dominion in all areas of life by obeying His commandment in the Great Commission to disciple all nations" (p. 17). The Great Commission is the speech reported at the end of the Gospel of Matthew in which the resurrected Jesus charges his remaining disciples to go out to teach and baptize people in all nations. The Great Commission figures prominently in this book, as when Torba and Isker claim, "The Great Commission means that if you are a Christian you are axiomatically a Christian Nationalist" (p. 39), and "Jesus gave us a mission: the Great Commission. We are to make disciples of all nations, including but not limited to the United States of America" (p. 65).
Already, problems appear. For one, Torba and Isker are assuming that words Jesus spoke to his 11 closest followers are intended as a charge to all Christians at all times and places — and not just as one charge among others, but as the very essence of what it means to be a Christian. For another, Torba and Isker largely ignore other, and arguably more orthodox, understandings of what it means to be a Christian; for example, to repent of your sins and trust in the adequacy of Jesus' sacrificial death to secure God's pardon for those sins; or to affirm the sacred truths summarized in the great creeds and be baptized into Christ's church. (To be fair, in their fifth chapter they do contrast their kingdom-building Christian Nationalism with evangelical pietism focused on personal conversion, but they do not really appraise the biblical and theological arguments for and against each view.)
A third problem is that the mission Torba and Isker embrace sounds much more internationalist than nationalist. There is one brief passage near the beginning of Christian Nationalism in which the authors advocate "placing the interests of your neighbor and your home above the interests of foreigners in foreign nations" (p. 19). However, this is hardly a major theme of the book, and Torba and Isker do not really develop it. More representative are passages like this:
Christian Nationalism is not a movement of racial supremacy nor is it a movement of national supremacy. It is the Revealed Truth of God's Word lived out in action through the discipling of the nations — all nations. (pp. 22-23)
For all their talk of discipling nations, one might expect Torba and Isker to offer some concrete advice about how Christians should engage in evangelism or missionary work, but they do not. Be that as it may, it is not clear what essential role nations play in our authors' program, and hence in what sense their views deserve to be called a form of nationalism. Their Christian Nationalism is certainly not the view that Christians should have a homeland akin to Israel as a Jewish homeland; nor is it the view that distinctive peoples should enjoy sovereignty and autonomy, especially in relation to globalist alternatives. It seems more to be the view that the US, along with every other nation-state, should be governed by Christians according to Christian moral laws. They do not explicitly associate their views with the Christian Reconstructionism and Theonomy of R. J. Rushdoony and Gary North, but they quote approvingly several times from Reconstructionist pastor David Chilton. Rushdoony and his associates believed that the US, and all nations, should be governed by Old Testament laws, including the death penalty for such sins as blasphemy, adultery, sodomy, and cursing one's parents. Readers of Christian Nationalism might like to know about how much of the Theonomist agenda Torba and Isker endorse, and why or why not.
Whatever else Christian Nationalism may be, Torba and Isker make clear that it is not White Nationalism. In fact, they call the assimilation of the views by journalists a "pathetic attempt" to smear them as racists (p. 38). They emphasize that Christian Nationalism is a multiracial movement:
We stand with my brothers and sisters in Christ from all racial and ethnic backgrounds. If you are ethnically Jewish and call Jesus your Savior then you are my brother or sister. Same goes for those who are White, Black, Asian, Indian, and anyone else. (p. 69)
Beyond several such expressions of racial indifference, Torba and Isker do not engage the role (or plight) of whites in the United States at all. They document the sectarian origins of many of the original colonies in an Epilogue, but they pass over in silence the Founders' many expressions of racial and cultural solidarity.
They do, however, forcefully reject the notion that Christianity and modern Judaism share enough to justify the concept of a common "Judeo-Christian" culture. Torba and Isker devote a chapter to claiming that Christians are the only true heirs of the Old Testament, and that modern Judaism is parasitic on Christianity, based on the teachings of the Talmud and the rejection of Jesus Christ. These are interesting claims (not unique to our authors), but as with many claims in the book, it would be nice to see them supported with reasons and evidence, rather than simply asserted.
Torba and Isker also devote a chapter to "The Christian Crusade To Save Free Speech," in which they claim that "History shows us that Christians are the forefathers and defenders of all types of liberty including but not limited to freedom of speech, religious freedom, private property, and the creation of the freest nation in the history of the world: the United States of America" (p. 72). As usual, they do not provide evidence for this ambitious claim. Nor do they seem to notice that what little evidence they do offer about the American founding (in their Epilogue) tells the other way. There, they summarize the legally codified Christian identities of the original colonies thus:
. . . the American colonies were not founded as secular, pluralistic nations where there was absolute religious freedom, but as Christian nations for Christian people governed by Christians where they would have freedom to practice the Christian religion. (p. 111; their emphases)
Taking this claim at face value, it does not appear that our Christian forebearers were friends of freedom of speech and religion as such, either in the American colonies or (presumably) in the even less free Christian nations the colonists were fleeing. Since Torba and Isker seem to endorse without reservation the explicitly Christian governments of the early colonies, it would be interesting to know more about just how much freedom of speech, religion, association, and the rest they would allow in a fully Christian Nationalist America.
Some Christians may appreciate Torba and Isker's critique of the premillennialist eschatology of John Nelson Darby and C. I. Scofield that dominated American evangelical Christianity for most of the twentieth century. Darby and Scofield interpreted Revelation and other prophetic scriptures as teaching that the world would continue its decline into sin and anarchy until Jesus returned to rapture his followers to heaven before inaugurating a thousand-year reign. By contrast (but without much explanation), Torba and Isker interpret Revelation as prophesying events that have already occurred — most notably, the destruction of the Temple in Jerusalem in A.D. 70 (pp. 93-94). They argue that Darby and Scofield's eschatology sapped Christians of the will to fight for the kingdom of God in this world, since it was doomed to decay and destruction (pp. 89-90). Instead, Torba and Isker advocate an optimistic eschatology on which Christ's reign is already established in this world, and our task is to take dominion of all nations and institutions as his faithful regents (pp. 91-92 and passim).
Much as one might have hoped Torba and Isker would have taken a more recognizably nationalist (or even pro-white) stance, they cannot really be faulted for having their own positions and priorities. Apart from its poor writing and argumentation, however, perhaps this book's greatest shortcoming is its failure to deliver on the promise of its subtitle: A Biblical Guide for Taking Dominion and Discipling Nations. One normally expects that a guide to doing some action or accomplishing some goal will include concrete, practical instructions and advice for just how one should go about performing that kind of action or achieving that goal. A guide for fishing should provide detailed instructions on choosing lures, tying knots, and casting, for example; a guide for investing should teach one how to choose an asset allocation, interpret a prospectus or annual report, and select securities or funds for a portfolio. Many of us on the Dissident Right are itching for action; we feel the net of woke capital and technocracy tightening around us, and we wonder what we can do to escape or defeat it.
Unfortunately, despite its subtitle (and marketing), Christian Nationalism does not contain detailed practical instructions on how to do anything. Torba and Isker make clear that they favor "building parallel Christian institutions that are beyond the influence and control of the existing demonic ones" (p. 28), but they do not provide advice or even hints about how their readers might do this. They repeatedly commend "seven generations thinking" (p. 34 and passim), but they do not say what exactly this means. They do encourage Christians to leave any church in which the pastor did not openly celebrate the overturn of Roe v. Wade (maybe a reasonable proxy, but arguably a pinched criterion for church membership); otherwise, the closest they come to concrete advice is in this short passage:
Cut the cable cord. Cancel Netflix. Delete your Big Tech accounts. If at all possible find a way to homeschool children. If that is not possible make sure you are spending time in God's Word daily. (pp. 81-82)
Note the implication (surely unintended) that daily Bible reading is merely a poor substitute for homeschooling!
In lieu of actionable guidance, Torba and Isker traffic mostly in vague injunctions. Here are some examples:
Our dissent against the ruling Regime must be rooted in the desire to preserve liberty and live authentically according to God's Word. (p. 29)
We must stare into the face of Silicon Valley, the mainstream media, and the political establishment on both sides of the isle [sic] and dare to say: "no." (p. 31)
If we are going to win a spiritual war, we must dare to stand for God's Truth in this post-truth world, but how do we do that? Be bold. (pp. 48-49)
We are done with simply wanting to be left alone. Now we want to win. Win souls for Christ. Win elections. Win the culture. Win the education system. Win with our own technology. Our own media. Our own entertainment. Win for the glory of God. (p. 68)
The time for being Christian in name only is over. Practice what you preach and live it. Lead by example. (p. 76)
Christians must once again defend, preserve, and conserve the freedom of speech and for [sic] our place in the national discourse and political process at any and all costs. (p. 77)
The time for lukewarm Christianity is over. Christians need to rise up and proclaim the name of Jesus Christ the King of Kings to the world. (p. 80)
We must never again tolerate evil and the spirit of the antichrist in our culture, governments, education systems, homes, and our own hearts. (pp. 82-83)
We can and must reclaim the pulpit and break the spell that the enemy has over the American Church. (p. 106)
We can and must reclaim and maintain our townships, school boards, and counties. Then our state legislatures. Then the entire nation. (p. 106)
And so forth, and so on, some might say ad nauseam. Such statements might work well enough as applause lines at a Promise Keepers' rally or a CPAC convention, but they fall woefully short as practical guidance. What do these sorts of injunctions even mean? What specific, concrete actions might an aspiring Christian Nationalist take, in the present evil age, to obey them? It is not clear that Torba and Isker are aware of the gap between what they have promised and what they have delivered.
Anyone even passingly familiar with the violent and fractious history of Christianity, particularly post-Reformation Christianity, may fear that the devil (perhaps literally) is in the details Torba and Isker ignore. They allow that Christian Nationalism will look different — e.g., Protestant or Catholic — in different jurisdictions (p. 26). They are confident that "Protestant, Catholic, and Orthodox brothers and sisters" can "recognize and respect one another's differences" (p. 108) and "work together across the faith to combat these wicked worldviews to defend and grow Christendom" (p. 109). Sadly, history may tell a different tale.
I believe reconciling Christianity with genuine nationalism, including in its racial varieties, is an important task. Without engaging the first-order arguments in the current debates between Christians and pagans on the Dissident Right, I will simply record my convictions that Christianity is in fact the one true faith, that it is central to what most healthy white people regard as the heart of their culture and history, and that ancient European paganism is an intellectual and cultural dead end, especially as the basis of a popular movement. Even if White Nationalism is religiously uncommitted, it has many natural allies among conservative Christians and would benefit from showing that is at least compatible with their faith. Whether these judgments are correct, it is clear that the Andrews Torba and Isker are not contributing to this project. Instead, they are advocating for a more assertive and muscular Christianity in all the nations of the world. I count them as good men and good Christians who are likely doing good work — but whose calling is not the writing of books.
* * *
Like all journals of dissident ideas, Counter-Currents depends on the support of readers like you. Help us compete with the censors of the Left and the violent accelerationists of the Right with a donation today. (The easiest way to help is with an e-check donation. All you need is your checkbook.)
For other ways to donate, click here.