Manifesto del Nazionalismo Bianco:
Capitolo 2, Il Genocidio dei Bianchi
Greg Johnson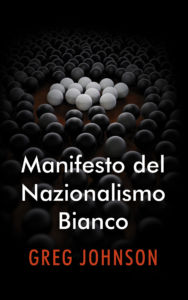 1,773 parole
Parte 3 di 16 (Parte 1, Parte 2, Parte 4)
Finora abbiamo stabilito che l'estinzione dei bianchi è una vera minaccia. Ma alcuni Nazionalisti Bianchi vogliono fare un passo in più e sostenere che si sta intenzionalmente portando la nostra razza all'estinzione, ossia che i bianchi sono oggetto di genocidio. Anche questa affermazione viene giudicata allarmista, se non folle. Tuttavia, sosterrò che il genocidio dei bianchi sta effettivamente avendo luogo. Ci sono persone in posti di potere che stanno consciamente promuovendo politiche che porteranno all'estinzione della razza bianca. A meno che, ovviamente, non le fermiamo.
Per stabilire la tesi del genocidio dei bianchi, dobbiamo fare tre cose. Primo, dobbiamo stabilire che una forma di genocidio è la lenta soppressione di un gruppo etnico, che, infine, conduce alla sua estinzione. Secondo, dobbiamo dimostrare che l'estinzione dei bianchi non è una misteriosa forza della natura, ma il risultato di scelte e azioni umane. Terzo, dobbiamo dimostrare che l'estinzione dei bianchi non è solo una conseguenza imprevista e non voluta di queste politiche, quanto piuttosto un effetto intenzionale e voluto.
Può sembrare strano affermare che i bianchi sono vittime di genocidio. I bianchi non stanno venendo massacrati a milioni, mentre questo è quello che le persone s'immaginano quando pensano a un genocidio. Apparentemente, al nostra razza è potente, prospera e popolosa. Ma i difensori della tesi del genocidio dei bianchi indicano la Convenzione delle Nazioni Unite sulla prevenzione e la punizione del crimine di genocidio, del 1948, che all'Articolo II definisce il genocidio come:
. . . ciascuno degli atti seguenti, commessi con l'intenzione di distruggere, in tutto o in parte, un gruppo nazionale, etnico, razziale o religioso, come tale:
(a) uccisione di membri del gruppo;
(b) lesioni gravi all'integrità fisica o mentale di membri del gruppo;
(c) il fatto di sottoporre deliberatamente il gruppo a condizioni di vita intese a provocare la sua distruzione fisica, totale o parziale;
(d) misure miranti a impedire nascite all'interno del gruppo.
Questa definizione di genocidio è molto più ampia di quella di palese omicidio di massa. In particolare, i punti (c) e (d) sono coerenti con la caratterizzazione di certe politiche come genocidarie, se distruggono un gruppo lentamente in un lungo arco di tempo. Il genocidio, quindi, avviene in due forme che possiamo chiamare genocidio rapido, a caldo, e genocidio lento, a freddo. L'estinzione dei bianchi appartiene alla seconda categoria.
Come abbiamo visto, le cause dell'estinzione dei bianchi non sono cieche forze della natura, quali la collisione di un asteroide con la Terra. Sono state create dagli esseri umani. Alcune sono piuttosto recenti, come il femminismo che incoraggia le donne a preferire una carriera alla maternità, le pillole anticoncezionali e l'aborto legalizzato. Ma anche la revoca della segregazione razziale, delle restrizioni sull'immigrazione e dei divieti riguardo al meticciato. Sono state concepite nelle menti di intellettuali, artisti, scienziati, politici, educatori e pubblicitari. Sono state trasformate in realtà cambiando le credenze e i valori della gente e alternando le leggi e le istituzioni che ci governano.
Ma tutte queste cose potrebbero essere cambiate. Si potrebbe insegnare alla gente a preferire la vita di famiglia all'egoismo, all'edonismo e al carrierismo; si potrebbe scoraggiare il femminismo; si potrebbe limitare l'accesso ad anticoncezionali e all'aborto; si potrebbero cambiare le leggi in modo che le persone possano permettersi di creare una famiglia; la separazione razziale, la restrizione dell'immigrazione e il nazionalismo economico potrebbero tornare in auge come politiche; si potrebbe scoraggiare il meticciato. Di fatto, sono proprio queste le politiche che i Nazionalisti Bianchi sostengono per fermare l'estinzione dei bianchi.
Ma per far valere la tesi del genocidio dei bianchi, dobbiamo mostrare che l'estinzione dei bianchi è il risultato voluto delle politiche che contrastiamo. Alcune cause dell'estinzione dei bianchi – l'edonismo, l'individualismo, il femminismo, il controllo delle nascite, l'aborto – sono semplicemente il prodotto della ricerca della libertà individuale. Altre, come il meticciato e le conseguenze sociali della desegregazione, dell'immigrazione e della globalizzazione, sono il prodotto dell'unione tra libertà individuale ed egalitarismo razziale. Non potrebbe essere, quindi, che l'estinzione dei bianchi sia solo la conseguenza non voluta dell'individualismo e dell'egalitarismo razziale?
Certamente è possibile e in molti casi è vero. La maggior parte delle persone che propugnano l'individualismo e l'egalitarismo razziale semplicemente non si rendono conto che questi valori stanno promuovendo l'estinzione della razza bianca. Il nostro compito è quello di informarli.
Ma quando queste persone vengono informate, reagiscono in modi diversi. Alcune semplicemente si rifiutano di accettare che l'estinzione dei bianchi stia avendo luogo. Di quelle che invece accettano che quest'estinzione stia accadendo, alcune vogliono fermarla, altre no. Tra queste ultime, alcune semplicemente se ne infischiano, mentre altre esultano dinnanzi a questo processo.
Tuttavia, c'è una differenza tra persone che potrebbero sottoscrivere politiche che promuovono il genocidio bianco dopo il verificarsi dei fatti e quelle che potrebbero concepire e implementare queste politiche prima del loro verificarsi, con piena consapevolezza delle loro conseguenze. Che prove abbiamo dell'esistenza del secondo gruppo?
Prima di tutto, non è su di noi che deve ricadere l'onere della prova: è davvero plausibile che i leader di decine di Paesi bianchi abbiano tutti adottato le stesse politiche antitetiche alla sopravvivenza a lungo termine dei loro Popoli, senza che nessuno di loro sapesse quello che stava facendo?
Certo, va di moda schernire i politici accusandoli di non pensare più in là delle prossime elezioni. Ma quest'accusa non è proprio veritiera. Ad esempio, i politici sono piuttosto lungimiranti quando si tratta delle loro ambizioni personali o dei loro progetti di carriera. In ogni caso, le élite che ci governano non sono composte esclusivamente da politici eletti democraticamente. Inoltre, si sa che le élite di governo in ogni tipo di società tendono a guardare al futuro e pianificare le cose in anticipo. Sia le agenzie di intelligence governative che i think tank privati si occupano di fornire predizioni a lungo termine sulla base delle attuali tendenze e di pianificare le cose di conseguenza. È quindi poco plausibile che i nostri leader siano all'oscuro dell'estinzione dei bianchi. O non interessa loro, o vogliono che accada.
In secondo luogo, gli ebrei sono una minoranza molto influente in politica, nei media, negli affari, nell'università e nel mondo professionale. Gli ebrei, inoltre, sono tra i maggiori promotori di tendenze che favoriscono il genocidio dei bianchi, quali l'immigrazione di massa di non-bianchi, l'integrazione razziale, il meticciato, il femminismo, e la liberazione sessuale. Le organizzazioni ebraiche poi sono state in prima linea nel demonizzare come "odio" ogni forma di attivismo etnico pro-bianchi. Se i bianchi si comportassero allo stesso modo nei confronti degli ebrei, verrebbero giustamente accusati di promuovere il genocidio. Non è quindi affatto plausibile che tutti gli ebrei "non sappiano che cosa stanno facendo", quando promuovono in Paesi bianchi politiche dannose contro le quali in Israele si opporrebbero strenuamente.
La terza e più convincente prova a favore del genocidio dei bianchi è che certe persone dicono di sostenerlo. I promotori del genocidio dei bianchi vanno da pazzoidi emarginati come il dott. Kamau Kambon – un ex-professore di "Black Studies" e il proprietario della casa editrice Blacknificent Books, che ha affermato: "Dobbiamo sterminare i bianchi e rimuoverli dalla faccia del terra"[1] – al dott. Noel Ignatiev, un ebreo con un dottorato da Harvard che è il direttore della rivista Race Traitor (sottotitolata Treason to Whiteness is Loyalty to Humanity, ossia: Il tradimento della bianchezza è fedeltà all'umanità). Ignatiev non parla di "sterminare" i bianchi, ma solo di "decostruire" il "concetto" di bianchezza.[2] Questo potrebbe sembrare un innocuo gioco linguistico, finché non si realizza che egli pensa che la razzia sia solamente un costrutto sociale. Quando i sovietici parlavano di "eliminare i kulaki come classe", questo non era altro che un eufemismo per l'omicidio di massa. Sarebbe sciocco pensare che Ignatiev stia proponendo qualcosa di diverso.
I più comuni sostenitori del genocidio dei bianchi, però, promuovono il mescolamento razziale come soluzione al razzismo. Sono implicitamente d'accordo con i Nazionalisti Bianchi che la diversità razziale all'interno di uno stesso sistema porti conflitto, quindi per eliminare il conflitto promuovono il meticciato, in modo da creare una razza mista omogenea. Il più influente sostenitore di ciò che io chiamo "mescolazionalismo" è stato il pioniere dell'unità europea, il conte Richard Coudenhove-Kalergi, che era egli stesso di razza mista (padre bianco, madre giapponese). Nel suo libro Idealismo pratico, dichiarò:
L'uomo del futuro sarà di sangue misto. La razza futura eurasiatica-negroide, simile agli antichi egiziani, sostituirà la molteplicità dei Popoli con una molteplicità di individui.[3]
Infine, è da quasi un secolo che i difensori dei bianchi stanno avvertendo il nostro popolo della minaccia della sostituzione demografica. Ad esempio, The Rising Tide of Color di Lothrop Stoddard fu pubblicato nel 1920.[4] Le tesi di Stoddard erano note. Eppure, nel 1965, quando Lyndon Johnson firmò l'Hart-Cellar immigration reform act, la riforma che aprì i confini statunitensi all'immigrazione non-bianca, l'establishment americano ignorò ogni avvertimento riguardo alla sostituzione demografica e placò il pubblico con la menzogna che questa non sarebbe mai accaduta.
Una volta che non era più possibile ignorare il rimpiazzamento demografico, l'establishment è passato dal negarlo all'accoglierlo come un progresso, al contempo silenziando e marginalizzando ogni voce fuori dal coro, rifiutandosi di applicare le norme esistenti per il controllo dell'immigrazione, e bloccando ogni tentativo di imporre nuovi controlli.
Ovviamente, le persone che scappano in America vogliono il rimpiazzamento demografico dei bianchi. Stanno promuovendo il genocidio dei bianchi. E per qualche strana coincidenza, i leader di ogni altra nazione bianca stanno praticamente promuovendo le stesse politiche.
Perché è importante stabilire che l'estinzione dei bianchi è in realtà un genocidio dei bianchi? È facile capire perché la gente rifugga questa verità: implica che i bianchi non sono semplicemente le vittime di un terribile errore, o di un impersonale "sistema" sociopolitico, o di un disumano destino cosmico o storico, ma piuttosto di un astio consapevole, di un'ostilità di principio e di un male diabolico.
È difficile accettare che un male di questo tipo esista, e ancor più che voglia il nostro annichilimento. Ma se dobbiamo salvarci, dobbiamo capire quali solo le forze schierate contro di noi. Se i nostri tentativi di elevare la coscienza della gente e di guadagnare la sua fedeltà si scontreranno prima o poi non solo con l'ignoranza e l'indifferenza, ma con un astio adamantino, allora dobbiamo saperlo. Prima o poi ci saremo fatti tutti gli amici che possiamo farci, avremo persuaso tutte le persone che possiamo persuadere e resteranno allora solo i nostri nemici – comprese persone moralmente equivalenti a Stalin, Mao e Gengis Khan; nemici che non possono essere convertiti, ma che devono essere semplicemente sconfitti.
Note a piè di pagina
[1] Jon Sanders, "Activist: Exterminate White People," Carolina Journal, 21 ottobre 2005.
[2] Noel Ignatiev, "Abolish the White Race," Harvard Magazine, settembre-ottobre 2002.
[3] https://www.lintellettualedissidente.it/editoriale/la-storia-segreta-dellunione-europea-il-piano-kalergi/
[4] Traduzione italiana: Lothrop Stoddard, La crescente marea di colore, Lulu.com, 2007.
Enjoyed this article?
Be the first to leave a tip in the jar!