Video of the Day: Arthurian Apocalypse: Excalibur & Lancelot du Lac
Video of the Day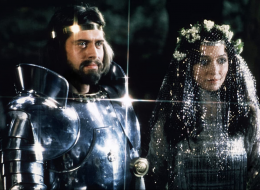 125 words / 1:58:47
In the latest episode of Guide to Kulchur, Ty E and Martin Lichtmesz join Fróði Midjord to compare two very different depictions of the Arthurian legend: Robert Bresson's Lancelot du Lac (1974) and John Boorman's Excalibur (1981). The Bresson film shows a nihilistic world where the knights of the round table have lost their purpose, whereas Boorman's Excalibur portrays a turning point between primordial paganism, filled with magic, and the modern world of Christianity.
The episode is archived on BitChute (video) and Spreaker (audio only). Guide to Kulchur streams live on DLive every Tuesday at 2:00 PM Eastern Time / 20:00 CET.
Previous episodes of Guide to Kulchur are archived on BitChute. You can also follow them on Twitter and Telegram for regular updates about upcoming shows and guests.