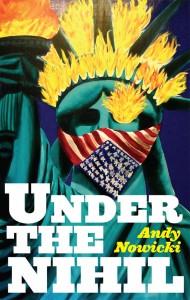 Andy Nowicki
Under the Nihil
San Francisco: Counter-Currents, 2011
108 pages
OUT OF PRINT
Read an excerpt here
What if you could take a pill that removed all of your inhibitions, including your fear of death?
The unnamed narrator of Under the Nihil, a washed-out seminary student, has endured a terrifying spiritual and mental collapse. Now a mysterious government agency has offered him a chance to take part in an experimental program involving a new top-secret drug named nihil, a mind-altering chemical compound created to enable American soldiers to fight with the same fearlessness and fanaticism as Muslim suicide bombers.
Feeling he has little to lose, he agrees to be the shadow government's guinea pig. But nobody could predict the consequences once this complex and troubled man had gone Under the Nihil.
Praise for Andy Nowicki and Under the Nihil
"Andy Nowicki is the Aldous Huxley of the Alternative Right." — James J. O'Meara
"Americans are taught to prize comfort, security, longevity, and personal freedom above all things. And Americans fear death above all things. How, then, can America cope with enemies, such as Muslim jihadists, who are willing to sacrifice their very lives for a higher good? In Under the Nihil, Andy Nowicki offers a stunningly plausible answer: by inventing a new psychoactive drug that aims to deliver 'the fruits of faith, together with the luxuries of faithlessness.' But can America afford to make one more enemy who has no fear of death?" — Greg Johnson, author of Confessions of a Reluctant Hater
About the Author
Andy Nowicki is a dissident reactionary malcontent who lives in Savannah, Georgia. He has written for several print and online journals of social commentary, including The Last Ditch, Alternative Right, Takimag.com, New Oxford Review, American Renaissance, and Counter-Currents/North American New Right. He is the author of two other novels: Considering Suicide (Nine-Banded Books, 2009, http://www.ninebandedbooks.com) and The Columbine Pilgrim (Counter-Currents, 2011). He is also the author of a collection of short stories, The Doctor and the Heretic and Other Stories (Black Oak Media, 2011, http://www.blackoakmedia.org/).
Enjoyed this article?
Be the first to leave a tip in the jar!