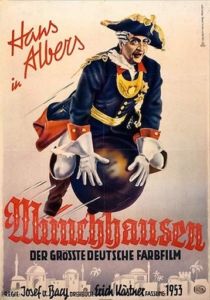 2,401 words
1943 was not a happy year for the Third Reich. After the disaster of Stalingrad came the catastrophe of Kursk, then the loss of North Africa. The Wehrmacht was on the defensive. America was beginning to enter the European theater in earnest.  But it was a great one for German cinema due to the release of Munchhausen . Based on the exploits of Baron von Munchhausen, one of the literary world's most famous yarn-spinners, it was a very high-prestige production made in full color, directed by Josef von Baky and starring Hans Albers as the Baron. Its cinematographer was Konstantin Irmen-Tschet, who had worked under Fritz Lang. Goebbels had hoped it would rival Hollywood's spectacular, big-budget epics such as The Wizard of Oz and The Thief of Baghdad. Munchhausen  would be a true Volksfilm that would be an example of German cinematic supremacy.
Regrettably, Munchhausen has usually been overlooked due to its coming from the Third Reich, where all is presumed to have been tainted. But Munchhausen is less a propaganda film than a timeless masterpiece in its own right.
Munchausen (Germany 1943) HDR full movie [remastered]
I referred to Han Albers' Grosse Freiheit Nummer 7 as the best German film of the 1940s in my recent review, but Munchhausen is certainly a contender. Its crew got around Goebbels' Volksfilm dictates and created a work of lasting value. A Volksfilm was supposed to incorporate Germanic, Aryan values. Films in the Third Reich didn't typically hit viewers over the head with National Socialist values, however, and chiefly strove to be seen as simple entertainment. During the war this latter element became even more crucial, as films were expected to give ordinary citizens a break from the problems of the real world. Germany wasn't alone in this, either. As Paul Fussell, the author of Class, pointed out in his book Wartime, much of America's national war effort was directed towards taking people's minds off the war as much as possible. Fussell, who had served as an officer in the conflict, described how everything — from film to literature to daily life — was deliberately geared towards distracting ordinary people from thinking about the horrors of war. For every  film about heroic deeds on the battlefield, there were a half-dozen gangster films, comedies, and star vehicles filled with glamor and romance.
Baron Munchhausen is a legendary German literary figure from the eighteenth century who was loosely based on the real-life Baron Hieronymus Karl Friedrich, Freiherr von Münchhausen. The German writer Rudolf Erich Raspe first wrote about the Baron's exploits in a book that was published in 1785. The book was a hit and the tales went on to be retold not only in Germany, but across Europe and in the United States as well, although their popularity began to wane in the anglosphere by the twentieth century.
Munchhausen  is therefore a story of adventure, but is also about the discovery of one's own mortality. It begins at an elegant party at the Baron's estate, an example of eighteenth-century beauty and decorum, as Munchhausen and the Baroness (Kaethe Haack) preside over bewigged guests as they dance a stately minuet. A young courtier is in awe of Munchhausen and prattles about wanting to know about more of his many adventures. The courtier's wife then tries to entice the Baron into a tête-à-tête. He obligingly nods to the courtier and good-humoredly dismisses his wife. Pouting, she pops into her car and speeds off. In eighteenth-century Germany?
The orchestra switches to a tango, and the guests begin dancing cheek to cheek. The ball was only a masquerade, it turns out, and Munchhausen agrees to talk of his ancestor's adventures.
This is an example of how Erich Kastner's script plays with time and place, always keeping a light tone. Kastner, the author of Emil and the Detective, was a popular writer in the 1920s, but his pacifist and anti-Nazi views — as well as the fact that he was a Jew — caused his work to be proscribed by the authorities in 1933. But he was brought out of retirement to write this script. Thanks to Kastner's skill and Albers' performance, Munchhausen is a dynamic film full of charm and adventure, and there is no doubt that the Baron is a man of integrity, a bon vivant enjoying life to the full.
The next day, with everyone in modern dress, Munchhausen and the Baroness entertain the young couple. "We learned and know about your ancestor's adventures," the man says, "but we don't feel them."
Despite a warning glance from the Baroness, Munchhausen begins recounting them, and we cut to a flashback showing the Baron riding into the city alongside his servant, Christian Kucherreutter ( Hermann Speelmanns). Munchhausen's return is gleefully cheered by the townsfolk, and he brings new gadgets: a rifle that can hit targets at up to 100 miles, and a type of wax that causes hair to grow instantly and wildly — with disastrous results for one of Christian's children. A rabid dog then bites Christian's magic coat, and when the latter is tossed into a closet, all the clothes start barking rabidly. Munchhausen then has to shoot them.
The Baron's dour father wonders when Munchhausen will ever settle down. He is too much in love with adventure and life to put down roots, and seeks to serve the Russian Empress, Catherine the Great.
Munchhausen and Christian stop at a sinister inn on their way to Russia, where they hear sleigh bells that make a cat hiss and yowl (always listen to cats!). In steps Count Cagliostro (Ferdinand Marien), a well-known eighteenth-century con man, magician, Freemason, and here, political adventurer. Munchhausen is cordial, but wary. They have crossed paths before, and in a scene recalling Faust and Mephistopheles, Cagliostro offers Munchhausen to be the front man in an endeavor to take the crown of Poland and Courland, while allowing the Count rule from behind the throne.
Munchhausen unhesitatingly dismisses this. "You want to rule, I want to live," he says. "A man of great imagination forces the world to become a greater place." It won't come through intrigue and deception.
Cagliostro shrugs this off and wants to pay off their past debts, offering Munchhausen two gifts. One is a ring that makes the wearer invisible for an hour, recalling the magic helmet in Wagner's Ring of the Nibelungen. "If you could wish for one thing, what would it be?" Cagliostro asks. "Power and money do not tempt you, I know."
Munchhausen is direct. "I wish to remain as young as I am today — until I decide to grow old."
Cagliostro smiles and nods. But then Russian troops come to arrest Cagliostro before he can work his magic on Mother Russia. The Count smiles, puts on his ring, and, now invisible, shoulders past the astonished soldiers.
Munchhausen arrives in St. Petersburg to meet Catherine the Great (Brigitte Horney) . He romances and beds her (who didn't?), all the while arousing Count Potemkin's ire.  Potemkin takes Munchhausen to the Turkish front and tries to do him in there, but the Baron is too clever — until he mounts a cannon to check why a ball is stuck in its barrel. One of Potemkin's flunkies lights the fuse, and Munchhausen rides the cannonball all the way into the headquarters of the Turkish army. But once there, his hearty joie de vivre ingratiates the Sultan, and he becomes an honored prisoner.
Munchhausen sees another prisoner, Isabella d'este (Ilsa Werner), and he's determined to rescue her from the Sultan's harem. He does this with the aid of his magic ring, and the rich, colorful harem gives us a glimpse of nudity of a sort that would never have been permitted in Hollywood at the time. The women aren't particularly big-breasted, but rather modest — an influence of Adolph Ziegler's The Four Elements?
Munchhausen continues his adventures in Venice, Isabella's home. It's sumptuous, and the Grand Canal is no set; it was filmed at the real thing. The Germans in fact shut down the canal for the filming, and also transported entire railroad cars full of costumes and props. All of this increased the film's budget from 4.5 million to 6.5 million Reichsmarks. But what film doesn't go over budget?
Munchhausen fights a duel with Isabella's jealous brother, defeating him by using his foil to strip him of his clothes. The, dressed in ruff and hat as in a Van Dyck portrait, Munchausen continues romancing Isabella, but the Doge intervenes at the request of her brother, and Munchhausen and Christian are forced to flee. Munchhausen goes to the convent where Isabella is being held to rescue her, but she refuses to go with him. This is her fate, she laments, and the Baron can only save himself. This is the first serious moment in the film; no magic or bravado here.
Munchhausen and Christian then escape in a balloon and float up to the Moon. The lunar imagery is fantastic and recalls the 1902 film A Trip to the Moon by George Méliès. Munchhausen discovers a delightful garden there. In the pods of the plants there are Moon babies , ready to hatch. As he and Christian get cleaned up, a Moonman enters, giggly and precious, and with him is a Moon woman — or rather, her head. She prefers to leave her body at home to do chores. The Moon folk are gracious but surprised by the visit, given that, since the Moon rotates around the Earth much faster than the Earth does around the Sun, Earthlings age faster. Sure enough, Christian soon finds himself visibly aging and becoming more frail, while Munchhausen, due to Cagliostro's gift, remains untouched.
A pained Munchhausen watches as his servant dies, then becomes a puff of smoke that fades away. The flashback then ends and we return to the present. The young couple are visibly shaken, no longer the flirting, chattering types they were in the first part of the film. It is time to go, and they do, exchanging troubled glances at each as they realize that Munchhausen isn't talking about his ancestor. He is in fact over 200 years old.
The Baroness is concerned. What if they tell? Munchhausen is once again good-natured. He mentions the fact that he met the Baroness in 1905 and married her. Is it time to leave her and find another? No. He instead renounces the gift of Cagliostro and becomes as old as the Baroness. Now it is night, and time for bed — and thus the film ends.
Munchhausen says that a man of great imagination forces the world to become a greater place. The film is a romp, to be sure, but Munchhausen is an impressive character in that he manages to be comic, audacious, heroic, and greater than life all at once — yet is never merely a braggart, for in the end he comes to understand human suffering and chooses, at long last, to commit himself to love, which involves death but also regeneration.
Kastner's impressive screenplay seems to draw from many earlier stories as well, including those of Norse mythology, Don Quixote, Faust, and the Wandering Jew. I was also reminded of Albers' film Grosse Freiheit Nummer 7 , where the sailor/songster character of Jannes comes to terms with his humanity, leaving his life at the nightclub to return to the sea. Munchhausen likewise comes to spiritual fulfillment by renouncing eternal life in order to experience the joys of human love and mortality.
While Munchhausen avoids any overtly political message, it is interesting to note that Cagliostro is portrayed as a manipulator; given that the same actor, Ferdinand Merion , had played the titular character in the classic 1940 anti-Semitic film Jud Süß, it's possible that this was a deliberate casting choice. Cagliostro is described as Italian, but was born in the once-Jewish Italian ghetto of Palermo, and was known as the quack of the quacks. Messing around in Polish and Courland politics definitely reminds one of Victoria Nuland and George Soros, so I'm not bothered by it.
Obvious comparisons can be drawn with the 1988 film The Adventures of Baron Munchhausen, which was created, directed, and co-written by Monty Python member Terry Gilliam. It was an enormously expensive film to make, costing $38 million (and only earning $8 million at the box office, thus becoming one of the biggest flops in Hollywood history), and starring Oliver Reed, Robin Williams, and most of the Python gang. I wasn't fond of it, however. Much of the 1943 Munchhausen 's plot was reused in this version, including the story-within-a-story approach to the narrative. John Neville as Munchhausen is very flamboyant and colorful in the role. Instead of Cagliostro, however, the villain here is Jonathan Pryce, a sinister bureaucrat. And instead of Christian, Munchhausen has an entire team of servants, including a black man (of course). The film also introduces Sally Salt (Sarah Polley), a young girl who is part of a theatrical troupe performing a play based on the Munchhausen legend who ends up joining the Baron on his adventures. Her character is whiney and quarrelsome, however: If you bring a young girl with you on your adventures, you want a Dorothy or Alice. Robin Williams plays the King of the Moon, and I found him tiresome and annoying. He is too nutty, but that was Williams' schtick.
The film's essential problem is Gilliam himself. His visuals are a masterpiece, and he never wastes a scene, but his script is scattered, featuring a plethora of characters and subplots and lacking the directness of Kastner's screenplay. It has its positive points, but Gilliam tried to cram too much in, taking on everything from gays to government bureaucracy and defense spending, at one point even making a point against nuclear war. Von Baky's direction is much more focused, and his Munchhausen is more of a grown-up movie. Whereas Gilliam emphasizes the fantasy and imaginative sets, Von Baky's take feels more grounded in the reality of its characters.
It turns out that Munchhausen wasn't the only cinematic take on the legend made in the Third Reich. There was also a German animated short entitled Die Abenteuer des Baron Munchhausen — eine Winterreise (The Adventures of Baron Munchhausen: A Winter Journey), which was released in 1944. It is an unusual but enjoyable film.
Die Abenteuer des Freiherrn von Münchhausen – Eine Winterreise (1944)
While Gilliam's Hollywood version may have its merits, I prefer the German one. It's an example of a forgotten style of filmmaking — a Reich of the imagination that outlasted the real one.
*  *  *
Counter-Currents has extended special privileges to those who donate $120 or more per year.
First, donor comments will appear immediately instead of waiting in a moderation queue. (People who abuse this privilege will lose it.)
Second, donors will have immediate access to all Counter-Currents posts. Non-donors will find that one post a day, five posts a week will be behind a "Paywall" and will be available to the general public after 30 days.
Third, Paywall members have the ability to edit their comments. 
Fourth, Paywall members can "commission" a yearly article from Counter-Currents. Just send a question that you'd like to have discussed to

[email protected]

. (Obviously, the topics must be suitable to Counter-Currents and its broader project, as well as the interests and expertise of our writers.)
To get full access to all content behind the paywall, sign up here:
Paywall Gift Subscriptions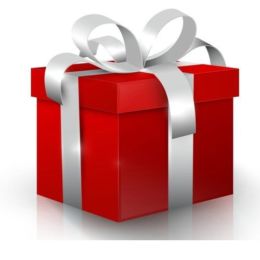 If you are already behind the paywall and want to share the benefits, Counter-Currents also offers paywall gift subscriptions. We need just five things from you:
your payment
the recipient's name
the recipient's email address
your name
your email address
To register, just fill out this form and we will walk you through the payment and registration process. There are a number of different payment options.