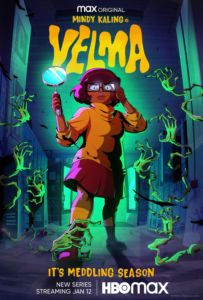 834 words
HBO Max has begun airing a new series, Velma. This is a prequel spinoff of Scooby Doo, the much-beloved animated series from the 1970s, and told from the perspective of the eponymous character.
According to an old study, American kids grow up watching about a thousand hours of television a year. I confess that I was one of the young addicts who wasted an epic amount of time in front of the idiot box. After school meant cartoons, and so did Saturday mornings. But all told, Scooby Doo was one of the ones that was worth a look. Is it just me, or did it have some influence on The X-Files?
So the new Velma series should be a walk down memory lane, right? This one isn't for kids anymore. We see that right up front, with a catfight in the shower (though somewhat obscured by suds), followed soon after by a gory scene. More remarkable is what's been done with the characters. Putting it briefly, they now have more intersectionality points than Resident Bidet has functioning brain cells.
Zoinks!
Velma has been race-swapped, and is now of Indian ancestry. She has quite a complicated family situation following her mother's disappearance. Now she suffers from post-traumatic stress disorder, causing debilitating hallucinations. She's also developed a love/hate relationship with Daphne. There's also been much speculation about the character's sexuality over the years. (If frumpy plus nerdy equals pearl diver, then that much is plausible.) Here, it's pretty clear that she's a switch hitter.
Daphne is Asian, though her appearance isn't much different than it was in the original. The only obvious indications of her Oriental identity are that her eyes look slightly different than before, her skin tone is a shade darker, and she has an abrasive personality. Just to make sure everyone in the audience realizes it, early on she announces that she's Asian. Apparently she's really a redhead, so maybe she's a "hapa" with some strange genetics. It turns out that she's growing up in a "Heather has two mommies" household. In that case, maybe she's not adopted, as one might expect, but instead her father could be a turkey baster.
Shaggy — Norbert in the original, but nobody calls him that — is now Norville. Of course, he's been race-swapped, too. Norville is a light-skinned black (Velma is a lot darker) with dreadlocks. He's quite vociferously anti-drug, so unless he has something to hide, he is an inversion of the original character. Shaggy is pretty obviously a hippie, and his overall affect and mannerisms suggest he's a stoner. If he were a real person, more likely than not he'd toke up in the Mystery Machine on every day ending in a "y," at least.
Fred is the only one who hasn't been race-swapped, and is quite Nordic, as before. In the original he was rather like Stan in South Park: the only regular character who is so normal that he doesn't have any distinguishing shtick. Here, he's the most annoying character. Fred is a spoiled rich kid, and is physically as well as profoundly emotionally immature. Since he happens to be the only one of the regular character who remains white, are the screenwriters trying to tell us something? Bless their hearts.
The strangest change is that, at least up to this point, there is no dog. That's right: It's atheism in reverse! They made a new Scooby Doo show without Scooby. If they do bring in the eponymous hound later, will they make Scooby a chihuahua? Why the hell not? It would make as much sense as any of the other changes.
Ruh-roh!
I've seen the first two episodes, and the series is expected to last for ten. It did have its moments so far, but overall, it's quite mediocre. The way I see it, the filmmakers tampered with the character concepts for no reason other than to go woke.
At the time of writing, Rotten Tomatoes gives Velma a tepid 52% critics' rating, and an utterly abysmal 6% audience rating. (For comparison, The Phantom Menace presently has a 51%/59% rating. This was the flick that had people bitterly complaining that George Lucas had ruined their childhoods. Even the cinematic abomination Manos: The Hands of Fate has a 20% audience rating.) Since television is an industry in which maintaining viewership is crucial — their advertising revenue depends on it — this is especially devastating. This is what happens when they set out to stick a thumb in the audience's eye. Let this be a lesson that adding a bunch of intersectionality points to a popular franchise isn't an improvement.
Have they no decency? Come on! Why does the entertainment industry have to keep messing with old classics? If they wanted to make a show about a Desi junior sleuth and her diverse friends, why not be original about it? What they should've done is to create fresh new characters with unique shticks, rather than plundering an existing franchise. They should leave other people's works alone and make their own!
* * *
Like all journals of dissident ideas, Counter-Currents depends on the support of readers like you. Help us compete with the censors of the Left and the violent accelerationists of the Right with a donation today. (The easiest way to help is with an e-check donation. All you need is your checkbook.)
For other ways to donate, click here.