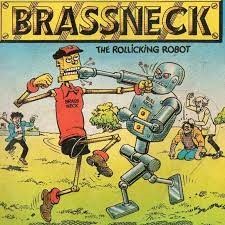 1,731 words
Advanced robotics
Brassneck was a cartoon robot schoolboy from a popular comic I read as a young lad in the 1960s, The Dandy. Older British readers will also remember this comic's great rival, The Beano, and Dennis the Menace (which was very different from the American Dennis). Brassneck could do all sorts of amusing robotic tricks, and it is strange to think that now schoolchildren increasingly resemble robots — although in a very unamusing way. Brassneck could extend his neck, for example, and a peculiar English slang phrase explains the mechanical schoolboy's name.
"To have the brass neck" to say or do something knowingly and obviously false or hypocritical, means to have the nerve, the gall, the chutzpah, the effrontery, and the bloody cheek to say or do it. I explain the term not to be condescending, but because I have no idea if it made it across the herring-pond so that Americans will understand it.
We see brass neck increasingly in the modern world, where anyone can say anything because the subjective has the whip-hand over the objective and truth is just a social construct, an executive function of power, to be changed as often as seasonal store-window dressing. But British Prime Minister Rishi Sunak, a man of Hindu origin who is richer than his adopted country's King (the Empire strikes back . . .), has taken brass neck to the next level.
It is axiomatic that politicians will promise the Moon on a stick while on the campaign trail before taking power and familiarizing themselves with the verb "to renege." Look at Biden's people and the student debt forgiveness hustle. Vote for my team and you will be like Snake robbing Moe's store in The Simpsons and gloating, "Goodbye, student loan debt!" Then the red wave fails to manifest and a Texas judge conveniently finds the jamboree unconstitutional — as if eagle-eyed constitutionalists working for team Biden would never have seen that coming. Brilliant.
But Sunak has topped it.
The headline from Britain's far-Left Guardian is a masterclass of brevity: "Rishi Sunak to ditch key Tory leadership campaign pledges." As the English are known to say in the midst of disbelief, come again? It seems that Sunak has announced that all the things he promised to do when campaigning had to be reassessed because, well, things have changed; you know how it is. And these pledges are not promising to ensure noise restrictions on lawn mowers on a Sunday, or the final abolition of plastic carrier-bags in supermarkets. Here is a small selection of the guaranteed priorities this slippery Hindu has decided to row back on:
Immigration pledges, including the use of hotels to house illegal immigrants, claim-resolution targets, and keeping asylum applicants offshore on cruise ships.
Protecting Britain's rural "greenbelt" from development.
Cutting income tax.
Massively Conservative bastions, in other words. And there are more. Sunak says that he backs these pledges' "sentiment," but, well, no can do. Sunak's "spokesperson" (what a facile term, after the person has spoken!) offered the following baffling grammatical contortion to explain the Great Rishi-Set:
Obviously, those are pledges that were made a few months ago now and the context is somewhat different, obviously [sic], economically. We're not making commitments right now either way. We need to look again.
Apart from making White House spokes-bimbo Karine Jean-Pierre sound like Thucydides, this gormless statement has the effect of making any pledge null and void the very next second after it has been spoken. It is as though the political class exist in a continual present, with no memory and no need to commit to a future — a bit like robots.
Sunak has already been ridiculed as the "Rishi-Bot" for his curious and quasi-autistic demeanor. But seriously, do hybrids walk among us? I mentioned this recently in a piece on artificial intelligence, but it is worth watching again here. Maybe Sunak not only has the brass neck, but is the reincarnation of the robot schoolboy himself.
Woke World Cup
The word "football" divides two nations which have an erstwhile common language. In England, where the game was invented, and in the countries to which it was exported, it is generally played between two teams of 11 men wearing pajama tops and shorties. These combatants spend 90 expensive minutes or more falling over while trying to force, using only their feet and heads and varying levels of cheating, an inflated sphere into their opponents' goal, that goal resembling a giant's shopping basket tilted on its side. What Americans call "soccer" is, to give its official nomenclature in England, "Association Football."
What the rest of the world calls "American Football" is, I suppose, quite literally a whole different ball game. From my puzzled observations of games I've seen on TV over the years, it seems to me to be a pitched battle between two battalions of heavily-armored men while one or two of them attempt to hurl what looks like a huge and weaponized Brazil nut a very long way indeed. Plus, they hardly ever use their feet. American football is like Rugby League meets Rollerball.
But, these post-colonial niceties aside, there is a World Cup in progress, and 32 teams from around this multi-colored globe will be represented by the cream of their footballing young men. The competition itself is mired in controversy both financial and cultural, and the International Federation of Association Football (FIFA) has long been known as an organization as corrupt as they come.
The host country, Qatar, have already been knocked out of the competition, but they weren't really involved for the fun and spirit of the game; more the money FIFA can, some say, lift and launder to pay them for it. And it's not as though it kills anyone; it benefits a country to host a World Cup. Oh, wait: It seems that 500 immigrant workers (some estimates are far higher) perished building the stadiums that weren't really all that full come match-day. Oh, well; collateral.
Then there was the England team. At the time of writing they have a reasonable chance for at least the semi-finals, but their footballing prowess has taken something of a backseat to their absurd virtue-signaling manager, Gareth Southgate. Someone signed off on the decision to fly the squad out there in a rainbow-colored pride plane, and it wasn't the kid who cleans the players' boots.
I don't have to explain the cultural problem the Left can't puzzle out here. It would be much harder to explain football's "offside" rule. Qatar doesn't hold with homosexuality. To be well-hung in Doha doesn't mean what it means in San Fran. Nevertheless, the England team — and the Welsh, and the Germans, and God only knows who else — decided that all Qatar needs is plenty of rainbows and perhaps drag-queen story hour at the local mosque. The sight of the English team "taking the knee" before a puzzled-looking Senegalese is the memory I will take from this World Cup.
Old England is dying
Rumors of his health are lies.
Old England is dying.
— The Waterboys, "Old England"
Gloomy news from the old country. My good friend there has an old mate, also a drinking acquaintance of mine, who he tells me has been diagnosed with cancer of the liver and now has just a few weeks left to live. When I read the news I had a very strong image of walking into a pub on more than one occasion, seeing both of them sitting at a table, and knowing that the evening was going to be my favorite type: intelligent, funny, and very drunken.
This sad news is entirely in keeping with everything coming out of England just at the moment. The notion of "managing decline" has been omnipresent all my life, but it seems that the patient has recently taken a turn for the worse. A government of globalist shills is dismantling the economy while importing the combatants for the next civil war; whites are now a minority in London, Birmingham, and Manchester; blacks (as Enoch Powell's famous constituent predicted) now have the whip-hand over whites, and Old England really does look as though she is dying. (I think of England as female even if Mike Scott of the The Waterboys does not in his ditty quoted above.)
To wheel out once more one of a literary grand-master's greatest phrases, Orwell's from "The Lion and the Unicorn": "England is a family with the wrong members in control." Its gradual tumbling from an empire on which the Sun never set to a hostel for second- and third-world detritus is neither accidental, nor is it the result of forces beyond the control of those members. From the arrival of the ship containing the first wave of black immigrants, the Empire Windrush in 1948, to the strategic use of the largely manufactured Covid "crisis";  from Suez to mass Islamic immigration; from handing back Hong Kong to the Chinese to handing back Northern Ireland to Sinn Féin; from Blair's lies to Sunak's — the song, as Led Zeppelin once opined, remains the same.
And finally . . .
. . . where would Britain be without a racism row? Better still, it's one at Buckingham Palace. It really is time for black people to shut their cake-holes and listen to white people, and listen good.
We don't hate you. We don't wish to subjugate or oppress you. Face it, if you have ever worked in manual labor with blacks, you would know that if slavery was reintroduced tomorrow, you would not choose them if you wanted any work done that day, or even the next day. We don't want you back on the plantations — again, imagine cotton production if Democrat slave owners had used Nicaraguans, who pick coffee here in Costa Rica like they actually want to do some work. What we as white people want is to let you know that we are bored witless with you and the claims made for your non-existent culture. Wakanda isn't real, incidentally. Try booking a flight there if you doubt me. We want to be far away from you so you can do us no further harm. You are generally deleterious to any white culture. You are talented at talking in an irritating and sociopathic way over something approximating music — aka rapping — sportsball, and occasionally menial hospital work or the trumpet. Other than that, please be quiet and let the white adults talk.
Here's to Old England!
THE UNION JACKAL
* * *
Like all journals of dissident ideas, Counter-Currents depends on the support of readers like you. Help us compete with the censors of the Left and the violent accelerationists of the Right with a donation today. (The easiest way to help is with an e-check donation. All you need is your checkbook.)
For other ways to donate, click here.
Enjoyed this article?
Be the first to leave a tip in the jar!