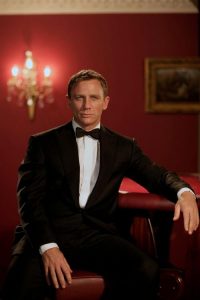 1,548 words
Is Billie Eilish's new Bond song, "No Time to Die," the worst Bond song ever? Close. But sadly, there is a lot of competition for that title. Here is my ranking, from best to worst.
Note: Not every Bond theme is a Bond song. Doctor No and On Her Majesty's Secret Service have instrumental themes. Beyond that, many Bond movies contain non-theme songs that are, nevertheless, strongly associated with the films. I will discuss two of them here. 
1. "Goldfinger"
Goldfinger is the archetypal Bond film — the first film where all the elements fell together into the successful formula that has been repeated umpteen times since — so it makes sense that the title song, sung by Shirley Bassey, should set the standard of what a Bond song should be. Musically, it needs to be grand, brassy, melodic, voluptuous, and slightly decadent. The lyrics need to be dark, because Bond is dark, his enemies are dark, and they spur each other to dark deeds. Everything about this song — words, lyrics, performance — is exquisite. Try to imagine how utterly weird this song must have seemed to theater audiences in 1964, yet in retrospect, it seems absolutely necessary and right.
2. "Live and Let Die"
Live and Let Die is one of my least favorite Bond films, but Paul McCartney and Wings' theme song is one of the best: grand, melodic, and very dark. It is a song about the moral and spiritual destructiveness of bitterness. Most people cringe at the redundancy of "the ever-changing world in which we live in." Years later, McCartney was asked about it, and simply said that it had not occurred to him. He should have pled artistic license. Try singing it without the redundancy.
3. "Thunderball"
Thunderball followed the formula established by Goldfinger, including the theme song sung by Tom Jones. Some people don't care for this song, but it has everything I want from a Bond song: a big, brassy, bombastic melody, a vivid lyric, and a powerful singer who knows how sell the words.
4. "Diamonds are Forever"
After Thunderball, Bond songs took a turn toward ballads. "Diamonds Are Forever" is one of the best, a mid-tempo number with a lovely melody, suitably cynical lyrics, and Shirley Bassey's powerful but always subtle singing.
5. "The Look of Love" (Casino Royale, 1967)
Yes, I know the 1967 Casino Royale is a farce. I know it was not made by Eon Productions. But it is based on a Fleming novel and stars James Bond. Several of them, actually. So it is a Bond film, and it just so happens to contain one of the most beautiful love songs of the 1960s, written by Burt Bacharach and sung by Dusty Springfield.
6. "You Know My Name" (Casino Royale, 2006)
This will probably be a controversial choice, but I love this song from 2006's Casino Royale, Daniel Craig's first outing as Bond. Casino Royale is one of the very best Bond films. Craig is astonishing in his combination of emotional subtlety and sheer virility, and the theme song sung by Chris Cornell (Soundgarden, Audioslave) has the same combination of traits. The lyric is a suitably dark portrait of Bond himself. ("The coldest blood runs through my veins.") This is the closest to hard rock of any Bond song, and it risked putting off the audience. It was a surprising choice, redeemed by talent and taste.
7. "Skyfall"
Skyfall is my very favorite Bond film, and the theme song is suitably epic, beautifully sung by Adele. A lot of people groaned about this song, because they were a bit over-exposed to Adele. Since I don't follow contemporary pop, this was the first I had heard of her, thus my ears were not prejudiced.
8. "Writing's On the Wall" (Spectre)
Spectre is a big comedown after Skyfall, but the title sequence and song, sung by Sam Smith, are magnificent. The song has darkness and grandeur, and Smith delivers the lyrics with a reedy, aching sensitivity. As with Adele, I had never heard of Sam Smith before this song, and I understand that your mileage may vary. 
9. "License to Kill"
License to Kill is Timothy Dalton's second and last outing as Bond. I love everything about this film, including the theme song, menacingly sung by Gladys Knight, which is a successful return to the "Goldfinger" archetype. Some things about this theme could be better. Knight's ebonic-inflected articulation is a bit messy, and the keyboards and background vocals are super cheesy. There's nothing wrong with this song, however, that couldn't have been fixed by Shirley Bassey.
10. "The World Is Not Enough"
A band called Garbage is giving a hostage to critics, but this is a brilliant song, despite the fact that the band doesn't really mesh with the orchestration and drags singer Shirley Manson down to earth when she should have been allowed to soar. (They should have sidelined the rhythm section entirely.) As for the lyrics, they are a beautiful portrait of a predatory sociopath, which pretty much describes Bond as well as his opponents.
11. "Goldeneye"
With music by Bono and the Edge and Tina Turner's charismatic, feline performance, this should have been a better song. The main problem is that the lyrics are pretty much an evocative word-salad.
12. "From Russia With Love"
Although it lacks grandeur and darkness, this is a beautiful song, exquisitely sung by Matt Monro. As you will see, this will become a pattern with Bond songs.
13. "Nobody Does it Better" (The Spy Who Loved Me)
Although it lacks grandeur and darkness, this is a beautiful song, exquisitely sung by Carly Simon.
14. "For Your Eyes Only"
Although it lacks grandeur and darkness, this is a beautiful song, exquisitely sung by Sheena Easton.
15. "You Only Live Twice"
Although it lacks grandeur and darkness, this is a beautiful song, exquisitely sung by Nancy Sinatra.
16. "All-Time High" (Octopussy)
Although it lacks grandeur and darkness, this is a pretty good song, well-sung by Rita Coolidge.
17. "A View to a Kill"
Duran Duran could have done a great Bond song. But they didn't. I'm not angry, just disappointed.
18. "The Living Daylights"
I am a huge A-ha fan. Songs like "The Sun Always Shines on TV" show that they are capable of the epic grandeur of a great Bond song. But this isn't it. Apparently, they had a falling out with composer John Barry, who likened them to the Hitler Youth, a clear anti-Nordic canard. (Interestingly, two out of three A-ha members named Knut Hamsun as their favorite author, to which I said "A-ha!")
Pet Shop Boys and the Pretenders were considered before A-ha, and a Pretenders song is incorporated into the background score. I would have loved hearing Bond songs from both. Chrissie Hynde had a magnificent voice for a James Bond theme.
I'm not angry with A-ha, just very, very disappointed.
Here's a taste of what could have been:
19. "Moonraker"
Lacks grandeur and darkness, etc. Not even Shirley Bassey can redeem this snoozer. What were they thinking?
20. "We Have All the Time in the World" (On Her Majesty's Secret Service)
Objectively, this isn't a bad song. But Louis Armstrong and this music are just wrong for the world of James Bond. What were they thinking?
21. "The Man with the Golden Gun"
Lulu has a powerful and pleasing voice, but it is wasted on this dumb, forgettable song.
22. "Never Say Never Again"
1983's Never Say Never Again is a remake of Thunderball with Sean Connery as Bond. Some Bond fans dismiss it because it was not produced by Eon Productions. But it starred Sean Connery. So there. The forgettable theme song, sung by Lani Hall, was composed by the highly talented Michel Legrand, who came up dry with this film.
23. "No Time to Die"
I agree with Scott Weisswald. This is a snoozefest. Lacks darkness and grandeur. Billie Eilish lacks the maturity to sell this song. Should not be under the opening credits. Maybe they can work it into the background score. They need to get a new theme song. Lady Gaga should sing it. She is one of the few singers today who can deliver a Bond song on the level of Bassey's best.
24. "Another Way to Die" (Quantum of Bollocks)
Words fail me.
25. "Tomorrow Never Dies"
The reedy, wobbly, weak-voiced, uncharismatic Sheryl Crow is the most un-Bondian singer on this list. The song is totally forgettable, and as soon as Crow opens her mouth, it is the musical equivalent of watching someone being swallowed by quicksand. But she was "hot" at the time, especially among future cat ladies, so she probably seemed safe. The stupidity of this decision is brought home by the song under the closing credits, which is magnificently sung by K. D. Lang. I will never forgive this lapse of taste. I am linking Crowe for completeness, but I am putting Lang above her.
26. "Die Another Day"
Madonna is a tremendous talent, but I can't think of a worse Madonna song. It lacks melody, grandeur, darkness . . . singing. I can't fathom the perfect storm of cynicism and bad taste that produced this song. Madonna certainly has done good movie songs, such as "Live to Tell" and "Beautiful Stranger." Imagine what she could have done if she had teamed up to write a Bond theme with William Orbit, who collaborated with her on Ray of Light, her best album.