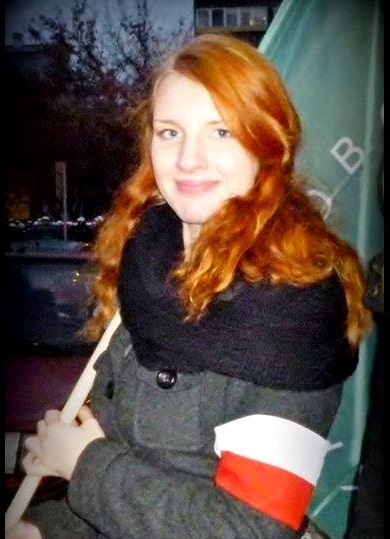 866 words
German translation here
Meeting up with Nationalist types can often be a bit of a 'downer'. A recurring complaint is that mixed-race babies seem to be everywhere and white women have been brainwashed into chasing black men to the exclusion of men of their own race.
I am notoriously positive and optimistic about things in general, but am I naive? 
Well, I've had some experience of online dating sites and I can state with confidence that by far and away the single most commonly stated preference by white women in their 20s for their desired boyfriend's ethnicity is "White Caucasian" only. I'd estimate that that more than 80% of white girls' specifically state that they want only a white partner.
The second most common is to leave that part of her profile blank with no stated preference. This could indicate no racial preference or, more likely, that she is afraid to share her preference publicly but will exercise her choice privately.
The third most commonly stated preference is "White Caucasian or Mediterranean", which still means white unless you want to get really puritanical about certain parts of south eastern Europe.
You could view a hundred white female dating profiles and only find around five who would state any ethnicity other than white as acceptable to them. But these would also include white as also acceptable.
Only once did I ever see a white girl stating her preference as "black" only. She was hideous of face and cloven of foot and you would not have been sorry to lose her from the gene pool I promise you!
But perhaps my dating site experience is not fully representative so let's look at some more scientific data.
According to a 2011 study on over one million dating website profiles:
"More than 80% of the online dating contacts initiated by whites were to other whites, with only 3% going to blacks. This trend held for both men and women, young and old."
Another massive study of online daters found that:
"Over 90% of white women who state a racial preference prefer not to date Blacks, East Indians, Middle Easterners and Asians."
So, despite our media's obsessive promotion of black and mixed-race singers and sportsmen and even greater obsessive promotion of white female traitors such as Cheryl Cole and the Kardashian monsters, white women are overwhelmingly seeking a white male partner today.
Furthermore, a Princeton University study in 2006 found that:
"One of the most striking findings is that white women who describe themselves as slim, slender, athletic, fit or average are nearly seven times as likely to exclude black men as dates as women who describe themselves as thick, voluptuous, a few extra pounds, or large."
Overall, there were some clear observable trends, in all these studies it seems that women of all races are significantly more racially loyal to their men than the men are to their women. However, men also exhibit bias toward women of their own race.
Beyond racial loyalty there was a noticeable preference among women of other races toward white men. Of all the racial and sex categories the most racially loyal group was . . . white women. The most disproportionately preferred group of all, by far, was . . . White men.
The liberal media since the last census in 2011 have joyously announced that the fastest growing racial group in Great Britain is the "mixed-race" category – yay, we are on the way to creating a coffee-coloured utopia where we can all just hold hands and under a rainbow for the rest of time!
Thankfully, this is a complete myth and is only true if the measure of growth is taken in relation to the groups' own tiny size.
The Great British census of 2011 reported that the proportion of people of mixed white and black ethnicity was 1.1%. This was a 67% growth from the 2001 figure of 0.7%.
Nationalists need to remember that there are over 55 million white people in this country and that hardly any of them are race traitors, homosexuals, transexuals, or even leftists!
94% agree that Britain is 'full up'
67% agree that British firms should be able to give British citizens priority over other EU citizens when hiring new workers, even if this means the UK would have to leave the EU
69% believe that immigration is having a negative effect on the UK
78% support the government's aim to reduce net migration to the tens of thousands, including 70% of those who voted LibDem!
18% trust politicians to tell the truth
36% agree that most MPs have a high personal moral code
15% of respondents thought it would be likely for the PM to reduce net migration to the tens of thousands by the next election 77% thought it was unlikely
I feel entirely validated in my optimism for the future of my country and people but we certainly have much to do.
The future is ours if only we have the confidence and discipline to reach out together and take it!
I hope that you will join Western Spring, the only group in Great Britain with a full realistic plan led by proven Nationalists of a high-calibre. Contact us today if you have not already done so and arrange a meeting with one of our representatives in your area.
Source: http://www.westernspring.co.uk/white-men-wanted/