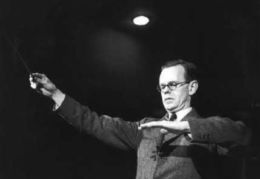 2,240 words
I am linking the following article on Sir Reginald Goodall (1901–1990) because not only was he a great conductor, he was also racially and politically aware and paired these convictions with an unusual degree of courage.
In the 1930s, Goodall was a member of Sir Oswald Mosley's British Union of Fascists. He was an outspoken opponent of the Second World War, and he was briefly arrested for his views. Goodall was also keenly conscious of the Jewish question.
Even more remarkably, Goodall retained these convictions after the Second World War, in spite of almost universal opprobrium. He was, moreover, a very ambitious man and well-aware that his convictions could only harm his career. But he never recanted, never apologized, and endured many years in obscurity before, on the strength of sheer talent and willpower, he finally broke through.
Goodall was one of the great Wagner conductors of the last century, and his recordings of the Ring cycle and The Mastersingers of Nuremberg would surely would rank among the very greatest, were it not for one lovable but very real flaw: they are English-language versions, part of a quite noble attempt to make Wagner more accessible to the English-speaking world.
Unfortunately, as beautiful as these recordings are, I find the English distracting because I know the German texts quite well. But if I'd heard these recordings when I was first listening to Wagner, they really would have made him more accessible.
Goodall's recording of Tristan and Isolde and his two recordings of Parsifal (on EMI and BBC Legends) are in German.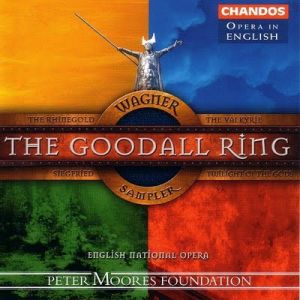 The chief complaint about Goodall is that his Wagner is slow. His recording of The Rhinegold is the only one that takes three CDs. His The Twilight of the Gods sprawls on to five! (Goodall's Ring cycle occupies 16 CDs, whereas Pierre Boulez's takes only 12; most take 14.) (There is an excellent inexpensive highlights CD. There is also a single CD of a recording with another ensemble of music from Act III of Twilight of the Gods.)
Under the best of circumstances, Wagner puts strains on the attention span, and in the age of MTV, channel surfing, ADD, and the internet, Goodall may be asking too much. For my part, however, I find that Goodall's performances do not seem slow, because they are utterly spell-binding and open up a world of musical details obscured by other conductors.
Goodall was also a very fine conductor of Britten (The Rape of Lucretia) and Bruckner (Symphony No. 7 paired with Wagner, Die Meistersinger Prelude, Symphony No. 8 paired with Wagner, Tristan and Isolde, Prelude to Act I, and Symphony No. 9).
Really, his name should have been Allgood.
Note: The only biography of Goodall, John Lucas' Reggie: The Life of Reginald Goodall has been re-published as The Genius of Valhalla: The Life of Reginald Goodall.
"Reginald Goodall–The Holy Fool"
On an Overgrown Path, May 8, 2007
Goodall showed that as a Wagner conductor he has no equal. His control of the musical architecture is absolute. The huge span of the score was shaped as if in a single phrase. At the same time the music seemed to move spontaneously, by its own inner force, and with a glowing beauty of sound, an inevitability of rise and fall and a kind of natural momentousness of expression that will remain ideal.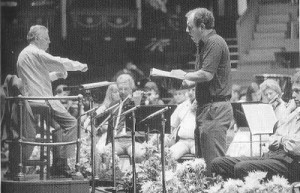 These were the words of David Cairns writing in the Sunday Times in August 1987. The occasion was Reginald Goodall's last ever conducting engagement, the Proms concert performance of Act 3 of Parsifal shown in the rehearsal photo above. Wagner's saga of the holy fool somehow sums up Goodall; as David Cairns wrote he was a Wagner conductor without equal, he was also a champion of Britten's music who conducted the first performance of Peter Grimes, yet he flirted with fascism and alienated himself from many who tried to help him during a career that lasted more than sixty-five years.
Goodall was born on 13 July 1901 in the cathedral city of Lincoln. At the age of 9 he entered Lincoln Cathedral choir school where he received the classic choral training that was central to English church music, and was also introduced to Wagner's music by his visionary teacher, Dr G. J. Bennett, who had studied in Berlin and Munich. But scandal interrupted the English cathedral idyll. Goodall's father, a solicitor's clerk, was charged with forgery and sentenced to eight months in prison. The scandal meant that the young Reginald and his brother were taken by their mother to live with relatives in Springfield, Massachusetts.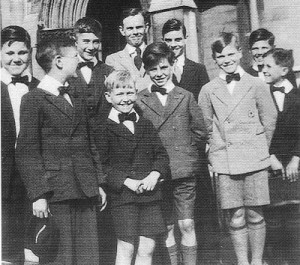 Goodall left school in Springfield aged 15, and became a machinist in an engineering works. Relief from this tedium came from concerts by the Boston Symphony and Philadelphia Orchestras, the latter conducted by Leopold Stokowski whose approach to orchestral balance was an influence on Goodall in later years. In 1917 Goodall moved to Burlington on the western end of Lake Ontario in Canada, where his father had settled after leaving prison, and the young Reginald entered Hamilton Conservatory to study music. He graduated with first-class honours and aged 19 started his career as a professional musician as church organist and choirmaster in Dundas, near Hamilton. While there he was introduced to Renaissance polyphony and Gregorian Chant by the influential Toronto musician Healey Willan.
Goodall would probably have stayed in Canada for the rest of his career had he not met the visiting Sir Hugh Allen, who was director of the Royal College of Music in London and professor of music at Oxford University. The chance meeting resulted in Goodall returning to England to study at the Royal Academy, but his period there was not particularly productive, and it was his appointment as organist at the Anglo-Catholic church of St Alban's, Holborn that was more important. The photo above shows Goodall with members of the choir, and during his time at St Alban's he built the reputation of the choir in repertoire ranging from renaissance masterpieces including Byrd's Mass for Three Voices, through Bruckner to Stravinsky and contemporary composers such as Jan Mul from the Netherlands. Goodall was also a virtuoso organist and his repertoire included Tournemire, Widor, Vierne and Dupré.
The reputation of the St Alban's Choir rapidly spread, and in December 1934 the boys sang in the first public performance of A Boy Was Born by an up and coming young composer called Benjamin Britten. The occasion was one of the contemporary music concerts promoted by a trio of women, Iris Lemare, the violinist Anne Mcnaghten, and the composer Elisabeth Lutyens who featured herself in an article here recently. This early collaboration was the start of a working relationship between 'Ben' and 'Reggie' which was to bear important fruits.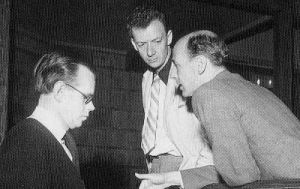 Goodall's pioneering work was not confined to choral music. He also worked with the amateur Bishopsgate orchestra where just one of his concerts included the first British performances of two works by German composers, a neo-classical divertimento by Max Trapp who was featured in my article Furtwängler and the forgotten new music, and Die Jahreszeiten from another composer featured here, Ernst Krenek. And that path takes us to Goodall the fool.
During the 1930s Goodall made several visits to Germany, the last in 1935 when the Nazis were in full control. On his return he extolled the virtues of Germany under the Nazis, and was vocal both in his concerns over the influx of refugee Jewish musicians, and in his criticism of the BBC for employing them. Goodall's views may have been influenced by his wife who was a strict Roman Catholic, at a time when the Catholic press was taking an anti-Bolshevik and pro-Mussolini position. In September 1939 three important events occurred. On Sept 1 Hitler invaded Poland, two days later Britain declared war on Germany, and on Sept 8 Reginald Goodall joined the British Union of Fascists.
The outbreak of war had profound effects on musical life in Britain. Orchestra budgets were cut and musicians were made redundant. The Bournemouth Municipal (now Symphony) Orchestra was one of the casualties, with twenty-six players axed. The redundant players formed the core of the newly formed Wessex Symphony Orchestra, and Goodall was appointed principal conductor. The orchestra and its conductor went on to do some remarkable things including giving early performances of Britten's Les lluminations and Violin Concerto.
At a time when concerts were few the Wessex Orchestra attracted leading conductors and soloists, including, in a remarkable crossing of overgrown paths, a young black conductor called Rudolph Dunbar. But even though Britain was at war with Germany Goodall continued to support the fascist cause. He campaigned for the British Union of Fascists, called the sinking of the German battleship Bismarck 'disgusting', and was actually arrested briefly for expressing pro-German views in public. Even after the war Goodall was unrepentant. He was recruited by Walter Legge to take part in a tour of to Germany in 1946. Some of the performers visited the site of the Belsen concentration camp, only to be told by Goodall, who did not make the visit, that Belsen was British fiction manufactured in a leading movie studio.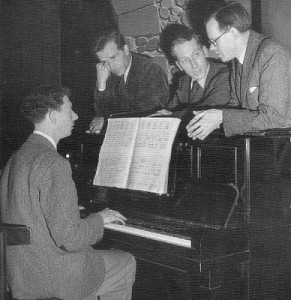 It is almost impossible to believe, but just one month after Germany surrendered the pro-fascist Goodall conducted the triumphant first performance of Peter Grimes, an opera composed by pacifist Benjamin Britten and with another pacifist Peter Pears singing the title role. Through the war Goodall had maintained the contacts with Britten started at St Alban's, Holborn. In fact Goodall had conducted a remarkable chamber concert of works by Les Six in September 1942 when, in addition to Denis Brain playing the horn, Britten had played the celesta in works by Louis Durey, and by Germaine Tailleferre, the only female member of Les Six. The first of the two Britten photos above shows the composer with Rudolf Bing and the baritone Edmund Donlevy who sung the role of Ned Keene in the first performance of Peter Grimes, while the lower shows Britten at a 1945 rehearsal of the opera with Goodall, the producer Eric Crozier and the designer Kenneth Green.
In 1944 Goodall joined Sadler Wells Opera, and this company inherited the first performance of Britten's Peter Grimes when the Tanglewood premiere (it was commissioned by Serge Koussevitzky in memory of his wife) was cancelled due to wartime transport difficulties. Britten specifically requested that Goodall conduct the first performance in preference to several other more experienced conductors, and the premiere on 7 June 1945 was a triumph, with both Britten and Goodall being lavishly praised by the critics.
Goodall went on to conduct The Rape of Lucretia for Britten's English Opera Group. But the most definitely heterosexual Goodall found Britten's next opera, Albert Herring, 'prissy' and the composer himself 'East Anglican', and their working relationship cooled. In 1946 Goodall joined Covent Garden as assistant conductor to music director Karl Rankl, and Goodall conducted Britten's Gloriana in, of all places, Bulawayo in Southern Rhodesia in 1953. Later the same year Goodall replaced Britten as conductor for Peter Grimes at Covent Garden, and the excellent reviews he received set him on a path that took him from a footnote in musical history to legendary Wagnerian.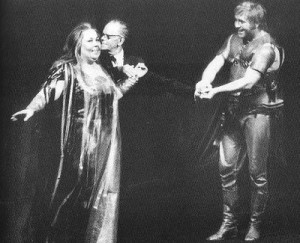 Based on the success of Peter Grimes Goodall was given four performances of Die Walküre on tour. The first was in the suburbs of London, and a glowing review from a young Andrew Porter in Opera magazine started Goodall on the path to being recognised as a Wagner specialist. But despite this acclaim he languished at Covent Garden for more than a decade coaching and occasionally conducting, and spending his holidays at the Festspielhaus in Bayreuth .
It was not until 1968 that Goodall really achieved recognition as a conductor of Wagner. The breakthrough came when a centenary production of The Mastersingers in English by Sadlers Wells Opera was rapturously received by the critics. The legendary English National Opera Ring Cycle of 1973, together with the EMI recordings completed in 1977, finally confirmed Goodall's reputation as one of the greatest living interpreters of Wagner. Tristan followed in 1979 with Welsh National Opera, and with English National Opera in 1981. My photo above shows Goodall taking a curtain call at the 1973 Ring with Rita Hunter (Brunnhilde) and Alberto Remedios (Siegfried). Goodall's stature was recognised in 1985 when he was knighted for services to music.
On 4 April 1986 Sir Reginald conducted Parsifal for English National Opera. Earlier in the day he had been upset by the news of the death of Peter Pears, and the last act of Goodall's life started to unfold. That Coliseum Parsifal was the last full length opera that Goodall conducted. As described at the beginning of this article he went on perform Act 3 of Parsifal at the Proms the following year, a concert staging that marked the end of Goodall's career. He lived for four more years in declining health, and Reginald Goodall, the holy fool, died on 5 May 1990 at the age of eighty-eight.
Conductors are notorious for their political naivety. But hopefully Goodall will be remembered not for his foolish politics, but for a recorded legacy which is infused with humanity. His Wagner discs are best known, but his Bruckner and Britten are also essential listening.
* We are very fortunate to have an excellent biography of Goodall, from which this articles draws with full acknowledgement, and from which the accompanying photos are reproduced for review purposes. Reggie, the Life of Reginald Goodall by John Lucas (Julia MacRae Books ISBN 1856810518) is a model musical biography — well researched, objective, and very readable. The 1993 book is now, sadly, out of print, but is relatively easy to find from book dealers.
*  *  *
Counter-Currents has extended special privileges to those who donate $120 or more per year.
First, donor comments will appear immediately instead of waiting in a moderation queue. (People who abuse this privilege will lose it.)
Second, donors will have immediate access to all Counter-Currents posts. Non-donors will find that one post a day, five posts a week will be behind a "Paywall" and will be available to the general public after 30 days.
Third, Paywall members have the ability to edit their comments. 
Fourth, Paywall members can "commission" a yearly article from Counter-Currents. Just send a question that you'd like to have discussed to

[email protected]

. (Obviously, the topics must be suitable to Counter-Currents and its broader project, as well as the interests and expertise of our writers.)
To get full access to all content behind the paywall, sign up here:
Paywall Gift Subscriptions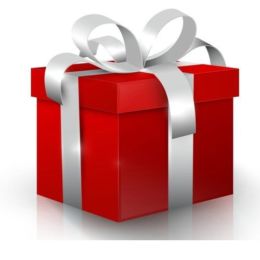 If you are already behind the paywall and want to share the benefits, Counter-Currents also offers paywall gift subscriptions. We need just five things from you:
your payment
the recipient's name
the recipient's email address
your name
your email address
To register, just fill out this form and we will walk you through the payment and registration process. There are a number of different payment options.
Enjoyed this article?
Be the first to leave a tip in the jar!