Misrepresentative Government:

Why Democracy Doesn't Work,
Part IV
Kenneth Vinther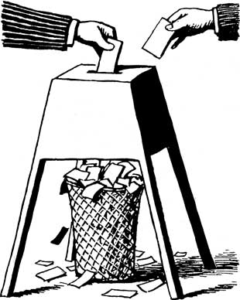 4,702 words
Part 4 of 4 (Part 1 here, Part 3 here)
And even if all financial incentives were totally eradicated from politics, this would not — and could not — exclude non-monetary forms of lobbying and influence, where private entities influence politicians in ways that do not involve any form of financial compensation. In the words of Rep. Maggie Wood Hassan, "When you are in the legislature, it can be hard to distinguish the loud from the many." The distant nature of political representation ensures that even the most well-meaning politician's perspective can be biased and distorted by dozens of external influences. The political scientists Lawrence R. Jacobs and Robert Y. Shapiro note that news media coverage is often misinterpreted "indicators of potential public opinion," even when the way that the media frames questions has no relation to the actual sentiments of the voting public. Criticism and pressure campaigns from the media and other entities with powerful voices can cause politicians to fear that they are alienating their constituents, even when this is not the case.
The media often establishes the national political conversation's parameters, and the voting public has few mechanisms to counter this phenomenon and express their true preferences save by voting for a small selection of candidates every couple of years. Additionally, politicians are surrounded by insiders and advisors who will always have privileged and intimate access to politicians from behind the scenes, which will always allow wealthy individuals to get in their ears and influence them in ways that will never be available to ordinary voters. Elected representatives cannot feel exactly how their constituents feel. They cannot know their constituents' preferences on every given issue. They will always be subjective persons who are susceptible to a variety of influences that can either deliberately or unconsciously sway their political attitudes and policy priorities in ways that might conflict with the voting population's preferences. As Justice Anthony Kennedy explained in his Citizens United ruling:
The fact that speakers may have influence over or access to elected officials does not [necessarily] mean that these officials are corrupt: Favoritism and influence are not . . . avoidable in representative politics. [emphasis added][1]
As the political scientist John Matsusaka argues, "There is reason to doubt that current reform proposals will make much of a dent in the problem." It is very unlikely that regulating campaign finance and the lobbying industry — or any other series of reforms, for that matter — could ever "fix" our democracy, because the problems with democracy are much deeper than the simple influence of money in politics. Our problem is not "money in politics." The problem is the "folk theory of democracy," which is riddled with logical problems. These problems can never be resolved by any amount of reform, because they make it impossible for our institutions to ever function in the way that we want them to. The problem is representative democracy itself, which is ultimately an extremely clumsy and primitive system that is incapable of translating the preferences of millions of people into clear, majoritarian, democratic decisions and action. "The crisis here is not a crisis in democracy," Schattschneider writes, "but a crisis in theory."[2]
While "some theorists have argued that all that is needed for democracy is elections that create a competitive struggle for citizens' votes," as Gilens points out, "elections alone do not guarantee democracy." For example, many critics argue that the first-past-the-post (FPTP) system that is practiced in Commonwealth countries and in the United States compromises the effectiveness of elections and call for electoral reform to fix problems with our electoral procedures to ameliorate the quality of our representation. FPTP is a "winner-takes-all" system where the candidate who receives the most votes in an election — the plurality of votes, not necessarily the majority of them — wins representation for that district. The losers gain no representation at all. Within this system, it is not uncommon for ruling parties to govern with less than one-third of the vote, which is often already a small portion of the population, given low voter turnout. It is not unusual under the rules of the system for parties to form a government with the endorsement of around 20% of the voting population.[3]
While elections are, in theory, supposed to offer voters a choice between various competing candidates who represent a variety of policy platforms, this system's rules tend to discourage electors from voting for their preferred party when that party appears to have little chance of winning the election, because doing so might "split the vote" and give the election to their least preferred party. When this occurs, "citizens are stuck with just three unpleasant options: (1) give up and forget about voting at all; (2) waste a vote in protest on a third-party candidate who can't win; [or] (3) grudgingly vote for whichever candidate seems to be the lesser evil," because they perceive that tolerating four more years of the alternative would be worse. The way that the FPTP system discourages electors from voting for their preferred candidates severely restricts the amount of choice that is available to voters, and typically causes elections to become contests between just two alternating parties, a selection process called "Duverger's Law." Instead of voting for their preferred policy, electors are reduced to voting against the party they hate the most, creating the same negative feedback loop that resulted in the 2016 presidential election between Donald Trump and Hillary Clinton, the most "historically disliked" candidates in American history. Further, this phenomenon negatively impacts political responsiveness, because diminishing the viable competition between parties in elections reduces the pressure on political parties to conform to their constituents' policy preferences. Tucker Carlson called attention to this behavior in 2019, when "some key advisors around . . . president" Donald Trump seemed to be stubbornly resisting public opinion: "'Our voters aren't going anywhere, the trailer parks are rock-solid. What choice do they have? They have to vote for us.'" More recently, key leaders of the Republican Party informed their major donors that they would not even have an agenda for the 2022 midterms and planned to run solely on the grounds that they are not the incumbent Democrats.[4]
Many alternative electoral schemes have been proposed as a solution to this problem, such as abolishing the Electoral College, shrinking electoral districts (and correspondingly increasing the number of representatives), or replacing the FPTP system with one of proportional representation, or 'ranked-choice' voting, as is practiced in various European countries. As opposed to the FPTP system, proportional representation has "multiple parties compete for general election votes, [and] voters choose among parties rather than candidates" and rank the parties according to their preferences, so that "each party gets the number of parliamentary representatives to which its share of the total votes entitles it." Thus, even if a voter's first choice is not likely to win an election, under a system of proportional representation they do not have to "waste their vote" because they can express and support their secondary or tertiary preferences. These solutions are endorsed and promoted by dozens of mainstream political commentators and politicians as the solution to fixing our broken political system. However, even while these reforms might make elections more competitive, increase the choices available to voters, and improve the responsiveness and representativeness of our political system, it is still unlikely that these reforms can succeed in making government more responsive to voters' policy preferences, or in neutralizing the disproportionate influence of wealthy special interests over the political system. For this to be the case, elections would need to be able to both "aggregate individual preferences into a [clearly expressed] collective choice" and to compel politicians to carry this collective choice out. And recent studies suggest that this is impossible not only in practice, but even in theory.[5]
Even within a system of proportional representation, electoral democracy suffers from inherent and "fundamental logic problems . . . [that call] into question how any sort of electoral process could reliably aggregate potentially complex individual preferences into a coherent 'will of the people.'" These technical problems were first identified through Arrow's Impossibility Theorem, a mathematical proof proposed by the Nobel laureate Kenneth Arrow in 1951 which demonstrates that it is mathematically impossible to aggregate the preferences of electors into a collective choice when the choice involves more than two alternatives. If elections were to "aggregate individual preferences into a 'democratic' policy choice" by identifying the preferences supported by the majority of people — what social choice theorists would describe as "the policy located at the 'ideal point' of the median voter['s]" preference scale — this would require a unidimensional policy space, meaning one that interprets all elections as single-issue referendums between two choices. However, they are not; elections involve choices between several political parties, each endorsing unique political agendas that contain dozens of distinct policy positions. And this poses serious problems for the concept of a "popular will," because multiple policy "positions preferred by a majority of electors to every alternative position, 'in general, do not exist for a multi-dimensional world.'" Richard Johnston observes:
The image of the electorate which dominates popular discussion [is that of] the people as a free-standing body, with its own indomitable collective opinion . . . But in an election, the collective opinion of the people can be expressed only with reference to a very limited menu of alternative policy platforms.[6]
Even if the electorate entertains a clear majoritarian policy preference for every individual policy issue, "There may [still] be no policy platform with a logical claim to represent 'the will of the majority,' much less 'the will of the people.'" [emphasis added] Achen summarizes:
If collective choices depend crucially on "how parties and leaders shape the alternatives from which the choice is made," and on the detailed workings of political institutions . . . in what sense can those choices be said to reflect popular will?[7]
Voters can only choose from a small handful of choices and candidates provided to them, representing a bundle of disparate policy platforms that cannot possibly coincide with the preferences of the majority on every issue. Combined with the overwhelming agenda-setting powers of the corporate media, which typically frames the national political conversation and the effective range of issues that are discussed, political parties exert tremendous control over the way that the 'will of the people' is articulated through both the combination of policies they decide to bundle into a policy platform and the candidates they decide to present to voters. "All forms of political organization have a bias in favor of the exploitation of some kinds of conflict and the suppression of others because organization is the mobilization of bias," writes Schattschneider. Political parties have broad discretion over which bundle of issues achieve political relevancy. "Some issues are organized into politics while others are organized out."[8]
Aldous Huxley once noted that "democracy depends on the individual voter making an intelligent and rational choice for what he regards as his enlightened self-interest." However, due to the technical constraints inherent in electoral democracy itself, the elector is severely limited in the way that he can express what he perceives as his self-interest, which can only be articulated in the most vague and ambiguous of terms. After the 1918 midterms, Walter Lippmann observed how all electors were considered as having "voted . . . for and against the League of Nations," even though
saying that the League was the issue did not make the League the issue, and by counting the votes on election day you do not know the real division of opinion about the League. There were, for example, nine million Democrats. Are you entitled to believe that all of them are staunch supporters of the League? Certainly you are not. For your knowledge of American politics tells you that many of the millions voted, as they always do, to maintain the existing social system in the South, and that whatever their views on the League, they did not vote to express their views. Those who wanted the League were no doubt pleased that the Democratic party wanted it too. Those who disliked the League may have held their noses and voted . . . No one can say definitely how many people let their feelings on that subject determine their vote. When there are only two ways of expressing a hundred varieties of feeling, there is no certain way of knowing what the decisive combination was . . . [An election is no way to] know quantitatively and qualitatively what went on in thirty or forty million adult minds.[9]
Further, assuming for argument's sake that there nevertheless was a multidimensional policy platform that aligned approximately or even identically with most voters' preferences, the electorate still cannot rationally express their perceived self-interest because they are not voting for policy platforms; they are voting for people who will enact policy platforms on their behalf. And from the voters' perspective, this means that "rational behavior is impossible without at least some way of forecasting future events." Even if we assume that voters have the capacity to rationally identify the best set of policies for themselves, their families, their communities, and their countries, voters cannot intelligently adjust their votes prior to an election because they cannot know precisely what combination of policies will actually result from an election. It is impossible to predict how a candidate will behave until after they are elected. Even if electors use an incumbent politician's past and/or present performance within a particular period of time to make a reasonably accurate inference regarding the candidate's probable future behavior, assuming that they will exhibit consistency in performance, this means that electors will still always be limited to evaluating an election's consequences "in an ex post, [rather than] an ex ante, sense." Electors do not and cannot ever pick and choose policy through elections. Democratic theory is forced to retreat from the folk theory's idealistic aspirations and concede that the only way voters can ever possibly be understood to influence politics is via electoral accountability alone. And this is where democratic theory goes to die.[10]
In the famous words of V. O. Key, the voter is "a rational god of vengeance and of reward." Instead of interpreting elections as referendums on policy, electoral accountability supposes that during elections, voters are evaluating the overall performance of their representatives during elections. We consider a government "'accountable' if voters can discern whether governments are acting in their interest and sanction them appropriately" by dismissing the incumbents who do not act according to their interests and rewarding the ones that do. This is also the theory that most closely conforms to the political industry's understanding of elections. As one GOP operative explained to the press,
One of the biggest mistakes challengers often make is thinking campaigns are about them and their ideas . . . No one gives a shit about that. Elections are referendums on incumbents.[11]
When contrasted with more idealistic theories positing that elections produce clear majoritarian policy mandates, democracy's retrospective voting model may seem suboptimal. As Professor Bernard Manin notes, "Election remains an expression of trust rather than a choice of specific political measures." However, one might assume that retrospective voting might nevertheless ameliorate responsiveness to some extent by incentivizing politicians "to maximize voters' well-being as best they can" to avoid being voted out in the proceeding election. Voters at least retain the power to punish or reward politicians for good behavior, which should theoretically keep politicians faithful to their constituents' interests. Even though electors cannot vote for policy, they can at least theoretically force their elected representatives to act according to their best interests in general terms, because electors can punish their representatives — i.e., threaten to vote them out — if they do not.[12]
"The sovereignty of the voter consists in his freedom of choice just as the sovereignty of the consumer in the economic system consists in his freedom to trade in a competitive market," writes Schattschneider. "Democracy is not to be found in the parties but between the parties." According to traditional assumptions in public choice theory, a subset of rational choice game theory, this electoral accountability stimulates competition between the parties that encourages them to act according to the preferences or best interests of their constituents. This version of democracy already falls short of folk theory's aspirations. This concept of electoral accountability
lays no policy constraint on the governing administration; rather, the government is free to innovate, knowing that it will be judged on the results of its actions rather than their specifics. In a word, the accountability generated by a retrospective voting electorate and reaction anticipating politicians provides [a significant degree of] latitude for political leadership.
Policy is not a product of public opinion, resulting somewhere downstream from the decisions made by voters during elections; political "part[ies essentially] . . . create public opinion." Elected officials are given absolute discretion to freely interpret and act upon their own subjective interpretations of public opinion however they see fit.[13]
This is suboptimal when compared to the folk theory of democracy. Voters can, in the words of Thomas Jefferson, try to "displace an unfaithful servant, before the mischief he mediates may be irredeemable." In the best of circumstances, voters can only "throw the rascals out" after the damage has already been done. But it does not necessarily follow that this allows voters to pressure elected officials to behave in a certain way. For the threat of dismissal to actually influence elected officials' behavior, it requires that 1) voters are able to reliably "discern whether governments are acting in their interest"; and 2) that elected officials actually anticipate electoral sanctions for their behavior to such an extent that it causes them to adjust their behavior appropriately. And upon closer inspection, it becomes once again apparent that elections cannot function this way in practice.[14]
The way that politicians behave, and the public's perception of this behavior, are two distinct things. The classical theory of electoral accountability assumes that there is a strong, causative correlation between the behavior of elected officials and public perception of this behavior, whereas in practice these two things are only ever tenuously linked at best, and totally unrelated at worst. There will always be a wide variety of external and uncontrollable factors that can impair an individual's perception of the performance of an administration, and "[u]ncertainty and lack of information prevent even the most intelligent and well-informed voter" from correctly attributing these circumstances either to the fault of their representatives or to factors outside of their control.
This is further complicated when considering how public perception of events can be unfairly distorted by media framing. The voter cannot observe precisely what is happening inside an administration; it is impossible for him to measure his representatives' inner thoughts and motivations, or gauge how diligently they are actually working on his behalf. The voter "cannot be certain what his present utility income from the government is, or what it would be if an opposition party were in power . . . [He] can only make estimates of both." This means that under the best of circumstances, public perception is ultimately reduced to guesswork. Voter satisfaction with incumbents may be high when the economy is doing well despite an administration's poor decisions. It might be low when the economy is suffering despite an administration's best efforts. Thus, when the theory of electoral accountability via retrospective voting asks voters to make a rational evaluation of an administration's performance, it is simply asking voters to do something that voters cannot do. And this is not withstanding external factors beyond the politician's control that might not negatively impact how voters perceive him, but might nevertheless still influence voter behavior enough to jeopardize an incumbent politician's career. For example, even if a significant portion of voters are satisfied with an incumbent's performance, they might fail to vote because they think his reelection is guaranteed. They might even simply forget to vote.[15]
The point here is that elections and public opinion can be highly unpredictable and arbitrary, and politicians are intimately acquainted with this fact better than anybody else. This unpredictability, compounded with the fact that public perception is not necessarily an accurate reflection of a politician's performance or dedication to a cause, means that politicians face significantly diminishing returns for good behavior in office. Because public perception is not necessarily an accurate reflection of reality, politicians have no guarantee that they will be reelected after sacrificing their sweat and blood fighting for the interests of their constituents. However, it also means that politicians have no guarantee that they will be punished if they do not. This seriously "frustrate[s] political accountability" and "can significantly reduce incumbents' diligence, degrading the efficacy of elections as mechanisms for inducing accountability" and creating a perverse incentive structure that is the opposite of what the folk theory of democracy supposes that elections are supposed to do.
Politicians have virtually no genuine incentives to look out for their constituents' best interests in office. Instead, they have two different, powerful incentives. Firstly, the "incumbent may be tempted to focus on other goals besides maximizing voters' subjective welfare," such as maximizing their own personal utility of their short time in office by selling access and networking with wealthy special interests, which is certain to be far more rewarding than banking on reelection. And secondly, they have very strong incentives to try to manipulate public perception as something entirely independent from their behavior and performance in office. Elections may influence what politicians say, but not what they do. This is not only a theoretical observation; this has been confirmed by numerous empirical studies which have revealed that this is exactly how elected representatives feel and behave.[16]
In a groundbreaking study conducted on Capitol Hill, the political scientists Lawrence R. Jacobs and Robert Y. Shapiro surveyed hundreds of members of Congress about how public opinion influences their policymaking. 88% of respondents answered that public opinion "had no influence on the member" whatsoever. One Republican respondent related to researchers that "on policy, beliefs are more important than public opinion . . . public opinion is not at all useful in day-to-day policymaking." One Congressional representative even confided to researchers that "it's not what you're doing, but the perceptions that are so important."[17]
Politicians don't feel compelled to fight for their constituents' objectives when in office. In practice, politicians do not feel constrained by elections. Elections are distant events in the far-off future. Their more immediate concern is generally their party powerbrokers and private sponsors whom they regularly communicate with. And assuming that they care about reelection (they often don't), even if they act against their constituents' preferences, they can nevertheless try to spin the public's perception of their behavior (they might even expect the public to simply forget their betrayal, which will probably be drowned out by dozens of other scandals). If they forge relationships with wealthy special interests, these special interests can also help them avoid fallout and maintain their reputation, especially when these wealthy special interests have connections to the media.
Elections are merely a clumsy, primitive, and arbitrary system for selecting leaders that place "a high premium on demagogic qualities of personality that attract voter-attention." Elections tend to discourage honesty and diligence and reward characters who are natural performers, actors, and fraudsters who are skilled at manipulating public perception. Politicians even employ an entire public relations industry that helps them manage public opinion. They exploit human psychology through "framing," which includes dozens of industry strategies such as "cherry picking," the "non-denial denial," "the non-apology apology," impersonal "distancing language," avoiding questions, "burying bad news" (i.e., "limited hangouts"), misdirection and diversion, the "dead cat strategy," "doublespeak," "weasel words," et cetera ad nauseum.[18]
"The democratic idealists of practically all schools of thought," remarks Reinhold Niebuhr, "have managed to remain remarkably oblivious to the obvious facts." Contrary to popular belief and our folk myths, there is absolutely no theoretical or empirical evidence that elections allow the public to make policy decisions. There is not even evidence that elections can compel politicians to 'act in the interests of the people.' To the contrary, all serious academic studies have found that "representatives' voting behavior [is] not strongly constrained by their constituents' views. Elections do not force successful candidates to reflect the policy preferences of the median voter." To the extent that elected officials seem to do so, "the relationship between constituents' opinions and their representative's policy choices is correlation, not causation, [and] the correlations are often quite modest" at best.[19]
"If there is a crisis," writes Heinz Eulau, "it is a crisis in the theory of representation and not in the institution of representation." In the words of Robert Dahl:
A good deal of traditional democratic theory leads us to expect more from national elections than they can possibly provide. We expect elections to reveal the "will" or the preferences of a majority on a set of issues. This is one thing elections rarely do, except in an almost trivial fashion.[20]
Within the context of electoral political systems, there will always be a privileged class of elite persons who enjoy an enormous degree of latitude to subjectively interpret the public interest as they see fit. Elections do not and cannot allow the people "to govern themselves, but only to passively and haphazardly choose those who will." As the political scientists Christopher Achen and Larry Bartels concluded in their monumental study on electoral democracy, there is no theoretical model that can be constructed to prove that elections can empower voters to create public policy. For all intents and purposes,
election outcomes are essentially random choices among the available parties — musical chairs . . . Elections that 'throw the bums out' typically do not produce genuine policy mandates, not even when they are landslides. They simply put a different elite coalition in charge… it is a blunder to expect elections to deliver more.[21]
No amount of campaign finance or electoral reform can ever make representative government live up to the idealistic expectations of the folk theory of democracy, because the folk theory expects elections to do something that they cannot do. Money in politics is not the problem. Electoral government is the problem. The folk theory of democracy is little more than a desperate effort to retrospectively invent a theory, based on a distortion of history, that can allow people to imagine "that they live under an ethically defensible form of government that has their interests at heart." But this theory "doesn't work . . . [I]t never has and never will."[22]
Elections do not produce responsive government.
Elections cannot make the people rulers.
And this is because they are not supposed to.
* * *
Like all journals of dissident ideas, Counter-Currents depends on the support of readers like you. Help us compete with the censors of the Left and the violent accelerationists of the Right with a donation today. (The easiest way to help is with an e-check donation. All you need is your checkbook.)
For other ways to donate, click here.
Notes
[1] Quoted in Schlozman, vi. Shapiro and Jacobs, 17. Quoted in Gilens and Page, 113.
[2] Matsusaka, 52. Quoted in Achen and Bartels, 297.
[3] Gilens and Page, 5.
[4] Gilens and Page, 232. Matthew Yglesias, "What really happened in 2016, in 7 charts" (Vox: 2017). Carlson quoted in Matthew Choi, "Fox News' Tucker Carlson goes after Trump and Kushner over protests" (Politico: 2020). Jonathan Swan and Alayna Treene, "McConnell: No legislative agenda for 2022 midterms" (Axios: 2021).
[5] See Lessig, 162. Gilens and Page, 224, 295. See also Michael Lind, The New Class War: Saving Democracy from the Metropolitan Elite (Atlantic Books: 2020). As opposed to the other solutions mentioned above, Lind argues that the solution is to promote working-class elites to give ordinary Americans more accurate representation. Although the concept of promoting a true working-class elite and the possibility of having authentic representation has been disputed by theorists such as Robert Michels and Bernard Manin, as will be explored in later sections.
[6] Achen and Bartels, 30, 24, 26, 28.
[7] Achen and Bartels, 26, 28.
[8] See also Adam J. Berinsky, Silent Voices: Public Opinion and Political Participation in America (Princeton University Press: 2013).
[9] "Interview with Aldous Huxley" (The Mike Wallace Interview Collection, Harry Ransom Center: 1958). Walter Lippmann, Public Opinion (Transaction Publishers: 1922), 195.
[10] Achen, 98, 100.
[11] Quoted in Achen, 112. Adam Przeworski, Bernard Manin, and Susan C. Stokes, Democracy, Accountability, and Representation (Cambridge University Press: 1999), 40. Quoted in Swan and Treene.
[12] Bernard Manin, The Principles of Representative Government (Cambridge University Press: 1997), 211. Achen and Bartels, 98, 100.
[13] Quoted in Achen and Bartels, 60, 267. Achen and Bartels, 108-109.
[14] Thomas Jefferson, "Thomas Jefferson to John Adams, 28 October 1813" (Founders Online, National Archives: 2009). Przeworski, Manin, and Stokes, 40.
[15] Achen and Bartels, 105-106.
[16] Ibid., 104, 100.
[17] Quoted in Shapiro and Jacobs, 268, 271.
[18] Achen and Bartels, 108.
[19] Quoted in Achen and Bartels, 1. Achen and Bartels, 48, 313.
[20] Quoted in Sheldon Wolin, Fugitive Democracy: And Other Essays (Princeton University Press: 2018), 28. Quoted in Achen and Bartels, 21.
[21] Caleb R. Miller, Living Under Post-Democracy: Citizenship in Fleetingly Democratic Times (Taylor & Francis: 2020). Achen and Bartels, 312.
[22] Achen and Bartels, 1. Monbiot.