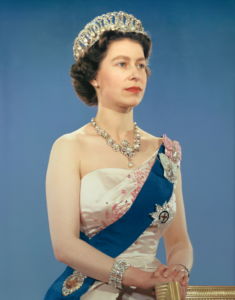 1,048 words
When anyone on planet Earth spoke of "the Queen," nobody ever asked, "Which Queen?" Everyone knew that "the Queen" meant Queen Elizabeth II of the United Kingdom. In that sense, she was the Queen of the world. In the global imagination, Elizabeth II stood for all the queens of the world, indeed all the monarchs of the world, as well as standing for the UK and its various offshoots and possessions all around the globe as their head of state for more than 70 years.
I am an American of largely English and Scottish descent. Culturally at least, I am part Canadian. In my upbringing, I was steeped in British manners, history, high culture, and popular culture, most of the time without even knowing it. So I like to think I came by my Anglophilia honestly.
Ethnic identity is largely an unconscious thing until something forces you to reflect upon it. For most Britons, that would be a trip abroad. In my case, I never knew just how much of an Anglophile I was until I visited England for the first time. It did not feel like going abroad. It felt like coming home. It hit me again when Brexit went through, and I found myself tearing up to the sound of "The Land of Hope and Glory."
It hit me even stronger when the Queen died. It felt like losing a member of my extended family, which is technically true, but in a much more attenuated sense than the people who actually grew up as Elizabeth's subjects. I can only imagine what some of them are feeling. They have my sincerest condolences.
How should race-conscious whites respond to the death of the Queen?
First and foremost by not simply treating it as an opportunity for drawing attention to oneself and one's politics. Instead, how about beginning by offering condolences, if you can do so sincerely? That's harder to do the further one is from England and its culture. But a little bit of imagination and empathy should bridge the gap. How would you like to be treated if a member of your extended family died? If that stirs nothing, silence is always an option.
Eventually, though, we will feel called upon to comment politically. How we do so depends on our sense of mission and our sense of audience.
As I see it, our primary focus should be persuading people who are persuadable. Given that our movement has limited resources, we need to fish where the fish are. In the case of the Queen's death, that means our largest target audience is the vast majority of Britons with a sufficient sense of identity to feel affection for the Queen and loss upon her demise.
If that is our audience, then whatever we say, we should strive not to sound like the legions of Marxoids and non-whites who are publicly gloating over the Queen's death. Indeed, we should be using such reactions as an opportunity to point out the unworkability of multiculturalism. That's an opportunity we forfeit if our own reaction is indistinguishable from Marxoids and Third Worlders.
If, however, one has chosen a more boutique approach to white identity politics, seeking to sway Leftists and Third Worlders over to some sort of neo-Strasserism, then by all means imitate their rhetoric. I support a big-tent approach, including outreach to the mainstreams (Trump voters, British patriots) and the margins (vegans, homosexuals, Marxists, Third Worlders). Just don't expect your efforts to produce the same return on investment that more mainstream approaches will.
But don't the people who condemn the Queen for not doing something about the decline of the UK have a point? After all, she was the head of state. She had the power to veto legislation, and the armed forces swore allegiance to her. Imagine what a nationalist monarch could have done in her position.
But this is based on a fundamental misunderstanding of the British monarchy. The monarch is supposed to be a symbol of the nation as a whole. As such, he or she must be above partisan politics. A monarch has not vetoed an act of Parliament in more than 300 years. And during her 70 years on the throne, the Queen never said a word that did not reflect the consensus of the political establishment as a whole.
Unfortunately, that consensus includes globalization and multiculturalism. It wasn't the Queen's job to shape that consensus. It wasn't her job to challenge it, either, even if she had the imagination and the courage to do so, which she clearly didn't. Her job was to be a figurehead, a symbol, to preside with grace and dignity over a ship of state whose course is set by other people. Sadly, Britain is following in the wake of the Titanic. Perhaps the Queen's lot is to be compared to the orchestra on that ship, who did their duty with grace and dignity as well. Now the baton has been passed to Charles III.
When one's country has gone disastrously wrong, it is natural to wish for friends in high places. That sort of wishful thinking fed the Q-Anon psyop in America, and it feeds many of the angry polemics of British nationalists toward the Queen today.
Sadly, though, we don't have friends in high places. Salvation will not come from on high, and it is a waste of time and energy to wait and wish for it. Salvation will only come from below, from political outsiders like us who have the imagination and courage to challenge the ruling consensus about immigration, globalization, and white guilt. In short, salvation will only come from our movement. It is a sobering thought, because we've got such a long way to go. So the sooner we stop wishing for salvation and start working for it, the better.
During her 70 years on the throne, the Queen gave Britons a real but superficial sense of continuity while aliens transformed their society beyond all recognition. Now that the Queen is dead, many are reflecting on their nation's decline and may be receptive to our message about what must be done to reverse it. If so, in death the Queen might give nationalists the help she was unable to extend during her reign. But only if nationalists do the work.
* * *
Like all journals of dissident ideas, Counter-Currents depends on the support of readers like you. Help us compete with the censors of the Left and the violent accelerationists of the Right with a donation today. (The easiest way to help is with an e-check donation. All you need is your checkbook.)
For other ways to donate, click here.