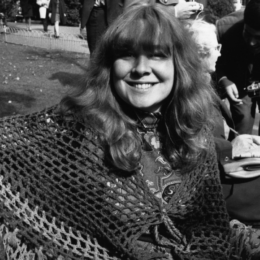 1,746 words
"My favorite singer out of all the British girls that ever were."
— Robert Plant
I first came across the name Sandy Denny on the liner notes of the classic Led Zeppelin IV. Apparently, she had been hanging out with the band at the Melody Maker awards ceremony in 1970 where Robert Plant had been named best male singer and Denny had taken the best female singer nomination. The chemistry must have been right, because within a few weeks Denny went on to perform backing vocals on Zeppelin's "Battle of Evermore" in 1971.
Mick Wall, in his Zeppelin biography When Giants Walked the Earth (2008), describes what happened:
Plant decided he needed another vocalist to act as his foil on the tune. Enter former Fairport Convention singer Sandy Denny in a beguiling cameo, her river-clear voice providing the perfect harmonic counterpoint to Plant's nursery rhyme melody.
Plant further explains: "It's really more of a playlet than a song. So while I sang the events in the song, Sandy answered back as if she was the pulse of the people on the battlements. Sandy was playing the town crier urging people to throw down their weapons."
Oh, throw down your plow and hoe,
Rest not to lock your homes.
The Lord of the Rings influenced lyrics Plant later explained to a journalist at the Record Mirror in March 1972. They originally derived from his interest in Celtic mythology and the Mercian border wars:
Albion would have been a good place to be, but that was England before it got messed up. You can live in a fairyland if you read enough books and if you are interested in as much history as I am — the Dark Ages and all that.
Denny, quoted in Wall's book, admitted to feeling "knocked sideways" by the Zeppelin sessions. In 1973, she told student journalist Barbara Charone that "having someone out-sing you is a horrible feeling. . ." Yet, despite her discomfort, Plant and guitarist Jimmy Page wanted to fully acknowledge her talents by marking her name on the LP's sleeve with a triple triangle, the ancient sign of the Godhead and double Trinity, to denote their respect for her contribution.
Little did I suspect at the time of first hearing Denny's accompaniment to Plant's 3.92-octave range what a convoluted journey I was to embark upon. Denny's tortuous career spanned periods with Fairport Convention, where she sang on the folk-rock genre-defining Liege & Lief at a rented country house called Farley Grange near Winchester in 1969, a tenure with Fotheringay, a band named after Denny's interest in Mary Queen of Scots, and her all-too-brief solo sessions that ended tragically when she fell into a coma in April 1978.
Born in Wimbledon on the 6th of January 1947, Alexandra Elene MacLean Denny grew up in a home that was filled with the echoes of Marjory Kennedy-Fraser's Songs of the Hebrides with tunes like "Fhir a' Bhata" (The Boatman) and The Oxford Book of English Verse, with renditions of traditional folk songs like "Tam Lin" and "Sir Patrick Spens." Her early years saw her frequently visiting relations in Llangrannog, a small seaside village nestled amongst the coves and cliffs of the cormorant-crested Cardigan coast in western Wales, which was to greatly influence her rapidly developing poetic sensibilities.
Clouds higher than the trees,
Looking down on us from up above,
Moving swiftly on the breeze,
More gracefully than a winged dove
In their hundreds they rest on high,
On the sun they seem to lie.
Till twilight comes
And dark is nigh
— An early poem by Sandy
Denny later reminisced in an interview with Screen 'n' Heard in January 1973:
When I was very young we lived in Broadstairs in Kent, and right at the bottom of the garden there was a field, and if you walked through the field there was a deserted beach, and it was absolutely beautiful. I remember it very clearly now although I was very young when we lived there, and I guess that's why a lot of my songs are about the sea. When I'm within walking distance of a shore I go and sit on the beach, especially in the evening. I just love to watch the sea rolling onto the beach and I think a lot when that happens, I get all these romantic ideas.
Ideas that gave birth to song lyrics like The Sea:
Do I ever wonder? You don't know.
You'll never follow, and I'll never show.
D'you see the water and watch it flow
And float an empty shell,
And you think that I'm hiding from the island.
You've a fault in your senses. Can you feel it now?
Time? What is that? I've no time to care.
I've lived for a long while nearly everywhere.
You will be taken, everyone, you ladies and you gentlemen.
Fall and listen with your ears upon the paving stone.
Is that what you hear? The coming of the sea?
Denny's poetry, when added to the faerie tenderness of her voice, would astound dozens by the mid-sixties.
One of Denny's lifelong friends Linda describes a typical night on the scene in folk clubs in London's West End like the Flamingo, the Marquee or the Mandrake:
Sandy used to come down to the Troubadour straight from the hospital (where she worked temporarily as a nurse) with all sorts of drugs stashed in her pockets that she had stolen from the patients, typical nurse thing-uppers, downers, sleeping pills — and then she'd get up on stage and was amazing from the get-go. She smoked like a chimney. . . How Sandy could sing like an angel on all those cigarettes I don't know.
Shelagh McDonald, the songstress behind Stargazer: "I heard Sandy at the Troubadour and thought that's it, I'm giving up the whole thing. She was that good!"
Jacqui McShee — member of Pentangle, no minor talent herself — chips in: "Right from our early days in the folk clubs, when Sandy stood up to sing, everyone was spellbound."
Marc Brierley, a contemporary singer-songwriter who regularly saw Sandy perform her Tuesday night slot at the Troubadour, adds:
She had a very English folk voice but more ornate than Anne Briggs or Shirley Collins and, unusually she played acoustic guitar, softly strummed and with an open tuning. She played well enough and mostly sang traditional songs. It was only later her repertoire expanded but I never saw her sing any of her own songs in the folk clubs.
Sandy singing "She Moves through the Fair and Nottamun Town" certainly contributed to making the folk scene cool again, but it was her own songs coupled with her unique rendering of traditional ballads that made her distinctive mark on first The Strawbs and then Fairport's musical output. Albums like What We Did On Our Holidays in January 1969 and Unhalfbricking in July 1969 both preceded Liege and Lief, with one American press advertisement carrying the following description: "Music such as we've sung in the islands since before Chaucer to tell our histories, to preserve our tongue, to reveal our hearts."
After leaving Fairport Convention, Denny continued building her repertoire with The North Star Grassman and The Ravens, The Bunch's Rock On in 1972, Pass of Arms in September 1972, Sandy in September 1972, Like an Old Fashioned Waltz in October 1973, and finally, Rendezvous in May 1977.
These gatefold albums and taped sessions included songs like "Who Knows Where the Time Goes":
Across the evening sky, all the birds are leaving
But how can they know it's time for them to go?
Before the winter fire, I will still be dreaming
I have no thought of time
For who knows where the time goes?
Who knows where the time goes?
Sad, deserted shore, your fickle friends are leaving
Ah, but then you know it's time for them to go
But I will still be here, I have no thought of leaving
I do not count the time[ind]
For who knows where the time goes?
Who knows where the time goes?
And I am not alone. . .
There is also Fotheringay, which Sandy admitted was the result of her fascination with tragic heroines — she compared the song's central character to those in fairy stories like Rapunzel and Alfred Lord Tennyson's The Lady of Shalott:
How often she has gazed from castle windows o'er,
And watched the daylight passing within her captive wall,
With no-one to heed her call.
The evening hour is fading within the dwindling sun,
And in a lonely moment those embers will be gone
And the last of all the young birds flown.
Her days of precious freedom, forfeited long before,
To live such fruitless years. . .
Denny would fret for hours over tunes like "Winter Winds" and "The Pond and the Stream" before settling on the final melodies and chords. She told Sounds in January 1972: "When I sit down at the piano the words come in their thousands — doomy, metaphorical phrases, minor keys, weird chords — I can't do anything about it."
Fotheringay performed gigs with emerging stars like Gerry Rafferty and Nick Drake draped in Renaissance costumes, singing songs like "Banks of the Nile," which folk connoisseurs like Martin Carthy, Ashley Hutchings, and Shirley Collins describe as the consummate Sandy Denny vocal. This is how true admirers should remember her now that she has gone — an effervescent star shooting across the moonlit heavens. Denny left behind an unparalleled legacy that folk archivists still mine for gems. Robert Plant wrote in the mandolin-entwined song he crooned with Denny that "The Queen of Light Took Her Bow and then She Turned to Go."
So, it is somewhat fitting that the former Led Zeppelin frontman shared the stage with Fairport Convention at their now-famous Cropredy concert in 2008, marking the 30th anniversary of Sandy's death with a reprised Battle of Evermore with Kristina Donahue — to the obvious jubilation of the crowd — where they sang that great line:
I'm waiting for the angels of Avalon,
Waiting for the eastern glow.
What better epitaph to mirror the inscription on Denny's headstone in Putney Vale cemetery, which reads:
The Lady
Alexandra Elene
MacLean Lucas
(Sandy Denny)
6·1·47 — 21·4·78
If you want to support our work, please send us a donation by going to our Entropy page and selecting "send paid chat." Entropy allows you to donate any amount from $3 and up. All comments will be read and discussed in the next episode of Counter-Currents Radio, which airs every Friday.
Don't forget to sign up for the twice-monthly email Counter-Currents Newsletter for exclusive content, offers, and news.