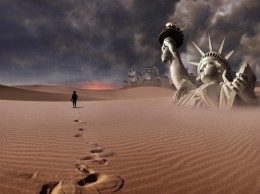 1,023 words
English original here
Poniższy tekst to przemówienie, które wygłosiłem na londyńskim forum w dniu 3 października 2015 r. Chciałbym podziękować Jez Turner, London Forum Team i ich wiernym odbiorcom za umożliwienie mi tego.
Libertarianizm to polityka indywidualistyczna. Indywidualizm odnosi się do kwestii metafizycznych oraz etycznych.
Metafizyczny indywidualizm postuluje, że ​​istnieją tylko jednostki. Grupy są tylko zbiorami jednostek. Grupy nie mają odrębnego, niezależnego znaczenia.
Metafizyczny indywidualizm wiąże się z uniwersalizmem, czyli tezą, że istnieje tylko jedna rasa, ludzka, która jest tylko zbiorem jednostek.  Uniwersalizm orzeka, że ​​nie ma znaczącego rozróżnienia między "naszymi" a "tamtymi", między nami a nimi.
Uniwersalizm ma dwie ważne implikacje.
Po pierwsze, polityka jest wynikiem, jak definiuje ją Carl Schmitt, rozróżnienia między nami a nimi, uniwersalizm oznacza, że ​​polityka jest jedynie zjawiskiem przejściowym, opartym na zanikającej iluzji znaczących różnic między grupami. Kiedy znikną te rozróżnienia, polityka też zniknie.
Po drugie, nacjonalizm, patriotyzm i każda inna forma stronniczości w stosunku do swojej grupy w stosunku do grupy zewnętrznej jest nie etyczna ponieważ tak naprawdę nie ma nas i ich, tylko ja i ty.  To prowadzi nas do moralnego wymiaru indywidualizmu. W jaki sposób ja i ty możemy się dogadać? Jeśli grupy są tylko zbiorami pojedynczych osób, nie ma wartości grupowych, a jedynie indywidualne wartości.  Dlatego celem instytucji społecznych jest ułatwienie osobom realizować własne cele.
Najważniejszym mechanizmem dla jednostek aby osiągały swoje cele jest kapitalizm.  Jeśli ty i ja mamy coś do zaoferowania, możemy handlować.  Jeśli nie mamy nic do zaoferowania, po prostu idziemy dalej.  Rynek wymaga jedynie minimalnego państwa "nocnego stróża", aby chronił nas przed przemocą, oszustwem, naruszeniem umowy i tym podobne.
Etyka indywidualizmu wymaga od nas traktowania każdego jako jednostkę, a nie członka różnych moralnie nieistotnych grup przekazanych nam przez historię lub naturę.  Aby rywalizować, musimy być "ślepi".  Musimy być "ślepi" na klasę.  Musimy być "ślepi" na płeć.  Musimy być "ślepi" na religię.  Musimy być "ślepi" na narodowość.  Musimy być "ślepi" na wszystkie rzeczy, które nas dzielą.  Jedyne, co musimy zobaczyć, to indywidualne zasługi.
"Gra" indywidualizmu jest bardzo korzystna dla wszystkich graczy.  Indywidualizm wspiera kreatywność w nauce, technologii i biznesie.  Paradoksalnie jednak największą korzyścią indywidualizmu to forma współpracy.  Każdy indywidualista uważa się za członka nawet globalnego społeczeństwa.  Oznacza to, że współpraca społeczna może również zostać rozszerzona do globalnego pułapu umożliwiając hurtową transformację świata, który nazywamy modernizmem.
Społeczeństwa kolektywistyczne są jednak trapione przez podziały na "in-grupy" i "out-grupy". Jeśli ludzie zachowują się jak członkowie grup, zaufanie i współpraca ogranicza się do "in-grup", co poważnie ogranicza rozmiar instytucji społecznych i psuje ich funkcjonowanie poprzez faworyzowanie "swoich" i dyskryminację w stosunku do "innych".
W uczciwych pojedynkach strategia indywidualistyczna może pokonać strategie kolektywistyczną, dlatego indywidualistyczne społeczeństwa europejskie podbiły praktycznie cały świat za pomocą doskonałych technologii i form współpracy społecznej.
Jednak rywalizacja o globalną dominację rzadko jest uczciwa.  Kiedy więc zachodnie społeczeństwa indywidualistyczne podbiły i pochłonęły społeczeństwa kolektywistyczne, było kwestią czasu, zanim bardziej inteligentne plemiona nauczyły się oszukiwać.
Jak oszukać indywidualistę? Udawać indywidualistę, a działać jako członek grupy.  Żądasz, aby indywidualiści uczciwie i merytorycznie spojrzeli na każdą transakcją.  Ale jeśli to możliwe, dajesz przywileje członkom własnego plemienia, a oni  dają Tobie preferencję.
Wyobraź sobie grę w karty, w której przeciwnik może użyć dżokera, ale Ty nie możesz.  Tym dżokerem jest ich plemienne członkostwo.  Nie ma znaczenia, jak wielką przewagę możesz mieć nad nim pod względem żetonów na początku, ponieważ zasady dają mu systematyczną przewagę i dopóki będziesz grał, będziesz przegrywał. Ale indywidualiści bardzo trudno dostrzegają oszustwo, ponieważ są ślepi na grupy.
Ciekawe, że najważniejszym założycielem nowoczesnego, zaślepionego rasowo i narodowo indywidualizmu była Ayn Rand, urodzona Alissa Rosenbaum, a kierownictwo jej ruchu obiektywistycznego było w przeważającej części żydowskie, w tym kilku pierwszych kuzynów i małżeństw.  Jasne, że w rzeczywistości nie była to merytokracja. Jednak zwolennicy Rand byli ślepi na ten fakt ze względu na wyniosłe zasady moralne.
Nigdy nie będzie społeczeństwa libertariańskiego.  Ale ideologia libertariańska nadal pełni funkcję w ramach istniejącego systemu.  I choć libertarianizm jest powierzchownie przeciwny marksizmowi szkoły frankfurckiej, oba są żydowskimi ruchami intelektualnymi, które pełnią tę samą funkcję: obniżają odporność europejskiego społeczeństwa indywidualistycznego o wysokim poziomie zaufania wobec podstępnych grup plemiennych – co John Robb nazywa "plemionami pasożytów"  – przede wszystkim Żydów. Libertarianie głoszą indywidualizm, podczas gdy szkoła frankfurcka piętnuje tożsamość białych, wychwalając "inkluzywność" wobec "marginalizowanych" grup.  Ale wynik jest taki sam.  Obie doktryny promują żydowski awans społeczny i moc grupy, jednocześnie zaślepiając resztę społeczeństwa na to, co się dzieje.
Jakiego rodzaju ludzie głoszą ślepotę jako cnotę?  Ludzie, którzy nie robią nic dobrego.
Sumując, twierdzę, że indywidualizm jest produktem biologicznej i kulturowej ewolucji człowieka europejskiego.  Indywidualizm idzie w parze z niskim etnocentryzmem, tj. otwartością wobec obcych, uniwersalistyczną ideą, że ostatecznie istnieje tylko jedna grupa, ludzkość, do której wszyscy należymy.  Europejska psychika została pięknie określona w powiedzeniu Willa Rogersa: "Nieznajomy to tylko przyjaciel, którego jeszcze nie poznałeś". Wątpię, czy takie same zdanie można znaleźć w języku hebrajskim lub arabskim.  Innymi słowy, zasadniczo nie ma nas i ich.  Jest tylko wiedza i ignorancja, znajomi, których znamy i przyjaciele, których nie znamy.
Ta otwartość jest bardzo korzystna, ponieważ pozwala nam zwiększyć liczbę osób, z którymi możliwe jest zaufanie i współpraca.  Ale otwarcie na obcych jest również ryzykowne, ponieważ mogą tego nie odwzajemnić. W ten sposób podejmowanie ryzyka towarzyskości – wyciągniecie przyjaznej dłoni – jest głęboko zakorzenione w naszym poczuciu moralnej wyższości.  Ale kiedy spotykamy ludzi, którzy nie odwzajemniają naszej otwartości, ale zamiast tego traktują ją jako słabość, którą należy wykorzystać, wówczas nasze cnoty nie są już korzystne, a jeśli nasze elity pozostają otwarte na takich wrogów, należy zwolnić ich od wszelkich uprawnień i obowiązków.
Indywidualizm oślepia swoich wyznawców w rozpoznaniu kolektywistycznych oszustów. Zatem jedynym sposobem na uratowanie indywidualizmu jest uświadomienie sobie znaczenia grup.  Ale to brzmi jak kolektywizm.  Uzyskując świadomość o plemionach pasożytów, musimy je wykluczyć.  Ale to brzmi jak etatyzm.  Jeśli indywidualizm jest ostatecznie etosem europejskim, to indywidualizm wymaga, abyśmy chronili społeczeństwa europejskie i wykluczali nie-Europejczyków, co brzmi jak nacjonalizm rasowy.
To jest obalenie libertarianizmu.  Jest to forma samozaprzeczenia.  Aby ocalić indywidualizm, musimy odrzucić uniwersalizm, i przywrócić rozróżnienie między nami a innymi. Indywidualizm działa wyłącznie jako strategia grupy złożonej z podobnie myślących ludzi, którzy muszą wykluczyć inne kolektywy, które nie działają według tych samych zasad.  W taki sposób niektórzy ludzie zaczynają jako libertariańscy indywidualiści, stają się rasistami, antysemitami i a ostatecznie faszystami.
Notice
: Trying to get property 'ID' of non-object in
/home/clients/030cab2428d341678e5f8c829463785d/sites/counter-currents.com/wp-content/themes/CC/php/helpers/custom_functions_all.php
on line
150
Notice
: Trying to get property 'ID' of non-object in
/home/clients/030cab2428d341678e5f8c829463785d/sites/counter-currents.com/wp-content/themes/CC/php/helpers/custom_functions_all.php
on line
164