Guide to Kulchur, Episode 20
Game of Thrones Seen from the Right
The Firebombing of Dresden
Counter-Currents Radio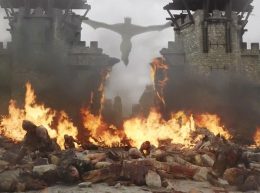 135 words / 29:05
In the latest Guide to Kulchur, Fróði Midjord and John Morgan discuss the current, penultimate episode of Game of Thrones (the fifth episode of the eighth season), which saw the resolution of many of the plotlines that have been developing from the beginning of the series — as well as new questions. (Spoilers ahead!) They talk about the epic final showdown between Daenerys and her multicultural army on the one side and Cersei on the other, the deaths of many of the show's long-running characters, and Daenerys' transformation say about how the problem of who will be the monarch will be resolved in the series finale next week. The episode is available on both YouTube and Spreaker (see below).
Listen to "Game of Thrones s8e5 seen from the Right – Guide to Kulchur, ep 20" on Spreaker.
Enjoyed this article?
Be the first to leave a tip in the jar!