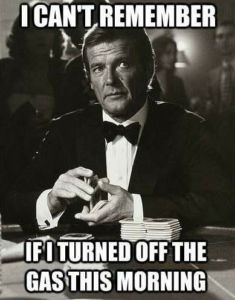 2,401 words
"You're leaving on the 4:30 AM flight to Jamaica, Commander. You've got to find out who killed Strangways and why." M glared at Bond through a cloud of pipe smoke, his tone sharp. The murder of Strangways had clearly rattled him.
"4:30 AM?" thought Bond, looking at his Rolex Submariner. "That's in three hours. Normally I need five to six hours to pack. Let's see. It'll take me twenty minutes or so to get back to my flat . . ."
M noticed that Bond's face had suddenly gone blank. "Are you paying attention, Double-Oh-Seven?"
Bond immediately straightened in his chair. "Yes, sir. 4:30 AM flight to Jamaica."
"Just see that you're on it."
"Yes, sir."
Bond left M's office to find Moneypenny smiling up at him from her desk, a red pencil in her hand. She was doodling on a folder marked "MOST SECRET," obviously killing time, waiting for Bond to emerge from behind the twin, leather upholstered doors. Moneypenny dropped the pencil and immediately began applying some lipstick, gazing into a small mirror propped against her stapler. "That was fast," she said. "How do you expect a girl to keep herself alluring when . . . ? Why, whatever is the matter, James?"
She had noticed Bond's hangdog expression. "It's nothing," he said. "I just . . ."
"Do you have an assignment? Is it Strangways?" she asked. Apparently, all of MI6 had heard about the case.
"Yes. Yes, it is Strangways," Bond said with a long sigh.
"Well then, what's wrong?" Moneypenny asked the question with almost maternal concern.
"It's just that . . . Well . . .Well . . . I'm worried."
"Oh dear," said Moneypenny, motioning for him to come closer. Bond immediately sat on the edge of her desk. "No, dear," she said. "Not there, you silly. The usual place." Bond got up and then sat in her lap. She put an arm around him and held one of his hands in hers. "That's right, James. Now tell me all about it. I can't imagine what you're worried about. You've dealt with bigger assignments than this. And didn't M just give you a new gun? What is it, a German thing?"
"Yes, a Walther," Bond said, looking away. He put an arm around her shoulders but couldn't bear to meet her gaze. "No, I'm not worried about the assignment as such. It's the packing. I'm not sure I'm going to have enough time."
Moneypenny responded with a gentle rebuke. "Oh, don't be silly! It's around 1:30 now. You'll have plenty of time to throw your things in a bag and get to Heathrow. There, there. It'll be alright."
"Yes, but it'll take me at least twenty minutes to get back to my flat. And I'll need to make a list and go over it several times."
"A what?" she asked, giggling a bit.
"A list of things to pack. I find if I don't make a list, I forget things." This time Bond met her eyes. He smiled slightly, almost pleadingly. "Look, I know it's a bit strange . . ." His heart sank when he saw her expression. She clearly did think it was strange.
But Moneypenny recovered quickly and gave him a serene smile. "Oh, it's not strange. It's probably a good idea. Just jot the list down when you get home."
"Well, that's the thing. I don't really have to . . ."
"Then why on earth . . . ?" she began, throwing up one hand in frustration.
Bond cast his eyes down. Moneypenny had lost patience. He hated it when people reached this point with him, especially a pretty girl who clearly liked him as much as Moneypenny did. "Well," he said. "I mean that I've kept all the packing lists from previous assignments. On my computer, that is. All I have to do is find one from an assignment similar to this, make a few adjustments, and print it off. Voilà!" He tried with the last word to sound debonair.
"Well, then. What are you waiting for?" she said, playfully pushing him off her lap. "It sounds like you've solved the problem."
"Uh, well. It'll still take some time," Bond responded, hands stuffed deep into the trouser pockets of his midnight blue shawl-collar dinner suit. "And there are also certain . . . rituals I have to go through. When I leave on an assignment."
Moneypenny sat back in her chair and, crossing her gorgeous legs provocatively, ever so slightly pulled up the hem of her skirt. "You mean like having a pretty girl kiss your . . . ummmm . . . gun, for luck?"
"No. I mean like checking the stove a few dozen times and making sure the thermostat is set at precisely eighteen degrees Celsius," Bond answered.
"You mean, to keep the champagne cool?" Moneypenny shot back with a certain sort of desperation.
"No, to keep the pipes from freezing."
"But it's July," she said, the smile now fading from her face.
Bond responded with nervous laughter. "Never can be too careful! It's just a little something I've learned to do instinctively, whenever I leave on a mission." He noticed she had now sat forward in the chair and pulled her skirt down. "Chaps like me, in our profession," he went on, "we've got to learn that kind of discipline. It's . . . uh . . . what they taught us in commando school."
Moneypenny clearly wasn't buying any of this. Bond desperately felt he needed to save face. He sidled over to her, put an arm around her shoulders, and sniffed her hair like an American President. "Cocktails at eight, the night I get back. My place," he whispered.
"Ummm. That sounds nice," she said, then looked at her watch. "You know you really ought to get going . . ."
"Or . . . well . . . we could go punting!"
"Yes, James. That sounds nice, too. I'll check my calendar." Then Moneypenny abruptly stood up and, grabbing him by the arms, pushed him firmly towards the door. She opened it and, with a bright if rather forced smile, shoved him out into the corridor. "Now shoo, you bad little boy!"
Recovering his balance, Bond turned to reply, "Moneypenny, what would I do without . . ." But she had already shut the door behind him. "One of these days I have to ask her what her first name is," he thought.
Moments later, Bond was in his Aston Martin DB5, modified by Q Branch with an automatic transmission, driving towards Notting Hill.
"Well, that little bit of repartee has cost me!" he said to himself bitterly, glancing at the clock on the dash. "I just need to calm down. This packing issue has really triggered me. I'll take half a tab of benzodiazepine when I get in. Yes, that's the first thing I'll do, so that it can start taking effect. A benzo and a martini. Then I'll print that list and get started."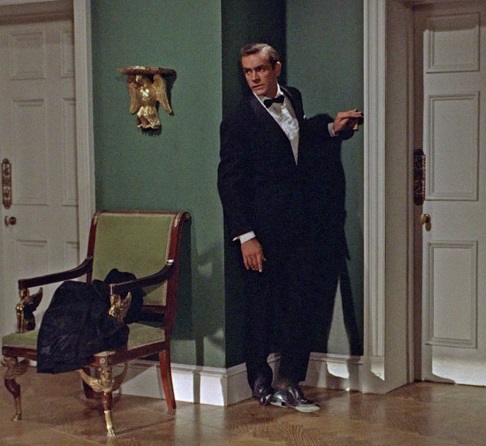 The trip home actually took just over twenty-four minutes. By the time he got to his flat, Bond was fuming. But when he saw a light streaming from under the front door, he realized he had a new problem. Sweating profusely, Bond pressed himself against the doorframe and listened. He heard sounds, but they were faint and indistinct. Clearly, however, someone was inside his flat. Very carefully, he twisted the knob. It was unlocked. Then he thrust the door open and dropped to one knee, drawing the Walther from his suede shoulder holster.
The sight that greeted him was — at first — not the least bit frightening, and quite easy on the eyes. Standing in the middle of the room was the raven-haired beauty he had met at the casino earlier in the evening. The one to whom he had given his business card as soon as he got word that M needed to see him immediately.
"Now you made me miss it," she purred. She was clasping his Calamity Jane putter, putting golf balls into a glass lying tipped over on the floor. And his entrance had ruined her aim. Then Bond noticed something that shocked him. "She's wearing one of my Turnbull and Asser cotton shirts with the two-button turnback cocktail cuffs!" he thought. The lady was indeed wearing this — and nothing else. "I was planning on taking that one to Jamaica. Now she'll get it all wrinkled and probably get lipstick on the collar."
Bond concealed his dismay, as well as his gun, and gave her his most suave smile. "How exactly did you get in here?" he asked.
"Your doorman let me in. I just showed him a little kindness," she responded, smiling coquettishly.
Bond frowned. "Just how much kindness?"
"Not too much. He's 84." The girl bent over provocatively and knocked the golf ball into the glass with the back of her hand.
It was then that Bond realized he couldn't recall her name. This was his curse: Bond simply could not remember names. When introduced to someone, he would instantly forget. He had even tried mnemonic devices, but would often forget those as well. "Let's see, what's this one's name?" Bond thought. "Miss Goodthighs? Miss Something-or-other Galore? Miss . . . . . . . Alotta Fagina?" Nothing was coming to him. Finally, he resorted to subterfuge and said, "I'm happy to see you, Miss . . . er . . ."
The girl immediately attached herself to Bond and put her arms around his neck, gazing up at him seductively. "Trench. Sylvia Trench. Don't you remember?"
"Of course, I do. My name is Bond. James Bond."
"Yes, I know. We covered all that at the casino. By the way, I'm sorry I couldn't interest you in playing a few hands of Chemin de fer with me. But I completely understood your argument about how betting on games of chance makes no financial sense."
"Yes," he said. "It's like flushing money down the loo. Completely irrational."
"That may be true, Mr. Bond. But you have to admit that some of life's pleasures are not entirely rational." With this, she kissed him full on the lips. Responding, he wound his arms tightly around her waist. The kiss lasted several seconds. Disengaging, she leaned back slightly, still in Bond's arms, but then her face suddenly took on a look of concern. "What's wrong?" she said.
"She must be able to tell that I'm worried," Bond thought. He had just realized that nothing was going on . . . down there. "It's this damned packing issue! I can't relax! There's only one answer: I've got some Viagra in the kitchen. I'll invent an excuse to go in there, crush up a pill, and swallow it. It should act quickly enough."
"James! You look like you're upset about something. Aren't you pleased to see me?"
"Well, yes. Yes, of course, Miss Trench," he drawled. "It's just that you picked the wrong time. My firm is sending me on a job. I have to leave immediately." "Yes!" he thought. "Yes! That's the ticket! The perfect excuse. Just get her out of her as fast as possible so I can make that damned list. I'll promise her we'll go . . . punting or something as soon as I return."
"What a shame," she purred. "Just when things were getting interesting." Then she kissed him again, with twice as much passion, and for twice as long. "When did you say you had to leave?" she asked. "Immediately?"
"Shit!" Bond said to himself. "If I kick her out of here now she's definitely going to think I'm gay." "Almost immediately," he said to her, and was pleased with the line. He quickly planned the whole thing out. He could make love to her right there, right in the living room. It would take fifteen minutes, tops. They didn't even have to take their clothes off. Hell, she was already out of hers. But then Bond remembered the Viagra. He would still need time for it to take effect. With the list-making, the packing, and the checking this might mean he would miss his plane. No matter. He could take a later flight. The airline would be sure to squeeze him on one, if he said he worked for Universal Export. He could tell M he was delayed by traffic on the way to Heathrow.
"Can I offer you some liquid refreshment, Miss Trench?" he asked, releasing her.
"Call me Sylvia. Well, as you can see, I've already taken the liberty of helping myself." Bond had not noticed it before, but there was an ice bucket in the room, and in it was an open bottle of Dom Perignon '55. "More liberties!" he thought, but retained his composure. Sylvia lifted the bottle and took a few swigs directly out of it. Licking her lips seductively, she then stuck her arm out, suggesting that Bond partake.
He smiled and took the bottle from her but did not drink. "Yes. Yes. That's refreshingly primitive of you, my dear. But I think I should get us a pair of glasses." It was the perfect excuse, even if it sounded a bit effete. This would give Bond time to slip into the kitchen, crush up the Viagra, and take it with a sip of champagne. He started for the kitchen door. "Don't be long, darling," he heard her say as the door swung shut behind him.
Now Bond sprang into action. Putting the bottle down, he immediately went for the cupboard. He always kept an emergency supply of Viagra behind a jar of Frank Cooper's Vintage Coarse Cut Oxford Marmalade. And, indeed, he found it there. "Now where's that mortar and pestle?" Bond thought. It wasn't where he normally kept it, next to the La Pavoni Europiccola espresso machine. His eyes scanned the room. Then, to Bond's horror, he remembered. He remembered the mortar smashing into bits against the kitchen door, thrown at him by an irate and slightly drunken Tiffany Case, when, after she had entwined her arms with his, Bond had refused to drink from her martini glass ("unsanitary," he had said).
There was no way around it, Bond would have to swallow the little blue pill whole, without crushing it up. But this meant it would take the drug even longer to enter his bloodstream. He would just have to stall for more time. Two seconds after swallowing the pill, he heard Sylvia calling from the other room. "James! I need you!"
"Coming, darling! Coming!" he said, as he entered the living room carrying the Dom Perignon in one hand and two Imperial crystal champagne glasses in the other. The girl was now reclining on the couch looking bored.
"Sylvia," Bond said brightly, "do you fancy a bit of Netflix?"
* * *
Like all journals of dissident ideas, Counter-Currents depends on the support of readers like you. Help us compete with the censors of the Left and the violent accelerationists of the Right with a donation today. (The easiest way to help is with an e-check donation. All you need is your checkbook.)
For other ways to donate, click here.