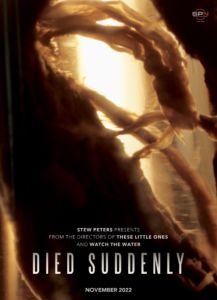 1,979 words
Died Suddenly, the freely available anti-vax documentary produced by radio personality Stew Peters, promotes three theses regarding the COVID-19 vaccine: It's both dangerous and deadly; our leaders have been dishonest about it; and it is part of a nefarious plan hatched by the world elite to depopulate the planet. The first thesis is a slam dunk, the second is a successful throw from the foul line, and the third resembles a three-point shot rattling off the rim. If you're a believer from the anti-vax choir going into this documentary, you will be even more so coming out. If you're a skeptic from the pro-vax crowd, this documentary will do little to persuade you. And if you're undecided, you will find Died Suddenly compelling enough to warrant more research into this divisive and sometimes maddening topic.
Died Suddenly, directed by Matthew Skow and Nicholas Stumphauzer, is hampered by the filmmakers' obvious partisan bent. But it rolls out enough unforgettable moments to make a formidable stand against the medical and political forces which insist that COVID vaccines are safe and effective.
The documentary starts in the best possible way: by welcoming us into the unsettling world of embalmers. What an original and powerful take on the COVID vaccine! If the vax is as dangerous as many are saying, wouldn't embalmers and funeral home directors have noticed a rather uncomfortable uptick in business starting in, say, the spring of 2021? Well, they did. Not only that, many embalmers began to notice something weird about all those fresh cadavers coming their way. It wasn't so easy to pump embalming fluid through them anymore. This had never happened before. It was almost as if something was blocking the arteries of the deceased.
Well, guess what? There was.
Skow and Stumphauzer interview numerous embalmers who all say the same thing: "white fibrous structures" were occluding arteries and veins, preventing blood flow and likely causing death. The filmmakers provide ample video evidence of these pork rind-like structures, from one embalmer's mason jar collection to footage of them pulled straight from cadavers. One was three feet long. Others came out in bloody globs. Some look like calamari.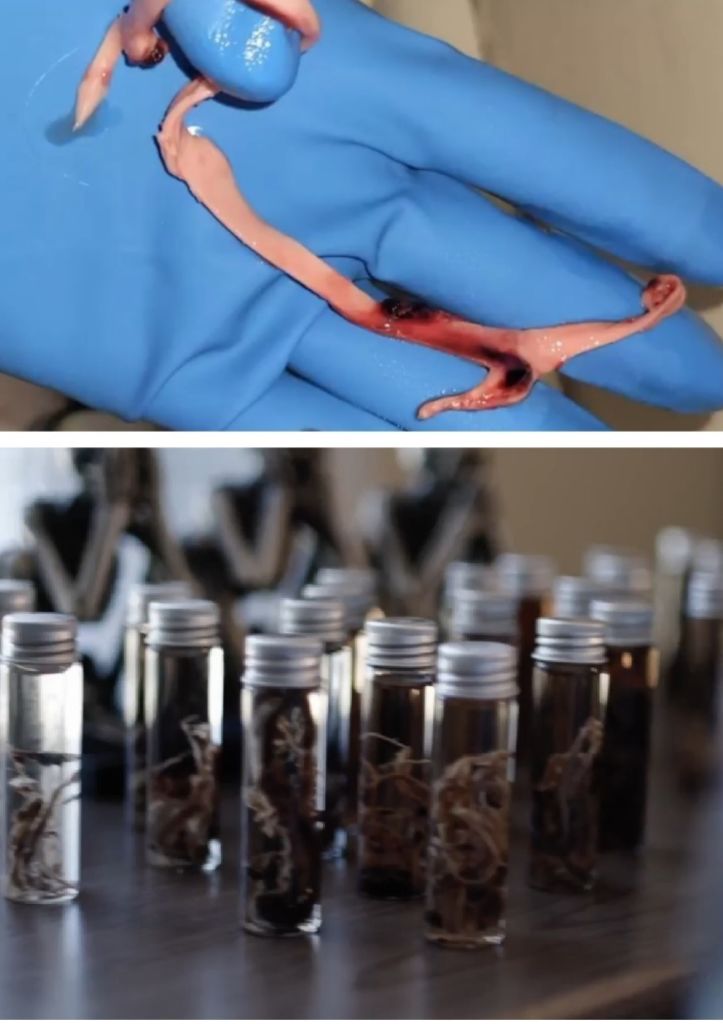 "Most of the people are not autopsied," says one embalmer. "Therefore, no one will see what I see. . . . The dead cannot speak for themselves, so therefore the only way to bring this forward is that I have to speak for them."
One after another, embalmers from all over the world attest that in their decades of experience, they have never seen anything like this — and that it all started right after the introduction of the COVID vaccine.
Of course, correlation is not causation, and the filmmakers do not ascertain the vaccination rates of the deceased. So, as sympathetic as these embalmers come across, we must take their testimony with a grain of salt.
Recognizing this, the filmmakers provide us with more salt, showing that the vaccine's public health threat can come in many forms. According to Lieutenant Colonel Theresa Long:
Insurance companies reported an unexplainable increase in all cause deaths among 18-49 year-olds. Up 40 percent. It's apocalyptic.
In my 15 years as a doctor taking care of soldiers, I have never seen this litany of debilitating and potential deadly medical conditions in soldiers. These conditions included strokes, transient Ischematic attacks, pericarditis, myocarditis, erratic heart rates, arrythmias, rapid onset cancer, testicular cancer, esophageal cancer, brain tumors, neuroendocrine tumors, spinal tumors, thyroid dysfunction, multiple sclerosis, cognitive impairment, persistent severe insomnia, suppression of the immune system, unprovoked blood clots, avascular necrosis, liver dysfunction, menstrual irregularities, and miscarriages.
Skow and Stumphauzer spend a great deal of time with Long and other whistleblowers who make various claims about how the vaccine causes all sorts of health problems. Also included is horrifying footage of people dropping dead or unconscious all over the world. Several in particular spin like graceless ballet dancers before crashing down.
As its title suggests, Died Suddenly does well with its first thesis: the dangerous and oftentimes lethal nature of the COVID vaccine. Of course, it would be unfair to expect a documentary to offer definitive proof of this. How do we know if the people who got sick or died in this film had even been vaccinated? How many times had they been vaccinated, and how many days, weeks, or months prior to their deaths or illnesses? And yes, many of these people were or are in the military, where vaccination was mandated. So there's that.
The wide net the filmmakers cast regarding the kinds of sickness and death occurring, as well as the suspicious timing of these cases, is persuasive. Their section on the rising rate of stillbirths is especially chilling. Anyone claiming that the vaccine is safe and effective will have to answer to the findings presented in Died Suddenly.
Still, however, Skow and Stumphauzer do not address two pressing questions which could either put their argument over the top or sink it entirely:
Is the vaccine less dangerous and less deadly than COVID itself?
Is the vaccine effective for the majority who suffered no adverse events from it?
Without trying to answer these questions, Skow and Stumphauzer leave room for doubt in the minds of skeptics disinclined to follow them down the rocky road of vaccine dissidence. And that's too bad.
Died Suddenly then presents its second thesis: Governments and cultural elites are being dishonest about the vaccine, in various ways. The subjects themselves discuss it. Celebrities such as Dolly Parton and Stephen Colbert appear in cringy clips promoting the vaccine. And world leaders such as Joe Biden and Justin Trudeau promote it in ways that fly in the face of the events documented in the film.
Then there's the long segment dedicated to tech tycoon, "Substack journalist," and overall "disinformation spreader" Steven Kirsch. Kirsch, as an outspoken critic of the vaccine, gained some fame when he offered any medical professional a million dollars to debate the vax with him on the record. According to the film, he had no takers (frankly, I find that hard to believe). Kirsch's main complaint, however, is that government officials ignore him despite all the noise he makes about the vax.
Kirsch also refers to the Vaccine Adverse Event Reporting System (VAERs) a lot, and uses its 15,000 vaccine-related death count to support his claims that the vaccine isn't what the government says it is. Then the filmmakers do something sneaky. They scroll quickly through a VAERS document from 12 years ago to corroborate Kirsch's claim that this death tally is "probably underreported by a factor of a hundred." But the document claims that only 1% of adverse events are reported, which is not the same thing as 1% of deaths being reported — a subtle point which, I'm sure, the filmmakers would rather we not ponder as Kirsch extrapolates using 1.5 million corpses with vermicelli in their veins as a baseline.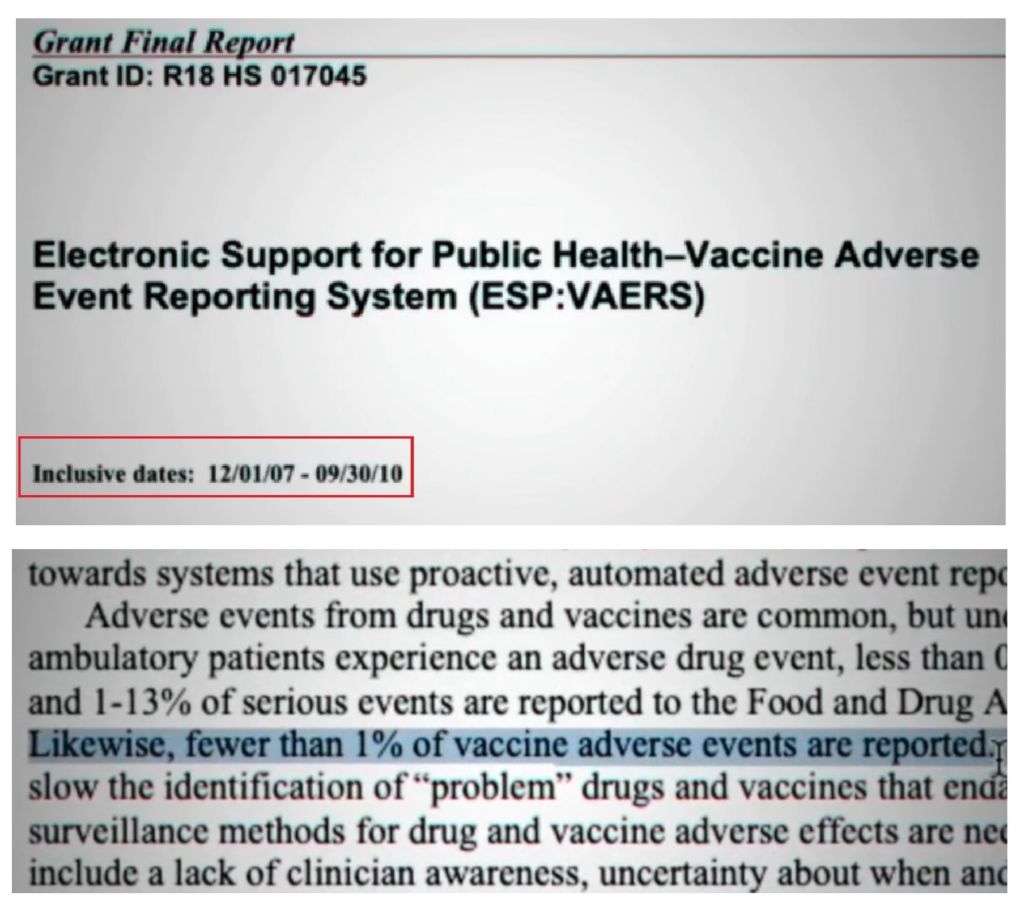 I'm sorry, but unless Messrs. Kirsch, Skow, and Stumphauzer can come up with better reasons why the database they invoke is inaccurate by the inverse of two orders of magnitude, all they're doing is fearmongering. Yes, we know governments, Big Tech, and the mainstream media lie, obfuscate, and censor in relation to the vaccine. Yes, they oppress anti-vax dissenters and resort to medical tyranny. This is common knowledge, and Died Suddenly nicely reinforces this common knowledge. But did it have to fearmonger?
The final thesis of the film — that the COVID vaccine is a bioweapon employed by elites to depopulate the planet — is the biggest stretch. But the filmmakers try to make it less stretchy by including montages of other major incidents which we should also question. These include the JFK assassination, 9/11, MKUltra and Operation Mockingbird, weapons of mass destruction, the Seth Rich murder, the Moon landing, and Bigfoot(!). Yes, the truth is out there, and wherever the truth is, you will also find Bigfoot, apparently.
According to Lieutenant Colonel Pete Chambers:
They don't want you to know that your body is now their property and playground. And they will do with you what they feel like doing to you. And they will destroy your life if you don't take a lethal needle in your arm. And it is. It's the new bullet. It's the new missile. It's the new form of warfare. You don't need to fire a bullet and win a war.
Aside from schismatic assertions like this, here is the evidence the filmmakers present which they allege points to the vax as enemy action:
Malthusian doomsday predictions by unnamed talking heads going back decades.
The following quote from Bill Gates: "The world today has 6.8 billion people, that's headed up to about 9 billion. Now if we do a really great job on new vaccines, health care, reproductive health services, we could lower that by ten or 15%."
A 1974 paper by Henry Kissinger which stated that the world population needed to decrease.
Ted Turner on a talk show saying, "We got to stabilize the population. We're too many people," and then linking overpopulation to global warming.
A montage of world leaders calling COVID an opportunity for the Great Reset. These leaders include King Charles, George Soros, Klaus Schwab, and Danish Prime Minister Lars Løkke Rasmussen. According to Rasmussen: "This pandemic has provided an opportunity for a reset. This is our chance to accelerate our pre-pandemic efforts to reimagine economic systems that actually address global challenges like extreme poverty, inequality, and climate change."
The Event 201 Scenario: A simulation pandemic run by "global health institutions" a mere two months before the COVID outbreak.
That's pretty much it. Kind of a meager hook to hang a ten-gallon hat on, isn't it?
Of course, I am not saying that they're wrong — how would I know either way? The Event 201 simulation does cast a great deal of suspicion on world leaders, as does the similar "CLADE X" exercise from 2018. Were COVID and the vax planned in advance? Maybe, but Skow and Stumphauzer make a bigger claim than this — and big claims require big evidence. I just don't see the big evidence coming from Died Suddenly. I see evidence that the vaccine is more dangerous than the world elites let on, but not evidence of intent to murder tens of millions.
I also feel confident in my skepticism because Skow and Stumphauzer ignore another conspiracy theory which, in my opinion, cuts closer to Occam's Razor. It goes more or less like this: The disease was accidentally released from a Chinese bioweapons lab in 2019 and revealed itself to be a particularly nasty form of the flu. Various high-power elites in the United States saw this as an opportunity to oust President Trump. They intentionally overreacted to COVID by spreading panic and unease in the American population, locking the country down, and wrecking Trump's excellent economy, thus making American voters more inclined for a change in 2020. Any harmful side effects of the vaccine or lack of efficacy resulted from political pressure which forced researchers to develop it in an extremely short period of time. So, of course we got a bad product. Any talk from Gates, Soros, or Schwab about overpopulation is just that: talk.
I think this theory explains everything more economically than blaming it all on Thanos. It is a little suspicious of the filmmakers that they went all-in on the Thanos theory, and gave no time at all to the Anti-Trump theory. How can you have a program bashing the COVID-19 vaccine and hardly even mention Donald Trump?
Regardless of its shortcomings, however, Died Suddenly remains an intriguing and disturbing documentary. It's well-paced and smoothly visualized with an eerie, ethereal score that sucks you in. The passion and conviction of the film's many subjects is a sight to behold as well. Died Suddenly is perhaps not as persuasive as the filmmakers would have liked, but persuasive enough to keep the choir singing, and perhaps now at a greater volume.
* * *
Like all journals of dissident ideas, Counter-Currents depends on the support of readers like you. Help us compete with the censors of the Left and the violent accelerationists of the Right with a donation today. (The easiest way to help is with an e-check donation. All you need is your checkbook.)
For other ways to donate, click here.