La Femme Fatale Française de TikTok:
Un entretien avec Estelle Redpill
Travis LeBlanc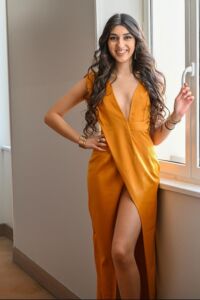 2,364 words
English version here
Je n'avais jamais entendu parler d'Estelle Redpill jusqu'à la semaine dernière. En parcourant Antifa Twitter, j'ai trouvé quelqu'un qui pointait du doigt un article du Financial Times sur la soi-disant «fachosphère» qui, selon le Times, est un raccourci français pour «sphère fasciste», une sorte d'Alt Right française. Le Financial Times a choisi Estelle Rodriguez, 25 ans, mieux connue sous son nom de guerre Estelle Redpill, pour être le visage de la « fachosphère ». Et c'est un visage mémorable.
Ancienne mannequin toulousaine, Estelle Redpill est sortie de nulle part il y a un an et demi pour prendre d'assaut l'extrême droite française. Avec ses vidéos sur l'immigration et le Grand Remplacement, elle a rapidement accumulé 120 000 abonnés sur TikTok avant que Big Tech ne se précipite avec le marteau d'interdiction. Elle est apparue à la télévision française et a fait des vagues suffisamment importantes pour que même les journalistes d'Antifa dans l'anglosphère commencent à s'en rendre compte.
Estelle Redpill est follement ambitieuse. La fougueuse latine déclare sans une once d'ironie qu'elle a l'intention de devenir présidente de la France et pourtant quelque chose me dit qu'elle n'est peut-être pas folle de penser qu'elle le peut.
J'ai contacté Mademoiselle Redpill pour en savoir plus sur ses projets, l'état de l'extrême droite française et ce qu'est exactement la «fachosphère» ou s'il s'agit de quoi que ce soit.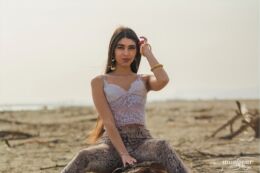 1. Comment avez-vous découvert la politique identitaire pour la première fois ? Quelle est votre histoire de « redpill » ?
Je connais la politique identitaire depuis que je suis toute petite .
Je suis petite fille de pieds-noirs espagnols du côté de mon père .
Mes grands-parents paternels sont tous les deux nés en Algérie Française.
Mon grand-père paternel faisait parti de l'OAS ( Organisation de L'armée secrète . )
Mes grands-parents et mon père ont toujours votés à l'extrême – droite c'est à dire pour Jean-Marie Le Pen .
Étant partagé avec une partie de ma famille soutenant l'extrême-droite française et l'autre partie du côté de ma mère soutenant la gauche .
Je n'étais pas vraiment impliqué dans la politique ni même plus dans un camp qu'un autre .
Jusqu'au jour où je me suis orienté exclusivement pour le camp national français .
Quand l'immigration m'a personnellement touché et quand je me suis mis à ne plus me sentir dans mon pays la France .
J'ai vu mon pays totalement changé ( la langue , les commerces , les tenues , les coutumes .)
En plein milieu de mon adolescence j'étais nostalgique de mon enfance à la campagne et de la France dans laquelle j'avais grandi belle et admirée du monde entier .
Plus les années sont passées et j'ai commencé à me sentir de plus en plus en insécurité en tant que femme je recevais beaucoup d'agressivité de la part d'une certaine immigration croissante en France( l'immigration extra-européenne .)
Dont j'ai subi plusieurs agressions dans la rue et quand j'étais au lycée pour faire mes études .
C'est donc par mon vécu , mon parcours et mon calvaire au quotidien en tant que femme que j'ai découvert de plus près la politique identitaire et que je me suis lancé à la rejoindre pour militer activement .
J'ai utilisé comme pseudonyme "Redpill" en référence à une scène dans le film Matrix où le personnage Morpheus propose à Neo la pilule bleu c'est à dire :
Vivre sans chercher à comprendre la vie ni même à se poser les bonnes questions , mais seulement vive pour exister et mourrir en poussière.
Se contenter simplement des besoins primaires et de consommer ce que les publicités veulent nous vendrent.
Ou en deuxième choix la pilule rouge c'est à dire :
Vivre pour ses convictions , partager un combat , soutenir une doctrine , chercher à découvrir et à en apprendre chaque jours d'avantage .
Apprendre à savoir dépasser ses limites , sortir de son conditionnement et de ses idées préconçues, savoir remettre en cause la doxa et être poussé à toujours devoir chercher la vérité par soi même .
J'ai beaucoup aimé cette scène et le choix de cette pilule rouge correspond parfaitement à ma philosophie de vie .
C'est donc pour ses raisons que j'ai choisi de m'appeler "Redpill" .
2. J'ai lu que tu étais mannequin. Quelle a été votre expérience dans ce domaine ?
J'ai étais modèle photo et figurante .
J'ai également défilé pour des événements de ma ville .
J'avais des revenus grâce à mes activités de modèle.
Je faisais ses activités pour le plaisir.
J'ai commencé vers mes 16 ans .
J'en retiens que du positif , j'ai toujours aimé prendre soin de moi j'étais une petite fille très coquette lorsque que j'étais enfant .
Et partager mes shootings photos avec mes abonnés était un réel plaisir.
En revanche c'est un milieu très éphémère où la concurrence est rude , pour un/une jeune qui se lancerai je lui dirai qu'il/elle ne faut pas qu'il/elle prenne ça trop au sérieux et de le faire uniquement par plaisir .
J'ai étais lassé de me contenter d'être juste une vitrine.
Je me suis lancé en mettant mon physique en valeur mais je suis bien plus qu'un "physique" .
J'ai des choses à dire , à partager , un combat à mener .
Avec les années on évolue on a plus les mêmes envies ni les mêmes ambitions .
Je garde tout de même une bonne image du milieu de l'événementiel et de la mode mais j'avais besoin d'exister par mes raisonnement et non juste comme un "pot de fleur" décoratif .
C'est un milieu très réducteur pour la femme si à côté elle ne vit que sur son apparence cela encourage le culte de soi même en version toxique quand on mise uniquement tout sur son esthétique .
Je me suis servi de mon physique comme un tremplin pour promouvoir mes idées pour qu'elles soient mises en lumières avec plus de facilité c'est une stratégie de communication car nous vivons dans une société de l'image et j'en suis parfaitement consciente .
3. Quelles sont vos principales influences politiques ?
Mes principales influences politiques sont mon père mon grand-père paternel , Éric Zemmour et Brigitte Bardot .
Mon père car il m'a aidé à ouvrir les yeux quand je refusais de voir la vérité en face de ce qui se passe tous les jours en France actuellement .
Mon grand -père car il avait un honneur une idée bien précise de ce à quoi devrait ressembler la France il avait déjà prédit à l'époque ce qui se passerai dans notre pays si on ne faisait rien .
Éric Zemmour parce que je partage beaucoup d'idées en commun avec lui je l'ai découvert dans l'émission on est pas couché sur France 2 lorsque j'étais adolescente .
Je le trouvais brillant un puit de connaissances à lui tout seul .
Une personne qui depuis n'a pas changé d'idées toujours fidèle à lui même et qui étais le plus franc de tout les journalistes que j'ai pu voir à la télé .
Beaucoup d'invités d'ailleurs refusait de venir dans cette émission car Éric Zemmour savait bien les remettre à leurs places .
Aujourd'hui encore beaucoup d'invités refusent de venir sur le plateau de Cnews car il y a Éric Zemmour.
Brigitte Bardot car elle a toujours était une une femme combative qui a toujours défendu la liberté des femmes , l'honneur de la patrie française .
Elle partage les idées du camp nationale .
J'adore sa grande gueule c'est une femme incroyable .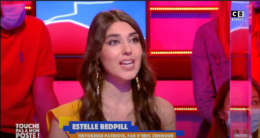 4. Vous êtes devenu célèbre sur TikTok. Quels sont les avantages de TikTok pour diffuser des idées identitaires par rapport à d'autres plateformes ?
Les avantages de Tiktok c'est le fait de cibler un public jeune non politisé et en pleine construction .
L'avantage c'est qu'on peut faire de la politique de manière accessible rapide cool et peu intellectualisée avec de la musique , des danses , de l'humour , des challenges .
Une vidéo peut vite devenir viral est faire des milliers de vues voir même jusqu'au million de vues .
Cela permet à des jeunes de voir la politique différemment car elle devient moins ennuyante et agressive ça change des débats télévisés .
On peut de plus développer une vrai communauté avec les lives en ligne et interagir avec nos abonnés directement .
Ça forme un nouveau public et renouvelle les idées ringardes des anciens pour une politique plus simple et qui ramène plus de monde et surtout la jeunesse .
Qui est le futur de notre pays .
5. Vous avez été confronté à beaucoup de censure. Vos premiers comptes TikTok et Twitter ont été bannis. Y a-t-il quelque chose en particulier que vous avez dit qui vous a fait bannir ? Pourquoi la Big Tech a-t-elle si peur de vous ?
J'ai perdu 7 comptes Tiktok en tout dont le tout premier qui m'a fais connaître avec 122 000 abonnés en six mois sur du contenu identitaire .
Je suis actuellement à mon huitième compte sur Tiktok où je suis toléré si je ne parle plus de politique ou peu sinon le compte saute .
En ce qui concerne Twitter mon compte m'a était supprimé sans motifs ni raison .
J'ai envoyé un message à la modération je n'ai pas eu d'explication.
En ce qui concerne Tiktok on m'a bannie parce que je parle de sujets sensibles comme l'immigration.
Je représente l'avenir je suis moderne jolie et contrairement à des idées qui n'ont jamais triomphé j'apporte des idées novatrices incarnés par une personne du peuple ( moi -même ) par le peuple pour le peuple .
Loin de l'intellectualisme bourgeois et de la lâcheté .
Loin du complot antisémite stupide .
Des idée nouvelles de la fraîcheur et du dynamisme pour une Europe aux européens .
6. Génération identitaire a été interdite en début d'année. Quelle a été votre implication dans ce groupe et quel effet aura l'interdiction de Génération identitaire sur le mouvement identitaire français ?
Je n'ai jamais fais parti de Generation Identitaire ni même eu de fonction pour le mouvement.
J'étais allée à leur manifestation uniquement pour soutenir la liberté d'expression qui est un droit fondamental.
Autrement je n'ai jamais eu de liens avec ce groupe .
Génération Identitaire n'a pas été le seul mouvement présent dans la mouvance identitaire.
Ils ont été une composante .
La mouvance identitaire à existé avant et continuera sont chemin avec de nouveaux groupes et personnes .
Les français identitaires n'abandonneront jamais !
7. J'ai lu pour la première fois à votre sujet dans un article récent du Financial Times sur la « fachosphère ». Qu'est-ce que la fachosphère ? Est-ce un terme que les gens de la droite française utilisent pour eux-mêmes ou est-ce un terme inventé par des ennemis dans les médias ?
Le terme "fachosphere" a était inventé par les médias .
L'extrême-droite existe mais la fachosphere n'existe pas .
Cela vient des journalistes de gauche pour nous étiquetter .
Personne de l'extrême-droite n'utilise ce therme .
Ils emploie plutôt le therme "FAF" ( France aux français.)
Les médias qui sont de gauche principalement utilise le mot fachosphere pour ramener une connotation au faschisme pour pouvoir décrédibiliser par la suite le camp identitaire français .
8. J'ai remarqué une certaine influence de la culture mème américaine sur la droite en ligne française. Dans votre cas, vous utilisez le terme américain « redpill » dans votre nom et le site français Démocratie-Participative semble très influencé par le site américain The Daily Stormer. Dans quelle mesure la « fachosphère » est-elle influencée par la droite dissidente américaine ?
Premièrement je ne suis pas dissidente.
D'ailleurs la dissidence française fait beaucoup plus de mal au camp national français qu'autre chose …
L'extrême-droite française se fait influencer par les Qanon qui sont des complotistes fous qui ont d'ailleurs énormément décrédibilisé Donald Trump .
La seule droite américaine dont je suis proche sont les RedNeck la droite identitaire Américaine.
9. En parlant de Démocratie-Participative, ils vous ont récemment endossé pour être le leader du nationalisme français. Êtes-vous prêt pour un tel défi immense?
J'ai confiance en moi je suis capable de relever le défi que je me suis lancé .
J'incarne le renouveau la droite moderniste occidentaliste.
10. Vous êtes une figure controversée même au sein de la droite française. Vos parents sont espagnols et italiens et certaines personnes pensent que cela mine votre crédibilité pour parler de l'identité française. Qu'est-ce qu'être français pour toi ?
A l'heure du grand remplacement et des grandes vagues d'invasions migratoires.
La question n'est pas d'être français mais d'être européen.
Donc étant européaniste et occidentaliste être européen c'est partager la même culture , se comprendre du Portugal jusqu'à la Suède c'est partager un héritage culturel similaire .
C'est se comprendre avoir nos racines en commun , un mode de vie compatible entre nous .
Les européens sont des peuples qui se comprennent qui savent vivre en harmonie ensemble .
Nous sommes entres européen une même famille qui nous comprenons nous vivons avec plus ou moins les mêmes principes .
Nous sommes civilisés et totalement assimilables entre nous.
11. Vous avez plaidé pour l'envoi d'étrangers problématiques faire du travail forcé dans les îles Kerguelen si leurs pays d'origine ne les acceptent pas. Comment cela fonctionnerait-il ? Qui considérez-vous comme "problématique".
Cela fonctionnerai comme l'ancien bagne de Cayenne en Guyane où les gens dangereux et hostile devaient faire des travaux forcés .
Je considère comme problématique les religieux fanatiques ( les islamistes) les racistes anti-blancs , anti – france qui sont un réels danger ainsi que les pedophiles , les violeurs tous ses individus malsains .
12. Vous avez dit que votre grand-père était dans l'Organisation Armée Secrète. Que faisait votre grand-père à l'OEA?
L'Algérie était française il défendait donc la France .
Pour le reste lui seul sait il ne c'est jamais confié .
13. Le Pen a été une déception pour les identitaires et beaucoup ont dérivé vers Eric Zemmour. Qui est Eric Zemmour et pensez-vous qu'il a une chance de battre Le Pen ?
Éric Zemmour est un journaliste français qui défend fermement l'identité française .
Il est plus radical que Marine Le Pen .
Il lui a prit la vedette en peu de temps .
En ce qui concerne Marine elle a perdu son public à cause de sa stratégie de dediabolisation .
Éric Zemmour à mon sens est plus apprécié que Marine Le Pen mais je ne peux répondre à votre dernière question je suis en train d'observer pour le moment ce qui est en train ce se passer .
14. Quels sont vos plans pour l'avenir?
Je fonde mon propre parti j'ai pour but pendant ses 5 ans de tout mettre en œuvre pour le faire connaître et pour changer le camp national avec du jamais vu !
J'ai de grandes ambitions j'ai 25 ans et se convaincre dans la vie qu'on en est capable, c'est déjà la moitié du chemin.
On en reparle dans 5 ans .
*  *  *
Counter-Currents has extended special privileges to those who donate $120 or more per year.
First, donor comments will appear immediately instead of waiting in a moderation queue. (People who abuse this privilege will lose it.)
Second, donors will have immediate access to all Counter-Currents posts. Non-donors will find that one post a day, five posts a week will be behind a "paywall" and will be available to the general public after 30 days.
To get full access to all content behind the paywall, sign up here: