The Trump Administration Viewed from the Right
John Morgan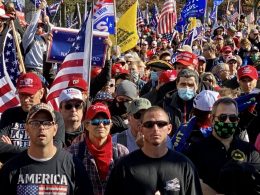 3,966 words
The Trump experiment is over, and the strange journey that the last five years have been is now at an end. There are already lots of assessments being made about the meaning of Trump's presidency, but most of them are from either liberal or conservative viewpoints. It also needs to be evaluated from the viewpoint of the Dissident Right — those of us such as myself who fall outside what is usually called "Right-wing" in today's mainstream. And no group had more dramatic ups and downs with Trump than the Dissident Right did.
I imagine my experience with Trump was the same as that of many other people reading this. When he first announced his candidacy in 2015, I was initially dismissive and didn't even think he'd make it to the primaries. It was when I saw him in the Republican debates that I decided that, first, he was preferable to the other candidates in both parties; and second, that he actually had some good positions, such as on immigration and non-interventionism. I never really put my faith in the guy — I always thought people who hailed him as the "God Emperor" were being naïve — but I could see that he was the least bad option among his many competitors (and "least bad" is all I ever look for when contemplating the American political scene). As his campaign developed, the signs were more and more encouraging — mainly because Trump was free to just talk without having to deliver on anything he was saying.
No one was more flabbergasted than me when Trump actually managed to win, and like many people I allowed myself to become giddily optimistic for a few months after the election. I was proud of the fact that Michigan, where I vote, was one of the states that had dramatically swung over into Trump's column after having been solidly Democrat for decades, but it confirmed for me that the white working class, which remains Michigan's backbone despite the weakening of the American auto industry, had finally come to see more or less eye-to-eye with the Dissident Right on many issues. I had suspected this even before the election, but it was nice to see it confirmed in reality.
Perhaps, I thought, as an outsider and maverick, Trump could actually bring about some real change in Washington, especially with the help of genuine populists like Steve Bannon. But those hopes were soon dashed by the bombing of Syria only two and a half months after he took office, which seemed to herald the gradual rolling back of the entire agenda he had campaigned on. By 2018, with Bannon out, Bush leftover John Bolton as Secretary of State, the President himself embroiled in the seemingly endless Russia investigation, and the promised Wall nowhere to be found, it looked like the Swamp had subdued Trump after all.
Still, I never for a moment felt that the support the Dissident Right gave to Trump in 2016 had been a mistake. There was no question that Trump, as poor as his performance was from our perspective, was nevertheless preferable to what we know Hillary would have enacted. (In the run-up to the 2016 election, when people would ask me why I was voting for Trump, I would say, "I know exactly what Hillary will do; I can't say with any certainty what Trump will do, but he's at least saying some of the right things.") And whenever Trump spoke his own mind — which he made sure to do often — he usually stayed on message, even though we always knew that the reality would end up being different from his words. (Remember when he promised to abolish birthright citizenship in the run-up to the 2018 midterm elections?) For us, I think the epitaph we can write on the tombstone of his presidency is "It could have been worse."
I don't know what Trump really believed while President, and quite honestly I don't care; it was his words and his actions that mattered, and even if it was all a cynical ploy, his impact on American politics and culture is undeniable. It became a tired cliché, but it was nevertheless true that Trump moved the Overton window further to the right in a way that isn't likely to be undone anytime soon. Many issues that were virtually nonexistent except at the margins of American political discourse before 2015 are now front and center. Some dislike Trump for his personality and failings, feeling that these contributed to his lack of achievement as President. While this is justified, it's indisputable that only someone like Trump, who was independently wealthy and already held celebrity status among the white working class, could have made the breakthrough as an outsider that he did. And even if he didn't succeed in remaking Washington, he nevertheless weakened the Washington Establishment during his tenure. Most importantly, it's always best when the Washington elite remains so divided and gripped by internal conflicts that it can't pursue its evil designs on the rest of us, and Trump turned the heat up in Washington beyond where it had been at any time since the Civil War.
We also shouldn't overlook the fact that Trump was continually embattled with the Washington Establishment, the opposition, the mainstream media, and on many occasions even his own party from the day he took office. It likewise shouldn't be forgotten that when Trump took office, his party controlled the executive branch, the House, and the Senate, and yet the President still had to fight every step of the way to pursue his agenda — often unsuccessfully. James O'Meara once commented that Trump was in fact a third-party candidate who managed to hijack one of the two major parties. This was true, and many Republicans in the House never lost sight of that, showing that their true loyalties lay with maintaining the Establishment rather than with supporting their erstwhile leader's agenda.
We can't ignore the short, spectacular life of the Alt-Right, either. Those of us who had been on the Dissident Right for many years prior, and who understood that the only way to bring America into line with genuinely Rightist principles would be to transform the country from its very foundations on issues such as citizenship, immigration, and capitalism, always saw Trump as merely a stepping stone to something grander and better. And indeed, although this fact has vanished into the mists of prehistory, before the 2016 election "Alt-Right" merely referred to anyone on the Right whose views fell outside those of the Republican Party; even Steve Bannon infamously told Mother Jones in 2016 that Breitbart was "the platform of the Alt-Right," a statement I imagine he came to regret later. I myself was happy to accept the label at first. And like many, I was naïve enough to think that the Alt-Right could make use of the mainstream media rather than the other way around.
Once they realized that a Trump presidency was a reality, the mainstream media quickly understood that the "Alt-Right," which was a nebulous phenomenon with no clear leadership or goals, could be used to discredit Trump and populism more generally. Its decentralized nature and lack of an organizational structure were in one sense a strength in that it was more difficult to pin down and target it; but at the same time, anyone ranging from libertarians to outright neo-Nazis could claim the mantle or be designated "Alt-Right" by clever journalists. As such, it was perfect from their perspective as a means of attacking the populist Right as a whole, since they spun the ridiculous narrative that the Alt-Right was somehow vaguely responsible for getting Trump elected. The fact is, of course, that there was never any relationship between what was called the Alt-Right and the Trump administration, but the Alt Right's media-appointed leaders were hungry for attention that the media was more than happy to provide — and the rest is, regrettably, history.
It might have been possible to develop an alternative movement in late 2016 and 2017 that could have piggybacked on Trump's success while laying the groundwork for a genuinely innovative form of the American Right more in keeping with genuine Right-wing principles, and yet that could still have appealed to ordinary Americans. It quickly became apparent, however, that those individuals who found themselves thrust into the Alt-Right spotlight lacked the character, maturity, and judgment to make it happen. Being wizards at winning followers for websites, podcasts, and social media was no proper education to prepare them for entering the arena of actual politics. Granted, they were confronting forces far beyond what any marginal group could be expected to compete with; but by adopting tactics that had failed for George Lincoln Rockwell half a century earlier and standing shoulder-to-shoulder with actual Nazis and Klansmen, they played the role of cartoon Nazis that the media had cast them in to a tee. After being led into the trap that was Charlottesville, the Alt-Right's tombstone was written and Trump was never again able to plausibly deny that he was a white supremacist. We must persist in our efforts, but the fact remains that the Alt-Right's spectacular and tragically unnecessary failure will continue to hamper us for many years to come.
The most glorious moment of Trump's presidency for me, however, remains his refusal to denounce the Alt-Right in the notorious press conference that he held three days after Charlottesville. While it certainly wasn't the unequivocal defense of White Nationalism that the media has made it out to have been ever since, the fact that he refused to issue the standard denunciations of the Alt-Right that he had doubtless been asked to deliver stands for me as a rare moment of principle for President Trump. In the end, it meant nothing in practical terms, but it's one of the few clear examples we have that there was something deeper to his presidency than mere egotism. It's also a sign of how much worse things were to get over the subsequent years that he failed to show the same spirit when dealing with those of his supporters who stormed the Capitol, opting for submissiveness rather than the spirit of defiance that had characterized his campaign and the early days of his term.
Despite our disappointment, we must still acknowledge that President Trump accomplished some goals that deserve our thanks. It must be granted that throughout his tenure, despite the constant accusations of warmongering by his opponents, he didn't start any new wars. There were a few close calls, of course, particularly with Syria and Iran, but none of America's enemies called his bluffs despite provocation and things remained at the level of low-intensity conflict. It is certainly true that when it comes to foreign policy, Trump did much more for Israel than he did for America, but he nevertheless made strides toward ending the conflicts he had inherited and never bowed to the pressure to start new ones. As a corollary to this, no Islamist terror attacks occurred within the United States during Trump's tenure apart from the shooting at the Naval Air Station in Pensacola, which puts him above both Bush and Obama in that category. (It struck me as odd that Trump didn't play this up more in his second campaign.)
Additionally, Trump's strident Euroskepticism forced Europe for the first time since the Second World War to consider pursuing greater independence from NATO and the US and to perhaps even solely pursue its own interests in foreign policy yet again, rather than serving as America's lapdog on many issues and continuing to rely on the US for defense. It remains to be seen if this trend will persist or reverse now that Trump is gone, but we can hope that more forward-looking European politicians will continue thinking in terms of preparing for a post-American global order.
We should also bear in mind that the Trump administration established good relations with Right-wing populist parties in Europe in a way that would have been unimaginable under any other presidency. The present governments of Hungary and Poland, in particular, enjoyed friendly relations with Washington for the first time and will sorely miss Trump now that Biden has made it clear that he intends to return to a confrontational policy with them. (At the same time, it's worth noting that some European politicians on the Right I have spoken with said that they preferred a Trump defeat, since they feel that Trump and American politics more generally have become an obsessive distraction for the European Right and that his removal would allow Europeans to focus on their own problems again.)
Domestically, Trump could hardly be considered a success on his signature issue, immigration, although he wasn't entirely a failure, either. We certainly didn't get anything like the sort of sweeping and radical changes on immigration that many of us had hoped for in the beginning. Indeed, the Trump administration did not pass a single new piece of immigration-related legislation. By some metrics, in fact, certain types of immigration remained the same or increased during Trump's tenure. In those currents where it decreased, some of it appears to have occurred as a result of the pandemic rather than due to any political action. And of course, the Wall remains mostly unbuilt and now surely faces cancellation.
At the same time, Trump did fortunately withdraw the US from the United Nations' ethnomasochistic Global Compact on Migration. He did make limited progress in a few other areas as well, particularly making it more difficult for "refugees" to come to the US and for illegal immigrants to remain there. And he did put a stop to some of the more troubling immigration policies that have emanated from both parties in the past, such as the push for amnesties for illegals, and called a temporary moratorium on visas for "guest workers" in response to the pandemic.
The issue that could be regarded as his second-biggest signature issue was opposing globalization and helping ordinary working Americans; bringing industry back home was a constant theme of his first campaign. In the end, however, Trump remained largely ineffectual in this area. We should thank him for ending the North American Free Trade Agreement (NAFTA) and the Trans-Pacific Partnership Agreement (TPP). But the treaty he signed to replace the former, the United States-Mexico-Canada Agreement, is only slightly better than its precursor. The other nations which were part of the TPP ended up signing the virtually identical Comprehensive and Progressive Agreement for Trans-Pacific Partnership (CPTPP), which the US has not signed but which it remains eligible to join at any time. In other words, the Trump administration didn't do much to halt the drumbeat of globalization.
When it comes to the Dissident Right, Trump offered little but empty rhetoric. Despite occasionally talking about establishing controls over Big Tech to prevent their blatant censorship of non-conformist views that challenge the neoliberal narrative, no action was ever taken in this direction. Apart from his Charlottesville press conference, neither did Trump ever take a stand in defense of white advocates, and he often went in the other direction, such as in September, when he promised to declare the "Ku Klux Klan" a terrorist organization (thus opening the door for any Dissident Right groups to be targeted given the lack of an easily identifiable unified KKK organization), calling for Juneteenth to be declared a federal holiday, and promising $500 billion in aid to black communities.
Thus, President Trump achieved modest successes at best, and even those issues on which he won victories can be easily reversed by the Biden administration — and in some cases they are already doing so. But such is the ephemeral nature of politics in a liberal democracy.
On the plus side, the Republican Party now finds itself in its direst predicament since the 1940s, if not before, as a result of Trumpism taking root within it. The conflict between populists and neoliberals within its ranks, which now threatens to come to a head as a result of Trump's second impeachment, may very well end the party for good, or at least result in a split — either outcome of which might perhaps open the door for a more genuinely Right-wing party to fill the void it will leave behind. Only time will tell, but if it happens, it will be a parting gift from Trump to have achieved what once seemed impossible, back when the Republican Party was nothing more than the party of multiculturalism and globalism plus Jesus and low taxes.
President Trump's most important contribution is that he lit the flame that genuinely started the fire of Right-wing populism in America after previous attempts such as Pat Buchanan's campaigns and the Tea Party (yech) had guttered out without raising the temperature in Washington by even a degree. Whether that flame can continue burning now that he's gone remains to be seen, but we can still hope that it was the start of a trend rather than a temporary deviation. If American populism is to survive, it will clearly stand on the Right; the Left has already amply demonstrated in its underhanded suppression of more populist Democratic candidates such as Bernie Sanders and Tulsi Gabbard that they will not tolerate the rise of any form of Leftism that doesn't conform to the Washington Elite's expectations.
Now, Unpresident Biden and the entire Democratic Party apparatus, emboldened by their largely successful efforts to discredit the Right as a whole by blaming it in its entirety for the Capitol occupation, believe themselves to be in a place where they can reshape American politics according to their own agenda without any regard for the other side whatsoever. As they've done continuously since the 2016 election, the Democrats always choose to double down on their extremist rhetoric rather than doing any soul-searching about how they might have contributed to bringing the situation about, nor about how they might be able to seek some sort of compromise with the other side. They are too self-righteous to be capable of critical reflection.
The Capitol "coup," harebrained as it was, certainly does not even begin to compare to the Democrats' — and some Republicans' — efforts to undermine the Trump administration and the will of the American electorate at every turn over the past four years, which to my mind much more accurately fits the definition of a coup. It will be the task of the Dissident Right — and hopefully the Right more generally, if they have the stones — to do to the Left exactly what they have been doing to us by throwing endless obstacles in their path, denying their legitimacy, and constantly calling them to account for their injustices and excesses at every possible opportunity.
The Democrats are not as strong as they believe. Even most liberals only supported Biden grudgingly and purely out of expediency. Unpresident Biden is America's Brezhnev — his health and stamina failing, he is merely an old Establishment tool who has been resurrected in an attempt to prop up an order that everyone knows is on its last legs. A telling video from the inauguration shows Biden passing a contingent of Marines on guard duty, who any sitting president is supposed to salute, being the Commander-in-Chief. Biden just shambles past them without a gesture, oddly mumbling "salute the Marines" under his facemask. The quite plausible theory that has been making the rounds is that Biden was being instructed on what to say and do through an earpiece, and that he mistakenly repeated an instruction to salute the Marines rather than actually doing it. This seems a good metaphor for his entire administration. (If you're wondering who is on the other end of Biden's earpiece, it might perhaps be one of the many Jews with whom he has packed his cabinet — such a number that makes Trump's pandering to the Jewish lobby seem tame in comparison. What happened to diversity? Does the White House need affirmative action for whites nowadays?)
Like the late Soviet Union, however, Washington Inc. will project images of power in order to conceal the reality of their order's decrepitude. That is surely the motive behind the deployment of 26,000 soldiers to Washington, DC — more than the number currently stationed in Iraq and Afghanistan combined — in response to the supposed Right-wing "threat." It isn't about security, it is a show of force to prove to America that they are back and that they intend to keep Washington and propagate their policies by any means necessary. Further, I predict that the US will engage in some significant military action within the next year to make a similar show of force on the world stage, flexing its muscles to prove that America intends to resume its role as the world's policeman.
Starting from before the inauguration, the Left has been making their intention to declare war on anything authentically white or Rightist clear. But while it was very easy for the Establishment to muzzle the few thousand adherents of the Alt-Right, it will be much more difficult for them to silence the 75 million Americans who voted for Trump — in many cases not because they loved Trump but simply because they wanted to prevent the return of the ruling clique that had been governing our country entirely unopposed for decades before Trump's rise.
In the final analysis, the most important lesson to be taken away from the Trump administration is that the last five years were never about Trump himself. American populism didn't start with him and it won't end with him. Samuel Francis was already predicting the rise of a populist figure like Trump in the 1990s, even heralding a "revolution from the Right" in a way that seems extremely prescient today. What the Capitol occupation showed is that the populist current has grown beyond Trump's ability to channel and contain it. As a result — maybe — we have an opportunity to transcend him and construct something real out of the movement he energized, and do it better.
The real news of the last few months was the fact that 11 million more Americans voted for Trump in 2020 over 2016, despite the ongoing demographic changes and despite all of his flaws and failures. There is nothing that more aptly proves that it wasn't all merely about him than this. American populism isn't dead. White America isn't dead. That's why I didn't use a photo of Trump himself to illustrate this post, but rather one of his supporters — ordinary Americans, who were the real motor behind these changes in the political landscape.
I can't say at present what will come next for the Dissident Right. I'm not sure who will, or even could, emerge to form the leadership of a post-Trump populist movement. Perhaps those who follow the American political scene more closely than I do might have an inkling of who is waiting in the wings that might be qualified to take charge. One thing that is certain is that these new leaders must be completely disconnected in every public way from the fiasco that was the Alt-Right. That brand is dead. But hopefully what is best in the Dissident Rightist milieu can still inform whatever follows in our, and Trump's, footsteps.
With Trump's wings clipped, ordinary white Americans are looking for a leader. Here's hoping they can finally get the one they deserve.
If you want to support Counter-Currents, please send us a donation by going to our Entropy page and selecting "send paid chat." Entropy allows you to donate any amount from $3 and up. All comments will be read and discussed in the next episode of Counter-Currents Radio, which airs every weekend on DLive.

Don't forget to sign up for the twice-monthly email Counter-Currents Newsletter for exclusive content, offers, and news.