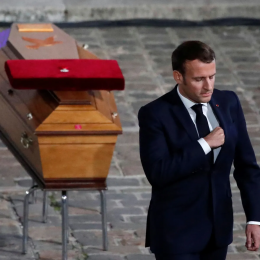 1.135 słów

Tłumaczenie: Wyatt na Nacjonalista.pl
English original here
Francuski prezydent Emmanuel Macron ogłosił deklarację wojny przeciwko radykalnemu islamowi po tym, gdy nauczyciel szkolny został zasztyletowany na śmierć za pokazanie jego klasie karykatur z Mahometem. "Tym, co musimy zaatakować jest islamistyczny separatyzm" — jak już powiedział Macron. Prezydent podkreślił, że "sekularyzm jest cementem jednej Francji" oraz "naród musi stworzyć "islam Francji"", który będzie respektował liberalne "wartości" takie jak "równość płciowa" oraz "wolność wypowiedzi" — przynajmniej takich, które będą tolerowane przez reżim Republiki Francuskiej.
"Samuel Paty (zabity nauczyciel) stał się twarzą Republiki, twarzą naszej woli rozbicia terrorystów, w celu pozbycia się islamistów, w celu wspólnego życia jak społeczność wolnych obywateli w naszym kraju" — powiedział Macron na zjeździe nauczycieli. "Nie zrezygnujemy z kreskówek, rysunków, nawet jeśli inni wycofają się" — dodał.
Macron wierzy, że świecki liberalizm nie może tolerować fundamentalizmu islamskiego oraz, że muzułmanie muszą dostosować się do jego ideologii. Ale czy świecki liberalizm wspierany przez półautorytarny rząd ma to, czego potrzeba do pokonania radykalnego islamu? I czy wizja Macrona jest dla prawicy czymś, czemu można kibicować? Czy raczej należy na to patrzeć z przerażeniem?
Macron wprowadził swoje słowa w życie. Rząd zebrał setki podejrzanych ekstremistów i deportował ponad 200 z nich. Ponad 50 islamskich organizacji pozarządowych jest pod obserwacją z powodu swoich powiązań z radykałami. Rząd przyrzekł również, że rozprawi się z islamskim nauczaniem domowym i zabroni przyjazdu do kraju zagranicznym imamom. Policja francuska ochraniała projekcję niesławnych karykatur Mahometa autorstwa Charlie Hebdo na budynkach rządowych sygnalizując muzułmanom, że muszą tolerować te akty bluźnierstwa.
Wrogość do radykalnego islamu oburzyła świat muzułmański. Turcja, Iran, Pakistan oraz inne kraje islamskie potępiły represje Macrona. "Jest to przykre, że on (tj. Macron) wybrał zachęcanie do islamofobii poprzez atakowanie islamu zamiast atakowanie terrorystów, którzy stosują przemoc, czy to muzułmanie, czy biali suprematyści, czy zwolennicy nazizmu" — powiedział pakistański premier, Imran Khan. Muzułmanie z całego świata grożą bojkotem francuskich produktów do czasu, gdy Macron przeprosi i dokona zadośćuczynienia.
Macron wydaje się niewzruszony tą odpowiedzią. Jest coś odświeżającego w tej postawie, nawet jeśli pochodzi to od chłopca z plakatu na rzecz globalizmu. Przez lata zachodni politycy nie robili nic z islamskimi ekstremistami i desperacko ich uspokajali przez cały czas, gdy przeprowadzano zamachy terrorystyczne. Mówili ile razy stawali razem z "prawdziwymi muzułmanami" i jak bardzo pierwszą ofiarą ataków jest islam. Pomyślcie nad tym, jak George W. Bush odwiedzał meczet po atakach z 11 września i gorąco bronił islamu jako "religii pokoju".
Macron z innej ręki potwierdza, że islamizm jest zagrożeniem i należy się z tym zaznajomić. Francja nie może mieć jednocześnie stref no-go, jak i Charlie Hebdo. Macron wybiera lewicową prasę satyryczną ponad niezasymilowanymi mniejszościami. Marine Le Pen — najważniejsza przeciwniczka wyborcza Macrona broni prezydenta. "Ta sytuacja woła o strategię odzyskiwania" — powiedziała Le Pen w poparciu dla represji. "Islamizm jest wojowniczą ideologią, która oznacza, że terroryzm jest podbojem". Zarówno "narodowcy", jak i liberałowie są teraz po tej samej stronie przeciwko radykalnemu islamowi. To prawdopodobnie wywołuje szok u liberałów, którzy przymilali się do Macrona jako antidotum przeciwko narodowemu populizmowi. Francuski prezydent obecnie kradnie idee "nacjonalistyczne"! Ministrowie Macrona również eksponują stanowiska polityczne nietypowe dla globalistów. Minister spraw wewnętrznych Gerard Darmanin mówi, że Francja staje się coraz bardziej "zdziczała" i muszą zostać użyte radykalne środki do zwalczania tego efektu. Minister edukacji Jean Michel-Blanquer oskarża system uniwersytecki o włączanie radykalnego islamu do promocji intersekcjonalności. "To jest walka o przywództwo przeciwko intelektualnemu matrixowi, który pochodzi z amerykańskich uniwersytetów oraz przeciwko teoriom intersekcjonalnym, które są na przeciwległym biegunie w stosunku do naszego modelu republikańskiego" — mówi w ostatnim wywiadzie.
Czy ten model może wygrać z radykalnym islamem? Być może. Świecki liberalizm prowadzi do korozji narodowej kultury niezależnie od tego, gdzie zapuści korzenie. Francuskie przedmieścia (w oryginale pisze banlieues — przyp.) grawitują w kierunku islamskiego fundamentalizmu z powodu oficjalnej tolerancji państwa dla różnorodności oraz z powodu ich alienacji od społeczeństwa francuskiego. Oni wiedzą, że nie są częścią Francji oraz nie chcą stać się Francuzami. Oni stają się radykalnymi islamistami, by nadać sobie silną tożsamość wewnątrz obcego środowiska. Oni wiedzą, że mogą zarobić więcej pieniędzy we Francji niż na swoim zadupiu (w oryginale pisze "shithole" — przyp.). Oni nie kochają Francji.
Większość zachodnich liberałów godzi się z tym — oni również nie kochają ich krajów. Oni schlebiają egzotycznym kulturom i zachęcają do multikulturalizmu dla podważenia homogeniczności narodu i tożsamości. Jednakże islamski fundamentalizm jest ciut inny od imigrantów odrzucających ich rodzimy język i dumę z narodowej historii. On odrzuca pozostawanie w getcie i akceptowanie reszty lewicowej koalicji. Zachęca imigrantów do atakowania gejów, "opresjonowania" kobiet, ataków na sekularyzm, organizowania ataków terroru przeciwko manifestacjom zdegenerowanej "kultury". On nie akceptuje wyższości moralnej bluźnierczych karykatur Francji.
Zachodnie rządy poprzednio pozostawili islamistów samymi, ale Macron obiera inne stanowisko. On chce użyć cały potencjał siły państwa do zmuszenia ich do pogodzenia się ze świeckim liberalizmem. To może zakończyć się jego sukcesem. Bez tolerancji dla odmienności muzułmanie mogą stać się wykorzenionymi "Francuzami" tak jak rdzenni Francuzi. Francja próbowała przez lata zmusić ich do przystosowania się, ale agresywna kampania zrobiła swoje.
Jednak, to niekoniecznie jest dobrą rzeczą. Celem Macrona jest wytępienie tożsamości mniejszości oraz zmuszenie ich do przyjęcia liberalnego światopoglądu tak, jak to zrobili z Francuzami. To jest odmienne od amerykańskiej "intersekcjonalności", która promuje identytaryzm mniejszości podczas gdy neguje identytaryzm większości. Każdy musi być taki sam, niezależnie czy jest biały, czy brązowy, czy chrześcijanin, czy muzułmanin. W tym scenariuszu tożsamość francuska jest definiowana przez bluźniercze karykatury i prawa gejów, nie przez rdzennych Francuzów i ich tradycyjną kulturę. To ma więcej wspólnego z Francisem Fukuyamą niż z Jean-Marie Le Pen'em.
Podczas gdy Macron żąda obrony prawa do wolności słowa, jego rząd represjonuje ludzi za przestępstwo wolności słowa. Marine Le Pen zmierzyła się ze sprawami karnymi dotyczącymi "mowy nienawiści" za stanowisko podobne do jej komentarzy popierających represje Macrona. Popularny komentator Alain Soral ostatnio został aresztowany za "nienawiść rasową" i wcześniej odbywał wyrok za kwestionowanie holokaustu. W tym czasie państwo zbiera wszystkie swoje siły do obrony prawa lewicowego Charlie Hebdo do obrażania muzułmanów. Różnica jest taka, że Le Pen, Soral, identytaryści oraz inni dysydenci rzucają wyzwanie reżimowi — Charlie Hebdo popiera reżim. "Wolność słowa dla mnie, lecz nie dla ciebie" w rzeczy samej.
Macron jest autorytarnym liberałem. Jego liberalizm nie jest słabą papką Partii Demokratycznej, która umożliwia zamieszki i rozszerzanie się działalności kryminalnej czarnych. Macron będzie atakował wrogów Republiki niezależnie od tego, czy oni są imigrantami muzułmańskimi, czy francuskimi nacjonalistami. Amerykańska lewica chce wyłącznie atakować białych ludzi i jest zgodna z nieładem. Macron ma zero tolerancji dla nieładu.
Ale jego "wartości" nie różnią się od "wartości" amerykańskich demokratów. Chce, żeby jego obywatele akceptowali multikulturowość i multirasowość Francji. Liberalne "wartości" czynią Francję Francją, ale nie jej naród ani tradycje. Każdy może być "Francuzem" dopóki respektuje "Cuties" i bluźnierstwa. Jest to ta sama papka, którą promują amerykańscy liberałowie i cuckserwatyści, przeciwko której są wszyscy prawdziwi prawicowcy.
Ostatecznie to nie może wygrać. Ludzie są czymś więcej niż ekonomicznymi maszynami. Nikt nie będzie umierał za kreskówki, karykatury, ale ludzie będą umierać (i zabijać) za ich wiarę.
Enjoyed this article?
Be the first to leave a tip in the jar!