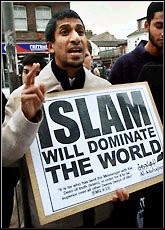 3,051 words
English original here
El discurso realizado por Guillaume Faye en la conferencia de American Renaissance del año 2006 fue bastante agitado. La mayoría de la gente ha oído hablar del infame incidente de Michael Hart.[1] Sin embargo, en mi opinión, algo mucho más importante se produjo durante el discurso de Faye, algo que más tarde me pareció revelador.
En la vision de Faye, el "Sur Global", organizado bajo la bandera del Islam, es el enemigo mortal de Europa. Los Estados Unidos que favorece la islamización de Europa, no es el principal enemigo de Europa, sino simplemente un adversario. Faye, sin embargo, no clasifica a la comunidad judía como un enemigo o adversario de Europa en absoluto. En su lugar, Faye ve a los judios como un potencial aliado en la lucha contra la islamización.
Por lo tanto, en un cierto punto en su discurso, Faye enumera las posibles consecuencias negativas de la marcha sin control del Islam, dijo: "El estado de Israel podría dejar de existir." Pero, para su asombro obvio, esta declaración fue recibida por aplausos entusiastas.
Ahora, para ser justos, admito que me uní a los aplausos también, en un espíritu de maldad pura. Pero luego me lo pensé mejor. Después de todo, como un amigo señaló: "Si los Judios pierden Israel , ¿dónde estas personas que aplaudieron creen que los Judios irán? Todos vendran aquí o a Europa. ¿De verdad quieres eso? "Yo lo sabía, por supuesto, y estoy seguro de que muchas de lass otras personas que aplaudieron también lo sabían.
Sin embargo, algunas personas odian más a los judios de lo que aman a sus propios pueblos. Odian tanto a los judios que ellos quieren verse perjudicados, aunque nos perjudique un monton, incluso si nos perjudica más. Llámelo la versión blanca de la "Opción Sansón". Pero si vamos a pensar de forma racional sobre el problema judío, primero tenemos que identificar y aislar esta línea de rencor suicida, lo cual, obviamente, entra en conflicto con los cálculos fríos de cómo lograr nuestros intereses raciales.
Me gustaría ofrecer algunas notas sobre el nacionalismo blanco y el nacionalismo judío con el fin de aclarar mis pensamientos y proporcionar material para la discursión.
(1) Como etnonacionalistas, creemos en la "Ein Volk, ein Reich" principio: "Un pueblo, un Estado" (por lo menos un estado por la gente, a pesar de que podría haber más de uno). Esto significa que debemos apoyar, al menos en principio, el nacionalismo de las naciones, la autodeterminación étnica de los pueblos. Tenemos la visión de una especie de liberalismo clásico para todas las naciones, en las que cada pueblo tiene un lugar propio, cuyos derechos legítimos no entran en conflicto con los derechos legítimos de las demás naciones. Si esta visión se realizase, tendríamos un mundo de paz perpetua. Es un ideal atractivo, a pesar de que puede haber obstáculos insuperables para su realización.
(2) El Sionismo es una especie de etnonacionalismo. Fue concebido durante el apogeo del etnonacionalismo europeo en el Siglo XIX como una solución a la llamada "Cuestión Judía." La idea era hacer frente a las causas subyacentes de antisemitismo mediante la creación de una patria judía soberana y fomentar una recolección judía, una inversión del flujo de la diáspora.
(3) Como etnonacionalista, yo no me opongo a Israel o al sionismo en sí. Sí, me opongo a nuestra política exterior hacia Israel y sus vecinos, que está dictada por los intereses israelíes y no por los intereses de los Estados Unidos. Sí, me opongo a la ayuda exterior a Israel que no sirve a los intereses estadounidenses. Pero vamos a ser perfectamente claro: No se trata de problemas con Israel en sí, son problemas con la comunidad judía de la diáspora en los Estados Unidos..
No me opongo a la existencia de Israel. Me opongo a la diáspora judía en los Estados Unidos y otras sociedades blancas. Me gustaría ver a los pueblos blancos del mundo quebrantar el poder de la diáspora judía y enviar a los judios a Israel, donde tendrán que aprender a ser un país normal.
(4) Pero ¿qué pasa con los palestinos? En primer lugar, permítanme declarar inequívocamente que me solidarizo con los palestinos, porque yo también vivo bajo la ocupación sionista. En segundo lugar, también debo decir que admiro a los palestinos, porque a diferencia de los americanos y los europeos, son plenamente conscientes de que son un pueblo ocupado. En tercer lugar, y lo más importante, los palestinos están luchando contra sus opresores, y quiero que mi gente haga lo mismo.
(5) Pero en última instancia, los intereses blancos y los intereses palestinos no coinciden. Los palestinos, como es natural, quieren recuperar su país. Ellos quieren mandar de vuelta a los judios de donde vinieron. Como un nacionalista blanco, quiero que todos los Judios deban ir a Israel, y eso significa que quieren que se queden en Israel.
¿Qué pasa con la autodeterminación palestina? Estoy a favor de una patria palestina, justo al lado de la patria judía, porque quiero enviar a la diáspora palestina a su casa también.
En resumen, estoy a favor de una solución de dos estados. No estoy a favor de la destrucción de Israel, porque quiero que los judios vivan allí, no en medio de mi pueblo. Estoy a favor de un Estado palestino, porque quiero que los palestinos vivan allí, no en medio de mi pueblo.
(6) Por desgracia, cuando se trata de la cuestión de Palestina, las opiniones de muchos nacionalistas blancos se ven empañadas por el hecho de que ellos odian a los judios más de lo que aman a su propio pueblo, por lo que están dispuestos a golpear a los judios con cualquier palo disponible, incluyendo al apelar a los principios que son mortales para nuestra gente también.
(7) Por ejemplo, creo que es contraproducente para oponerse al sionismo por motivos anticolonialistas, por la sencilla razón de que el anti-colonialismo socava la legitimidad de la fundación de los Estados Unidos y casi todas las naciones blancos si vas hacia atrás lo suficiente en el tiempo. Algunas almas embrutecidos de culpabilidad se han previsto resucitar a los neandertales, presumiblemente para que puedan pedirles disculpas a ellos por el genocidio supuestamente cometido por nuestros antepasados los Cro-Magnon. Pero preocupándose por los errores del pasado nos distrae de algo mucho más importante, a saber, la prevención de los futuros. Y el enfoque más pragmático es dar a los palestinos y los judios sus propias tierras.
(8) También es autodestructivo para los nacionalistas blancos atacar a Israel por motivos de multiculturalismo. Sí, algunas de las mismas personas que se quejan de la norma judía doble de promover el multiculturalismo en la diáspora y un etnoestado en Israel, lamentan que los judíos promueven el multiculturalismo en casa mientras exigen que lo adopten los judios tambien en Israel! Por supuesto, la doble moral judía es lógico, en la medida en que en realidad promueve los intereses de los judios en la comunidad de la diáspora y los intereses del etnoestado de Israel.
Pero para los nacionalistas blancos, el doble estándar no sirve a ningún propósito racional en absoluto, ya que no tenemos el poder político en cualquier parte del mundo, y nuestra única esperanza de ganar ese poder es lo primero construir un caso intelectual coherente para un etnoestado blanco y entonces poder construir un movimiento cultural y político que realmente seá capaz de tomar el poder y crear uno. Pero no se puede construir una base intelectual coherente, apelando a principios contradictorios, porque la única propia preocupación es la propagacion de odio a traves de Internet.
(9) El mismo argumento se aplica al atacar al sionismo, ya que es una forma de nacionalismo. Los judios han invertido tanto tiempo en demonizar a Hitler, muchos piensan que es terriblemente inteligente comparar al sionismo con el nazismo y los judios con Hitler. (La mayoría de los nacionalistas blancos no van tan lejos, por supuesto.) Como un nacionalista blanco, sin embargo, mi pelea es con los judíos de la diáspora que promociónan el multiculturalismo y la reprimen el nacionalismo sano en las naciones blancas. Yo no me opongo porque al sionismo por ser una forma de nacionalismo. Si los judios estan de acuerdo con el nacionalismo (o nacional-socialismo, para el caso), es decir a su favor.
El mismo argumento se aplica a la acusación de que el sionismo es una forma de racismo.
Creo sinceramente que una gran parte del apoyo a Israel entre los conservadores estadounidenses y europeos es más que una forma sublimada de nacionalismo racial blanco. Eso fue ciertamente mi caso cuando yo era un conservador. Así que vamos a dejar a los judios a su nacionalismo racial y tener nosotros nuestro propio lugar.
(10) También es autodestructivo atacar a Israel por motivos de derechos humanos, el derecho internacional y la oposición a la violencia. Porque todo el mundo excepto los completos pacifistas reconocen que hay circunstancias en las que se justifican la violencia, la revolución y la guerra. Los judios, por otra parte, han invertido mucho tiempo en la promoción de la idea de que la resistencia al genocidio puede justificar casi cualquier medida necesaria. Es conveniente, ya que debemos oponernos a nuestro propio genocidio, y nuestros enemigos no son propensos a abandonarlo sin luchar. Cualquier medida que los judios justifican contra los nazis en el pasado y en contra de los palestinos hoy en día se pueden justificar en contra de nuestros enemigos mañana.
(11) Dado que la gente lucha más fanáticamente si están contra la pared, Maquiavelo argumentaba que siempre es prudente dejar a un enemigo una zona de escape, ya que aumenta las probabilidades y reduce los costos de la victoria. La judeidad en la diáspora se refieren a Israel como un refugio, una póliza de seguros si las cosas van mal. La persistencia de Israel puede, por tanto, hace que sea más fácil para los blancos combatir el poder de las comunidades judías en la diáspora en nuestros diferentes países .
Parte de la intensidad psicológica judía es su propensión a tratar cada problema como una cuestión de vida o muerte, que produce el espectáculo absurdo de los líderes del grupo étnico más poderoso del mundo así mismos comportandose con la histeria de las ratas acorraladas. La destrucción real de Israel realmente les daría algo para quejarse. Eso inmensamente aumentaría la mentalidad de asedio judío y endureceria la resistencia judía a los intereses blancos.
(12) He argumentado que los nacionalistas blancos tienen un interés en la existencia del estado de Israel. ¿Significa esto que los nacionalistas europeos, como Guillaume Faye, Nick Griffin, Geert Wilders, Anders Breivik justifican en aliarse con los judios, ya sea con Israel o con la diáspora?
Por supuesto que no, por una serie de razones.
(13) El fundamento de esta propuesta de alianza es un supuesto interés común de los europeos nativos y la diáspora judia en la resistencia al Islam. ¿Pero eso causa común existe? Después de todo, el estado de Israel, que los judíos de la diáspora se refieren como su última línea de defensa, existe en un mar de musulmanes. Hay, además, millones de musulmanes dentro de las fronteras de Israel. Así, uno tiene que preguntarse: ¿Los musulmanes realmente hacen sentir inseguros a judios? O, si los judios tienen miedo de los musulmanes, ¿hay algo que temen aún más?
Los judios en Israel parecen dispuestos a existir muy de cerca con los musulmanes para evitar un mal mayor. ¿Qué mayor mal? el Antisemitismo Europeo, por supuesto. El proyecto sionista fue concebido como un refugio contra el antisemitismo europeo. El Estado de Israel fue fundado después de la Segunda Guerra Mundial. El holocausto se mantiene como la justificación de la fundación de Israel y de todos sus posteriores guerras, anexiones y actos de opresión contra la población indígena. los judios definitivamente temen y odian a los musulmanes. Sin embargo, temen y odian a los europeos blancos aún más.
Teniendo en cuenta el miedo judío del antisemitismo europeo, se deduce, que Judios en realidad se sienten más seguros en Europa si su población indígena se diluyera con los no europeos, incluidos los musulmanes. Esta hipótesis es, por otra parte, totalmente coherente con las políticas apoyadas por las principales organizaciones judías, que se oponen al nacionalismo europeo mientras que apoyan el multiculturalismo y la inmigración musulmana en Europa.
(14) Pero, ¿qué pasa con los casos en que Judios han sido atacados y asesinados por los musulmanes en Europa? ¿No es esto una base para un interés común en la resistencia al Islam? No lo creo. Los judios aplican políticas en Israel que prácticamente garantizan las represalias terroristas musulmanas. Sin embargo los judios aplican estas políticas de todos modos, porque piensan que valen la pena, incluso pensando en las víctimas judías inevitables.
La misma lógica tienen dentro de las poblaciones judias de la diáspora. Sí, el apoyo a la inmigración musulmana en Europa se expone a los judios de la diáspora a la violencia musulmana. Pero la comunidad judía considera este tipo de violencia como un pequeño precio a pagar en comparación con el beneficio de la destrucción final y dilución de la población europea indígena.
(15) Judios se sienten más seguros en torno a los musulmanes que en torno a los europeos. Judios no lo hacen, por lo tanto, creemos que es en su interés de aliarse con los nacionalistas europeos para resistir la inmigración musulmana en Europa. Pero incluso si fuera de su interés, que aún no puede ser lo suficiente para alterar la política judía. Después de todo, puede darse el caso de que que los judios odian a los blancos más que se aman a sí mismos.
(16) Puede ser un error atribuir demasiada racionalidad a los judios. El poder judío puede ser menos un producto de un cálculo racional que de una repetición de lo irracional y compulsivo de un conjunto de estrategias evolutivas para lograr el dominio sobre otros grupos. Si se aplican estas estrategias compulsivamente en vez de racionalmente, sería de esperar que los judios seguiran aplicando incluso cuando se están volviendo contraproducentes. Y de hecho, este ha sido el patrón judío durante siglos. Los judios han aumentado continuamente en posiciones de riqueza, poder e influencia. Pero tienen una tendencia a empujar a sus poblaciones de acogida demasiado lejos, dando lugar a reacciones violentas repentinas y terribles reveses de fortuna. Usted no puede conducir un coche sin frenos, y los judios no tienen frenos.
(17) Incluso si los judios se volvieran contra los musulmanes de Europa, los musulmanes no son el único problema. Hay un montón de otros grupos de no-blancos de rápido crecimiento que podrían diluir con la misma eficacia y luego destruir a los blancos europeos. Mediante el uso de "los musulmanes" como un proxy políticamente correcto para los no blancos, los nacionalistas europeos se han dibujado un esquina retórica, casi de la misma manera que los conservadores estadounidenses lo tienen con la inmigración "ilegal" como sustituto de la inmigración no blanca. Los musulmanes, sin embargo, pueden llegar a ser cristianos con un poco de agua bendita y los ilegales pueden ser legalizados con sólo cambiar la ley.
(18) Si los judios quisieran limitar la inmigración musulmana en Europa, no necesitarían a los pequeños partidos nacionalistas europeos para lograrlo. Casi en un día, podrían tener a los partidos conservadores opuestos a los musulmanes por motivos conservadores, los partidos liberales se opondrian a los musulmanes por razones liberales, los Verdes se opondrian a ellos por motivos verdes, los socialistas por motivos socialistas, etc. Eso es lo que significa la hegemonía intelectual y política.
(19) Las alianzas políticas no se basan sólo en intereses comunes, reales o percibidos. Nadie busca alianzas con partidos sin poder. Y los partidos nacionalistas europeos tienen poco o ningún poder. Incluso los partidos que han logrado representación parlamentaria han sido incapaces de lograr un cambio real. Los partidos nacionalistas europeos no tienen nada que ofrecer a los judios que tienen la verdadera riqueza y el poder real.
(20) ¿Por qué, entonces, algunos Judios europeos tratan de unirse a los grupos nacionalistas, así como a los grupos nacionalistas blancos en Estados Unidos? Una variedad de motivos son posibles, incluyendo sincera convicción, la locura, la cobertura, el espionaje y el sabotaje. Desafortunadamente, no existe una forma infalible de determinar cuáles son los motivos reales de una persona determinada. Apuesto a que la mayoría de ellos no son para nada bueno.
Puesto que estamos luchando por nada menos que la supervivencia biológica de nuestra raza, y dado que la gran mayoría de los judios se oponen a nosotros, tenemos que pecar de precaución y no tener ninguna relación con los judios cualquiera que sea. Los verdaderos simpatizantes judíos tendran que entender, ya que ellos conocen mejor lo que su gente es.
Salvar nuestra raza es algo que tendremos que hacer nosotros solos.
Nota
1. Después del discurso de Faye, un miembro de la audiencia (David Duke) se puso de pie y preguntó a Faye, de una manera indirecta, si la comunidad judía organizada en Francia tuvo el mismo papel que desempeñó en los EE.UU. en la apertura de las puertas a la inmigración no blanca. Era una pregunta justa, que también se me había ocurrido a mí. Si tuviera alguna objeción, era el hecho de que al preguntar no era consciente de la larga fila de personas detrás de él y le tomó mucho tiempo para llegar a su punto.
Pero antes de que pudiera responder Faye, un judio (Michael Hart), furioso se levantó de un salto y denunció al formulador de la pregunta, David Duke, como un "nazi de mierda" y una "vergüenza para la Conferencia." Esta diatriba grosero y malhablado, era, se produjo delante de los hijos de un asistente a la conferencia. "Por supuesto", pensé que, "Jared Taylor tiene que ser más selectivo con las personas que asistan a sus conferencias. Este tipo Hart debe ser rechazado ".
Otros opinaron de manera similar. De hecho, un grupo llegó a la conclusión de que el incidente demostró que era hora de que Jared Taylor reprima a los antisemitas, el tipo de gente que incitó a la población contra la pobre víctima de Michael Hart hasta que no pudo soportarlo más. Esta cábala poco descarada, dirigida por Larry Auster, incluso enmarcó el asunto como el "incidente de David Duke", y un montón de nacionalistas blancos que deberían haberlo sabido mejor se fueron apropiadamente junto con él.
Enjoyed this article?
Be the first to leave a tip in the jar!