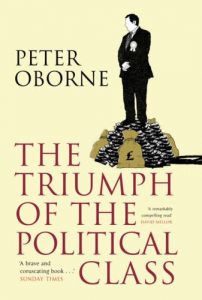 1.762 slov
English original here
Peter Oborne
The Triumph of the Political Class
London: Simon & Schuster, 2007
Některé knihy se podruhé narodí. Každé dílo s politickými motivy se snaží být prorockým – jen čas však dokáže rozsoudit jejich úspěšnost. Orwellův 1984, Bloomovo The Closing of the American Mind (Uzavírání americké mysli), Huntingtonův Střet civilizací nebo Fayeho Konvergence katastrof lze považovat za knihy, jejichž čas nastal. Těžko uvěřit, že další z těchto děl je pouze něco přes deset let staré, ale postřehy z The Triumph of the Political Class (Triumf politické třídy, dále jen TPC) Petera Obornea skutečně nikdy nebyly aktuálnější.
Autor se věnuje výhradně Spojenému království, ale jeho argumenty platí i pro USA a jejich evropské gauleitery. Oborne je uznávaný britský novinář. Coby parlamentní zpravodaj ("lobby correspondent")  je obeznámen s vnitřními mechanismy fungování "matky všech parlamentů", jak John Bright popsal centrum anglické politiky a vlády už v roce 1865. TPC přes svou brilantnost pochopitelně nadělala Oborneovi nepřátele právě v řadách oné elity, jejíž vzestup a triumf popisuje ve své knize. Oborne se totiž zachoval jako všetečka v řadách publika, který ohromeným divákům popisuje, jak kouzelník na pódiu provádí své triky, nebo jako malý Toto, když odhrnul závěs, a tak odhalil, že Čaroděj ze země Oz je ve skutečnosti jenom výstřední stařík se spoustou pák a ozubených koleček.
Jeho hlavní teze zní, že "skutečná dělicí linie v britském veřejném životě už nevede mezi hlavními politickými stranami, ale mezi politickou třídou a zbytkem" (s. xvii).
Ta podle něj nahradila starý establishment a jeho styl vládnutí. Namísto veřejných služebníků, kteří do parlamentu přicházeli z různých oblastí běžného života, dnes britští politici povětšinou pocházejí z několika málo profesně-sociálních segmentů společnosti: novinařina, PR, reklama a právní profese. Jen nemnozí z nich mají nějaké zkušenosti z nepolitického světa a vyšlapaná cesta na špičku vede přes elitní univerzity Oxford či Cambridge, obvykle přes studium politiky, filosofie či ekonomie, v Británii označované zkratkou PPE. Dalším krokem je stáž u zavedeného politika. Někteří se stanou "zvláštními poradci" (special advisers – SpAds) aktivního politického činitele. Tato instituce z větší části funkčně nahradila dlouhou praxí osvědčenou britskou praxi Státní služby (Civil Service); navíc je neoprávněně financována z peněz daňových poplatníků. Podmínkou příslušnosti je samozřejmě dokonalá politická ortodoxie. Jak Oborne zdůrazňuje, jakýkoliv projev názorů a ideologických postojů vystupující ze zavedených mantinelů rychle udusí politickou kariéru ještě v kolébce.
Tento politický inkubátor má závažné dopady: politika přestává být aktivní a hluboce společenskou a komunitární činností a stává se hájemstvím technokratické kliky pevně přesvědčené, že právě ona je nejlépe vybavena k tomu vylepšit úděl prostého lidu. Následkem toho je dnešní Británie zemí na cestě do záhuby. Británii – a Anglii především – stále nápadněji podobnější sovětskému systému řídí zlovolní arci-byrokraté, manažerská třída upřednostňující zdání před realitou. Jak slavně poznamenal Orwell ve svém The Lion and the Unicorn, Anglie se podobá rodině, v jejímž čele stojí ti nesprávní rodinní příslušníci.
Oborne odkazuje na italského právníka a sociálního teoretika 19. století Gaetana Moscu, který jako první přišel s termínem "politická třída" (classe politica). 1] Moscovo nejznámější dílo Elementi de Scienzi Politica dnes nový establishment označuje za předchůdce Mussoliniho fašismu: názorný příklad, jak politická třída a její provizorní mediální křídlo označí coby "fašistu" nebo "krajně pravicového" každého, kdo vyzradí tajemství celé její hry.
Oborne přenáší Moscovy teze z konce 19. století do naší doby a popisuje jak se moderní Politická třída – podobně jako Oborne budu toto spojení začínat velkým písmenem – ze všech sil pustila do likvidace a náhrady starého establishmentu. Mluva, slovník, oblékání, životní styl – tyto prvky pomáhají definovat nový režim a jejich standardizace vytvořila homogenní typ operativců, kteří slouží jenom sobě a svým skrytým mecenášům ze světa kapitálu.
Oborne zdůrazňuje, že Politická třída je toxickou směsí studentského hnutí 60. let, technokracie a zejména komunismu. Na první pohled po pádu Berlínské zdi poražený komunismus ve skutečnosti jen prošel krátkou hibernací a znovu se objevil v novém hávu. Oborne sice své komentáře ke komunismu omezuje na poznámku pod čarou, i tak však stojí za pozornost. "Přestože komunismus zažil v posledních 100 letech v Británii jen zcela minimální volební úspěchy, jeho vliv v prostředí vládnoucí elity je nesmírně silný," píše (s. 47).
Ze strašidla komunismu, které dle slavných Marxových slov z úvodu Komunistického manifestu obchází Evropou, se tak dnes stal spíš revenant. Všeobecně se ví, že špičkové instituce EU jsou plné přinejmenším exkomunistických sympatizantů, často ale i přímo někdejších členů. Tajemstvím není ani komunistická minulosti Angely Merkelové. Rudá hrozba tak nikam nezmizela, jen si oblékla jiné barvy. Tento neblahý vliv komunismu vysvětluje Oborneův postřeh, že "… Politická třída vytrvale nenávidí a pokouší se zničit svobodné postavení britských institucí" (s. 49).
A právě likvidaci či infiltraci slavných britských institucí Oborne popisuje: demonstruje pád každé z nich do rukou této triumfující Politické třídy, na jejíž vítězný dlouhý pochod by jistě byli pyšní i Mao nebo Gramsci. Tento tichý převrat slouží jedinému účelu: "nejsilnějším instinktem Politické třídy je rozšiřování působnosti a pravomocí exekutivní moci a jejich prostředníků – klidně i za cenu občanských svobod" (s. 183).
Autor ukazuje nevyhnutelně následující výpady proti britské monarchii, novými vladaři považované za překonaný archaismus, navíc nebezpečně populární mezi obyčejnými lidmi.
Parlament i jeho zásadní funkce v kdysi demokratické Británii je oslabován konexemi poslanců i vládních poradců na žurnalistické prostředí. "Všechna důležitá komuniké se dnes uskutečňují přes média, a Sněmovna se stává jen jakousi douškou," píše Oborne (s. 201).
Kromě tohoto zkratování demokratického procesu Oborne popisuje, jak došlo také k oslabení úlohy Úřadu parlamentního komisaře pro etické standardy (Parliamentary Commissioner for Standards). Politická třída si nechce nechat nahlížet do svých záležitostí. S prostým lidem se to má samozřejmě jinak: Velká Británie provozuje asi čtvrtinu všech průmyslových (CCTV) kamer celého světa, per capita jich má nesrovnatelně víc než Rusko nebo Severní Korea.
Kapitola zabývající se ovládnutím britských médií Politickou třídou velmi názorně dokládá proces subverze britské demokracie. Oborne píše, že Politická třída "vyzvedla média do takřka ústavní role a vytvořila z nich alternativu stávajícím státním institucím" (s. 234).
Britská vláda i opozice Jejího Veličenstva dnes média využívají jako takovou svou "lepší" reklamní agenturu. "Novináři-klienti" tak vykonávají práci kdysi v pravomoci parlamentu. Nedílnou součástí toho je pochopitelně i trik s mýtem o "nepřátelských médiích", který má vyvolávat dojem, že čtvrtá velmoc stále poctivě plní svou původní úlohu, tedy směle říkat pravdu vládnoucí moci. Nic takové však samozřejmě nečiní a každý novinář, který by toto uspořádání nepochopil, bude velice záhy odevzdávat své výtvory do redakce nízkonákladového plátku v nějakém zapadákově.
V knize narazíme i na letmou zmínku o roli médií ve válce v Iráku, již autor využívá jako příklad nakládání britské Politické třídy s médii. Válka zůstává nejhanebnější epizodou vládnutí Tonyho Blaira a Oborne systematicky rozebírá, jak britský tisk a BBC společně vykreslili Blaira v duchu obrazu Doriana Graye jako válečného hrdinu, přestože ve skutečnosti to byly právě lži jeho samotného a jeho povýšeneckého tiskového mluvčího Alastaira Campbella (mimochodem jednoho z hlavních záporných hrdinů celé knihy), které tento zbytečný a ničivý konflikt pomohly spustit.
Velkým poraženým tohoto ceasarovského triumfálního příběhu o vzestupu k moci je samozřejmě britský lid. Ten se v očích nové elity stal spotřebitelskou statistikou, s níž se manipuluje a nakládá podle potřeby. Jak podotýká Oborne, "příslušníci Politické třídy… vnímají občanskou společnost jako hrozbu, protože se jedná o obří oblast veřejné sféry, nad níž nemají elity velkou kontrolu" (s. 329).
Pohrdání Politické třídy lidem, který má údajně reprezentovat, zcela jasně vysvítá mj. z vážně míněných výzev k (i několikanásobnému!) opakování referenda o Brexitu. V případě EU je pak toto opovržení ještě zřetelnější, s tím jak celé země musely opakovaně hlasovat pro setrvání v tomto zkorumpovaném kolosu, zatímco elity klidně přepočítávaly hlasy tak dlouho, dokud nedospěly ke kýženému výsledku.
Při pohledu na současnou stále se prohlubující bezradnost britské politické scény by bylo lákavé deklarovat počátek konce Obornovy Politické třídy – přinejmenším v Británii – a jediná zásadní výtka vůči jeho knize spočívá v příliš malém prostoru věnovaném technokracii, tedy pomýlené ideji, že kvalifikovanost vlády vylepšit osudy lidí spočívá v její kolektivní expertíze. Protože jsem posledních deset let sám pracoval a jinak se potýkal se společnostmi zabývajícími se managementem, pozoruji paralely mezi managementem a vládou i záměrnou slepotu těch, co se považují za odborníky.
Oborne s až znepokojivou jasnozřivostí popisuje strukturu Politické třídy. Každá vlnka, která by jí mohla otřást, musí být potlačena už v zárodku. Podobně jako byl průměrný republikán zhrozen triumfem Donalda Trumpa, i britská Politická třída by se zuby nehty bránila každému pokusu pozměnit její základní strukturu a cíle, i kdyby se jednalo o domněle její vlastní stranu u moci. Brexit je pochopitelně tím nejočividnějším příkladem odporu a stejně jako se "deep state" snaží házet klacky pod nohy Trumpovu vládnutí, i Evropská unie v součinnosti s britským deep state nedovolí uskutečnění Brexitu bez odporu do posledního momentu.
V závěru své knihy Oborne přichází s odstavcem připomínajícím Orwellova slavná slova z jeho nejznámějšího románu, že pokud zůstává nějaká naděje, skrývá se v prolétech. Nezbývá než si usilovně doufat, že se tito dva velcí vizionáři nemýlili.
Jeví se takřka jisté… že příští velké politické hnutí vzejde z prostředí mimo Politickou třídu. Podobně jako se ona objevila na troskách stranického systému, musí i ona nutně vyprodukovat svou antitezi. Jednou tak nějaký britský politik klidně může přijít s novým jazykem veřejného diskurzu a metodologií politické akce, jimiž osloví voliče přímo a jasně. (s. 331)
Pokud k tomu skutečně dojde, prorocké dílo Peter Obornea dobře poslouží jako slovník i návod této nové metodologie a jazyka.
Recenze Marka Gullicka Oborne Again: The Triumph of the Political Class vyšla na stránkách Counter-Currents Publishing 2. února 2018.
This translation originally appeared at Delian Diver.
* * *
Like all journals of dissident ideas, Counter-Currents depends on the support of readers like you. Help us compete with the censors of the Left and the violent accelerationists of the Right with a donation today. (The easiest way to help is with an e-check donation. All you need is your checkbook.)
For other ways to donate, click here.
Poznámka DP
1] K termínu vládnoucí nebo politická třída blíže Gaetano Mosca:
"Ve všech společnostech – od společností, které jsou slabě vyvinuty a sotva dosáhly červánků civilizace, až k nejpokročilejším a nejsilnějším společnostem – se objevují dvě třídy: třída, která vládne a třída, která je ovládána." [cit. in: Jodl, 1994, str. 25]. Ze zmíněné teze je patrna velká podobnost s Marxem, avšak zde je patrný obrovský rozdíl v tom, že Mosca chápe rozdělení vládnoucí a ovládané skupiny na základě odborných způsobilostí a vedoucích schopností jedinců v určitých oblastech, zatímco Marx došel k mocenské teorii skrze třídní boj uvnitř kapitalistické společnosti.
Mosca dále dodává: Vládnoucí třída je vždy méně početná, zato plně organizovaná, zastává všechny politické funkce, monopolizuje moc a využívá výhod, které moc přináší, zatímco druhá třída je početnější a je řízena způsobem více méně legálním, arbitrážním a násilným. Druhá třída zásobuje vládnoucí třídu materiálními prostředky a prostředky nezbytnými pro životnost politického organismu. Mosca tvrdí, že k prosazení se vedou kvalitativní vlastnosti jedince jako síla vůle, intuice, bystrost a sebedůvěra. Mosca tvrdí, že kritériem vládnoucí třídy k udržení moci je schopnost kontrolovat sociální síly. Pod tímto pojmem rozumí každou činnost mající sociální význam – odtud rozlišuje finanční a vojenskou činnost, náboženství či výchovu.
Zdroj: Jan Pevný: Dynamika elit v post-totalitních podmínkách české společnosti, FHS UK. Praha, 2007.