Around the World in 80 Days:

The Tale of a Chinese Spy Balloon
Mark Gullick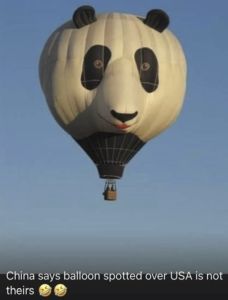 2,482 words
A minimum put to good use is enough for anything. — Jules Verne, Around the World in 80 Days
Up, up and away
In my beautiful balloon.
— The 5th Dimension, "Up, Up and Away," 1967
The curious thing about the Chinese spy balloon (which would be a great name for a restaurant in Chinatown) is not that it was from China. This is already a country doing far more damage to the United States than merely taking photographs of an air base from a dirigible blimp. Let me count the ways.
Covid-19 came from China, and was quite plausibly manufactured bespoke in Wuhan using gain of function techniques. Chinese state security operates openly in the US, looking for dissidents who are trying to outrun the tentacles of Communism. The Chinese effectively kill 100,000 Americans a year (legal Americans or otherwise) without firing a shot due to their lucrative export of the Fentanyl currently pouring in through America's untended southern border. Chinese acquisition of increasing acreage of American arable land (this is also happening in Canada) is beginning to rival the amount that Bill Gates — currently America's biggest owner of farmland — has bought, and much of the Chinese holdings are close to military facilities. TikTok turns out to be a Chinese data-harvesting project. Then there is Congressman Eric Swallwell, and his affair with the excellently-named Chinese spy, Fang Fang (she belongs in a James Bond movie with a name like that), who was one of the greatest security risks of recent times. Oh, I forgot to mention the Biden family's connection with China. After all that, an exaggerated party balloon is hardly Hitler's annexation of the Sudetenland.
No, the most surprising thing about the Chinese spy balloon is that I saw it. I don't mean I live in Montana, where the balloon was first spotted (at least in the US) by some eagle-eyed bird-watcher. I didn't even know where Montana was. Americans are often ridiculed for not knowing the geography of Europe, but the British and Europeans (there is technically a difference, although it is strictly de jure rather than de facto) know little of America's geography. Montana. Horses? That is the extent of my knowledge. Or was. Apparently, a dude known locally as Colonel Custer had some kind of bar-fight there.
Montana also has an air base, I learn — but no, I didn't see the balloon in Montana. It took a small local newspaper there, The Billings Gazette, to break the news, and the mainstream media were conspicuous by their absence over this floating dragon. But, as I say, I didn't see the balloon in the States. I saw the balloon — or at least an identical balloon — in Costa Rica. And that, I'm afraid, does not fit the narrative, because it's not where I saw it (from my apartment) but when.
I was sanding a table in my courtyard, right by the big gates with razor wire on top, and with shards of broken glass covering the adjoining wall. Welcome to the Third World, particularly now that there are Venezuelans and Nicaraguans roaming the streets of my sleepy Pacific town. But that is another tale for another day. A man I knew passed the gates, hailed me, and we chatted easily. Then he pointed behind him, into the blue sky, and said: "What do you think that is?" It was Thursday, February 2.
I know him vaguely, and I am almost certain that he is ex-CIA. We have drunk together four or five times, and he seems both alarmingly well-informed about the Agency and sheepish when I have suggested he might be an ex-employee. I didn't press the point. There are many people here who have misty pasts (I know; I'm one of them) and I would bet a pound to a pinch of snuff that I have met at least one person who is on witness protection. They say, among expats in Costa Rica, that if you wind up here you are either wanted or unwanted. So, as I believe him to be ex-Agency, when he pointed at the sky and asked me what I thought something was, I didn't suspect that he was having some sort of attack of theism and pointing to heaven. So I looked.
It looked like a golf ball or soccer ball, and it was entirely stationary during the several minutes we watched it. It really was there — this was not some flashback, and I had on my finest Emporio Armani spectacles — as the national newspaper The Tico Times reported the same day. (I have linked to the English-language version in case your Spanish is as poor as mine.)
We then went and had us a few beers at a bar from which I am technically banned but who are under new management and who don't know who I am. My possibly CIA buddy was of the opinion that this was a weather balloon or Google Street Maps. That sounded lame coming from someone I suspect has had people killed. By the time I got back home, the object had gone and the excitement was over. But then it apparently entered the States, and the fun started all over again. I am sure you followed the balloon's progress (a flight path to which we will return), and the usual prevarication, misinformation, and outright lies of Biden's handlers.
Eventually, the US Air Force shot it down with a Sidewinder missile, which is a very modern equivalent of using a sledgehammer to crack a nut. Could they not have just guided it down? Might the tech not have been informative? Technology is curiously shy of some things it could do quite easily. Of course, if the Chinese had a sense of humor — which no Chinaman or woman I have ever met has seemed to be in possession of — the balloon would have been a giant piñata, and sweeties would have rained down on American children as an apparent gesture of good will (but the candy would have been laced with Fentanyl). Or, alternatively, it could have been a gender reveal for the latest baby Hunter Biden is having with a stripper. Pink or blue? Who knows? Let's get a jet up there and find out.
As noted, The Tico Times reported that the balloon was seen from across Costa Rica the day I and the G-man saw it. That was February 2. Why, then, have the American media consistently reported that the balloon entered American airspace on January 28? There are two possible answers: Latin America is now considered American airspace, or there are and always were two balloons.
The Costa Rican air force was never going to shoot the balloon down for the simple reason that Costa Rica doesn't have an air force, just as they have no navy or standing army. They did away with the armed forces in 1948 after a particularly gruesome Central American civil war. The Costa Rican national anthem does mention proud Ticos defending their country by using farm implements — a case of beating ploughshares into swords — so if Nicaragua or Panama decided to do a Ukraine and occupy Costa Rica, they might only face men with scythes which, although the instrument of choice for cropping corn and wheat, are notoriously unwieldy weapons in a battlefield situation. But I digress.
The point is, how did this balloon get all the way from China to Montana without some radar operator somewhere saying to his boss, "Hey, sarge, you are not going to believe this"? This is the first of many questions about this strange episode. The course of the balloon that ended up in Montana on January 28 is generally agreed to be up the Pacific side of the Americas, over the Aleutian Islands, then through Canada and Alaska before drifting — or being steered — eastward to Montana and Idaho, before finally being brought down near South Carolina. Again, I return to my question: How come I saw it over Costa Rica on February 2?
Now, hats off to the Tico Times. They latched on to an aspect of the story I am not seeing in the American media:
One witness, a Tico Times contractor, contacted us Thursday. He said he saw his neighbors staring up at the sky. He went outside to see what they were looking at and saw the object hovering very high in the air. He was able to take a picture of the object.
The object is the same one I saw in Costa Rica, the one which supposedly entered American airspace on January 28, over the Aleutian Islands. As far as I am aware, only Tico Times suggested the big question:
"The Pentagon was also tracking a similar object over the United States…"
Unless some fairly rigid rules of physics have been broken, there were two balloons. Why, then, is the American press not all over this like a rash? What happened to the CentroAmerican balloon? Don't worry. I'm not wearing a tinfoil hat (if I did, I would fashion it Napoleon-style), nor am I trying to reboot The X-Files. The second balloon turned up. It just took a few days for those lazy Latinos to get around to reporting it. Or to be allowed to report it, perhaps. As noted, Costa Rica has no air force, although Colombia has, and boy, did they track an object that seemed to resemble a balloon — until it crossed the border, then it was back to coffee and doughnuts, or whatever Colombians relax with.
The defense Costa Rica ran with concerning its inaction was feeble: "Officials at the Costa Rica Civil Aviation Authority first believed that the object reported here was probably a locally launched weather balloon." Sure, because if you launch a weather balloon, I'm sure there is no requirement to notify your country's civil aviation authority. It should be safe for, say, light aircraft, right? Anyway, what civil aviation? There used to be a guy here with a crop-duster, an old yellow biplane, which he flew around for fun. It was like North by Northwest here some Saturdays. But Costa Rica looks very much like it is smoke-screening China. Why might they feel the need to do that?
Costa Rica has a vested interest in not antagonizing Peking. Never refer to it as "Beijing," by the way. That was a result of a direct command by Peking to the Associated Press and they sheepishly obeyed, as did all other media outlets who don't have me writing for them. But Costa Rica, like other Latin American countries, has been taking the Yen for some time.
To take an example, soccer is a religion here, and the Estadio Nacional in San José cost $105 million USD in 2011 — a lot of dough for a Central American country, albeit the richest in the region. But that's okay, because Costa Rica didn't pay for it; China did. And when it needed renovations, the Chinese were again happy to pick up the check. Around the same time, Costa Rica severed diplomatic ties with Taiwan. Quid pro quo.
So maybe there were a couple of calls from Peking to Rodrigo Chaves Robles, Costa Rica's current President. "You know, Rodrigo — can we call you Rodrigo? Great. Just call me Xi. Now, there's going to be a spy balloon over the rain forest in a couple days. Don't pay it no mind, we are just going to Canada to get hair-dressing tips from Justin Trudeau."
So the question remains: Where is the second balloon? And this is not just my conspiracy theory. On Monday, February 6, this piece appeared on tech news site Gizmodo, explaining that the Chinese have taken responsibility for a second balloon seen over Colombia and Costa Rica. The Chinese, not known for their veracity, claim it was a weather balloon blown off course. Foreign Ministry spokesperson Mao Ning was rather hurt at the suggestion that the second balloon was spying on CentroAmerica (spying on what? Coffee planting techniques?): "China is a responsible country. We have always strictly abided by international law."
Sure, fella. Look, I am not pre-judging you because your name is Mao, but tell the international law bit to the Uighur Muslims you have in concentration camps. Fortune cookie sometimes lie.
It amused me that the piece only mentioned that Colombia and Costa Rica noted the presence of the balloon in their airspace. Did Panama have nothing to say, or were they on coffee break? Because if you want to get from Colombia to Costa Rica without going through Panama, you will have to be an impressive swimmer or you're going to need a bigger boat. This whole thing is a set-up designed to humiliate the US — as though they could go any farther down that road. And it is hardly a new tactic. The Tico Times reported a similar mass sighting above San José as far back as 2006.
China is goading the US, that much is clear. But if they are putting their comforting arms around Latin America, then they are making allies with a bloc that already has a rooted dislike of gringos, even though half of them seem to want to go to Texas. America needs to keep its friends close, but its enemies closer, because if China decides to culturally occupy Latin America, America's walls will begin to close in. There are three Chinese restaurants in my town here. One is excellent, and I know the owner and I am not barred. I am not a great fan of Chinese food, but I make an exception for this place. The other two never serve any food, and I have never smelt the aroma of cooking. This is because, it is widely held, they are both money-laundering front companies. America's enemies don't just come armed with balloons and Fentanyl; they can also subvert a nation's currency. Look at Argentina and Brazil's recent mutterings about decoupling from the US dollar and starting a new common currency. You think the Chinese won't be a federal reserve for those two huge countries if that happens?
There is, of course, a famous balloon in literature, in Around the World in 80 Days, in which Phileas Fogg and his sidekick Passepartout (which means a skeleton-key in French) narrowly win their bet to traverse the globe in the time mentioned. But there is another hot-air non-dirigible which gets forgotten. The Wizard of Oz leaves his adopted home town in a balloon, and Dorothy — and Toto, who exposed the old fraud in the first place — are supposed to be going with him. She has no time to hop in the wicker basket, and sees her hopes of returning to her home, parents, and friends disappearing into the clouds. The desolate Dorothy, however, was dreaming all along, and wakes from the dream to find that there's no place like home.
Americans are also waking from a dream, the American dream, to find that America is indeed becoming no place like home.
*  *  *
Counter-Currents has extended special privileges to those who donate $120 or more per year.
First, donor comments will appear immediately instead of waiting in a moderation queue. (People who abuse this privilege will lose it.)
Second, donors will have immediate access to all Counter-Currents posts. Non-donors will find that one post a day, five posts a week will be behind a "Paywall" and will be available to the general public after 30 days.
Third, Paywall members have the ability to edit their comments. 
Fourth, Paywall members can "commission" a yearly article from Counter-Currents. Just send a question that you'd like to have discussed to

[email protected]

. (Obviously, the topics must be suitable to Counter-Currents and its broader project, as well as the interests and expertise of our writers.)
To get full access to all content behind the paywall, sign up here:
Paywall Gift Subscriptions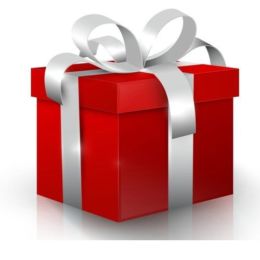 If you are already behind the paywall and want to share the benefits, Counter-Currents also offers paywall gift subscriptions. We need just five things from you:
your payment
the recipient's name
the recipient's email address
your name
your email address
To register, just fill out this form and we will walk you through the payment and registration process. There are a number of different payment options.
Enjoyed this article?
Be the first to leave a tip in the jar!