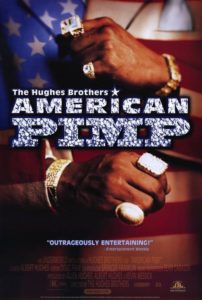 1,127 words
American Pimp is a 1999 documentary directed by the Hughes Brothers, the half-black, half-Armenian twins who also directed Menace II Society and Dead Presidents. American Pimp has fallen into obscurity and is now hard to find. But it deserves to be better-known, especially among race-realists. American Pimp is just under 90 minutes. It consists primarily of interviews with black pimps and their prostitutes.
The film opens with clips of white people sharing their views about pimps, which are universally negative: disgusting, immoral, exploiters of women, parasites, gaudy, tasteless, extravagant, etc. It is hard to know if we are supposed to think these are all negative "stereotypes" for which white people should be ashamed. As the movie unfolds, however, we see that these descriptions are all true — and then some.
American Pimp also intercuts clips from so-called Blaxploitation films such as The Mack and Willie Dynamite. Again, it is hard to tell if we are supposed to think that these films are sinister parodies and exaggerations of the truth about pimps. But the documentary goes on to demonstrate that the truth about pimps is far more clownish and sinister than the movie portrayals. Beyond that, the very term "Blaxploitation" strikes me as faux-victimhood whining, since these films generally glamorize and glorify ghetto black behavior for the entertainment of ghetto black consumers.
Judging from the film, the typical African-American pimp is ugly, dark-black, unspeakably foul-mouthed, utterly cynical and materialistic, and has hideous, gaudy tastes in clothes, cars, and jewelry. Gold teeth are optional.
Only a couple of the pimps interviewed speak anything close to standard English. The rest are mush-mouthed bix-nooders whose every third word is "bitch" or some version of "motherfucker." Usually, they end their sentences with "Ya know whum sayin,'" to which my truthful answer is "no." It seems odd that this spark of self-knowledge doesn't seem to lead to self-improvement in their communication skills. Sadly, there are no subtitles for the ebonically challenged, although the French and Spanish subtitles might come in handy.
If, however, one looks beyond the ghetto patois and clown-costumes, the truth is that most of these pimps aren't stupid in the low-IQ sense. It takes some brains to run any kind of business, and some of the things they say are actually witty. Thus they probably have IQs above the African-American average of 85. This is useful, because if low IQ is taken out of the equation, it highlights other racial differences, particularly moral ones.
Pimps aren't necessarily stupid, but all of them are "moral imbeciles." They manifest the Dark Triad of narcissism, sociopathy, and Machiavellianism.
The gaudy and extravagant peacocking of pimps is obviously narcissistic. The constant parade of expensive clown costumes and tasteless pimpmobiles is one of the most entertaining aspects of American Pimp.
The exploitation of women is obviously sociopathic. One of the funniest sequences of the film is where pimps explain the cut that whores get from their work. They are unanimous: "zero percent." One of them asks, "How can I give you 100% of my pimpin' unless you give me 100% of yo' money?"
Pimps also take pride in their use of manipulation to control whores. Primarily, they use false promises and emotional manipulation. But they aren't above beating them. One pimp, who is now a Christian minister, claims that if you don't beat a whore, she'll start thinking that you don't care about her. Although I didn't manage to catch it on my recent viewing, I recall one pimp says that he "didn't steal nothin' except bitches' minds." (Clearly, my ear for ebonics has gotten rusty.)
American Pimp doesn't offer much insight into the psychology of the sad hookers who allow themselves to be exploited. By the looks of them, they are mostly below-average in the looks and IQ departments, although the vacant faces could be products of drug use. A large percentage of these women are white. Most of them want to have — or think they have — relationships with their pimps, which bespeaks a huge capacity for self-deception. Many hookers end up dead due to drug overdoses. Others are murdered. Still others end up in mental hospitals. One white hooker ended up married to her pimp. Although most of these women lack much potential, a decent society would protect them from such predators.
The most articulate pimp in the movie styles himself Gorgeous Dre. His real name is Andrè Taylor. He is clearly smarter than the average pimp. He's also better looking and better dressed. Dre has a great patter about character, manliness, and integrity. One can almost forget he is a ruthless bottom-feeding sociopath. Later in the film, we revisit him in jail. He has been arrested for pimping and sleeping with a sixteen-year-old.
I was rather hoping Dre would be sentenced to life, and maybe shanked in the joint. But it turns out that he did less than a year. He has put his first-class bullshitting skills to good use. He is now a "life coach" and a "community organizer" in Seattle, working to make it easier for black people to commit crimes.
Near the end of the movie, we meet a white pimp, Dennis Hof, owner of the Moonlight Bunny Ranch and other legal Nevada brothels. Hof is clearly a major pervert, but he seems free of the black pimps' Dark Triad traits. He is a businessman, not a parasite. The women who work for him do so for salaries. They are not manipulated and bullied into giving all their money to him. It is far more humane than the black system, but should a decent society allow even this sort of prostitution?
It is tempting for white people to view black pimps as pathological. But I think black pimps are authentic expressions of blackness. As outlaws, pimps reject white norms entirely. They can do what comes natural to them. Polygamy, the exploitation of women, and peacocking are all quite common in pre- and post-colonial Africa. So it makes sense that they would emerge spontaneously in black diaspora societies among subcultures that reject white norms.
I highly recommend American Pimp as an entertaining tour of the heart of darkness in America today. It definitely deserves a Blu-ray edition with improved picture and sound, as well as English subtitles.
The Unz Review, 2020
If you want to support our work, please send us a donation by going to our Entropy page and selecting "send paid chat." Entropy allows you to donate any amount from $3 and up. All comments will be read and discussed in the next episode of Counter-Currents Radio, which airs every Friday.
Don't forget to sign up for the twice-monthly email Counter-Currents Newsletter for exclusive content, offers, and news.