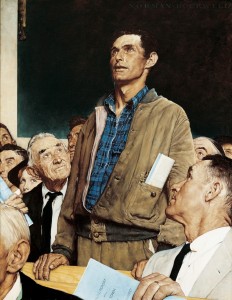 1,605 words
We are all faced with the challenge of speaking, and living, truths which are felt to be offensive by a great many of our countrymen, not to mention the powers that be. This is not a new problem. By definition, the natural diversity of men means that knowledge of the truth is highly unequally distributed and those who know most about the truth are necessarily a tiny minority. This minority must alone face the prejudices and ignorance of the masses and the violence of the state. The Ancients are in universal agreement in saying that the truth must be spoken carefully, with due regard for one's social position, social harmony, and the general society's necessarily limited ability to grasp the truth.
Hesiod, that most practical Grecian poet, said: "The tongue's best treasure among men is when it is sparing, and its greatest charm is when it goes in measure. If you speak ill, you may well hear greater yourself" (Works and Days, 720-25). He advised to "never venture to insult a man for accursed soul-destroying poverty, which is the dispensation of the blessed ones who are for ever" (W&D, 715-20). And ought we not to be even kinder to those suffering from poverty of culture and soul?
On the positive side, Hesiod also eloquently described the almost magical ability of the heaven-blessed king to unite his community through right speech: "upon his tongue" the Muses "shed sweet dew, and out of his mouth the words flow honeyed; and the peoples all look to him as he decides what is to prevail with his straight judgments" (Theogony, 80-90). There was a unique ideal of isogoria – equality or freedom of speech, the right for each citizen to speak before the public –  in ancient Greece. This right however was, even for citizens, not unqualified and entailed responsibility, particularly with regard to the social consequences of one's words.
In a faraway India, the followers of the Buddha paired gracious, truthful speech with perfect self-control. According to the Gandharan Dharmapada, Gautama said:
One who utters speech that isn't rough
But instructive and truthful
So that he offends no one,
Him I call a Brahmin.
The one who does no wrong
Through body, speech, or mind,
Restrained in the three ways,
Him I call a Brahmin.
One perfectly calmed, ceased,
A gentle speaker, not puffed up,
Who illuminates the meaning and the Dharma,
Him I call a Brahmin. (Dharmapada, 1.22-24)
Lest one think this is but the fearful self-censorship of peasants and monks, the Norse poets have Odin say much the same thing. The Sayings of the High One (Hávamál) contain several verses advising caution in speech. Odin says:
He's a wretched man, of evil disposition,
the one who makes fun of everything,
he doesn't know the one thing he ought to know:
that he is not devoid of faults (Hávamál, 22)
Wise that man seems who retreats
when one guest is insulting another;
the man who mocks at a feast doesn't know for sure
whether he shoots off his mouth amid enemies. (Háv., 31)[1]
For, as Odin adds: "For those words which one man says to another, often he gets paid back" (Háv., 65). The foul-speaking, friendless man goes to the Assembly and finds himself "among the multitude and has few people to speak for him" (Háv., 62).[2]
One must have the right speech, the most truthful speech possible, according to time and place and audience. The most important truths – those about life and death, about purpose and community – are rarely apprehended explicitly and rationally, nor do they need to be, operating at a far deeper psychological level. Your whole demeanor, your generous attitude ought to, without words, invite your kinsmen to live seriously and love their people. For as Aristotle said, so far as persuasion is concerned, the speaker's "character contains almost the strongest proof of all" (Rhetoric, 1.2)
Unless you are a prophet (feel free to "announce yourself"), you must work with existing, living traditions, national and spiritual, whatever their imperfections, for these resonate with people and, if appealed to, invite them to higher purposes. (Actually, even the prophets, both ancient and modern, appealed to, expanded upon, and transformed existing traditions.) That which is bad in a tradition can be graciously understated, that which is good celebrated and glorified. You do not convince people with statistics and syllogisms, but by touching their soul. In terms of ethics, a living tradition is worth more than all the libraries and databases in the world.
All this is not to say that one should not say anything offensive to society. All the traditions are equally clear: there are times when truth must be adhered to openly, necessarily meaning the breaking of ties with society, one's own family, one's life. The point I would make is that this must not be done carelessly, but with self-mastery and effectiveness. The gains in terms of knowledge of truth must outweigh the costs in terms of social entropy, division, and hatred. Your words are actions. A generation cannot, and should not, be expected to abandon the religion and fundamental values it was brought up with (we ought to have a compassionate thought for the Boomers here). In all this, one should trust one's instincts rather than calculate. Some truths are spoken in vain if one lacks power. As a Spartan once said: "My friend, your words require the backing of a city" (Plutarch, "Sayings of Lysander," 8). Socrates lived cryptically his entire life, confounding convention and encouraging the good, choosing to die at precisely the moment when this would make truth resonate for the ages.
Above all, we must shed from within ourselves the idea that we, personally, are "entitled" to free speech or that the masses can welcome the whole truth. If we still have these notions, then we are in fact still slaves to our time's democratic naïveté. No, free speech is at once a duty and a prize, to be exercised only once we have become worthy, by our own personal excellence and self-mastery. That was, at any rate, the way Diogenes the Cynic saw things, calling free speech "the finest thing of all in life."[3] But this free speech was not to be used carelessly: the Dog's notoriously vicious wit and outrageous behavior were always meant to benefit others educationally, metaphorically biting his "friends, so as to save them."[4] Do not worry about your right to freedom of speech: try to be worthy of freedom of speech.
On this point, I can do better here than quote the philosopher-emperor Julian, in his letter denouncing the so-called "Cynics" of his day, who had degenerated into something like a band of lazy and offensive hippies (my emphasis):
Therefore let him who wishes to be a Cynic philosopher not adopt merely their long cloak or wallet or staff or their way of wearing the hair, as though he were like a man walking unshaved and illiterate in a village that lacked barbers' shops and schools, but let him consider that reason rather than a staff and a certain plan of life rather than a wallet are the mintmarks of the Cynic philosophy. And freedom of speech he must not employ until he have first proved how much he is worth, as I believe was the case with Crates and Diogenes. For they were so far from bearing with a bad grace any threat of fortune, whether one call such threats caprice or wanton insult, that once when he had been captured by pirates Diogenes joked with them; as for Crates he gave his property to the state, and being physically deformed he made fun of his own lame leg and hunched shoulders. But when his friends gave an entertainment he used to go, whether invited or not, and would reconcile his nearest friends if he learned that they had quarrelled. He used to reprove them not harshly but with a charming manner and not so as to seem to persecute those whom he wished to reform, but as though he wished to be of use both to them and to the bystanders. Yet this was not the chief end and aim of those Cynics, but as I said their main concern was how they might themselves attain to happiness and, as I think, they occupied themselves with other men only in so far as they comprehended that man is by nature a social and political animal; and so they aided their fellow-citizens, not only by practicing but by preaching as well. (To the Uneducated Cynics, 201-02)
Your words are a side effect, a very secondary one, of your way of life. How are you living?
Bibliography
 Aristotle (trans. H. C. Lawson-Tancred), The Art of Rhetoric (London: Penguin, 2004).
Hard, Robin, (ed. and trans.), Diogenes the Cynic: Sayings and Anecdotes with Other Popular Moralists (Oxford: Oxford University Press, 2012).
Hesiod (trans. M. L. West), Theogony and Works and Days (Oxford: Oxford University Press, 1988).
Julian (trans. Emily Wright), To the Uneducated Cynics: https://en.wikisource.org/wiki/To_the_uneducated_Cynics
Larrington, Carolyne (trans.), The Poetic Edda (Oxford: Oxford University Press, 2014).
Plutarch (trans. Richard Talbert and Ian Scott-Kilvert), On Sparta (London: Penguin, 2005)
Roebuck, Valerie (trans.), The Dhammapada (London: Penguin, 2010).
Notes
[1] One could also cite verse 32:
Many men are devoted to one another
and yet they fight at feasts;
amongst men there will always be strife,
guest squabbling with guest.
[2] More generally, one is struck at the degree to which the ethos of the Hávamál are in harmony with those of Homer and Hesiod, no doubt reflecting similar ways of life as farmers, wanderers, and conquerors.
[3] Robin Hard (ed. and trans.), Diogenes the Cynic: Sayings and Anecdotes with Other Popular Moralists (Oxford: Oxford University Press, 2012), 50.
[4] Ibid., 24.
Enjoyed this article?
Be the first to leave a tip in the jar!