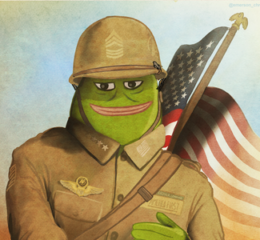 1,200 words
Over the last two years, the Right-wing youth scene in America has been stormed by the Groypers, centered on Nick Fuentes. What is a Groyper? The Groypers are generally young, male, passionate, Catholic, extremely online, loyal (at times to a fault) to Fuentes, and ardently America First. I count myself among them.
Some see them as a promising vanguard, others as a meme that blossomed but is now burning out. They certainly have potential, as evinced by the ritual humiliation that they visited upon the Conservatism Inc. crowd during the initial "Groyper Wars," during which young patriots asked scathing questions of fake conservatives who could not articulate good answers. Several articles further documenting the Groyper Wars can be found on this website and elsewhere.
Over the past two years, the Groypers have garnered several high-profile endorsements. These range from Jared Taylor, Alex Jones, Michelle Malkin, Jon Miller, Representative Paul Gossar, candidate Lauren Witzkie, and former Representative Steve King. All of these people took a risk in endorsing such a young and rambunctious faction. Many of them have undoubtedly paid the price for it, one way or another. Nonetheless, they have staunchly stood by us through thick and thin.
In many ways, the Groypers can be seen as the intellectual progeny of these more mature political figures. But this presents a problem. Consider how in the military the conduct of enlisted troops is said to reflect upon their leaders. Likewise, how Groypers conduct ourselves inherently reflects upon those who endorse us. I don't want those leaders who have joined us in the trenches of this brutal culture war to be disappointed in our conduct, so we need to discuss some serious problems that have developed in the movement. These problems should be eliminated, not embraced as a brand or a culture.
The first problem is those Groypers who have emerged from the puerile online subcultures of "gamers" (as in online gaming, not picking up chicks) and "NEETs" (Not in Education, Employment, or Training). Yes, most of us share that "cultural background," for lack of a better term. A touch of gamer culture can be endearing to outsiders, like a pinch of spice in a dish. But most Groypers have no idea how bizarre, off-putting, and unhealthy it can seem to more mature people. Endorsing America First politics carries enormous costs, which is why many resist our message and why others will support us privately but not publicly. We only increase resistance to our ideas by bundling them with the culture of spindly, college-aged kids gaming past 2 AM, eating junk food, and sniggering over elaborate private jokes. Groypers claim to want to save the West, but they seem more interested in saving imaginary kingdoms. Frankly, we need to grow up. Social decline is accelerating. Days can happen in years, but since 2020, years have happened in days. We need to get serious.
Second, there are Groypers who actually brag about consuming junk food, not working out, and not going outdoors, because in their view healthy lifestyles are "Leftist." It is a beautiful example of reactionary thinking leading to self-defeating behavior. Consider how much success the hippies achieved by emphasizing the positive aspects of their subculture. How many otherwise apolitical people were persuaded to supporting far-Left politics because of the hippies' music, their supposed freedom, their unique style, and their anti-war stance? Decades later, John Lennon's songs still arguably influence American culture just as much as George Soros' shekels. If we are to push for alternative policies, we need an alternative culture, and that culture must be based on positives, not negatives. Nationalists in Europe have enjoyed much more success than in America in large part due to their positive culture. There is perhaps no greater "L" imaginable than Groypers allowing greasy-haired potheads from the 1960s to surpass them in culture-building.
Third, Groypers need to figure out how to coexist with the opposite sex. Yes, women today are for the most part trash — but so are men. This anti-woman attitude is often purely a reaction to the Left's demonization of the straight white male. But extreme man-hate on the Left does not justify extreme woman-hate on the Right. Frankly, I find Qtards less embarrassing than maladapted zoomer weaklings who dismiss physical fitness as "gay" and blame women for not being able to get a date.
A related problem is the oftentimes false dichotomy between "incel" and "volcel." "Incel" is short for "involuntarily celibate," and "volcel" is "voluntarily celibate." I am against using these Left-wing canards, but it is difficult to claim they are canards when some of our people unironically or post-ironically use them to describe themselves. The problem intensifies when you realize that 99% of the time, supposed volcels are the very definition of incel. You can't be a volcel if you never get the opportunity to break your celibacy, just as you can't claim to be voluntarily fasting when you're lost in a desert with no food. There are some who are actual volcels, but they would likely never call themselves that. Why isn't "I'm saving myself for marriage" good enough, as it was for centuries? We should not adopt, much less embrace, the retarded lingo of our enemies.
Fifth, Groypers are not exactly anti-intellectual, because they are willing to entertain radical ideas, but their intellectual development is stunted by staring at screens as opposed to reading books. This mentality will prevent otherwise effective members of our movement from reaching their full potential. This has been exacerbated by the YouTube personality culture which, while being a good way to learn about current events, does not usually stimulate the mind. I was never a serious reader until a few months ago. Now I realize that reading profound books actually builds up the mind in a way that videos and tweets cannot. Reading is like forging a sword, whereas following current events online at best merely sharpens its edge. This spirit of learning should be fostered.
Bronze Age Pervert argues that physical self-improvement and leading by aesthetics are among the most important things individuals can do. Surely producing a modern Marx of the Right is worth a legion of Hyperborean bodybuilders. I grant that action should be valued above all else. I grant that being wary of pseudo-intellectualism absolutely has it place. But the fact remains that becoming a Marx of the Right cannot be achieved in an anti-intellectual movement.
These observations are not meant to be a personal attack on anyone, but if they happen to describe you, remember: You don't have to be that way. My purpose here is not to put you down, but to raise you up. Fuentes himself, after his show began to gain popularity, warned that the influx of viewers would lower the average quality. And indeed, even though Fuentes has gone from a few hundred to tens of thousands of live viewers, it is still the same hundred or so high-quality young men among his followers who show up at national events. Apparently, everyone else is playing Fortnite, watching anime, or living vicariously through a livestreamer.
If you want to change that situation, start by changing yourself. If you want to improve the world, begin by improving yourself.
*  *  *
Counter-Currents has extended special privileges to those who donate $120 or more per year.
First, donor comments will appear immediately instead of waiting in a moderation queue. (People who abuse this privilege will lose it.)
Second, donors will have immediate access to all Counter-Currents posts. Non-donors will find that one post a day, five posts a week will be behind a "paywall" and will be available to the general public after 30 days.
To get full access to all content behind the paywall, sign up here: