The Limited Edition of The White Nationalist Manifesto Now in Print & Shipping
Greg Johnson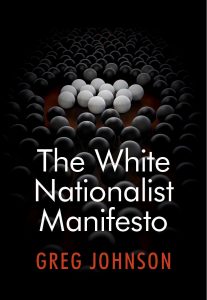 228 words
I am pleased to announce that the limited hardcover edition of 200 numbered copies of The White Nationalist Manifesto is now in print and shipping.
If you ordered a copy, please email me your current mailing address at [email protected]. Put "Ltd Ed" in the subject line. I want to make sure that no addresses have changed. Also, make sure to specify the name to which you want your copy dedicated.
I am also pleased to announce that there are still 9 copies of the limited edition available for a donation of $100 or more, plus postage. One per customer, please. You can order it here, along with the paperback and regular hardcover editions.
Some people have asked what are the differences between the limited hardcover and the regular hardcovers? Aside from the fact that the limited edition is limited, numbered, and signed, the main differences are in the binding. The regular edition has a blue cloth binding, the pages are glued directly to the spine, and the end sheets are white. The limited edition has a black cloth binding with matching end sheets. The gold-stamped spine has the same typeface as the jacket. The pages are sewn together in signatures and then glued into the binding.
I want to thank all the purchasers of the limited edition for their patience in the long saga of this book's production.
Greg Johnson