The Yellow Vests Have Made the Most French Part of France Visible
Alain de Benoist
473 words
Czech version here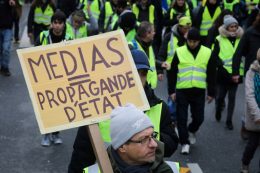 Interviewed by Yann Vallerie; translated by Greg Johnson (The last two questions, on other topics, were omitted.)
The great national debate could be over before it even started. The Yellow Vests continue their actions, enjoying the support of public opinion. At the start of 2019, while France is going through a major crisis, we reviewed the situation with Alain de Benoist . . .
Breizh-info.com: First of all, in France, the Yellow Vests movement is continuing, while the ongoing great national debate doesn't seem to interest anyone. Where are we going?
Alain de Benoist: That the Yellow Vests movement continues, and more than half of the French wish to see this movement continue, is already an extraordinary event. I am delighted, of course. After an anxious spell, the media are now complaining of having been subjected to "violence" without for a moment wondering about the reasons for their bad reputation. The head of state writes letters and organizes a "great debate" that we know in advance will not meet the essential expectations of the Yellow Vests. All of that would be laughable, if it did not spring from a class contempt that appears to be ineradicable. That said, it is useless to ask what the movement can lead to.
It has already led to what was its raison d'être: to make visible the most French part of France. As for the rest, the causes have not changed, so we must await a new episode in the order of effects. That's why I talked about a "dress rehearsal."
Breizh-info.com: The crucial issue of immigration has been relegated to the background, including by the leaders of the Yellow Vests (while on certain roundabouts, it is quite present). Is not this the main concern?
Alain de Benoist:  It is indeed a concern that we know quite well is present in the spirit of the Yellow Vests (and that's an understatement). My assumption is that they understood quite well that by putting this issue forward, they would have given those who hate them additional reasons to defame them, which would have allowed people to ignore their other claims. Do not forget that when the Yellow Vests discovered illegal migrants in a truck they stopped, they gave them to the police. This was enough to trigger a complaint against the Yellow Vests from the National Union of Customs Agents. Immigration is a factor, but we cannot forget that populism only exists when cultural insecurity (immigration) is added to social insecurity (purchasing power).
However, it is the working classes and the lower portion of the middle classes who are hardest hit by this double insecurity. If the referendum of popular (or "citizen") initiative was adopted, things could become much clearer, but we know there is a good chance that the authorities will manage to exclude immigration from the questions that could be asked.