1,679 words
Hog Butcher for the World,
Tool Maker, Stacker of Wheat,
Player with Railroads and the Nation's Freight Handler;
Stormy, husky, brawling,
City of the Big Shoulders…
— Carl Sandburg, "Chicago"
"City of Big Shoulders", did you say, Carl?
Chicago voters, understandably, opted for a bigger set of "big shoulders" to be Boss Mayor on Tuesday, February 28. Incumbent Mayor Lori Lightfoot, who some years ago wandered off the set of The Walking Dead and into the Windy City, came in third in the run-off election with a whopping 17.09% of the vote.
According to the Chicago Sun, "Lori Lightfoot, the first Black [sic] woman and the first openly gay person ever to serve as mayor of Chicago, on Tuesday became a one-term mayor." She was also the first Chicago mayor to lose in 40 years.
One wonders, perhaps, if Her Honor had read Sandburg's poem, and with him being a white guy and all, had thought a bit of one-upmanship was in order.  Chicago, "City of Big what," though?
"Tool maker," she may have been thinking, but — as we'll see shortly — not exactly in a Sandburgesque sort of way. Back in March 2022, Mayor Lightfoot had embarked on a city improvement plan that involved tearing down statues of white guys because "whiteness" these days is controversial, unlike shooting your server at McDonald's for giving you cold fries. According to the Daily Beast, Lightfoot ordered the removal of "a controversial statue of Christopher Columbus [that was to be included in] . . . an annual parade organized by the city's Italian American community. The prominent statue, which stood near Lake Michigan downtown, was one of several Columbus statues around the city that Lightfoot had ordered removed in the wake of social-justice protests in the summer of 2020." (italics added) The "stormy, husky [or is it dusky?], brawling" social-justice warriors that same summer were busy looting and dismantling Chicago's Magnificent Mile: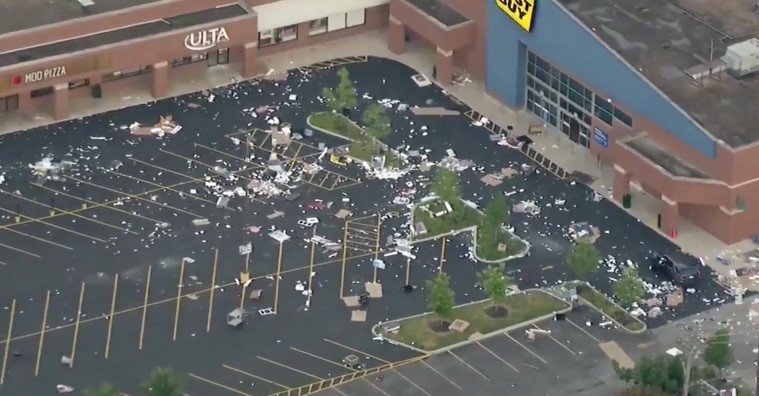 Downtown Chicago as of 2021 had emptied out: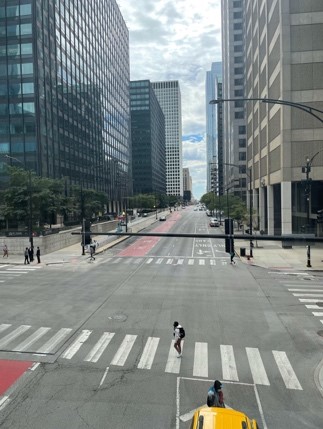 When the Chicago Italians pushed back and Park District Deputy General Counsel George Smyrniotis protested Lightfoot's directive for the statue in a Zoom meeting, she responded with the dignity and diplomatic polish you've come to expect from a member of today's feral underclass that rules big cities: "You are out there stroking your dicks over the Columbus statue. My dick is bigger than yours and the Italians, I have the biggest dick in Chicago."
Only in 2022 America. Only from a black lesbian in yet another failing, once-great city.
For the citizens of Chicago, this must have been very confusing. Lesbian? Big ****?  Or, maybe not. Maybe they were hearing this as "I'm the biggest dick in Chicago," which would explain why she came in a dismal third in the runoff election the following year.
Carl Sandburg, an Illinois native, wrote "Chicago" in 1913. The poem ends thusly:
Laughing the stormy, husky, brawling laughter of Youth, half-naked, sweating, proud to be Hog Butcher, Tool Maker, Stacker of Wheat, Player with Railroads and Freight Handler to the Nation.
Butchering hogs, stacking wheat, and making tools are what the people who lived in the Second City used to do. No more. Nothing of Lori Lightfoot's Chicago resembles the early twentieth century's muscular, energy-charged Chicago of Sandburg's verse. Reading the poem with its rough-and-tumble motifs of criminality, fecundity and physical vitality one hundred years after it was written — black criminality, to be more precise — is the dominant image of Chicago. Instead of "Freight Handler to the Nation," "as of June 17, 2021, Chicago leads the nation in mass shootings, average approximately one per week."
Some ancient history: In the Lincoln Park neighborhood of Chicago's North Side on Valentine's Day of 1929, four gunmen, allegedly sent by mobster Al Capone, gunned down seven men in a garage at 2122 North Clark Street. The St. Valentine's Day Massacre shocked the world and made international headlines. It was shocking because such a piece of slaughter was unprecedented. This was back before shooting up your street was the recreational pastime of choice in certain Chicago neighborhoods where, numbers-wise, many weekends match the St. Valentine's Day Massacre in the production of bullet-ridden corpses. "Certain" is the key word here.
The predominately white North Side is safe, relatively speaking. According to Crain's Chicago Business, "the homicide rate for the city's four North Side police districts . . . last year [2021] was 3.2 residents per 100,000, according to analysis of data from the University of Chicago Crime Lab — lower than Evanston's, Champaign's and Springfield's, based on data from the Federal Bureau of Investigation."
On Chicago's West Side, you might say, homicide is a "horse of a different color" with third-world statistics:
The per-capita murder rate in the Chicago Police Department's 15th District in Austin has climbed 274% between 2010 and 2020, to 115.2 per 100,000 residents. In the 11th District, serving Garfield Park, the increase was 114%, and the per-capita murder rate reached 146.8, according to data from the University of Chicago Crime Lab.
Yes, you are reading those numbers correctly: 146.8 homicides per 100,000 in two precincts on the Chicago West Side versus 3.2 on the North Side. That makes Chicago "world class" in the production of homicides, and no longer "Player of Railroads."
Those homicide rates are up there with the most violent cities on Earth, according to data analytics company Statista. The world's most violent city, Tijuana, Mexico, has a murder rate of 138 per 100,000 residents.
When parts of your town are more lethal than Tijuana, it's safe to say that the people running the city either don't care, or they are dangerously stupid — and probably both.
As far as the color of Chicago's astronomical murder rates:
Racial Diversity, Austin neighborhood, Chicago
African American: 77%
Hispanic:17%
White: 4%
Racial Diversity, Garfield Park, Chicago
African American: 89%
Hispanic: 4%
White: 4%
Birds fly. Flowers bloom. Summer follows spring. Blacks are busy killing blacks in Chicago. Does anyone really believe that either of the two runoff election winners from Tuesday who will face each other in April are smart or competent enough to make Chicago's West Side safer than, let's say, Caracas or St. Louis?
The two Tuesday runoff winners, one of whom will be Chicago's mayor after the April runoff election, turned out to be Chicago's favorite sons, Leopold and Loeb. No; I actually meant Paul Vallas and Brandon Johnson. Looking at them, I have to go with John McEnroe and say, "You cannot be serious!"
Finishing first was the 69-year old Vallas, a Democrat. At his victory party on Tuesday, Vallas told his supporters: "We will have a safe Chicago. We will make Chicago the safest city in America" — a statement that demonstrates that he's even more deranged than his predecessor.
Vallas appears to be a life-long public sector political hack with much of his career spent as an administrator of large, urban public-school systems, including stints as CEO of the Philadelphia and Chicago public schools. The resume of your typical big-city public school head honcho is a case study in "falling upward": this type's modus operandi is to make a quick getaway after he's messed up the schools where he's at and move to a bigger place to showcase incompetence on a larger scale. The Chicago Public Schools (CPS) over which Vallas ruled for a time exist for a single reason: to prove to any residual doubters that, with the schools left to the teachers' unions and the school administrators, the taxpayers will be fleeced and the students will emerge as functional illiterates:
Nearly 83 percent of students in CPS are either black or Hispanic, and, unfortunately, they have the lowest scores.14 percent of black 11th-graders are proficient in English Language Arts and just 13 percent are proficient in math. Hispanics aren't much better, with just 25 proficient in reading and 27 percent proficient in math.
Former Chicago Mayor William Daley removed Vallas from his CEO position at CPS in 2001 for failing to progress with student test scores. In his mayoral run, Vallas is definitely hoping to fall upward.
Vallas' opponent will be 46-year-old Brandon Johnson, also a Democrat. He is Cook County Commissioner and a Chicago Teachers Union (CTU) organizer.
For his campaign for mayor, Johnson has received $930,000 from the CPS Teachers Union and more than a million dollars from the American Federation of Teachers. Lightfoot told the New York Times back in 2021 that the CTU wants to be in charge of the city government. The CTU running the city government would be a bit like Myer Lansky as head of United Way, or Ted Bundy in charge of a battered women's shelter.
The Chicago Teachers Union is far-Left, corrupt, and incorrigibly hostile to any reform that might improve public education.
From City Journal:
Many children who remain in the [CPS] schools have no escape route; district-wide, all students have registered declines in academic performance. Reading and math proficiency scores have fallen by as much as 30 percent during the past decade, according to data obtained from the Illinois State Board of Education. At the end of the past school year, just 20 percent of third- through eighth-grade students on average were proficient in reading; only 15 percent were proficient in math.
To bolster your confidence that Johnson, who is black, would be up for the Chicago mayor's job, this is what he told his supporters after his victory on Tuesday evening:
"A few months ago they said they didn't know who I was. Well, if you didn't know, now you know," Johnson said. He thanked the unions that supported him and gave a special shout-out to his wife, telling the crowd, "Chicago, a Black [sic] woman will still be in charge."
Johnson is apparently banking on the Chicago electorate being even slower learners than the CPS graduates.
So, the next pair of "big shoulders" to step up and turn the Windy City around will either be a failed CPS administrator or a water-carrier for the corrupt teachers' unions. With either one, Sandburg's Chicago, a "city with lifted head singing so proud to be alive and coarse and strong and cunning" will be on its way to an American-style Third World slum run by race-hustling kleptocrats. It will be a place where "proud to be alive" will have given way to "hope to stay alive." Anyone who can, will leave.
* * *
Like all journals of dissident ideas, Counter-Currents depends on the support of readers like you. Help us compete with the censors of the Left and the violent accelerationists of the Right with a donation today. (The easiest way to help is with an e-check donation. All you need is your checkbook.)
For other ways to donate, click here.