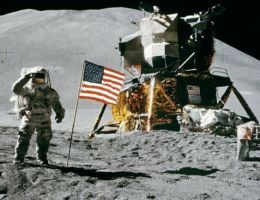 3,705 words
It's true that the government is quite capable of lying like hell. That doesn't, however, mean everything they say is a lie. This is so even for the Nixon administration, despite the bad reputation they gave themselves on the way out. If Resident Bidet's junta would rise to Richard Nixon's standard of integrity and truthfulness, imperfect as it was, it still would be a vast improvement. Even so, the globalist wind-up toy tells the truth once in a blue moon. And on that note. . .
Lunacy
Some alternative narratives are true, and some are false. Then there are the flaky ones: obviously false, although too many people believe them who should know better. Among these, one of the foremost is the notion that the Apollo program was faked. This one makes me cringe. Now that lunar orbiters with increasingly sophisticated cameras are able to photograph the landing sites, that alone should've ended the silly debate. Unfortunately, it didn't. Let's put this one to rest once and for all, shall we?
The National Alliance's bulletin National Vanguard released a helpful take, "An Anti-White Hoax: The 'Moon Landing Hoax Conspiracy' Exposed," in their March/April 2007 edition. To begin:
July 20, 1969 has become a highly controversial and emotional date for different people, for different reasons.
To White people who are proud of the accomplishments of their race, this date is when man first walked on the moon. That day represents the peak of Western Civilization.
To those who hate White civilization, this date is an insufferable blight that has to be falsified in the historical record. It is to them unacceptable that the main brains behind the moon landings were Nazi German SS officers such as Wernher von Braun. It is also Politically Incorrect that White people have sole claim to this achievement; thus it should be (1) ignored, (2) selectively falsified, or (3) flatly denied. This third treatment is the topic in this column.
The National Alliance's take tends to identify Jews as culprits likely to spread this story. One major vector is the film Capricorn One, with the following plot:
[T]he U.S. sent a manned mission to Mars — and faked it by shooting the entire trip and exploration in a movie studio. The show was hosted by X-Files actor Mitch Pileggi. The studio set and terrain were deliberately made to look like the moon landing. Similarities included phrases spoken by astronauts, desert scenery, the landing craft, actions performed outside the landing craft, and even the powdery dust surface on which astronauts walked.
I'll add that with a constellation of elements from the film similar to the Apollo 11 footage, something like that would tend to cause, whether intentionally or otherwise, a conflation of the two stories by psychological association:
Fox TV, not to be outdone, has produced an hour long documentary in which they attempt to prove that the moon landing never happened. This was repeatedly shown on prime-time TV.
By February 2006, the moon landing deniers had spread sufficient propaganda that up to 20 percent of Americans do not believe man ever went to the moon.
My take tends to identify pinkos as the culprits likely to spread this story. From Deplorable Diatribes:
The Soviets did have a first-rate space program, and achieved some key firsts. They quite possibly could have landed on the moon first if not for top-level personality clashes and engineering problems with the N1 launch vehicle. So, they tried to make the public think that American astronauts never landed on the moon and all the funding was diverted to the CIA. This makes the Soviets epic sore losers, almost as bad as Al Gore.
. . .[T]he KGB is considered the source of some of the moon landing hoax rumors. The basic concept is found in a 1960 memo:
If necessary, the necessary documents should be forged using the existing samples. . . To work out and implement measures on blowing the cover of several scientific, commercial and other institutions, used by the CIA for its spy activities. In particular, to carry out such measures with regard to the "National Aeronautics and Space Administration" [NASA] and the "Informational Agency" of the USA [U.S. Information Agency (USIA)].
Whatever role the KGB had, lots of people in the tinfoil hat crowd ran with the story and elaborated on it.
Reflecting back on the Apollo program's remarkable achievements, the unprecedented voyages were the crowning glory not only of America, but of Western civilization — and it held the promise of much more. Missions 18, 19, and 20 were cancelled, and there were other ambitious plans under discussion, such as a permanent Moon base and a manned flyby of Venus, but these didn't come to fruition. After the early 1970s, the National Aeronautics and Space Administration's (NASA) emphasis shifted toward development of the Space Shuttle, but Congressional cutbacks to NASA's funding reduced its capabilities. That in turn was scrapped during the Obama administration, leaving the United States with no equivalent manned launch vehicle to replace it. Had the space program been given the resources to keep up the tempo it had maintained during the Apollo years, who knows how much further along we would presently be?
Although JFK initiated the Apollo program, many Leftists have a problem with it — especially blacks. Some of them felt that instead of a giant leap for mankind, the government should have spent all the tax dollars on supporting welfare queens. The July 1978 edition of Instauration notes that their Volksgenossen abroad also took it as a snub to their aspirations toward gibsmedats:
Black Africans, for example, either frankly disbelieved in the moon landing or disapproved of it, their rulers dutifully parroting the conviction that the money spent on the venture could have been put to better use by relieving world poverty and, incidentally, relining their own pockets. It was indeed sheer lunacy, or sheer liberalism, to have suggested that primitives in whatever esoteric fashion shared in Western man's space flights.
NASA has also been criticized for not having enough diversity hires. It especially remains a sore point that only white men were sent to the Moon. If the proposed Moon shot redo actually happens, then the present globohomo régime will probably send up a Chinese lesbian in a wheelchair, if not someone with even more intersectionality points. Then again, if we send trisexual genderfluid squidlings with faces pierced like pincushions, they'll fit right in if they encounter any alien life.
National Vanguard had some further words about prominent "Apollo Hoax" hoaxers:
The main players (eagerly supported by the mass-media) appear to consist of people who mistrust their government — (good instincts so far), but reveal an unfortunate lack of objectivity and dearth of knowledge in basic science and astrophysics.
I'll concur with that. It does list Bill Kaysing as an exception, who participated in the FOX feature, and who came up with some of the talking points below.
The hoax hoaxers answered
National Vanguard helpfully listed, and answered, the most frequent "Moon landing hoax" talking points:
Despite the clarity of deep space, stars are missing from the black sky in all photographs taken on the Moon.
Answer: Starlight is too faint to visibly register on a photographic plate if another object is in view and in direct sunlight. No photos taken of objects in sunlight in space ever show stars, on the Moon or elsewhere.
The American flag was waving, even though there is no atmosphere on the Moon.
Answer: The US flags were designed with in-built springs to make them extend even though there is no wind, so the general appearance of a waving flag is not unexpected — other than that the flag cannot "move" unless an astronaut is handling the flag. No video exists of any Moon flag "moving" without an astronaut physically shunting the flagpole or flag, or as the result of being buffeted by the LEM's rocket exhaust.
No blast crater is visible beneath the Lunar Excursion Module (LEM), where its powerful rocket engine had fired.
Answer: The descent stage engine bell is about five feet across at the bottom. The thrust of the engine at touchdown was about 3,000 pounds, so the blast pressure of the rocket exhaust was only about one pound per square inch — not nearly enough to produce any sort of blast crater.
If the LEM was extremely unstable and had so many problems flying during tests on Earth, then how could the LEM flawlessly land six times on the Moon?
Answer: Any rocket such as the LEM has problems during its development phase. Rockets are inherently unstable and therefore have control mechanisms to correct this. As with all other successful rockets, the LEM overcame these difficulties and performed very well indeed.
"To have a powerful rocket engine blast the surface of the moon; blasting away all of the dust, and then find footprints surrounding the Lunar Lander; that to me would be impossibility." – Bill Kaysing
Answer: With a rocket jet pressure of only one pound per square inch, dust surrounding the LEM would be essentially untouched, except for some thrown out from directly below the nozzle, which would add to dust already around the LEM.
When the LEM lifted off from the Moon, there was no exhaust plume.
The Lunar Lander used a mixture of hydrazine and dinitrogen tetroxide which ignites upon contact and produces exhaust that is transparent. That's why you cannot see the flame.
It is impossible for man to survive the deadly radiation of deep space. "Before they got halfway to the moon, they would have picked up a death-dose of radiation."
Answer: The Apollo spacecraft traveled quite quickly through the radiation belts, taking only an hour or so, which is not nearly enough time to receive a lethal dose.
When the speed of NASA footage is doubled, astronauts appear to be running as in Earth's gravity.
Answer: Yes indeed, though that proves nothing at all . . . unless you also notice that the astronauts and Lunar Rover were kicking up dust as they moved. The dust goes up in a perfect parabolic arc and falls back down to the surface, unlike on Earth, where dust billows up and slowly settles down, as fine dust does in our atmosphere. Once again, the deniers bite the dust.
What was photographed in the shadow of the LEM should be in pitch-black darkness, because the Sun was the only light source, yet shadows are well-lit.
Answer: Wrong. There was another major light source: The Moon itself! There was a brightly-lit desert all around the landing site which strongly reflected sunlight into every shadow.
The astronaut and other deaths during the Apollo program were no accident. They were intentionally silenced because they knew too much. — "No, it was no accident. They murdered them because, you see, I found out just recently that whenever NASA was in trouble they would call on the CIA. Now we all know that the CIA has and can kill anybody they want without any feeling of conscience whatsoever. So it's my feeling that the CIA was hired by NASA to very adroitly kill Grissom, Chaffee, and White." — Bill Kaysing.
Answer: Very few astronauts died mysterious deaths; almost all were clearly work-related in what was and is a very high-risk profession. Only one death occurred in 1969, the year of the first Moon landing. Casual accusations of murder are easy to make, but proof is lacking. No astronauts or NASA officials then or later made such claims.
There are other things the article notes, and I'll summarize some of them. It points out that both amateur radio operators and the Soviet Union were monitoring the Apollo missions' progress, which required directional antennas pointed at the right place in the sky. (Ham radio was a much bigger technical hobby before the Internet came around.) Moreover, the astronauts set up a corner reflector on the Moon which allows terrestrial laser beams to be bounced off of it in order to measure the distance from the Earth with precision. Also, returned samples of Moon rocks can be shown to be "much older than Earth rock and contains many isotopes not normally found on Earth. It is not technologically possible for scientists to fake a moon rock."
Finally, National Vanguard unfavorably compares the Moon landing controversy with The Holobunga. For one thing, open debate on most topics is politically correct and the media will not suppress questioning the Apollo Moon landings, whereas it is is harshly discouraged to question the mainstream Holocaust narrative.
A thought experiment
What would it have taken for NASA to falsify a Moon mission? To do so, they would have had to send a Saturn V into orbit carrying three astronauts, pretending that they were going to land on the Moon but without actually doing so. (That much can't be questioned, since the launch was witnessed by crowds at Cape Canaveral and photographed nine ways from Sunday.) Even just sending three astronauts into space requires a tremendous investment in hardware and ground infrastructure.
What could have been done about the ham radio operators, and of course the Soviets, who were monitoring the mission's progress with directional antennas? To get the voice and telemetry signals to come from where they were supposed to be, they'd have had to put the rocket on a Hohman type 2 transfer orbit to the Moon and then park it in lunar orbit — i.e., actually go where they said they were going. Then, once they actually got there, they'd only pretend to land in the descent module.
There were also dozens of personnel at NASA's Mission Control monitoring the flight. If there had been no lunar landing, then there would have had to be a hidden team responsible for feeding them fake telemetry data so that they would appear as if they were doing their jobs throughout. And at that point, who would be keeping track of the actual command module that was still orbiting the Moon and its actual telemetry data?
As for the landing itself, to falsify such an event they'd have had to film it on a very large stage — enough for long dune buggy trips. It would have to be specially rounded and put on top of a huge roller so that the horizon would come up faster than it does on Earth. Also, all the air would have to be sucked out of it, since only a vacuum can cause the dust kicked up by boots or tires to fall parabolically rather than float in the air, and specially-designed tools like the hammer-feather drop could only work as they were supposed to in an airless environment.
Moreover, you'll notice from the physics demonstration that the hammer falls slower than it would on Earth. That's because the lunar gravitational force is about a sixth of what it is here, thus there is less acceleration. That also accounts for the bouncy, shuffling way that the astronauts walk. So not only would this massive studio set have to be airless, but gravity would have to be reduced as well.
For argument's sake, let's suppose it was indeed possible to construct such a stage, that Moon rocks can be faked with the right isotopes to fool the world's scientists, and that space elves set up the corner reflector at Tranquility Bay. Even then, there would have to be thousands (if not tens of thousands) involved in such an operation: astronauts, engineers, directors, personnel in charge of creating false telemetry data, cinematographers, special effects teams, etc. There's just no way to bribe, cajole, or threaten that many people into shutting up about such a juicy secret indefinitely.
Note that the Moon landings occurred during the tenure of an administration that couldn't even keep a third-rate burglary secret. (Only G. Gordon Liddy kept his mouth shut about it, and everyone else sang like a canary.) Moreover, even if the government were to pull off an imposture like that once, then why would they dare to carry out seven fake missions — in which a single telling goof in any of them would give the entire game away? All told, it would be more practical, less expensive, and less politically risky to build an actual Moon rocket than to fake it seven times.
Finally, let's consider the special effects that were available in the 1960s. Digital manipulation of photographs didn't exist yet. The best effects of the age were on display in Stanley Kubrick's 2001: A Space Odyssey, which came out a year before the first Moon landing and is still considered a classic. The first scene, of course, shows us what a Black Lives Matter peaceful protest was like three million years ago. After that we are shown a space shuttle, and rotoscope magic got the weightless scenes down pat, complete with a pen rotating in mid-air. However, in the scenes set on the Moon, the film doesn't even try to emulate reduced gravity; everyone walks slowly but normally.
Even the contemporary film Ad Astra, which has much longer lunar scenes, does not make an attempt to show what reduced gravity would look like, even with much more developed effects technology. Moreover, lunar movie sets produced prior to the actual Moon landings generally assumed that the Moon would be a very craggy place. The footage from the Apollo missions showed that it was in fact quite different: dusty plains, rolling hills, and lots of craters. NASA picked relatively flat terrain to land on, for obvious reasons, and the landscape is quite a departure from what was assumed by earlier artists and filmmakers.
Conspiracy theories: The good, bad, and the ugly
There is a wide range of epistemological positions from believing everything to believing nothing. It's unproductive to be a superstitious, gullible, crystal-sucking New Age weenie, or even someone who believes everything on TV. At the other extreme, immoderately hardheaded positions like solipsism are unproductive as well. It's better to steer the middle course.
More to the point, there are times when it's good to be skeptical of official narratives. Still, if the gain on your bullshit detectors is turned up much too high, then you'll pick up random hisses and pops and detect patterns when in fact nothing significant is there. That's obviously counterproductive as well. Thus, let discernment be your guide.
Much could be said about so-called "conspiracy theories." Often that's a go-to cliché used by presstitutes and the like to discredit a counter-narrative. As the joke goes, the difference between a conspiracy theory and a conspiracy fact is usually about six months. Getting past the rhetoric, such scandalous stories are essentially sociopolitical rumors. (It's hardly anything new. In the Tudor era, court gossip from London spread rapidly from one peasant village to the next.) They'll be one of the following:
true;
partially true;
false, created as propaganda; or
false, created as unfounded speculation, cynicism, malicious rumor-mongering, etc.
Although the Lügenpresse and other supposedly authoritative sources want you to believe they have a monopoly on the truth, quite a few "conspiracy theories" turn out to be the real thing. To take one example, a cursory glance through the leaked Cablegate documents will confirm that many rumored happenings did in fact occur in international politics in the past. There have been scores of events which were suspected, but where there was no conclusive evidence to prove them. Moreover, the Venona decrypts — made public decades after the fact, when the Cold War was beginning to fizzle out — revealed that much of the Soviet espionage that only "nutty" McCarthyists and the John Birch Society had believed in at the time actually was going on.
On the other hand, stories which are groundless or just plain flaky will tend to make the public reject alternative narratives without considering them. In effect, people who spread tall tales are pooping in the punch bowl. They might believe they're being super-edgy, but they're only muddying the waters. They might think they're cleverer than everyone else as recipients of forbidden knowledge, but they're just cranks. By adding to the circulation of flaky alternative narratives, they make all other alternative narratives seem disreputable. Consequentially, they will tend to make The System and its mainstream media propaganda apparatus more credible in the public's eyes.
Finally, idle chatter is a waste of time. For example, rather than endlessly debating what did or didn't happen on the moon in the 1960s, there should be a lot more discussion about what the W6rld Ec6nomic F6rum plans for the public in the near future. (It's not even a conspiracy theory when they tell us openly what they want to do and when!) Suppose I were a globalist with a God complex plotting a massive power grab. I'd be happy that lots of talkative and profoundly wary conspiracy buffs are too busy spinning their wheels with a phony story from decades ago to notice what I'm doing right now.
Let this be the end of it
Let us be done with the "Apollo hoax" hoax once and for all. Chances are that it got started as Leftist sour grapes. It attempts to make us believe that one of our greatest achievements never happened, and as such it should be considered anti-white demoralization propaganda. It's no better than Howard Zinn's lies; there's no need to signal-boost it. Also, there's no need to spread the kind of flaky stories that generally call alternative narratives into disrepute, thereby causing presstitutes and their ilk to seem more credible by comparison.
All told, we can proudly salute the brave white Americans who landed on the Moon, blazing a trail to the cosmos. They weren't diverse; they were competent. It was a remarkable time in white history. As the latest in a long timeline of our people's famous explorers, they accomplished a glorious achievement, something that had only had been dreamed of in times past. What was before, so may it be again.
*  *  *
Counter-Currents has extended special privileges to those who donate $120 or more per year.
First, donor comments will appear immediately instead of waiting in a moderation queue. (People who abuse this privilege will lose it.)
Second, donors will have immediate access to all Counter-Currents posts. Non-donors will find that one post a day, five posts a week will be behind a "Paywall" and will be available to the general public after 30 days.
Third, Paywall members have the ability to edit their comments. 
Fourth, Paywall members can "commission" a yearly article from Counter-Currents. Just send a question that you'd like to have discussed to

[email protected]

. (Obviously, the topics must be suitable to Counter-Currents and its broader project, as well as the interests and expertise of our writers.)
To get full access to all content behind the paywall, sign up here:
Paywall Gift Subscriptions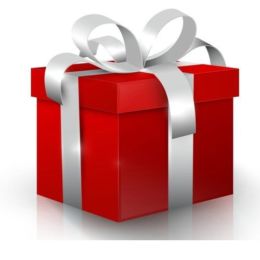 If you are already behind the paywall and want to share the benefits, Counter-Currents also offers paywall gift subscriptions. We need just five things from you:
your payment
the recipient's name
the recipient's email address
your name
your email address
To register, just fill out this form and we will walk you through the payment and registration process. There are a number of different payment options.
Enjoyed this article?
Be the first to leave a tip in the jar!