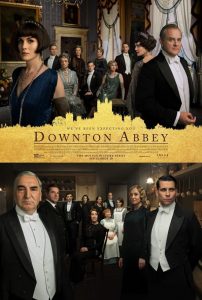 1,028 words
Julian Fellowes' Downton Abbey is an extremely popular British period drama, set in the years 1912 to 1926, which ran six seasons (the Brits call them series) on television and is now a feature film set in 1927.
I very much enjoyed the first two seasons of Downton Abbey. Like many Downton Abbey fans, I felt an intense nostalgia for a country I had never known: George V's England, an overwhelmingly white, unapologetically Eurocentric society ruled by a glamorous aristocracy and monarchy that had not strayed too far from their founding warrior ethos. I was particularly taken with the series' treatment of the First World War, which I have always found far more moving than the Second. I especially loved Maggie Smith as the scheming, sharp-tongued Dowager Countess of Grantham.
Although the series did try to inject as many modern, politically correct tropes as the story could bear, the creators of the series had the good sense not to push it too far, for they knew that absolutely nobody watched Downton Abbey to see black faces, just as nobody chooses to visit London today because they want to see Jamaicans or Arabs or South Asians—and many people now skip London precisely to avoid them.
Like many series, Downton Abbey went on a bit too long. There was a natural story arc that ended with the marriage of Lady Mary (Michelle Dockery) and Matthew Crawley (Dan Stevens) sometime in season three. It should have ended there. But they managed to drag it out for six full seasons by doling out romances and tragedies to every major and bit player, to the point of farce. I was disgusted by the end of season three. I was curious to see if the show would recover in season four, but it didn't, so I stopped watching.
I had absolutely no desire to watch the Downton Abbey feature film, but spending the holidays with family tends to change one's mind. And in this case, I am glad. The Downton Abbey film is a triumphant return to form, with all the period charm and vivid, likable characters of the best parts of the series, without the soap-operatic padding and empty calories. Beyond that, the politics of the film, such as they are, are decidedly wholesome and conservative, even when it tries to be progressive.
The story is set in motion when King George and Queen Mary are on a tour and decide to stay at Downton Abbey. There will be a lunch, a parade, and a banquet, plus a ball at the nearby house of their daughter Princess Mary and her very difficult husband, Lord Harewood. Naturally, the whole estate and village are aflutter, even the most cynical hearts drawing meaning and pride from the event.
Conflicts break out between the Downton staff and the royal servants. Conspiracies are hatched. Eggs and carpets are beaten. Dresses are hemmed, suggestions are hawed. Feelings are ruffled and assuaged. Cheeks blush, eyelashes flutter, men and women whirl around dance floors. Old ladies trade barbs. The Dowager Countess schemes to bring home an inheritance. A republican assassin is foiled. Unjust pretensions are deflated by just pretensions, and somehow the grand structure of pretensions is upheld.
The most touching scenes of the movie involve Lady Mary, whose son will inherit Downton. When Mary raises the possibility of selling Downton and downsizing, her maid Anna begs her not to because Downton is the center of the whole community. Later, when Mary's grandmother, the dowager Countess, tells her that she is nearing the end of her life, they have a very moving conservation about how, despite the inevitability of change, the dead live on in their posterity. It is a life-affirming and deeply conservative message.
Even the republican characters, Tom Branson and the silly scullery mail Daisy, end up being conservatives of a sort. Tom is an Irish revolutionary, but he is also the son-in-law of the Earl of Grantham. In the end, he is more loyal to his adopted homeland and family, foiling an IRA assassination plot against King George. As for Daisy, she has no truck with kings and queens, but she takes care not to deflate the pride of the local grocer who is honored to provide provisions for the royal visit. Daisy does not tell him that the royals are bringing their own supplies.
Even the one PC subplot is somewhat conservative in the end. The Earl's butler Barrow (Robert James-Collier) is a homosexual. He is somewhat put out when, for the duration of the royal visit, his retired predecessor Carson (Jim Carter), is called back into service.
So, the night of the ball, Barrow goes into town with one of the royal servants, Ellis, who is also homosexual. The two get separated, and Barrow ends up at an underground gay nightclub dancing with other fellows—all this intercut with the ball at the Harewoods, to frankly ridiculous effect—until the police arrive and arrest the lot.
Ellis uses his position on the royal staff to get Barrow out of jail. As they walk off into the night, Ellis tells Barrow that he just needs to be a bit more discreet. Barrow remarks on how good it is just to be able to talk, one man to another. It is clearly the beginning of a relationship.
The whole sequence has the best of liberal intentions, but it is nevertheless a rejection of radical gay liberation ideology, which holds that homosexuals can never find places in existing societies, thus they must burn it all down in a disco inferno.
Since it is based upon six seasons of television, Downton Abbey is not exactly a stand-alone film. I am sure those who have never seen the series would be quite lost, although I had not seen the latter half of the series and had no difficulty picking up the thread.
I highly recommend Downton Abbey to Anglophiles, lovers of costume dramas, and people who just want a vacation from multiculturalism. It is not great drama, but it is well-crafted escapist entertainment: romantic, nostalgic, visually sumptuous, with a witty and literate script and a wholesomely conservative message.