'Zine Master Adam: Remembering Adam Parfrey, April 12, 1957–May 10, 2018
Margot Metroland
1,655 words
Adam Parfrey, the publisher of humor and esoterica who parlayed a 1980s "'zine" sensibility into a durable niche publishing house, has died at his home in Port Townsend, Washington. He was 61. [Erratum note: Adam died in Seattle. —MM]
His main publishing imprint, Feral House, specialized in topics pertaining to pop culture, far-Right politics, and conspiracy theorizing. Adam built his career on a magpie interest in weird, outré subjects, and he brought a satirical and anarchic sensibility to most of them.
Adam Parfrey was born in New York City, and grew up mainly in Los Angeles. His father, Woodrow Parfrey, was a successful character actor, first on Broadway and in television dramas of the Playhouse 90 sort. His mother, Rosa Ellovich, was a Jewish stage director. In Hollywood, Woodrow worked constantly till he died of a heart attack in 1984, also at age 61. In films (Dirty Harry, Papillon, The Flim-Flam Man) he played a lot of shifty-eyed grifters and grocers. On some television programs he was almost a regular supporting player (five appearances on The Man from U.N.C.L.E., four on Bonanza).
But the role people always asked Adam about was the one in which his father was totally unrecognizable, as he had been made up as an aristocratic orangutan in Planet of the Apes (both the original 1968 film and the 1974 TV show). Adam sometimes accompanied his father to the set.
"What was it like, having an orangutan judge as a father?" people always asked him, according to Adam. And he would reply, "Oh, I just figured everyone's father did this. Got up, went to work, played an orangutan in the movies."
After high school, Adam attended the University at California at Santa Cruz, but dropped out before graduation. In New York City he got a job at The Strand bookstore, and with a co-worker, George Petros, created an elegant graphic-arts fanzine, Exit. Briefly he moved to Portland, Oregon, where he became friends with Keith Stimely, former editor of the Journal of Historical Review and aspiring biographer of Francis Parker Yockey. Keith was half-heartedly pursuing a Master's in history at Portland State, which he soon gave up, along with the Yockey biography. (He wrote a book about desktop publishing instead.) Some years later, Adam passed Keith's Yockey information to one Kevin Coogan, who turned out a very different sort of biography from the one that Keith Stimely had planned (Dreamer of the Day, Autonomedia, 1999).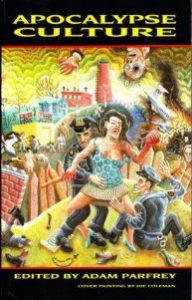 Adam first came to prominence thirty years ago with Apocalypse Culture (1987), an anthology of essays about cult beliefs and conspiracy theories published by Amok Press, of which he was a co-founder with his friend Ken Swezey. It carried a cover-blurb endorsement from J. G. Ballard:
Apocalypse Culture is compulsory reading for all those concerned with the crisis of our times. This is an extraordinary collection unlike anything I have ever encountered—a remarkable compilation of powerfully disturbing statements. These are the terminal documents of the twentieth century.
Chapter headings include "The Unrepentant Necrophile," "Schizophrenic Responses to a Mad World," "The Case Against Art," "Eugenics: The Orphaned Science," and "The Theology of Nuclear War."
It is also worth mentioning for the benefit of Counter-Currents readers that Amok's first publication in 1987 was the first English translation of Joseph Goebbels' only novel, Michael, to which Adam himself contributed a Preface. Adam also had a lifelong fascination with Charles Manson, which in the 1980s extended to James Mason, the infamous author of Siege, who attempted to combine the philosophy of Charles Manson with National Socialism. A video survives of an interview that Adam and others from Amok conducted with Mason in the late 1980s. Parfrey was also one of the main participants in the infamous 8-8-88 performance in San Francisco, which was intended to commemorate the LaBianca murders from 1968, as well as to make use of the infamous numerical code. The event featured a performance by Boyd Rice's NON, as well as the famous Satanist couple, Nikolas and Zeena Schreck.
Adam soon left Amok and set up Feral House, originally based in Los Angeles, and put out such titles as Technological Slavery: The Collected Writings of Theodore J. Kaczynski; Secret Agent 666: Aleister Crowley, British Intelligence, and the Occult; Nightmare of Ecstasy: The Life and Art of Edward D. Wood, Jr.; Citizen Keane (about the painter of big-eyed children); Republican Party Animal, by David Cole; and Cad: A Handbook for Heels (a lavishly illustrated parody of 1950s "men's magazines").
Returning to L. A., Adam published Apocalypse Culture, founded Feral House, and did freelance writing, most of it imaginative and transgressive. He dashed off a piece for Larry Flynt's Hustler about "Nazi skinheads," and perpetrated an elaborate hoax in the pages of LA Weekly about a secret gang of fag-bashers who called themselves the Blue Boys. He rented a rambling old frame house to live and work in, and decorated his office with art displayed for shock value. Most memorably, there was a semi-pornographic poster of Shirley Temple in black SS regalia, posed against a huge and brilliant Hakenkreuz banner.
He became a feature writer and part-time editor for the San Diego Reader, where he interviewed old film directors and investigated a sex-therapy group for crippled people. He contributed a short weekly column called "HelL.A.," all about what was new and degenerate in the City of the Angels. No shortage of material there. The L. A. Riots happened at this time (April-May 1992), famously triggered by a police beating of the drugged-out, unlicensed black "motorist," Rodney King.
Adam's home, including the Feral House office, was then one mile east of Paramount Studios, in a borderline slum he called Baja Melrose. During the riots, he seriously feared for his safety. In his Reader column, Adam wrote that he was going to buy himself a pump-action shotgun, and move the hell out of HelL.A. as soon as he could afford to.
And move again he did, soon enough. Feral House published Nightmare of Ecstasy and sold the film rights. Tim Burton made it into Ed Wood, a black-and-white comedy with Johnny Depp as the weirdo director. Adam settled into a loft in Portland, Oregon.
Portland wasn't lively or sociable enough, though. In L. A., Adam's friends included such interesting characters as videographer/cartoonist Nick Bougas (aka A. Wyatt Mann of "le happy merchant" fame) and actor Crispin Glover. So back to L. A. Adam went, this time to an old house in Venice, big enough for the headquarters of Feral House as well as for Adam and his girlfriend, and her pet ferret. Parfrey also employed Michael Moynihan of Blood Axis fame as an editor.
When he made a major move again, in 2009, it was to a remote town he'd known about from his youth: Port Townsend, Washington. For many years, Port Townsend was widely known as the home of the libertarian-anarchist mail order publisher, Loompanics Books.
Feral House's latest offering is a memoir by the French yé-yé singer of the 1960s, Françoise Hardy (The Despair of Monkeys, and Other Trifles). Adam arranged a May 3 book-launch party for it at New York's SoHo Grand hotel. The party went on, but Adam wasn't there.
It is sometimes remarked that Adam trimmed his political sails as the years passed. This rebel publisher who once easily consorted with such rare and odd birds as Boyd Rice, Keith Stimely, and Tom Metzger appeared to have turned into a fearful normie, or even a goo-goo Leftist. In e-mail and on social media, he would sneer at "conspiracy theorists" and "black helicopter people." In the last couple of years, his Facebook postings were often routine denunciations of Donald Trump and his supporters.
I suspect that what really happened was the effect of the Internet and social media in general. More than anything else, Adam Parfrey was a showman and exploiter of oddities. Cults and weirdnesses were his stock in trade. Indeed, they were the stock in trade of most of the 'zine world in the 1980s. And that world is the ground wherein flowered Apocalypse Culture and Feral House. But in the 'zine world you wouldn't get ten million followers, all ready to misinterpret you and instantly slot you as friend or foe. Adam balked at that. He was very much a print man. He never really acclimated himself to InterWebz Land. But it is nevertheless the case that he granted one of his last interviews to Dissident Right-friendly Robert Stark on The Stark Truth in March 2017, where he discussed his life and work.
In recent months, Adam decided to write a memoir. He talked with me about this a few weeks ago. He was trying to refresh his memory with lurid details about some mutual friends we'd known back in the 1980s and '90s. It was apparent that his memory had grown very foggy. He'd forgotten some things, and made up others to plug the gaps. I didn't find it particularly off-putting. He had been living in the boondocks, deeply engrossed in his publishing business. And he'd passed through so many circles of friends in his moves hither and yon, from the West Coast to New York and Hoboken; to Portland, Oregon and then to Los Angeles; back to Portland, back to L. A., and then finally to Port Townsend on the Olympic Peninsula.
But he had also suffered a concussion in an automobile accident some twenty years back, and believed he was suffering from fluid on the brain. This, along with a lifelong diabetic condition, possibly led to his recent stroke. Boyd Rice reported on Instagram that he had been with Adam when he passed away on Thursday. "[C]lose friends and family came from all over," he wrote. "I squeezed his hand and told him I loved him literally a minute before he stopped breathing and the color left his face."
Greg Johnson said of Adam that he "was a pioneer of dissident publishing and an inspiration to my work. Counter-Currents would have been unimaginable without the work he did at Feral House."
Enjoyed this article?
Be the first to leave a tip in the jar!