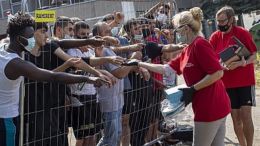 1,103 words
English original here
Během letu z Istanbulu do Minsku dočítám klasiku Anthonyho Burgesse Mechanický pomeranč. Mnohé výrazy Burgessova umělého jazyka "nadsatu" (v českém překladu "jazyk týnů"), který vychází z ruštiny, se mi v Bělorusku docela dobře osvědčí.
Vedle mě v letadle sedí Richmond a Nixon z Nigérie. Letadlo je černých Afričanů plné. Co hledají ze všech míst zrovna v chladném Minsku, ví jen čert. Nixon a Richmond mě ujišťují, že jsou turisté, Richmond ale neustále vyhrabává potrhaný kus papíru, na kterém je rukou napsáno: "Pracujete pro společnost XXX." Při pohledu na papír mhouří oči, jako by chtěl poznámku zapamatovat.
Richmond mě požádá o číslo, které mu ochotně dávám. "Kdo ví, jestli jinak nepřijdu o dobrý příběh?" říkám si. Zadám mu do telefonu své křestní jméno. Ostatní kontakty, které vidím, jsou uloženy pod jmény jako "běloška" a "Velký Jim". Let proběhne téměř bez turbulencí.
Na letišti stojí asi čtyřicet černých Afričanů z mého letadla pohromadě, jako by byli všichni nachystaní, ale neměli kam jít. Pak slyším, jak na ně pohraničník volá:  "Turistické vízum?". Všichni zvedají ruce. Policista jim poručí, aby ho následovali. O chvíli později vstupují jako "turisté" všichni na evropskou půdu.
Evropská unie obvinila běloruského prezidenta Alexandra Lukašenka, že migranty z Iráku a Afriky zve do země jako "turisty" a pak je posílá dál do Litvy. Tam bylo jen v červenci letošního roku zaregistrováno 3 000 nových migrantů, zatímco za celý předchozí rok jich bylo pouze 81. Lukašenko se chová jako obchodník s lidmi v reakci na sankce EU. Bělorusko se tak stalo novou vstupní branou pro migranty do EU.
Jen minimum migrantů se ale hodlá usadit v Litvě nebo Polsku. Spíše je to táhne do země básníků a filozofů – dědictví mámy Merkelové. Podle statistik německé spolkové policie přišlo od srpna do Německa přes Bělorusko a Polsko téměř 4 000 migrantů. Jen v prvním říjnovém týdnu jich bylo 1 183.
Režim se netají tím, že Bělorusko nyní stále častěji pouští do země lidi z Afriky a Blízkého východu. "Mnoho zemí žije z cestovního ruchu, proč by ho nemohlo rozvíjet i Bělorusko?" ptá se státní tajemník běloruské bezpečnostní rady Alexandr Volfovič. Nejde však jen o falešné turisty, ale také o falešné studenty, které v současné době stále častěji potkává spolková policie na německo-polské hranici. Řada Syřanů a Iráčanů prý například dostala běloruská studentská víza.
Po krátkém rozhovoru s neobyčejně milým pohraničníkem jdu k přepážce pro diplomaty, kterou mi laskavě přidělil. Paní s velkými nárameníky pozorně studuje můj pas, ale na otázku, zda mám zajištěn zpáteční let, jí stačí prosté "ano". Zkoumavě si prohlíží můj obličej, pak mi do pasu vlepí razítko a popřeje hezký pobyt. Mám sice zpáteční letenky, ale ty jsou mi ničemu, protože lety byly zrušeny. Nemusím se prokázat ani povinným cestovním zdravotním pojištěním. Dvojité štěstí.
První ubytovací zařízení, ve kterém se zabydlím, se jmenuje Tower Hostel. Protože se nachází nedaleko Gorkého parku, celé dny mi zní v hlavě hymna skupiny Scorpions, i když Gorkého park, o kterém zpívali, je ten na břehu Moskvy v ruském hlavním městě. Téměř polovinu mého osmilůžkového pokoje zabírají Západoafričané. Někteří na svých lůžkách podřimují celý den. "Divní turisté," pomyslím si. Kdykoli se zeptám černocha, odkud je, odpověď zní buď Nigérie, nebo Pobřeží slonoviny. Obě země jsem viděl před deseti lety jako kadet na kontejnerové lodi. Pokud vím, žádné války tam neprobíhají. Natočil jsem krátké video s jedním z těchto "turistů":
Když se první ráno šourám do koupelny, objevím na zdi informační tabuli, která mi říká, že v tomto domě bydlel Lee Harvey Oswald, údajný vrah Johna F. Kennedyho. Tento Američan a bývalý mariňák, nadšenec do marxismu, odcestoval v říjnu 1959 do Sovětského svazu a prohlásil, že se chce stát sovětským občanem. Poté, co byl v Rusku rok nepřetržitě sledován a "proklepnut", mu byla přidělena práce a byt v Minsku. Oswald, který se během svého dětství a mládí s rodinou více než dvacetkrát stěhoval, se však v běloruském hlavním městě brzy začal nudit. Poté, co se v březnu 1961 seznámil se studentkou Marinou Prusakovou a o pouhých šest týdnů později se s ní oženil, vrátil se s ní i dcerkou June, narozenou v květnu 1962, zpátky do Ameriky. Půldruhý rok na to už byl po smrti, když ho krátce po zatčení coby podezřelého z atentátu na prezidenta Kennedyho zastřelil Jack Ruby.
Po třech dnech a nocích mám afrického dobrodružství dost a dívám se po apartmánu s vlastní kuchyní a koupelnou. V Minsku, který mi hodně připomíná Kyjev, podnikám dlouhé procházky, fotografuji monumentální budovy ze sovětské éry, navštěvuji Národní muzeum umění a hojné kavárny – většinu času však trávím ve svém skromném příbytku a čtu si Traktát o kritickém rozumu Hanse Alberta.
Káťa, s níž se vydávám na výlet do Grodna na Němenu, žije už více než rok ve vídeňském desátém okrsku a napláká, jak moc je Vídeň, stejně jako všechna města, která navštívila ve Spolkové republice Německo, zaplavena Turky. Jedinou výjimkou prý byl Heidelberg. Když přijela do Vídně, uměla říct jen: "Hände hoch, Hitler kaputt," ale rychle se naučili německy lépe než leckterý Orientálec, který ve Vídni žije už dvacet let.
Na zpáteční cestě dojde na menší rozepři: se rozčiluje nad údajným sexismem v německém jazyce, konkrétně generickým maskulinem. Navíc se jí zdá absurdní říkat das Mädchen ("dívka", v němčině středního, nikoliv ženského rod).
Zaplatil jsem za vypůjčené auto, benzín i oběd. Po našem rozhovoru platím i večeři v Lidě, z jejích úst ovšem stále neslyším žádné "děkuji". Trochu mě vyvede z rovnováhy. V autě jí říkám, že v Německu lidé obvykle děkují, když je někdo pozve na večeři. Odpovídá, že v Bělorusku je samozřejmé, že platí muž. "Dobrá," odvětím – ale pak by se neměla chovat jako feministka a fňukat nad sexismem v jazyce. Musí si vybrat. Dáma je ovšem už podrážděná a během zbylých 170 kilometrů z Lídy do Minsku spolu neprohodíme skoro ani slovo. Když ji vysadím před jejím bytem, plácne na sedadlo spolujezdce dvacet eur s tím, že doufá, že jsem si společně strávený den aspoň trochu užil. Očividně se rozhodla pro feminismus.
Během svého pobytu v Bělorusku narážím jen na kritiky režimu. Zdá se, že mezi mladou generací nejsou žádní nebo jen velmi málo příznivců prezidenta. Mnozí se svěřují, že byli během protestů zatčeni a strávili noc v policejní vazbě. Když se v rockové hospodě hraje hymna opozice, všichni se horlivě přidávají. Dívám se však do velmi překvapených tváří, když jim říkám, že i v Německu hází kritikům vlády klacky pod nohy, že osobně znám lidi, kteří za politické příspěvky na Facebooku skončili za mřížemi, že jsou zakazovány publikace nebo že používání určitých symbolů je trestné.
Nakonec se do toho údajně svobodného Německa vracím přes Gruzii a opět přes Turecko. Ještě než ráno dorazím na minské letiště, vím, koho tam rozhodně nepotkám: Richmonda s Nixonem.
This translation originally appeared at Delian Diver.
*  *  *
Counter-Currents has extended special privileges to those who donate $120 or more per year.
First, donor comments will appear immediately instead of waiting in a moderation queue. (People who abuse this privilege will lose it.)
Second, donors will have immediate access to all Counter-Currents posts. Non-donors will find that one post a day, five posts a week will be behind a "paywall" and will be available to the general public after 30 days.
To get full access to all content behind the paywall, sign up here:
Paywall Gift Subscriptions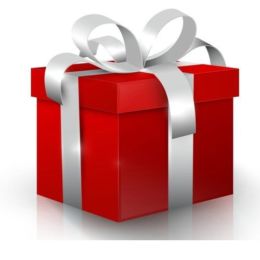 If you are already behind the paywall and want to share the benefits, Counter-Currents also offers paywall gift subscriptions. We need just five things from you:
your payment
the recipient's name
the recipient's email address
your name
your email address
To register, just fill out this form and we will walk you through the payment and registration process. There are a number of different payment options.