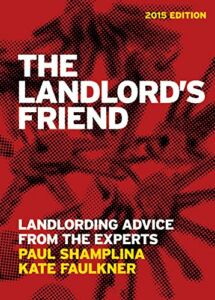 3,749 words
Paul Shamplina & Kate Faulkner
The Landlord's Friend: Landlording Advice from the Experts
England: Designs on Property, Ltd., 2014
Becoming a landlord is a bit like becoming a leader. If you are smart enough, you get put in charge of something sooner rather than later. Likewise, if you are smart, it is quite possible that you will become a landlord.
A landlord is someone who owns property and rents it to another person – a tenant – for money; more on that relationship later. Landlords boil down to two types. The first kind is someone who deliberately buys property as an investment. The second type is the fellow who ends up owning more than one property and must rent some of them to keep things afloat.
A great many of my friends and family who were in the military have become the second sort of landlord. One family member of mine was in the Air Force. He was posted to a base for nearly eighteen years. Then the Cold War ended, and he was off to Desert Shield/Storm, the Bosnia War, Somalia, and so on. He had to come up with a plan to rent his house while moving his family to Europe and then rapidly deploying to a combat zone. It worked out for him in the long run, but the situation was highly stressful initially.
Thus, if one owns a house and one has a chance to get a better job, one always has the potential to end up living in a new house and renting the old house. The old house just might not sell. You thus become a landlord.
Being a landlord is tough. The old adage that renting beats owning is true. Many fictional works focus on the plight of a tenant getting turned out of his or her property by a greedy landlord. But this misrepresents the situation. Evictions are a loud, but small, part of a much larger housing ecosystem. The landlord must pay the mortgage even if the tenant isn't paying, the house is damaged and/or unlivable, or nobody is in the house. I'll point out here that during the COVID-19 pandemic, American lawmakers ceased allowing evictions, but did not order mortgage payments to stop. Landlords with a tenant who doesn't pay are effectively carrying the financial load of that tenant. Additionally, no matter how conscientious tenants might be, the wear and tear on a rental property is always greater than the wear and tear on a house the owner lives in.
Some good advice on being a landlord comes from Paul Shamplina. He founded a company called Landlord Action which is featured in a British television program called Nightmare Tenants, Slum Landlords. The show is a tawdry "reality TV" show, but one can learn from it. Shamplina's seminars are uploaded on the internet and they are highly educational, but Americans will need to translate the English manner of speech.
In Nightmare Tenants, Slum Landlords, racial issues apply, as always. Many of the nightmare tenants or slum landlords are not white or come from some non-Anglo part of the world. There is a great deal of stereotype confirmation. The Nigerians on the show are nothing but crooks with no redeeming virtues. (In fact, I know an international businessman who flat out won't do business with any Nigerian, ever.) Often the distressed landlords are ordinary Englishmen or high-caste Hindus who have a non-paying tenant named "Malik" or "Mohammed." The English nightmare tenants seem to consist of addicts or those with a mental illness. One nightmare tenant in the show had tattoos on his face and hurled Marxist talking points alongside more typical Anglo-Saxon insults at his landlord.
Shamplina, along with Kate Faulkner, has written a book for landlords. The book is focused on British issues and the laws of England and Wales, but the general truths therein can be applied to America, also. In either case, there is an interplay between national laws, regional laws (such as that of Nebraska or Wales), and local laws (Omaha or Cardiff). You need to know and understand the particulars of those laws and building codes or find someone who does know. I've taken the liberty of condensing the advice in the book into this article, Americanizing that which needs to be Americanized, and adding my own experiences and research.
Taxes & Yield
The Landlord's Friend's focus is on the deliberate landlord rather than the accidental one, but in the long run, the same principles apply to both types of property owners. Either way, a rental property is an investment. All the issues of inheritance and taxes apply. One should seek out professional advice in that regard. If a person sells a rental property, a capital gains tax will apply. One way to soften the blow is to document every expense and save every receipt when making repairs needed for a final sale. Don't pay any contractors cash under the table.
If you own a rental property, your taxes will be complicated. Go to a professional tax preparer, document your taxes using the best practices method; i.e., rent is income, the mortgage interest is deductible, depreciation is deductible, and so on. Then buy into whatever program will have the tax preparer's company help you if you are audited. Don't try and cheat the tax system. Obey the law.
A prospective buyer needs to know the property's yield. Yield is a term for the comparison of the return one receives on the investment verses the value of the property. It is a good way to generally measure one type of location of investment against another one
An example of a yield calculation in the book is quoted here:
Property purchase price: £200,000
Annual rent: £15,000
£15,000 (rent) divided by £200,000 (price) = 0.075
Multiply 0.075 by 100 to get the yield as a percentage
Therefore, the yield is 7.5%.
Of course, there are other costs involved. Real yield includes subtracting the costs of fees, repairs, and so on from the annual rent. If you are a landlord, you will need extra credit cards for repair jobs.
There are other considerations. The real money is made in the property's appreciation in value over time. This means it's not a good idea to buy in a seller's market. Don't buy in an area where the school district can shift so that the schools get Africanized. I'll add, don't buy in a flood zone . . . ever . . . there are no ifs, ands, or buts here. Nothing can stop the river from rising should it rise. And since one's primary residence can always become a rental property in the event of a job change, these principles should apply in that case, also.
One needs to also carefully consider buying beachfront property. I know a woman who expected to inherit her parent's house on the Jersey Shore, and then Superstorm Sandy came along and damaged the house so badly that her parents sold the place at a loss and then got divorced. Another beach house owner I know with a property on the Oregon coast was shocked to discover that a storm that roared in from the Pacific was so powerful that the skylights were ripped off by the wind. He was further shocked to discover that this sort of storm happened at least once a year.
Natural forces are not controllable. A rental property needs to be built to withstand these hazards. If the area's soil might produce radon gas, don't buy a house with a basement. If it is in a damp area, make sure the house is elevated. Don't put the air conditioning ductwork in the crawl space in such a circumstance. If there might be a sink hole, and/or people are talking about a sump pump for a property, walk away. Sump pumps always fail when they are needed.
Shamplina and Faulkner argue that one should always keep 25% equity in their rental property, and keep in mind that property values can and do fall for various reasons. One needs to also ensure that the rent keeps up with ordinary inflation. Indeed, rent is subject to market forces, so you need to consider what the rent will be versus how long that property might be vacant. As well as not generating income, vacant properties attract vandalism and vagrants.
Insurance & Maintenance
Once one owns a rental property, it is a matter of when rather than if something will break. One method to mitigate your expenses is to have as few appliances in the rental as possible. The tenant should be required to buy and install their own washer/dryer and microwave. Don't provide a garage freezer, either. Another way to mitigate expenses is to have insurance.
In the United States, a landlord should have three types of insurance at minimum:
Homeowner's warranty: This insurance covers appliance repairs, leaking plumbing, garage door openers, etc. There is a service fee every time one needs to make a repair, but this insurance is an excellent way to reduce and control costs.
Property insurance: This is usually part of the mortgage payment. It covers big disasters. There are conditions, though. If wind damages the roof and water that falls out of the sky ruins one's drywall, then the damages will likely be covered. If water comes from the ground up during a flood, however, then you need a different form of insurance.
Specialty insurance: This is something like flood or earthquake insurance, if it is necessary. Specialty Insurance depends on the property's circumstances, so research everything. For one thing, in the United States flood insurance is managed by FEMA, so it is managed in a different way than ordinary property insurance and you will need a flood certificate and additional paperwork.
Tenants need to have rental insurance. This will cover their loss of property, such as clothing or spoiled food in the event of a disaster. Make sure a requirement for the renter to be insured is written into the lease agreement.
In the event of a disaster – and there will be one – the different forms of insurance will need to be applied. The gist of it is as follows: Should the upstairs toilet leak and cause water damage to the first floor, the toilet repair will be covered by the home warranty; the repairs to the property below the toilet (like drywall) will be covered by the property insurance; and the tenant's property will be covered by the renter's insurance. If there is a hurricane and a flood, the flood insurance will cover the damages caused by the high water, and the property insurance will cover damage to the roof.
In the event of a disaster, call the insurance company immediately, take as many photos as possible, and send them to the company. Make no delay in securing the property from further damage. Start making repairs immediately. In the event of a large storm, every contractor or repairman will be inundated with orders, and they will take the easiest, most profitable jobs first, so it might be a while before they get around to you.
One really only has one shot at getting a full payout for one's losses from the insurance company. Basically, all the losses need to be documented by the insurance adjuster on the day he inspects the property. Damages "discovered" later by a contractor and fixable for the low-low price of $999.99 won't get covered by insurance. I can't tell you how many times contractors have discovered an issue and then said, "You should get paid for that," half a dozen weeks after the adjuster has checked the property and the insurance check has been cut.
Another thing you need to know about insurance: damages above a certain amount will be covered by a check that must be endorsed by the mortgage company before you can deposit it. You therefore need to have your mortgage paid up so there are no issues. For a very large loss, the mortgage company may keep the money in escrow until you've repaired the property. This is unjust, but mortgage companies give generously to lawmakers, while landlords walk alone.
Shamplina and Faulkner outline the following key steps for insurance:
Understand which insurance policies are essential.
Take out specialist landlord buildings and contents insurance.
Consider other insurance policies, such as one that covers malicious damage, deposit protection, or rent guarantees.
Consider how one's life insurance coverage will help one's family cope with rental properties in the event of death or incapacitation.
Do all you can to avoid a stressful claims process; that is to say, keep the payments up to date, keep records in order, and use the insurance company's recommended contractors and contacts.
Also, should someone notice that something isn't up to code, repair it immediately. Don't allow exterior paint to peel. Paint the interior walls a white or off-white color. Refresh the paint job after one tenant leaves and another arrives. Have the carpets cleaned or replaced at that time, also. The stairwell's carpet gets the most wear and tear. Program maintenance expenses the rental rate. If you get the opportunity to have the insurance company replace your roof or major appliances, such as the air conditioner/heater, take that opportunity and figure out how to pay the deductible later.
As mentioned earlier, the landlord must provide livable accommodations. The landlord must immediately repair anything that breaks: air conditioning, leaking roof, you name it. If it breaks, it must get fixed ASAP. The landlord pays for this. Shamplina and Faulkner note that the biggest and most consistent problem between a tenant and a landlord is heating. A nonfunctional heater turns the property into an icebox, and repairmen don't sit around waiting for your call. During the winter, they are usually booked out weeks in advance. It is therefore always best to get the heater repaired and serviced during the warm summer months.
The landlord must also ensure that the various alarms (smoke/carbon monoxide) work. If you are using a property manager, they will have them checked by a professional on a particular schedule. If you have no property manager, you need to do this yourself.
The Tenant
The first thing the book mentions about tenants is not to allow them to steal your identity. Don't have any of your bills sent to the rental property. One bill can contain all the information a crooked tenant needs to cause you all sorts of problems. Once you rent, keep track of your credit rating to make sure strange debts aren't appearing in your name. This is a particular problem for British expats making a living from their rentals.
Shamplina and Faulkner provide ten steps before accepting a tenant:
Get proof of identity.
Ensure the tenant isn't an illegal immigrant.
Get their National Insurance Number. (Americans need different numbers: driver's license number or Social Security Number.)
Check their current address. Make sure it's legitimate.
Ask for copies of their last three months' bank statements.
Get an employer's reference.
Get a reference from their last landlord.
Reference any guarantors. (Someone who will pay the rent should the tenant go into arrears.)
Make credit reference checks. (I know a property manager who would not accept a potential tenant if their credit rating was below 670.)
Trust your gut!
Another issue – described to me by Africans who became accidental landlords when on active duty with the military. Don't rent to someone who goes to church with you. In such cases, there are usually immediate problems with the tenant paying, and one must deal with statements like, "I thought you were a Christian!"
Ensure that the tenant is given all the appropriate legal documentation required. In England, a gas certificate is pretty important, and there are rules for when it must be presented to a tenant and how often it is updated. Also, keep an eye on the property to ensure that no illegal activity is going on there. In England, many rental properties are turned into indoor cannabis farms.
Property Managers (or What the English Call "Letting Agents")
The best way to deal with the details of renting are to use a property manager. They will get a cut of the rent and will manage most of the operations. They don't pay for repairs, and they will bill you for advertising. They will screen potential tenants and draw up the lease agreement. They'll also manage emergencies and usually have a repairman on call who can cover rapid onset repair jobs.
Even with a property manager, Shamplina and Faulkner encourage one to have a lawyer look over the lease to make sure that it will hold up in court if there is a problem. Laws change over time, and you don't want to put something unenforceable in court into the agreement. For example, you can't put in a clause that says the tenant pays for all repairs. In the United States, you will very likely need to have a military clause in the rent. If the tenant gets called up for a deployment, they can break the lease. Also consider a clause allowing all parties to walk away from the lease should a natural disaster make the house unlivable for more than thirty days. If you have a house in hurricane alley, this is especially important. After a big storm, every repairman will be busy, and it could be weeks before anyone gets around to fixing your property.
Make sure your property manager is on the up and up. Find a company with a good reputation.
Getting Sued by the Tenant
If you are a landlord, you need to be able to defend anything you do and say in the media. There are plenty of local reporters looking to find a landlord "abusing" a widow. However, this is a worst-case scenario. The bigger problem is ordinary lawsuits for issues that creep up on the landlord.
I was nearly sued by tenants twice in the more than a decade I was a landlord. In the first case, my property manager (who I think was Jewish) attempted to defraud a tenant who'd been called up with the Reserves and sent to the Middle East. He didn't send the paperwork to break the lease in the correct order, or something like that, and the property manager charged some "fee" and an extra month's rent. Since the lease had a military clause, he lawyered up. As soon as I discovered the situation, I ensured the money was returned. I've come to wonder if I was cheated in any way by this property manager, but there is no way to know.
That property manager left the company and I got a new one. My second brush with disaster came when we had tenants – a married couple – who were hoarders. Just as we began to consider eviction proceedings, they absconded, leaving piles of garbage throughout the property. We tracked them down, and amazingly, they settled the outstanding debts. Meanwhile, the rental property had taken on a smell.
After the garbage was hauled away, I hired a plumber to clean and/or replace the drain traps. The smell went away. A new tenant took over the house. Then the smell returned. A routine inspection uncovered the fact that the pipe draining away the dishwasher's sewage (called grey water) was broken and leaking. Grey water contains grease and food particles which become rancid. My property manager and I braced for legal troubles. But before I passed a sleepless night, I realized that we'd done due diligence. We'd cleaned out the hoarders' garbage, cleaned out the plumbing, and then started repairs on the broken sewer line the instant we discovered the problem. A week later, everything was fixed, and the tenant didn't even threaten to sue. The property manager and I had successfully defended ourselves.
In short, keep an eye on things, if you aren't sure you solved the problem, you probably didn't solve it. I started saving for a big expense the moment we discovered we had hoarders.
Eviction
Ultimately, the tenant is a consumer . . . your customer. You need to treat tenants that pay on time as well as you can. Your property needs to be nice enough that consumers want to pay top dollar to live there. But . . . then there is the tenant who doesn't pay.
Eviction is the potential explosion at the center of every tenant-landlord relationship. The biggest reason for eviction is failure to pay rent. Eviction is a delicate legal process where ugly emotions arise.
The key thing is to ensure that all appropriate documents (such as the gas certificate in England) are given over to the tenant at the start of the tenancy. Additionally, the tenant needs to be properly in-processed. The tenant must know where the circuit breaker and utility meter are, and both parties must agree on the property's condition at the start of the occupancy. It must all be legally above board from the outset.
The deposit will also be an issue, and the book recommends putting the deposit into a scheme to protect the money, and to then carefully follow the law if one decides to keep the deposit for some reason.
Shamplina and Faulkner argue that one needs to have a special account to store the rental income which helps one track the payments. If a tenant fails to pay, start to attempt to collect with a phone call or face-to-face conversation. If that doesn't work, escalate matters using letters via certified mail. You'll need to use the legal process specific to your state's laws. Your property manager will know how to do this, but if you aren't using a property manager, you'll probably need to hire a lawyer directly.
There is an entire class of people who rent houses with the intent of never paying. They often know the law better than the landlord, and usually have pre-planned legal obstacles to eviction. Claiming the house is damp and unlivable is one of the common tricks used in England. Make sure your problem tenant cannot defeat you in court.
Collecting rent in arrears is likewise difficult. One trick is to follow the debtor on social media to know where he is. Another is to get their license plate number. One may need to hire a collection agency to get paid. Sometimes, merely getting the property back will be all you can get. When you evict the tenant, immediately change the locks.
Despite all the trouble, real estate is a good investment. Money and property go together. But you need to be smart about everything.
*  *  *
Counter-Currents has extended special privileges to those who donate $120 or more per year.
First, donor comments will appear immediately instead of waiting in a moderation queue. (People who abuse this privilege will lose it.)
Second, donors will have immediate access to all Counter-Currents posts. Non-donors will find that one post a day, five posts a week will be behind a "paywall" and will be available to the general public after 30 days.
To get full access to all content behind the paywall, sign up here: