826 words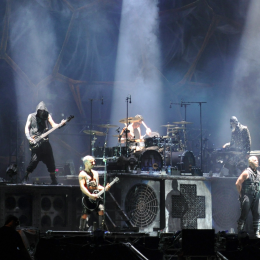 Even on the waves there is fighting
Where fish and flesh are woven into sea
One stabs the lance while in the army
Another throws it into the ocean
— "Reise Reise" (2004)
I have to confess to having very mixed feelings about Rammstein. This may originate from being first introduced to them by a friend who sent me their debut album Herzeleid (1995) through the post for my birthday. The mélange of photo imagery, some of which were mistakenly described by their early detractors as depicting Strength Through Joy nostalgia, included a cover depicting the band members with oiled and naked chests, looking more like a Jean Genet gay fantasy than anything the Deutsche Arbeitsfront may have come up with.
This notion somewhat unsettled me, until I became familiar with their Hakenkreuz-style logo, their use of Nuremberg-like pyrotechnics, and excerpts from Leni Riefenstahl's Olympia during stadium concerts, and the martial sound of much of their music. 
These positives, which building on their obvious originality and their demographic appeal that seemed mainly focused on well-educated young white Europeans, gratified me at first. But this was soon undercut by the fact that their lead singer Till Lindemann claimed, in response to persistent accusations that the band had National Socialist sympathies, that they "come from the East and we have grown up as socialists. We used to be either punks or Goths. We hate Nazis!" He points to the Brecht-inspired lyrics of Links 2-3-4 in the band's defense:
They want my heart at the right spot
Yet I look over then below, away
There it strikes to the left
Then, of course, there is the small matter of Lindemann's own puerile attempts at poetry in collections like Messer, published in 2002. This was followed by In stillen Nachten (In Silent Nights) in 2013, and the rather pathetic spectacle of seeing him turn up to the book signing of a Russian translation in Moscow back in 2018 with a leather-clad gimp on a chain, an example of crass attention-seeking that mirrored the band's drummer holding aloft a rainbow flag at a concert in Chorzow and both the band's guitarists, Kruspe and Landers, flaunting their LGBT credentials by kissing on stage during a performance in St. Petersburg in defiance of Putin's supposedly anti-gay agenda.
This predictable virtue-signaling and passé edginess like their hints at sadomasochism, incest, and intersexuality culminated in the song "Amerika," their asinine critique of the United States and its cultural and political imperialism:
We're all living in America
America is wunderbar
We're all living in America
Amerika, Amerika
We're all living in America
Coca-Cola, Wonderbra
We're all living in America
Amerika, Amerika
We're all living in America
Coca-Cola, sometimes war
We're all living in America
Amerika, Amerika
An all too easy target they lazily revisited in "Mein Land" (2011):
You're here in my country
My Country, My country
You're here in my Country
My waves and my beach
Jaaaaaaaaaaa!!!!
"Mein Land" is an unambiguous reference to the American military bases in places like Ansbach and Boeblingen, and an allusion to the Left and Greens' resentful opposition to their presence. Back in the early 1970s, this led to bomb attacks by the rampaging Baader-Meinhof Group on the V. Corps base in Frankfurt and the Rhein-Main airbase; acts that killed and maimed many innocent people.
Their naïve political commentary continues with their official video to the song "Auslander" (2019) in support of Third World immigration to The Fatherland with lyrics like:
I am at home everywhere
My language: international…
I am a foreigner — take a chance on me
So, the fact they have sold over 45,000,000 records world-wide, perform before frenzied sell-out audiences, and utilize the works of Goethe, Schiller, and Heinrich Hoffman to inform their own lyrics jars with me. Perhaps this is because I sense they copied Led Zeppelin's methodology to source their name by highlighting the infamous Ramstein air show disaster back in 1988. Or, could it be because they plagiarized John Lydon's "This is Not a Love Song" in one verse of "Amerika?" Or maybe, just maybe, it is because I feel anger that musicians that can come up with the malevolent magnificence of "Engel," "Du Hast," and "Ich Will" and the desperate longing of tracks like "Sonne," "Mutter," "Ohne Dich" and "Wo Bist Du" are on the wrong side of the eternal struggle between the forces of dark and light that we are now wholeheartedly engaged with; a fight to the bitter end that can only have one irreversible outcome.
I search you behind the light
Where are you?
I don't want to be so alone
Where are you?
Where are you?
— "Wo Bist Du"
If you want to support our work, please send us a donation by going to our Entropy page and selecting "send paid chat." Entropy allows you to donate any amount from $3 and up. All comments will be read and discussed in the next episode of Counter-Currents Radio, which airs every Friday.