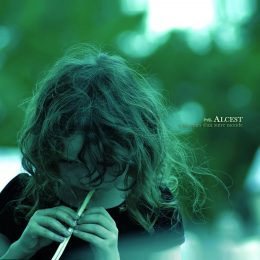 909 words
"Sure," they say, "he flirted with far-right politics when he played in Peste Noire, but he's changed."
— Mainstream fans defending Neige's musical heritage
French band Alcest is one of the premier exponents of the blackgaze scene. Formed in 2000, their seminal album Souvenirs d'un Autre Monde (2007) is a highpoint of the post-metal and shoegaze oeuvre. The opening track, "Printemps emeraude," clearly hints at the writer's pagan proclivities:
The undergrowth in Spring
is a sky
dotted with emeralds.
The leaves of the trees dance
with the light breeze
and the rays of the sun
so that it's light
turns them into gems.
Hailing from Bagnols-sur-Ceze in Languedoc-Roussillon, Stephane Paut — better known as Neige — the creative catalyst behind Alcest, describes the concept and inspiration for the dream-like soundscape of Souvenirs as being "a journey through a distant world he has been in contact with since childhood." This world is like that of ancient Tuatha De Danann that gives rise to a unique blending of ghostly, gothic, innocent, and fey, which Neige distills beautifully with mesmeric vocals and fuzzed-out bliss guitars.
A fairy-like feeling of nostalgia pervades songs like "Tir Nan Og":
From the shores through ancient mist
You bear the mark of my elven kiss.
Clear the way, I will take you home
To eternal bliss.
Far away from the land you knew
The dawn of day reaches out to you
Anyone listening to the album's title track can very easily visualize the ethereal mist lifting off the multi-instrumentalist's Jazzmaster as he riffs through his power chords and stamps his authority on the reverb pedal:
When I come here, there is no time
the seconds become hours
the year's short moments are soon gone
and our misleading words are replaced by music and colors
which float like perfumes in the amber air
don't worry now it's all over
break the chains of your deadly fears
to be forever free.
Lyrics that reflect those of the French medieval pastoral poets like Marot and Ronsard with lines in Ciel errant running:
I like to contemplate the sky
feel like I'm flying away
towards the passing clouds and then fade
in the blue of an endless sea
And in "Sur l'autre rive je t'attendrai" with its sense of angst-laden longing:
I'll spend years
waiting for you on the other bank
hoping to see one day
your ever-childish face again
wise strange silvery eyes
give its age and wisdom away.
Sail for a long time beyond the fog
to reach the outskirts of Bright Land
leaving the past lives' misfortunes
and the sly and the painful smiles behind
I'll be waiting for you on the other bank.
These themes resonate right through Alcest's more recent EPs and albums like Secrets (2009), Ecailles de lune (2010), Les Voyages de l'Ame (2012), Shelter (2014), Kodama (2016), and Spiritual Instinct (2019).
The official video of their 2011 single Autre Temps clearly channels images directly from Alain-Fournier's French classic, Le Grand Meaulnes or The Lost Domain (1913). Meaulnes is replete with idealized adolescent memories of a pastoral paradise from the author's own boyhood in La Chapelle-d'Angillon, in the Cher department, in central France. Its impulsive, reckless and sometimes heroic central character, Meaulnes, epitomizes what many readers identify as the romantic ideal in his search for the unobtainable and mysterious world that floats somewhere between adolescence and adulthood.
The story, which I sense has greatly impacted Neige's work, revolves upon Meaulnes becoming bewitched by the beautiful Yvonne de Galais at a mystical fete in an enchanted tumble-down chateau where a stone marked Here lies the Chevalier Galois — Faithful to his God, his King, and his Lady Love is blasted by the winds of time.
A haunting memory that the protagonist later describes thus: "But I'm sure now that when I discovered the nameless domain I was at some peak of perfection, of purity, to which I shall never again attain. Only in death, as I once wrote you, can I expect to recapture the beauty of that moment."
Neige's song lyrics are redolent with Fournier's twilight world of jejune melancholia:
A distant prayer carried by the evening wind
animates the leaves in their languid dance
it is the song of the old trees intoned for you
for those dark woods now asleep
without expecting so many seasons have passed
the golden leaves to die on the ground
one day will be reborn under a radiant sky.
But our eroded world will remain the same
and tomorrow you and I will be gone
The band's evolution was spurred on by the addition of Jean 'Winterhalter' Deflandre on drums and percussion, particularly during the period between Le Secret and Shelter. Deflandre drew heavily — but not in a derivative way — from black metal legends like Burzum and Ulver, but also shoegaze meister-singers like Slowdive. Alcest's now characteristic somnambulist vocals extemporize perfectly with both the blastbeat and delicate tremolo guitar picking of a master craftsman of the blackgaze sound.
Neige: "I come from the metal scene originally and it never really left me. I used black metal as a teen as a way to escape from reality and that's what I love the most about it."
Please support our work by sending us a credit card donation through Entropy — just click "send paid chat." Entropy allows you to donate any amount from $3 and up. All paid chats will be read and commented upon in the next episode of Counter-Currents Radio, which airs every Friday.