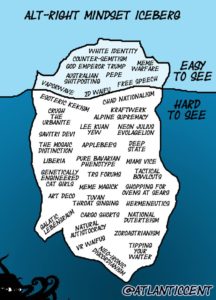 2,243 words
English original here
Il est important pour les Nationalistes Blancs de visualiser ce à quoi la victoire ressemblerait. Il y a en réalité deux réponses à cette question. La réponse ultime est notre vision de l'Utopie Blanche, la société que nous voulons créer. Mais avant de construire l'Utopie Blanche, nous devons remporter la victoire sur le présent système politique. Cette victoire nous donnera le pouvoir de créer notre société idéale, et elle pourrait survenir plusieurs décennies avant que l'Utopie Blanche soit réalisée.
La victoire, comme tout, dépend de choses que nous pouvons contrôler et de choses que nous ne pouvons pas contrôler.
Les choses que nous ne pouvons pas contrôler peuvent être rassemblées sous la rubrique du « moment historique », qui inclut toutes les conditions sociales objectives, incluant des contingences historiques imprévisibles comme l'élection de Donald Trump. Le moment historique peut être favorable ou défavorable à nos plans. Le mouvement le mieux organisé dans le monde ne fera pas de progrès si le moment historique n'est pas bon. D'autre part, si nous ne faisons rien, nos plans ne seront jamais réalisés, même si le moment historique est favorable.
Les choses que nous pouvons contrôler sont toutes les choses que nous faisons vraiment, et en ce qui nous concerne, elles se résument à de l'activisme politique et métapolitique. L'activisme politique englobe toutes les tentatives de prendre le contrôle des leviers du pouvoir politique. L'activisme métapolitique englobe la création des conditions nécessaires pour le succès politique. Il y a deux branches de la métapolitique : l'organisation d'une communauté nationaliste blanche, et la propagande – c'est-à-dire créer des idées et des médias pour diffuser une vision-du-monde pro-blanche.
La manière dont la politique et la métapolitique travaillent ensemble peut être appréciée en les examinant séparément.
Il est possible de gagner le pouvoir sur une société par une activité purement politique, sans persuader le grand public de la justesse et de la faisabilité de nos idées. Le plus clair exemple de cette voie est une invasion étrangère, durant laquelle l'appareil d'Etat est saisi, et toute l'opposition réprimée, simplement par la force. Un autre modèle de ce genre est une révolution impopulaire venant de l'intérieur, dans laquelle un parti militant armé prend le contrôle de l'Etat. Une telle route est bien sûr la plus difficile et la plus coûteuse, simplement parce que la victoire devient plus facile quand plus de gens sont d'accord avec vous et que moins de gens combattent contre vous. Diminuer le nombre de vos ennemis et augmenter le nombre de vos amis et alliés est le travail de la métapolitique.
Il est aussi possible de gagner le pouvoir sur une société par des moyens purement métapolitiques, simplement en persuadant la grande majorité de la population que vos idées sont correctes. Si le Nationalisme Blanc devenait le sens commun d'une société entière, alors on n'aurait pas besoin d'organiser un parti nationaliste blanc et de prendre le contrôle de l'Etat, car tous les partis politiques seraient en fait nationalistes blancs. Même si les différents  partis pourraient se quereller sur des questions comme les impôts, les services de santé, et le féminisme, l'identité blanche et les intérêts blancs seraient sacro-saints, et cette attitude s'étendrait à la totalité de la culture. A ce moment, du point de vue des intérêts blancs, ce serait sans importance de savoir quel parti politique serait au pouvoir, parce que les Blancs ne pourraient simplement pas perdre.
Cette domination métapolitique dans tout le spectre est ce que j'appelle « hégémonie ». Hégémonie signifie régner de loin. En politique, un hégémon est un pouvoir qui domine des pouvoirs subordonnés sans les gouverner directement. Par exemple, les Etats-Unis sont hégémoniques dans toute l'Europe et l'hémisphère occidental, bien que ses clients soient des Etats souverains. En métapolitique, hégémonie signifie qu'un large consensus culturel établit les paramètres du débat politique et de la prise de décision, présentant chaque question en termes de « face je gagne, pile tu perds », de sorte que quel que soit le résultat politique, les valeurs hégémoniques continuent à régner.
Dans le monde blanc aujourd'hui, la communauté juive organisée exerce l'hégémonie culturelle et politique. Donc, aussi divisé que puisse être le courant majoritaire sur des questions spécifiques, il est uni pour traiter les sensibilités et les intérêts juifs comme sacro-saints. Le but de la Nouvelle Droite nord-américaine est de déconstruire cette hégémonie juive et de la remplacer par une hégémonie similaire d'idées pro-Blancs. Ne serait-ce pas merveilleux, pour changer, si l'identité et les intérêts blancs étaient sacro-saints dans les pays blancs ?
En pratique, bien sûr, les chemins politique et métapolitique vers le pouvoir travaillent en tandem. Même une prise du pouvoir armée par un parti révolutionnaire présupposerait de la métapolitique pour créer un consensus idéologique à l'intérieur du parti lui-même. Et même si le Nationalisme Blanc devenait le sens commun de toute la société, nous chercherions à rendre cette victoire permanente en nous organisant pour prendre le contrôle des gouvernements et des autres institutions et chasser les anti-Blancs de tous les postes de pouvoir et d'influence.
Avec ces concepts à l'esprit, nous pouvons maintenant commencer à visualiser notre victoire sur les présents pouvoirs culturels et politiques, afin d'ouvrir la voie à la construction d'une société nationaliste blanche. En gardant à l'esprit que la politique et la métapolitique ne peuvent jamais être pleinement séparées, nous pouvons encore nous demander si notre victoire sera principalement politique ou métapolitique. Ma réponse est : notre victoire doit être principalement métapolitique.
Pour apprécier ce point, jetons un coup d'œil sur l'état présent de l'administration Trump. Par son génie organisationnel et la pure force de sa personnalité, Donald Trump réussit à soulever une révolte populiste contre toute l'élite politique, intellectuelle et médiatique. Cette révolte l'amena à la Maison Blanche par une marge infime. Bien que Trump ait la loyauté de la majorité blanche, les électeurs n'exercent pas un contrôle quotidien sur les leviers du pouvoir culturel et politique. Au contraire, ceux-ci sont entre les mains de gens qui sont fondamentalement en désaccord avec la vision et l'agenda de Trump. Trump remporta une victoire politique, mais en termes de métapolitique, les mondialistes sont encore largement au pouvoir. Leurs idées sont hégémoniques, et leurs méthodes d'influence s'étendent dans toute la société, bloquant Trump à chaque instant. Pour faire avancer son agenda politique, Trump a aussi besoin d'un changement de climat métapolitique. Il a besoin d'une communauté de gens qui sont d'accord avec sa vision populiste, qui peuvent gagner de nouveaux supporters à sa cause, et dont l'influence peut neutraliser le réseau mondialiste. Notre travail est de la créer.
Trump, de plus, est loin d'être un Nationaliste Blanc. L'opposition qu'il affronte n'est rien comparée à ce qui accueillerait un Nationaliste Blanc, si par miracle il pouvait déjà être élu président.
Un Nationaliste Blanc n'atteindra jamais le pouvoir politique effectif aux Etats-Unis ou dans toute autre nation blanche tant que nous ne changerons pas la culture. Nous devons convaincre un très haut pourcentage de notre peuple que le Nationalisme Blanc est à la fois moralement juste et politiquement faisable. Nous devons aussi convaincre un pourcentage significatif de ceux qui sont ambivalents que nous sommes quand même une force politique légitime, peut-être même des allies politiques louables. Puis nous devons convaincre un large pourcentage de ceux qui s'opposent à nous de le faire passivement plutôt qu'activement. Et c'est seulement à ce moment que nous serons capables de gagner le pouvoir d'Etat et de l'utiliser pour retirer leur pouvoir, réduire au silence et marginaliser les anti-Blancs qui restent.
L'approche métapolitique joue aussi en faveur de nos forces. Pour l'instant, l'ennemi a le contrôle complet de toutes les institutions dirigeantes de notre société. Leur faiblesse, cependant, est que leurs politiques sont basées sur des principes erronés, ce qui signifie qu'elles conduisent à des conséquences mauvaises. En plus de cela, nos ennemis n'ont jamais été plus corrompus, bornés, stupides et risibles.
Par contre, nous n'avons presque pas d'institutions du monde réel de notre coté, pour simplement déplacer les lignes de bataille et les avant-postes sur l'internet et les médias sociaux. Notre seul vrai avantage est la vérité, ainsi que la crédibilité qui vient du fait de la dire. Mais des politiques effectives ne peuvent être basées que sur la réalité, donc nous sommes les seuls à offrir des solutions pratiques aux problèmes créés par le multiculturalisme. En plus de cela, nous avons vraiment les meilleures personnes.
Livrer une bataille politique signifie jeter nos plus grandes faiblesses contre la plus grande force de l'ennemi. C'est une stratégie perdante. Livrer une bataille métapolitique, cependant, signifie utiliser nos plus grandes forces pour attaquer l'ennemi là où il est le plus faible. C'est seulement après avoir atteint une large hégémonie métapolitique que nous pourrons rassembler les ressources pour prendre le contrôle des institutions réelles.
Cette analyse m'a forcé à affronter une contradiction dans ma propre pensée. J'ai longtemps maintenu que le Nationalisme Blanc ne triomphera jamais tant qu'il ne quittera pas le ghetto de droite et ne deviendra pas le sens commun de tout le spectre politique. Il doit y avoir une droite racialement consciente, un centre racialement conscient, et une gauche racialement consciente, et nous savons que cela est possible, puisque de telles choses ont déjà existé dans tout le monde blanc. Par exemple, le mouvement pour l'exclusion des Asiatiques en Amérique, l'Apartheid sud-africain, et la politique de l'Australie blanche furent tous soutenus par la gauche racialement consciente.
Cependant, je suis tout à fait à l'aise dans le ghetto de droite. L'honnêteté m'oblige à être un homme de droite, puisque je crois qu'il y a des valeurs plus hautes que l'égalité et la liberté individuelle.
Mais bien que je sois un homme de droite, je ne suis pas un sectaire de droite. Je veux que l'idée nationaliste blanche quitte le ghetto de droite et redéfinisse tout le spectre politique. Les sectaires de droite, cependant, cherchent à confiner le Nationalisme Blanc dans des marges toujours plus étroites de l'extrême-droite.
Le sectarisme de droite est une tendance auto-marginalisante, autodestructrice, et elle ne pourrait pas arriver à un pire moment, car le moment historique n'a jamais été aussi favorable à la politique identitaire blanche. Plus de gens que jamais auparavant se tournent vers nous pour avoir des réponses. Nous devons développer de nouvelles plates-formes, de nouveaux porte-paroles, et de nouveaux messages pour tenter de toucher et de convertir tous les groupes blancs : chaque groupe d'âge, chaque classe sociale, chaque religion, chaque groupe ethnique, chaque groupe d'intérêt, chaque sous-culture – tout le monde. C'est de cette manière que la politique identitaire blanche atteindra l'hégémonie culturelle et politique complète. Mais au lieu de se tourner vers l'extérieur, le mouvement se tourne vers l'intérieur.
Le problème commença à l'automne 2016, juste avant que Trump soit élu, avec la guerre de la « marque » de l'Alt Right. Un grand nombre de nationalistes civiques foireux et de libertariens culturels commencèrent soudain à s'appeler « Alt-Right », parce qu'ils soutenaient Trump et voulaient se distancer du mouvement conservateur. Je vis cela comme une chance à saisir, pas comme une menace à repousser. Après tout, vous ne pouvez convertir au Nationalisme Blanc que des gens qui ne sont pas encore des Nationalistes Blancs, et vous ne pouvez les convertir que s'ils sont prêts à vous écouter. Et, pour une fois, ils étaient prêts à écouter.
La « marque » Alt Right était un projet entriste et de sensibilisation nationaliste blanc depuis le début. Mais l'Alt Right travaillait le mieux pour les Nationalistes Blancs en n'étant pas exclusivement associée au Nationalisme Blanc. Les gens normaux n'essaieraient jamais l'Alt Right si c'était un mouvement exclusivement nationaliste blanc, et encore moins s'il était associé à des gens comme les nazis et le KKK. La gauche, bien sûr, comprend le pouvoir de telles associations pour bloquer la pensée et l'action à droite, et c'est pourquoi les gauchistes les ressortent régulièrement.
Certains Nationalistes Blancs, cependant, se préoccupaient plus d'exercer un contrôle sur une « marque » que de sensibiliser le public. Donc ils utilisèrent la même tactique que l'ADL, le SPLC, et les grands médias : chasser les gens loin de l'Alt Right en l'associant aux nazis et au KKK. Le meilleur exemple de cela est la campagne de trolling contre Steven Crowder, qui fit l'erreur de s'appeler Alt Right et fut récompensé par une tempête de mèmes où il était accueilli dans les rangs des extrémistes nazis. C'était des choses hilarantes et méchantes, mais complètement contre-productives du point de vue de la sensibilisation et de la conversion.
Après le Hailgate, l'Alt Right fut pour toujours identifiée non seulement au Nationalisme Blanc, mais aussi au nazisme. Cela conduisit à une scission entre l'Alt Right et l'Alt Lite.
L'Alt Lite était formée de nationalistes civiques qui sont explicitement opposés à la politique identitaire blanche. Au contraire, elle est la politique identitaire de droite de « métisseurs » blancs, de non-Blancs, et de Juifs de la diaspora.
L'Alt Right a de plus en plus adopté les idées, les images et l'ethos des néo-nazis et du Nationalisme Blanc 1.0 (c'est-à-dire des skinheads et de la National Alliance) et est mûre pour des purges et des schismes puisque diverses factions cherchent à créer un mouvement plus petit, plus faible, plus stupide et plus « pur ».
L'Alt Right et l'Alt Lite se jettent à la gorge l'une de l'autre, mais elles ont une chose majeure en commun. Elles sont également incompatibles avec la politique identitaire blanche sortant de la marginalité et redéfinissant le courant majoritaire culturel et politique, qui est précisément ce que je définis comme la victoire.
Dans la suite à cet article, j'explorerai comment aller au-delà du sectarisme de droite.
*  *  *
Counter-Currents has extended special privileges to those who donate $120 or more per year.
First, donor comments will appear immediately instead of waiting in a moderation queue. (People who abuse this privilege will lose it.)
Second, donors will have immediate access to all Counter-Currents posts. Non-donors will find that one post a day, five posts a week will be behind a "paywall" and will be available to the general public after 30 days.
To get full access to all content behind the paywall, sign up here:
Enjoyed this article?
Be the first to leave a tip in the jar!