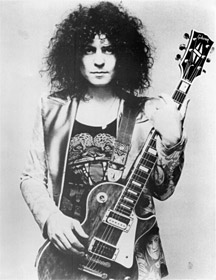 1,487 words
Let's steal some stars
For Avalon . . .
Let's make a quest
For Avalon
Quest for finger cymbal and gong
For Avalon
— Tyrannosaurus Rex, "Stones for Avalon" (1969)
He may have been a fey, miscegenation-prone, alcohol- and drug-bloated part-Semite – with an air of sexual ambiguity to boot – but Marc Bolan was also a mystical pop mage of the highest order. His music transitioned from the late 1960s flower-power of Tyrannosaurus Rex with drummer Steve Peregrin Took, through the glam rock hedonism of T.Rex mania accompanied by the fast hands of the brilliant percussionist Mickey Finn, before fading into the egotistical self-parody of the Marc Bolan and T.Rex glitterati phase. This last period, in its very final glimmering of sequined stardust, hinted at an artistic resurgence that was, as we now know, to usher in the dawn of three-chord punk – before Bolan's all too brief and incandescent life was cut tragically short in a car crash on Gipsy Lane at Queens Ride in Barnes, London.
And that is especially unfortunate, because what made this self-styled purveyor of pop metal and his own unique bubblegum brand of boa-feathered chic so significant was that his songs were filled with magical rhymes and sublime Celtic rhythms that transfixed an entire generation. His concerts, which were full of screaming teenagers, as well as his record sales led critics to compare T.Rex to The Beatles. And even decades after his death, long-time connoisseurs continue to study the genuflections in his hypnotic voice and the gyrations of the Cosmic Dancer weaving across auditoriums. He played to ecstatic audiences with rag-haircuts, wearing rainbow tank-tops, bell-bottomed blue jeans, and stack-shoes, with his favorite Chablis-colored Les Paul guitar slung salaciously across his hip.
My own fascination with Bolan started on a school trip to a wildlife park in the West Country. The radio on the coach was blaring out a 1970s archive hour, and all of us endured thirty minutes of Mud, Chicory Tip, and Elton John before the thrum of Finn's open palms slapping on bongo skins, the rolling hand-clap back-beat, and Bolan's fingers strumming his humbucking pickups and massaging the zebra-coil neck of his own instrument in the opening bars of "Ride a White Swan" sent us all into delirium:
Ride it on out like a bird in the skyways
Ride it on out like you were a bird
Fly it on out like an eagle in a sunbeam
Ride it on out like-a you were a bird
(Hey)
Wear a tall hat like a druid in the old days
Wear a tall hat and a tattooed gown
Ride a white swan like the people of the Beltane
Wear your hair long, babe, you can't go wrong
(Hey)
Take a bright star and a-place it on your forehead
Say a few spells and baby, there you go
Take a black cat and you sit it on your shoulder
And in the morning you'll know all you know
(Hey) Oh
Wear a tall hat like a druid in the old days
Wear a tall hat and a tattooed gown
Ride a . . .
Cover bands elicit enthusiastic responses when they play his classic hits like "Get It On," "Hot Love," "Jeepster," "Metal Guru," "Solid Gold Easy Action," and "Twentieth Century Boy," ranging from Boston street festivals to smoke-filled fringe bars during Brecon Jazz in Lincolnshire.
And who can blame them? This hedonistic electric warrior, with his corkscrew curls and an effeminate leer forever gracing his lips, was a consummate showman and a major influence on the likes of David Bowie, Morrissey, and Siouxsie and the Banshees. His producer, Tony Visconti, once said of Bolan:
What I saw in Marc Bolan had nothing to do with strings, or very high standards of artistry; what I saw in him was raw talent. I saw genius. I saw a potential rock star in Marc – right from the minute, the hour I met him.
And Marc did not disappoint. His immense repertoire and back catalog includes fantasy novels like The Krakenmist and Pictures of Purple People, as well as a poetry book entitled The Warlock of Love. Although some critics dismissed the latter as self-indulgence given that it was full of Bolan's florid prose and mischievous wordplay, it nevertheless sold more than forty thousand copies, and in 1969-70 it became one of Britain's bestselling books of poetry.
As he later famously claimed in an attempt to weave a myth around his origins, his early music was influenced by spending time in the mid-'60s with a wizard in Paris who imparted sacred knowledge and taught him how to levitate. Soon after this experience, his songwriting took on a mesmeric and romantic bent in the vein of Lewis Carroll and his Jabberwocky, being reminiscent of Syd Barrett and Pink Floyd's early music such as Piper At the Gates of Dawn (1967) and Saucerful of Secrets (1968). With the first incarnation of Tyrannosaurus Rex, Bolan released albums with titles like My People Were Fair and Had Sky in Their Hair . . . But Now They're Content to Wear Stars On Their Brows (1968), which featured songs such as "Knight and Child Star," that included the line "twelve years old, your elvish fingers kiss your Beethoven hair."
This was followed by Prophets, Seers and Sages: The Angels of the Ages (1968), which featured tracks such as "Salamanda Palaganda" and "Aznageel the Mage," that had lines such as "When deep beneath the caves of melted steel, stalks a Mage, a necromancer heel." Then there was Unicorn (1969), which name-checked both William Blake and the infamous Cottingley Fairies debacle involving Sir Arthur Conan Doyle and included the wonderfully poetic "The Seal of Seasons":
The Seal of Seasons moved with grace
Upon the Orkney oceans face
She swam and moved
Just like a prancer
A gypsy dancer
On a salty shimmer of shell foam
There was also the raunchy "Cat Black (The Wizard's Hat)":
Cat black the wizard's hat
 Spun in lore from Dagamoor
The skull of jade were pearl inlaid
The silks, skin-spun, repelled the sun
A tusk of boar with dwarfish awe
Sobs on the door where he stood before
A mountain man with sky blue teeth
Upon his head a python's wreath
A deer he slew in dawning's dew
Her heart was a dagger for a murderer's brew . . .
Cat black the wizard's back
Daubed in doom in his tongue tombed room
We of the wind must rejoice and speak
And kiss all our starbrowed brothers on the cheek
This was quickly followed by another album, A Beard of Stars (1970), which has song titles like "A Day Laye," "The Woodland Bop," "Great Horse," "Dragon's Ear," and "Blessed Wild Apple Girl":
Gypsy Girl, oh twisty pearl
Sat upon the stoney pale mare
Beltane Eve, by the fires you grieve
With your deep Babylonian hair
Blessed Wild Apple Girl move along now
Blessed Wild Apple Girl move along now
Blessed Wild Apple Girl
Gypsy girl, oh twisty girl
Your hands are dangled with flowers
Tangled torn, so stately born
For a throne in the (hill) halls of Ireland
Blessed Wild Apple Girl move along now
Blessed Wild Apple Girl move along now
Blessed Wild Apple Girl
Fools have said the hills are dead
But her nose is a rose of the Shee
A silver sword by an ancient ford
Was my gift from this child of the trees
Blessed Wild Apple Girl move along now
Blessed Wild Apple Girl move along now
Blessed Wild Apple Girl
In the same year, the rebranded band released its eponymous T.Rex album (1970), featuring the tunes "The Children of Rarn," "Beltane Walk," and "Root of Star," the latter of which includes the line: "a shield of bronze a thousand gongs, that calls the queen of dreams to me." It shot into the charts. This was followed by Electric Warrior (1971), which was immediately acclaimed as the pivotal glam rock album and set the pixie-prince as the spokesman at the center stage of the movement. Bolan had already laid claim to this title, however, with his Tolkien-influenced acoustic effort, "King of the Rumbling Spires" from 1969:
Light all the fires,
It's the King of the Rumbling Spires,
Light all the fires,
It's the King and he's coming home.
We're so windy fair
Priestess of my young soul
Mighty eagles pair On the peace of your hair.
Light all the fires,
It's . . .
This was a throne he was to continue to occupy with majestic offerings like Bolan Boogie (1972), The Slider (1973), Tanx (1973), The Beginnings of Doves (1974), Zinc Alloy and the Hidden Riders of Tomorrow (1974), Bolan's Zip Gun (1975), Futuristic Dragon (1976), and Dandy in the Underworld (1977). His later albums seemed to strive to become ever more commercial, but rarely forgot the treasures of ancient history and the wild manners of Europe's heathen ancestry, which were channeled so perfectly in his 1974 song "Explosive Mouth":
It's a shame for a man to hide all the things
that do survive from his past
When I jump on your horse I gallop the course,
And howl . . .