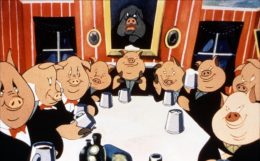 1,695 words
If you're seeing a lot of Nineteen Eighty-Four editions showing up in bookstores these days, it's because 2019 marks the seventieth anniversary of the novel's publication. And I suppose next year we'll see even more Orwelliana, because we have the seventieth anniversary of George Orwell's death in January, followed by the seventy-fifth anniversary of Animal Farm.
Of all the popular literature of the past century, those two books are among the ones that people in the English-speaking world are most likely to have read – or at least imagine they've read. (Notice I say the English-speaking world, thereby neatly skating around the juvenile fodder that pimply adolescents in America get assigned year after year – the Mockingbird one and the Gatsby one, and those books about prep-school boys in the 1940s.)
The Orwell storylines are starkly simple, easily put into one-line elevator pitches that anyone would recognize:
In a totalitarian hell, doomed lovers dream of rebelling, but get tortured and killed.
Animals take over a farm, but their cruel pig bosses make their lives harder than ever.
As with so many stories that are too easily simplified, Nineteen Eighty-Four and Animal Farm are grossly misperceived in popular understanding and CliffsNotes-level criticism. Winston and Julia's slave-state dystopia often got dismissed as a nightmarish vision of the future, or else an unsubtle condemnation of Stalinism. But really, it's mainly a book about political propaganda: the slogans, the posters, the slant on the news (forever being rewritten to serve the party line of the day) – all inspired by Orwell's own experience writing broadcasts at the Ministry of Truth (BBC Broadcasting House). And, of course, those inescapable telescreens continually shouting at you, like the hectoring CNN flatscreens that now disfigure every airport concourse and waiting area. Large chunks of the book are given over to discussions of how to enforce politically correct speech (herein called Newspeak), as well as a letter-perfect lampoon of a Marxist political tract called The Theory and Practice of Oligarchical Collectivism.
One could spend pages upon pages dissecting all the pastiches, black-comedy turns, and inside jokes that Orwell put into his Big Brother book, and no doubt I shall very soon. Today, though, I want to focus on the shorter, earlier book, the one with the talking animals. It covers many of the same themes that are expanded upon later, and like Nineteen Eighty-Four is stuffed with parody (Orwell actually writes two different "patriotic" songs for the animals to sing), and is itself an extended spoof of jolly children's books about Life on the Farm with the Friendly Cow. There are long snatches of the narrative that are positively irenic: Boxer and Clover, the drayhorses, and Benjamin the donkey, all cheerfully working in the sunshine.
You can see why, in the original CIA-funded animated film of Animal Farm (1954), there was an irresistible push to tack on a happy ending, in which the animals mount another rebellion and throw out their pig masters. Presumably, this was a hopeful nod of encouragement directed at the new slave satrapies behind the Iron Curtain.
When Orwell finished Animal Farm in 1945, it was a very bad time to promote anti-Communist books with talking animals. This one was too clearly an allegory about the Bolshevik Revolution and the Stalinist aftermath, as subtle as a cow-pie (one barnyard feature that does not appear in the book). Over two dozen publishers rejected it promptly; Churchill's coalition government had been touting a pro-Soviet line since 1941. Against this background, Animal Farm was about as welcome as a sympathetic book review of Mein Kampf (which Orwell did in fact once publish, during the Phony War period).
Though he liked to describe himself as a Man of the Left, that was mainly window-dressing to maintain his literary viability. He was a socialist, but one with a very deep nationalist streak (as anyone reading "England, Your England" or "In Defence of P.G. Wodehouse" grasps immediately). He thought the Reds were gunning for him, figuratively and literally – and maybe they were.
Around the time he finished Animal Farm, he met Ernest Hemingway at the Ritz in Paris and asked to borrow a pistol, because the Russians had tried to kill him in Spain and still wanted him dead. Hemingway thought the old boy was overwrought, but found him a Colt .32. (This is recounted in Hemingway's posthumous True at First Light.)
And yet, Animal Farm isn't really a straightforward allegory about the Soviet Union. What it really is, is subtle propaganda that pretends to share the prejudices and idioms of a Parlor Pink or Fellow Traveler of the 1935-45 period. Orwell's trick is what is known today in Internet culture as concern-trolling. Concern-trolling is when you insert yourself into an ongoing discussion or dispute, and feign sympathy with the participants' viewpoint. Then, gradually and unctuously, you raise mild objections to the consensus belief. These quibbles confuse your interlocutors, sending the discussion off into a new direction. You might not get your new friends to reverse their opinions, but you've certainly planted some doubts.
The Leftist verities that Orwell pretends to endorse can be really preposterous. Yet even today, many people accept them unquestioningly as dogma. Some of the more egregious examples:
The (Bolshevik) Revolution was a Good Thing.
But it was betrayed and ruined by Napoleon the Pig (Stalin).
The animals (Soviet people) were much happier and more prosperous after the Revolution than before.
Religion (i.e., Christianity) is an unnecessary, false, wasteful distraction.
After the Revolution, Animal Farm (Russia) was more enlightened than its rivals, which were cruel and corrupt, and oppressed their workers.
In order for Animal Farm to work as political propaganda, you pretty much have to accept most of these premises. You have to suspend disbelief and make yourself a wide-eyed fool willing to believe such obnoxious pap as, "Communism can build Heaven on Earth, but it's never really been tried!"
Orwell completely avoids some matters that would have made his fairy tale unpublishable. There is the Jewish Question. Most of the leading Bolsheviks were Jews, and that is a very difficult fact to finesse. (Stalin, of course, was not; but his wife and best friend were.) Certainly, it must have been on Orwell's mind throughout the writing. Perhaps this is why he made the lead animals pigs; for pork is most unkosher. Yes, the author is saying, the pigs are the Bolsheviks, so I'm not saying the Bolsheviks were Jews. (I am reminded that when Art Spiegelman drew his Maus graphic novel in the 1980s, he portrayed the Poles as pigs, thus emphasizing that they were very, very un-Jewish.)
But the use of pigs raises all sorts of other complications. All the male pigs but Napoleon, we are told, have been castrated. This fact is introduced late in the book, and rather obliquely: "Napoleon was the only boar on the farm." But hold on: Napoleon has sired many porkers, presumably male often as not. Surely they're still intact – some of them, anyway. Is Orwell just being forgetful, or does he fear certain distasteful matters will slow down the story?
The pigs bothered a lot of publishers' readers when Orwell sent the typescript around. Jonathan Cape wanted to publish the book, but only if the pigs were swapped out for something else. "It would be less offensive if the predominant caste in the fable were not pigs."
Over at Faber & Faber, T. S. Eliot liked it, too, but turned it down with a perversely hilarious rejection letter, wondering why the pigs had to be villains:
[A]fter all, your pigs are far more intellectual than the other animals, and therefore the best qualified to run the farm – in fact, there couldn't have been an Animal Farm at all without them: so that what was needed (someone might argue), was not more communism but more public spirited pigs.[1]
The Animal Farm/USSR analogy really goes off the rails with the depiction of the two rival neighboring farmers, Frederick and Pilkington. These stand in for Britain and France, on the one hand, and Germany on the other, in the years leading up to the Second World War. Like Oceania in Nineteen Eighty-Four, which is always at war with either Eastasia or Eurasia, the pigs at Animal Farm are forever making alliances with Frederick or Pilkington. Frederick and Pilkington, moreover, are forever scheming to overpower or swindle Animal Farm. And they often succeed, because the pigs are greedy and shortsighted.
But this is the reverse of what actually happened with the USSR and its geopolitical rivals and allies. From the 1920s onward, the Soviets were always trying to penetrate Western intelligence services and political parties. Conversely, there was little or no attempt on the part of Britain or France, or even Germany, to set up espionage networks in the USSR. So far from being a duped victim, perpetually gulled and taken advantage of, the USSR was always the sly aggressor. In every wartime conference where he showed up – Tehran, Yalta, Potsdam – Stalin was always the one who stacked the deck and came out with a winning hand.
At the end of Animal Farm, we see the farmers and pigs at table together, all looking very much alike. The suggestion is that the Revolution has failed because the neighboring farmers knew how to lead the pigs astray.
What Orwell is doing here, again, is inverting reality in a bid for sympathy, cozening us into believing that Britain and France – and Germany – were the bad guys all along. Of course, he didn't believe this, but he needed a finish to the story, so he drove home the moral that the Revolution had been betrayed. Pigs are bad and humans are bad, but the doltish animals at Animal Farm are still idealistic and good.
It's a weak, confused ending, and thoroughly dishonest. Orwell doesn't believe it for a moment. He knows the Soviets are evil, murderous shits, and even now they're out to kill him.
On the other hand, Animal Farm was written as a didactic fable. When you write talking-animal propaganda, you can't be expected to tell the truth.
Note
[1] These quotations are taken from Jeffrey Meyers, Orwell: Wintry Conscience of a Generation (New York: W. W. Norton, 2001).